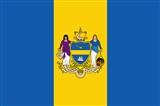 Philadelphia, Pennsylvania
Philadelphia
is the largest city in the Commonwealth of
Pennsylvania
Pennsylvania
The Commonwealth of Pennsylvania is a U.S. state that is located in the Northeastern and Mid-Atlantic regions of the United States. The state borders Delaware and Maryland to the south, West Virginia to the southwest, Ohio to the west, New York and Ontario, Canada, to the north, and New Jersey to...
and the county seat of
Philadelphia County
Philadelphia County, Pennsylvania
-History:Tribes of Lenape were the first known occupants in the area which became Philadelphia County. The first European settlers were Swedes and Finns who arrived in 1638. The Netherlands seized the area in 1655, but permanently lost control to England in 1674...
, with which it is coterminous. The city is located in the
Northeastern United States
Northeastern United States
The Northeastern United States is a region of the United States as defined by the United States Census Bureau.-Composition:The region comprises nine states: the New England states of Connecticut, Maine, Massachusetts, New Hampshire, Rhode Island and Vermont; and the Mid-Atlantic states of New...
along the
Delaware
Delaware River
The Delaware River is a major river on the Atlantic coast of the United States.A Dutch expedition led by Henry Hudson in 1609 first mapped the river. The river was christened the South River in the New Netherland colony that followed, in contrast to the North River, as the Hudson River was then...
and
Schuylkill
Schuylkill River
The Schuylkill River is a river in Pennsylvania. It is a designated Pennsylvania Scenic River.The river is about long. Its watershed of about lies entirely within the state of Pennsylvania. The source of its eastern branch is in the Appalachian Mountains at Tuscarora Springs, near Tamaqua in...
rivers. It is the
fifth-most-populous city
in the
United States
United States
The United States of America is a federal constitutional republic comprising fifty states and a federal district...
, with a population of 1,526,006 as of the 2010 U.S. Census. Philadelphia is also the commercial, cultural, and educational center of the , home to 6 million people and the country's fifth-largest metropolitan area.
1748 The first Lutheran denomination in North America, the Pennsylvania Ministerium, is founded in Philadelphia, Pennsylvania.
1759 In Philadelphia, Pennsylvania, the first American life insurance company is incorporated.
1774 First Continental Congress assembles in Philadelphia, Pennsylvania.
1774 The first Continental Congress adjourns in Philadelphia, Pennsylvania.
1775 American Revolutionary War: Representatives from the Thirteen Colonies begin the Second Continental Congress in Philadelphia.
1776 The Declaration of Independence is read aloud in Philadelphia, Pennsylvania and the Liberty Bell is rung.
1777 British troops occupy Philadelphia, Pennsylvania during the American Revolution.
1778 American Revolutionary War: British troops abandon Philadelphia, Pennsylvania.
1787 In Philadelphia, Pennsylvania, delegates convene a Constitutional Convention to write a new Constitution for the United States; George Washington presides.
1787 The United States Constitution is signed in Philadelphia, Pennsylvania.