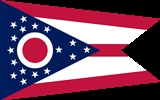 Ohio
Ohio
is a Midwestern state in the United States. The 34th largest state by area in the U.S.,
it is the 7th‑most populous with over 11.5 million residents, containing several major American cities and seven metropolitan areas with populations of 500,000 or more.
The state's capital is
Columbus
Columbus, Ohio
Columbus is the capital of and the largest city in the U.S. state of Ohio. The broader metropolitan area encompasses several counties and is the third largest in Ohio behind those of Cleveland and Cincinnati. Columbus is the third largest city in the American Midwest, and the fifteenth largest city...
. The
Anglicized
Anglicisation
Anglicisation, or anglicization , is the process of converting verbal or written elements of any other language into a form that is more comprehensible to an English speaker, or, more generally, of altering something such that it becomes English in form or character.The term most often refers to...
name "Ohio" comes from the Iroquois word
ohi-yo'
, meaning "great river".
1782 Gnadenhütten massacre: Ninety-six Native Americans in Gnadenhutten, Ohio, who had converted to Christianity are killed by Pennsylvania militiamen in retaliation for raids carried out by other Indians.
1796 Surveyors of the Connecticut Land Company name an area in Ohio "Cleveland" after Gen. Moses Cleaveland, the superintendent of the surveying party.
1803 Ohio is admitted as the 17th U.S. state.
1809 Miami University is chartered by the State of Ohio.
1908 The Collinwood School Fire, Collinwood near Cleveland, Ohio, kills 174 people.
1925 USS ''Shenandoah'' (ZR-1), the United States' first American-built rigid airship, was destroyed in a squall line over Noble County, Ohio. Fourteen of her 42-man crew perished, including her commander, Zachary Lansdowne.
1935 Dr. Robert Smith takes his last drink, and Alcoholics Anonymous is founded in Akron, Ohio, United States, by him and Bill Wilson.
1953 Frances Bolton and her son, Oliver from Ohio, become the first mother and son to serve simultaneously in the U.S. Congress.
1967 Trans World Airlines Flight 553, a Douglas DC-9-15, crashes in a field in Concord Township, Ohio following a mid-air collision with a Beechcraft Baron, killing 26.
1969 The Ohio Fireworks Derecho kills 18 Ohioans and destroys over 100 boats on Lake Erie.