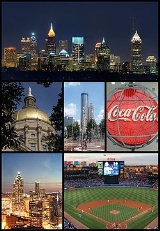 Atlanta, Georgia
Atlanta
is the capital and most populous city in the
U.S.
United States
The United States of America is a federal constitutional republic comprising fifty states and a federal district...
state of
Georgia
Georgia (U.S. state)
Georgia is a state located in the southeastern United States. It was established in 1732, the last of the original Thirteen Colonies. The state is named after King George II of Great Britain. Georgia was the fourth state to ratify the United States Constitution, on January 2, 1788...
. According to the 2010 census, Atlanta's population is 420,003. Atlanta is the cultural and economic center of the Atlanta metropolitan area, which is home to 5,268,860 people and is the
ninth largest metropolitan area in the U.S.
Table of United States Metropolitan Statistical Areas
thumb|An enlargeable map of the 942 [[Core Based Statistical Area]]s of the [[United States]]. The 367 [[Metropolitan Statistical Area]]s are shown in red....
Atlanta is the
county seat
County seat
A county seat is an administrative center, or seat of government, for a county or civil parish. The term is primarily used in the United States....
of Fulton County, and a small portion of the city extends eastward into DeKalb County. Residents of the city and its surroundings are known as "Atlantans."
Atlanta began as a settlement located at the intersection of two railroad lines, and it was incorporated in 1845.
1864 During the American Civil War, Union forces led by General William T. Sherman launch an assault on Atlanta, Georgia.
1864 American Civil War: Atlanta, Georgia, is evacuated on orders of Union General William Tecumseh Sherman.
1864 American Civil War: Union General William Tecumseh Sherman burns Atlanta, Georgia and starts Sherman's March to the Sea. thumb|right|200px|[[Pedro II of Brazil|Pedro II]] is deposed and [[Brazil]] becomes a [[republic]].
1886 Dr. John Pemberton brews the first batch of Coca-Cola in a backyard in Atlanta, Georgia.
1932 In Atlanta, Georgia, mobster Al Capone begins serving an eleven-year prison sentence for tax evasion.
1939 ''Gone with the Wind'' receives its première at Loew's Grand Theatre in Atlanta, Georgia, USA.
1946 A fire at the Winecoff Hotel in Atlanta, Georgia kills 119 people, the deadliest hotel fire in U.S. history.
1996 After the aircraft's departure from Miami, Florida, a fire started by improperly handled oxygen canisters in the cargo hold of Atlanta-bound ValuJet Flight 592 causes the Douglas DC-9 to crash in the Florida Everglades killing all 110 on board.
1996 Centennial Olympic Park bombing: in Atlanta, Georgia, a pipe bomb explodes at Centennial Olympic Park during the 1996 Summer Olympics. One woman (Alice Hawthorne) is killed, and a cameraman suffers a heart attack fleeing the scene. 111 are injured.
1996 Michael Johnson breaks the 200m world record by 0.30 seconds with a time of 19.32 seconds at the 1996 Summer Olympics in Atlanta, Georgia.