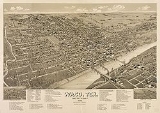 Waco, Texas
Waco
(ˈ) is a city in and the
county seat
County seat
A county seat is an administrative center, or seat of government, for a county or civil parish. The term is primarily used in the United States....
of
McLennan County, Texas
McLennan County, Texas
McLennan County is a county located on the Edwards Plateau in Central Texas. In 2000, its population was 213,517; in 2008 the U.S. Census Bureau estimated its population to be 230,213. Its seat is Waco. The county is named for Neil McLennan, an early settler....
. Situated along the
Brazos River
Brazos River
The Brazos River, called the Rio de los Brazos de Dios by early Spanish explorers , is the longest river in Texas and the 11th longest river in the United States at from its source at the head of Blackwater Draw, Curry County, New Mexico to its mouth at the Gulf of Mexico with a drainage...
and on the I-35 corridor, halfway between Dallas and
Austin
Austin
Austin is the capital of the U.S. state of Texas.Austin may also refer to:-In the United States:*Austin, Arkansas*Austin, Colorado*Austin, Chicago, Illinois*Austin, Indiana*Austin, Minnesota*Austin, Nevada*Austin, Oregon...
, it is the economic, cultural, and academic center of the 'Heart of Texas' region.
The city has a 2010 population of 124,805 - an increase of almost 10 percent since the 2000 census. The Waco
Metropolitan Statistical Area
Waco metropolitan area
The Waco Metropolitan Statistical Area, as defined by the United States Census Bureau, is an area consisting of one county – McLennan – in Central Texas, anchored by the city of Waco...
consists of just McLennan County, which has a 2010 population of 234,906.
Prior to the founding of Waco in 1849, a
Wichita
Wichita (tribe)
The Wichita people are indigenous inhabitants of North America, who traditionally spoke the Wichita language, a Caddoan language. They have lived in Kansas, Oklahoma, and Texas...
Native American group known as the "Waco" (Spanish:
Hueco
or
Huaco
) lived on the land of present-day downtown Waco.