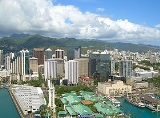 Honolulu, Hawaii
Honolulu
is the
capital
and the most populous city of the
U.S. state
U.S. state
A U.S. state is any one of the 50 federated states of the United States of America that share sovereignty with the federal government. Because of this shared sovereignty, an American is a citizen both of the federal entity and of his or her state of domicile. Four states use the official title of...
of
Hawaii
Hawaii
Hawaii is the newest of the 50 U.S. states , and is the only U.S. state made up entirely of islands. It is the northernmost island group in Polynesia, occupying most of an archipelago in the central Pacific Ocean, southwest of the continental United States, southeast of Japan, and northeast of...
. Honolulu is the southernmost major U.S. city. Although the name "Honolulu" refers to the
urban area
Urban area
An urban area is characterized by higher population density and vast human features in comparison to areas surrounding it. Urban areas may be cities, towns or conurbations, but the term is not commonly extended to rural settlements such as villages and hamlets.Urban areas are created and further...
on the southeastern shore of the island of
Oahu
Oahu
Oahu or Oahu , known as "The Gathering Place", is the third largest of the Hawaiian Islands and most populous of the islands in the U.S. state of Hawaii. The state capital Honolulu is located on the southeast coast...
, the city and county government are consolidated as the
City and County of Honolulu
Honolulu County, Hawaii
The City and County of Honolulu is a consolidated city–county located in the U.S. state of Hawaii. The municipality and county includes both the urban district of Honolulu and the rest of the island of Oahu, as well as several minor outlying islands, including all of the Northwestern Hawaiian...
which covers the entire island. For statistical purposes, the U.S.