Jyllands-Posten Muhammad cartoons controversy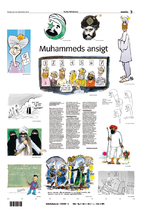 The Jyllands-Posten
Muhammad cartoons controversy began after 12 editorial cartoon

Editorial cartoon

An editorial cartoon, also known as a political cartoon, is an illustration containing a commentary that usually relates to current events or personalities....


s, most of which depicted

Depictions of Muhammad

The permissibility of depictions of Muhammad, the founder of Islam, has long been a concern in the history of Islam. Oral and written descriptions are readily accepted by all traditions of Islam, but there is disagreement about visual depictions....


the Islamic prophet

Prophet

In religion, a prophet, from the Greek word προφήτης profitis meaning "foreteller", is an individual who is claimed to have been contacted by the supernatural or the divine, and serves as an intermediary with humanity, delivering this newfound knowledge from the supernatural entity to other people...


Muhammad

Muhammad

Muhammad |ligature]] at U+FDF4 ;Arabic pronunciation varies regionally; the first vowel ranges from ~~; the second and the last vowel: ~~~. There are dialects which have no stress. In Egypt, it is pronounced not in religious contexts...


, were published in the Danish newspaper
Jyllands-Posten
Jyllands-Posten
Morgenavisen Jyllands-Posten , commonly shortened to Jyllands-Posten or JP, is a Danish daily broadsheet newspaper. It is based in Viby, a suburb of Århus, and with a weekday circulation of approximately 120,000 copies, it is among the largest-selling newspaper in Denmark...
on 30 September 2005. The newspaper announced that this publication was an attempt to contribute to the debate regarding criticism of Islam

Criticism of Islam

Criticism of Islam has existed since Islam's formative stages. Early written criticism came from Christians, prior to the ninth century, many of whom viewed Islam as a radical Christian heresy...


and self-censorship

Self-censorship

Self-censorship is the act of censoring or classifying one's own work , out of fear of, or deference to, the sensibilities of others, without overt pressure from any specific party or institution of authority...


.

Danish Muslim

Islam in Denmark

Islam is the largest minority religion in Denmark. According to the U.S. Department of State, approximately 3.7% of the population in Denmark is Muslim...


organizations that objected to the depictions responded by holding public protests attempting to raise awareness of
Jyllands-Posten's publication. Further examples of the cartoons were soon
reprinted in newspapers
in more than 50 other countries, further deepening the
controversy
Controversy
Controversy is a state of prolonged public dispute or debate, usually concerning a matter of opinion. The word was coined from the Latin controversia, as a composite of controversus – "turned in an opposite direction," from contra – "against" – and vertere – to turn, or versus , hence, "to turn...
.
This led to Islamic protests across the Muslim world, some of which escalated into violence with instances of firing on crowds of protestors (resulting in a total of more than 100 reported deaths), including the bombing of the Danish embassy in Pakistan and setting fire to the Danish Embassies in Syria, Lebanon and Iran, storming European buildings, and
burning
Flag desecration
Flag desecration is a term applied to various acts that intentionally destroy, damage or mutilate a flag in public, most often a national flag. Often, such action is intended to make a political point against a country or its policies...
the
Danish
Flag of Denmark
The national flag of Denmark, Dannebrog is red with a white Scandinavian cross that extends to the edges of the flag; the vertical part of the cross is shifted to the hoist side...
,
Dutch
Flag of the Netherlands
The flag of the Netherlands is a horizontal tricolour of red, white, and blue. Since 1937, the flag has officially been the national flag of the Netherlands and of the Kingdom of the Netherlands.-Description:...
,
Norwegian
Flag of Norway
The flag of Norway is red with an indigo blue Scandinavian cross outlined in white that extends to the edges of the flag; the vertical part of the cross is shifted to the hoist side in the style of the Dannebrog, the flag of Denmark.- History :...
,
French
Flag of France
The national flag of France is a tricolour featuring three vertical bands coloured royal blue , white, and red...
and
German
Flag of Germany
The flag of Germany is a tricolour consisting of three equal horizontal bands displaying the national colours of Germany: black, red, and gold....
flags in Gaza City. Various groups, primarily in the
Western world
Western world
The Western world, also known as the West and the Occident , is a term referring to the countries of Western Europe , the countries of the Americas, as well all countries of Northern and Central Europe, Australia and New Zealand...
, responded by endorsing the Danish policies, including "Buy Danish" campaigns and other displays of support.
Danish Prime Minister
Prime Minister of Denmark
The Prime Minister of Denmark is the head of government in Danish politics. The Prime Minister is traditionally the leader of a political coalition in the Folketing and presides over the cabinet....
Anders Fogh Rasmussen
Anders Fogh Rasmussen
Anders Fogh Rasmussen is a Danish politician, and the 12th and current Secretary General of NATO. Rasmussen served as Prime Minister of Denmark from 27 November 2001 to 5 April 2009....
described the controversy as Denmark's worst
international crisis
International crisis
An international crisis is a crisis between states. There are many definitions of an international crisis. Snyder "...a sequence of interactions between the governments of two or more sovereign states in severe conflict, short of actual war, but involving the perception of a dangerously high...
since
World War II
World War II
World War II, or the Second World War , was a global conflict lasting from 1939 to 1945, involving most of the world's nations—including all of the great powers—eventually forming two opposing military alliances: the Allies and the Axis...
.
Critics of the cartoons described them as
Islamophobic
Islamophobia
Islamophobia describes prejudice against, hatred or irrational fear of Islam or MuslimsThe term dates back to the late 1980s or early 1990s, but came into common usage after the September 11, 2001 attacks in the United States....
or
racist
Racism
Racism is the belief that inherent different traits in human racial groups justify discrimination. In the modern English language, the term "racism" is used predominantly as a pejorative epithet. It is applied especially to the practice or advocacy of racial discrimination of a pernicious nature...
, and argued that they are
blasphemous
Blasphemy
Blasphemy is irreverence towards religious or holy persons or things. Some countries have laws to punish blasphemy, while others have laws to give recourse to those who are offended by blasphemy...
to people of the Muslim faith, are intended to humiliate a Danish minority, or are a manifestation of ignorance about the history of Western
imperialism
Imperialism
Imperialism, as defined by Dictionary of Human Geography, is "the creation and/or maintenance of an unequal economic, cultural, and territorial relationships, usually between states and often in the form of an empire, based on domination and subordination." The imperialism of the last 500 years,...
.
Supporters have said that the cartoons illustrated an important issue in a period of Islamic terrorism and that their publication is a legitimate exercise of the right of
free speech
Freedom of speech
Freedom of speech is the freedom to speak freely without censorship. The term freedom of expression is sometimes used synonymously, but includes any act of seeking, receiving and imparting information or ideas, regardless of the medium used...
, explicitly tied to the issue of self-censorship. They claim that Muslims were not targeted in a
discriminatory
Discrimination
Discrimination is the prejudicial treatment of an individual based on their membership in a certain group or category. It involves the actual behaviors towards groups such as excluding or restricting members of one group from opportunities that are available to another group. The term began to be...
way since unflattering cartoons about other
religion
Religion
Religion is a collection of cultural systems, belief systems, and worldviews that establishes symbols that relate humanity to spirituality and, sometimes, to moral values. Many religions have narratives, symbols, traditions and sacred histories that are intended to give meaning to life or to...
s (or their leaders) are frequently printed. They question whether some of the riots were spontaneous outpourings as they took place where no spontaneous demonstrations are allowed, and whether the images of Muhammad per se are offensive to Muslims, as thousands of illustrations of Muhammad have appeared in books by and for Muslims.
Description of the drawings
The 12 cartoons were drawn by 12 professional cartoonists in Denmark, most of whom regularly drew
political cartoons
Editorial cartoon
An editorial cartoon, also known as a political cartoon, is an illustration containing a commentary that usually relates to current events or personalities....
for Danish newspapers. Four of the cartoons have Danish texts. One deliberately evades the whole problem, depicting a school child in Denmark named Muhammad, not the prophet Muhammad. One of the cartoons is based on a special Danish cultural expression, and one includes a Danish politician.
Debate about self-censorship
On 17 September 2005, the Danish newspaper
Politiken
Politiken
Politiken is a Danish daily broadsheet newspaper, published by JP/Politikens Hus.The newspaper comes third among Danish newspapers in terms of both number of readers and circulated copies ....
ran an article under the headline
"Dyb angst for kritik af islam"
("Profound anxiety about criticism of Islam"). The article in Politiken was the basis of a Ritzau telegram from the day before written by journalist Troels Pedersen. The article by Ritzau discussed the difficulty encountered by the writer Kåre Bluitgen

Kåre Bluitgen

Kåre Bluitgen is a Danish writer and journalist whose works include a biography of Muhammad. In the 1970s Bluitgen was politically active on the Danish left, namely within the Left Socialists.-Education:...


, who was initially unable to find an illustrator

Illustrator

An Illustrator is a narrative artist who specializes in enhancing writing by providing a visual representation that corresponds to the content of the associated text...


prepared to work with Bluitgen on his children's book
Koranen og profeten Muhammeds liv
(English:
The
Qur'an
Qur'an
The Quran , also transliterated Qur'an, Koran, Alcoran, Qur'ān, Coran, Kuran, and al-Qur'ān, is the central religious text of Islam, which Muslims consider the verbatim word of God . It is regarded widely as the finest piece of literature in the Arabic language...
and the life of the Prophet Muhammad ISBN 87-638-0049-7). Three artists declined Bluitgen's proposal before one agreed to assist anonymously. According to Bluitgen:
One [artist declined], with reference to the murder in Amsterdam of the film director Theo van Gogh

Theo van Gogh (film director)

Theodoor "Theo" van Gogh was a Dutch film director, film producer, columnist, author and actor.Van Gogh worked with the Somali-born writer Ayaan Hirsi Ali to produce the film Submission, which criticized the treatment of women in Islam and aroused controversy among Muslims...


, while another [declined, citing the attack on] the lecturer at the Carsten Niebuhr Institute

Carsten Niebuhr

Carsten Niebuhr or Karsten Niebuhr , a German mathematician, cartographer, and explorer in the service of Denmark, is renowned for his travels on the Arabian peninsula.-Biography:...


in Copenhagen.
In October 2004, a lecturer at the Niebuhr institute at the
University of Copenhagen
University of Copenhagen
The University of Copenhagen is the oldest and largest university and research institution in Denmark. Founded in 1479, it has more than 37,000 students, the majority of whom are female , and more than 7,000 employees. The university has several campuses located in and around Copenhagen, with the...
was assaulted by five assailants who opposed his reading of the Qur'an to non-Muslims during a lecture.
The refusal of the first three artists to participate was seen as evidence of
self-censorship
Self-censorship
Self-censorship is the act of censoring or classifying one's own work , out of fear of, or deference to, the sensibilities of others, without overt pressure from any specific party or institution of authority...
and led to much debate in Denmark, with other examples for similar reasons soon emerging. Comedian
Frank Hvam
Frank Hvam
Frank Hvam is a Danish stand-up-comedian.Hvam was born in Viborg and grew up on a farm in Ørum Sønderlyng. Shortly before completing training as a veterinarian, he dropped out to try his luck as a comedian....
declared that he would (hypothetically) dare to urinate on the Bible on television, but not on the Qur'an.
Publication of the cartoons
On 30 September 2005, the
daily newspaper
Newspaper
A newspaper is a scheduled publication containing news of current events, informative articles, diverse features and advertising. It usually is printed on relatively inexpensive, low-grade paper such as newsprint. By 2007, there were 6580 daily newspapers in the world selling 395 million copies a...
Jyllands-Posten
("The Jutland

Jutland

Jutland , historically also called Cimbria, is the name of the peninsula that juts out in Northern Europe toward the rest of Scandinavia, forming the mainland part of Denmark. It has the North Sea to its west, Kattegat and Skagerrak to its north, the Baltic Sea to its east, and the Danish–German...


Post") published an article entitled "Muhammeds ansigt" ("The face of Muhammad"). The article consisted of 12 cartoons (of which only some depicted Muhammad) and an explanatory text, in which Flemming Rose

Flemming Rose

Flemming Rose is a Danish-Jewish journalist, author and cultural editor at the Danish newspaper Jyllands-Posten. He was principally responsible for the publishing of the cartoons that initiated the Jyllands-Posten Muhammad cartoons controversy.- Life :Rose has a major in Russian language and...


,
Jyllands-Posten's culture editor, commented:
After the invitation from Jyllands-Posten
to about forty different artists to give their interpretation of Muhammad, 12 caricaturists chose to respond with a drawing each. Many also commented on the surrounding self-censorship debate. Three of these 12 cartoons were illustrated by Jyllands-Posten's own staff, including the "bomb in turban" and "niqāb

Niqab

A niqab is a cloth which covers the face, worn by some Muslim women as a part of sartorial hijāb...


s" cartoons.

On 19 February, Rose explained his intent further In the
Washington Post
:
In October 2005, the Danish daily
Politiken
Politiken
Politiken is a Danish daily broadsheet newspaper, published by JP/Politikens Hus.The newspaper comes third among Danish newspapers in terms of both number of readers and circulated copies ....
polled thirty-one of the forty-three members of the Danish cartoonist association. Twenty-three said they would be willing to draw Muhammad. One had doubts, one would not be willing because of fear of possible reprisals and six cartoonists would not be willing because they respected the Muslim ban on depicting Muhammad.
Danish Prime Minister's meeting refusal
Having received petitions from Danish imams, eleven ambassadors from Muslim-majority countries asked for a meeting with Danish Prime Minister
Anders Fogh Rasmussen
Anders Fogh Rasmussen
Anders Fogh Rasmussen is a Danish politician, and the 12th and current Secretary General of NATO. Rasmussen served as Prime Minister of Denmark from 27 November 2001 to 5 April 2009....
on 19 October 2005, in order to discuss what they perceived as an "on-going smearing campaign in Danish public circles and media against Islam and Muslims". In a letter, the ambassadors mentioned not only the issue of the Muhammad cartoons, but also a recent indictment against
Radio Holger
Radio Holger
Radio Holger is a Danish radio station transmitting in Metropolitan Copenhagen.The radio station is a small and local radio station, which has become notable for being critical towards Islam and Islams influence in Denmark and the rest of the world.-Source:...
, and statements by MP
Louise Frevert
Louise Frevert
Louise Frevert is a former member of the Danish parliament, born in Frederiksberg. She was elected as member of parliament for the Danish People's Party in the 2001 election and reelected in 2005. She left the party in 2007, and later joined the Centre Democrats, which did not stand for reelection...
and the Minister of Culture,
Brian Mikkelsen
Brian Mikkelsen
Brian Arthur Mikkelsen is a Danish politician. He is a member of the Conservative People's Party, and has been a member of parliament since 21 September 1994....
. It concluded:
The government answered the ambassadors' request for a meeting with Rasmussen with a letter only: "The freedom of expression has a wide scope and the
Danish government
Politics of Denmark
The Politics of Denmark takes place in a framework of a parliamentary, representative democratic, constitutional monarchy, in which the Prime Minister is the head of government, and of a multi-party system...
has no means of influencing the press. However, Danish legislation prohibits acts or expressions of blasphemous or discriminatory nature. The offended party may bring such acts or expressions to court, and it is for the courts to decide in individual cases."
The ambassadors maintained that they had never asked for Jyllands-Posten
to be prosecuted; possibly, the non-technical phrase of the letter, "to take NN to task under law", meant something like "to hold NN responsible within the limits of the law". Rasmussen replied: "Even a non-judicial intervention against
Jyllands-Posten
would be impossible within our system".

The Egyptian Minister of Foreign Affairs

Foreign minister

A Minister of Foreign Affairs, or foreign minister, is a cabinet minister who helps form the foreign policy of a sovereign state. The foreign minister is often regarded as the most senior ministerial position below that of the head of government . It is often granted to the deputy prime minister in...


, Aboul Gheit, wrote several letters to the Prime Minister of Denmark and to the United Nations Secretary-General

United Nations Secretary-General

The Secretary-General of the United Nations is the head of the Secretariat of the United Nations, one of the principal organs of the United Nations. The Secretary-General also acts as the de facto spokesperson and leader of the United Nations....


explaining that they did not want the Prime Minister to prosecute
Jyllands-Posten; they only wanted "an official Danish statement underlining the need for and the obligation of respecting all religions and desisting from offending their devotees to prevent an escalation which would have serious and far-reaching consequences". Subsequently, the Egyptian government played a leading role in defusing the issue in the Middle East.
The refusal to meet the ambassadors has been criticized by the Danish political opposition, twenty-two Danish ex-ambassadors, and former Minister of Foreign Affairs,
Uffe Ellemann-Jensen
Uffe Ellemann-Jensen
Uffe Ellemann-Jensen was Minister for Foreign Affairs of Denmark in the Conservative led Poul Schlüter Administration 1982–1993. He was leader of the Danish Liberal Party, Venstre 1984–1998 and President of the European Liberals 1995–2000...
.
Judicial investigation of Jyllands-Posten
On 27 October 2005, a number of Muslim organizations filed a complaint with the Danish police claiming that Jyllands-Posten had committed an offence under section 140 and 266b of the Danish Criminal Code.
Section 140 of the Criminal Code

Criminal Code

A criminal code is a document which compiles all, or a significant amount of, a particular jurisdiction's criminal law...


, known as the blasphemy law, prohibits disturbing public order by publicly ridiculing or insulting the dogmas of worship of any lawfully existing religious community in Denmark. Only one case has ever resulted in a sentence, a 1938 case involving an anti-Semitic

Anti-Semitism

Antisemitism is suspicion of, hatred toward, or discrimination against Jews for reasons connected to their Jewish heritage. According to a 2005 U.S...


group. The most recent case was in 1971 when a program director

Program director

In service industries, such as education, a program director or programme director researches, plans, develops and implements one or more of the firm's professional services...


of Danmarks Radio

Danmarks Radio

DR – officially rendered into English as the Danish Broadcasting Corporation – is Denmark's national broadcasting corporation. Founded in 1925 as a public-service organization, it is today Denmark's oldest and largest electronic media enterprise...


was charged, but found not guilty.
Section 266b criminalises insult, threat or degradation of natural person

Natural person

Variously, in jurisprudence, a natural person is a human being, as opposed to an artificial, legal or juristic person, i.e., an organization that the law treats for some purposes as if it were a person distinct from its members or owner...


s, by publicly and with malice

Malice (legal term)

Malice is a legal term referring to a party's intention to do injury to another party. Malice is either expressed or implied. Malice is expressed when there is manifested a deliberate intention unlawfully to take away the life of a human being...


attacking their race, color of

Color (law)

In U.S. law, the term color of denotes the "mere semblance of legal right", the "pretense or appearance of" right; hence, an action done under color of law colors the law to the circumstance, yet said apparently legal action contravenes the law....


skin, national or ethnical roots, faith or sexual orientation.
On 6 January 2006, the Regional
Public Prosecutor
Prosecutor
The prosecutor is the chief legal representative of the prosecution in countries with either the common law adversarial system, or the civil law inquisitorial system...
in
Viborg
Viborg, Denmark
Viborg , a town in central Jutland, Denmark, is the seat of both Viborg municipality and Region Midtjylland. Viborg is also the seat of the Western High Court, the High Court for the Jutland peninsula...
discontinued the investigation as he found no basis for concluding that the cartoons constituted a
criminal offence
Crime
Crime is the breach of rules or laws for which some governing authority can ultimately prescribe a conviction...
. His reason is based on his finding that the article concerns a subject of
public interest
Public interest
The public interest refers to the "common well-being" or "general welfare." The public interest is central to policy debates, politics, democracy and the nature of government itself...
and, further, on Danish
case law
Case law
In law, case law is the set of reported judicial decisions of selected appellate courts and other courts of first instance which make new interpretations of the law and, therefore, can be cited as precedents in a process known as stare decisis...
which extends editorial freedom to journalists when it comes to a subject of public interest. He stated that, in assessing what constitutes an offence, the right to freedom of speech must be taken into consideration. He stated that the right to freedom of speech must be exercised with the necessary respect for other
human rights
Human rights
Human rights are "commonly understood as inalienable fundamental rights to which a person is inherently entitled simply because she or he is a human being." Human rights are thus conceived as universal and egalitarian . These rights may exist as natural rights or as legal rights, in both national...
, including the right to protection against discrimination, insult and degradation, but no apparent violation of the law had occurred. In a new hearing, the Director of Public Prosecutors in Denmark agreed.
Danish Imams tour the Middle East
Two
imam
Imam
An imam is an Islamic leadership position, often the worship leader of a mosque and the Muslim community. Similar to spiritual leaders, the imam is the one who leads Islamic worship services. More often, the community turns to the mosque imam if they have a religious question...
s who had been granted sanctuary in Denmark, dissatisfied with the reaction of the Danish Government and Jyllands-Posten
, created a dossier containing a forty-three-page document entitled "
Dossier about championing the prophet Muhammad peace be upon him
." This consisted of several letters from Muslim organisations explaining their case including allegations of the mistreatment of Danish Muslims, citing the
Jyllands-Posten
cartoons (including the false claim that said publication was a government-run newspaper) and further containing the following causes of "pain and torment" for the authors:
Pictures from another Danish newspaper,
Weekendavisen
Weekendavisen
Weekendavisen is a Danish weekly broadsheet newspaper published on Fridays. Its circulation is approximately 60,000 copies, about ten per cent of which cover subscriptions outside Denmark. According to opinion polls, however, the actual number of readers is much higher...
, which they called "even more offending" (than the original 12 cartoons);
Hate-mail pictures and letters that the dossier's authors alleged were sent to Muslims in Denmark, said to be indicative of the rejection of Muslims by the Danish;
A televised interview discussing Islam with Dutch

Netherlands

The Netherlands is a constituent country of the Kingdom of the Netherlands, located mainly in North-West Europe and with several islands in the Caribbean. Mainland Netherlands borders the North Sea to the north and west, Belgium to the south, and Germany to the east, and shares maritime borders...


member of parliament

Member of Parliament

A Member of Parliament is a representative of the voters to a :parliament. In many countries with bicameral parliaments, the term applies specifically to members of the lower house, as upper houses often have a different title, such as senate, and thus also have different titles for its members,...


and Islam critic Hirsi Ali

Ayaan Hirsi Ali

Ayaan Hirsi Magan Ali is a Somali-Dutch feminist and atheist activist, writer, politician who strongly opposes circumcision and female genital cutting. She is the daughter of the Somali politician and opposition leader Hirsi Magan Isse and is a founder of the women's rights organisation the AHA...


, who had received the Freedom Prize "for her work to further freedom of speech and the rights of women" from the Danish Liberal Party represented by Anders Fogh Rasmussen.
Appended to the dossier were multiple clippings from Jyllands-Posten
, multiple clippings from
Weekendavisen
, some clippings from Arabic-language papers and three additional images which also had no connection with Denmark.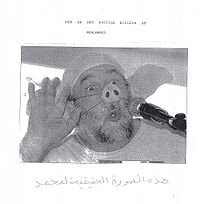 The imams claimed that the three additional images were sent anonymously by mail to Muslims who were participating in an online debate on
Jyllands-Posten
, and were apparently included to illustrate the perceived atmosphere of Islamophobia in which they lived. On 1 February BBC World

BBC World

BBC World News is the BBC's international news and current affairs television channel. It has the largest audience of any BBC channel in the world...


incorrectly reported that one of them had been published in
Jyllands-Posten. This image was later found to be a wire-service photo of a contestant at
a French pig-squealing contest in the Trie-sur-Baise's annual festival
La Pourcailhade
La Pourcailhade is a pig festival held each year in August in the town of Trie-sur-Baïse, in south-western France. It was first held in 1975 and is organised by La Confrérie du Cochon or the Brotherhood of the Pig. The festival involves displays, pig races, eating contests and other competitions...
. One of the other two additional images (a photo) portrayed a Muslim being mounted by a dog while praying, and the other (a cartoon) portrayed Muhammad as a demonic paedophile. Equipped with the dossier, the two imams circulated it throughout the Muslim world, presenting their case to many influential religious and
political leaders
Politician
A politician, political leader, or political figure is an individual who is involved in influencing public policy and decision making...
, asking for support.
The dossier contained such statements as the following:
We urge you [recipient of the letter or dossier] to — on the behalf of thousands of believing Muslims — to give us the opportunity of having a constructive contact with the press and particularly with the relevant decision makers, not briefly, but with a scientific methodology and a planned and long-term programme seeking to make views approach each other and remove misunderstandings between the two parties involved. Since we do not wish for Muslims to be accused of being backward and narrow, likewise we do not wish for Danes to be accused of ideological arrogance either. When this relationship is back on its track, the result will bring satisfaction, an underpinning of security and the stable relations, and a flourishing Denmark for all that live here.
The faithful in their religion (Muslims) suffer under a number of circumstances, first and foremost the lack of official recognition of the Islamic faith. This has led to a lot of problems, especially the lack of right to build mosques [...]
Even though they [the Danes] belong to the Christian faith

Christianity

Christianity is a monotheistic religion based on the life and teachings of Jesus as presented in canonical gospels and other New Testament writings...


, the secularizations have overcome them, and if you say that they are all infidels, then you are not wrong.
We [Muslims] do not need lessons in democracy, but it is actually us, who through our deeds and speeches educate the whole world in democracy.
This [Europe's] dictatorial way of using democracy is completely unacceptable.
The inclusion in the dossier of the cartoons from Weekendavisen
was possibly a misunderstanding, as these were more likely intended as parodies of the pompousness of
Jyllands-Postens cartoons than as comments on Muhammad in their own right. They consist of reproductions of works such as the
Mona Lisa
Mona Lisa
Mona Lisa is a portrait by the Italian artist Leonardo da Vinci. It is a painting in oil on a poplar panel, completed circa 1503–1519...
(caption:
For centuries, a previously unknown society has known that this is a painting of the Prophet, and guarded this secret. The back page's anonymous artist is doing everything he can to reveal this secret in his contribution. He has since then been forced to go underground, fearing for the wrath of a crazy albino imam
). This is a parody of the Da Vinci Code.
At a 6 December 2005 summit of the
Organisation of the Islamic Conference
Organisation of the Islamic Conference
The Organisation of Islamic Cooperation Upon the groups's renaming, some sources provided the English-language translation "Organisation of the Islamic Cooperation", but and have since indicated the preferred English translation omits the "the". is an international organisation consisting of 57...
(OIC), with many
heads of state
Head of State
A head of state is the individual that serves as the chief public representative of a monarchy, republic, federation, commonwealth or other kind of state. His or her role generally includes legitimizing the state and exercising the political powers, functions, and duties granted to the head of...
in attendance, the dossier was handed around on the sidelines first, and eventually an official communiqué was issued, demanding that the
United Nations
United Nations
The United Nations is an international organization whose stated aims are facilitating cooperation in international law, international security, economic development, social progress, human rights, and achievement of world peace...
impose
international sanctions
International sanctions
International sanctions are actions taken by countries against others for political reasons, either unilaterally or multilaterally.There are several types of sanctions....
upon Denmark.
Jyllands-Posten response
In response to protests from Muslim groups,
Jyllands-Posten
published two open letters on its website, each of them in a Danish and an
Arabic
Arabic language
Arabic is a name applied to the descendants of the Classical Arabic language of the 6th century AD, used most prominently in the Quran, the Islamic Holy Book...
version, defending the right of the newspaper to publish the drawings but at the same time apologising for any offense the drawings may have caused. The second letter, dated 30 January 2006, had a Danish version, dated 21:31 Danish time, an Arabic version, and an English version dated 21:44:
On 26 February 2006, the cartoonist
Kurt Westergaard
Kurt Westergaard
Kurt Westergaard is a Danish cartoonist who created the controversial cartoon of the Islamic prophet Muhammad wearing a bomb in his turban. This cartoon was the most contentious of the 12 Jyllands-Posten Muhammad cartoons, which met with strong and sometimes violent reactions from Muslims worldwide...
who had drawn the "bomb in turban" picture, the most controversial of the 12, explained:
Reprinting in other newspapers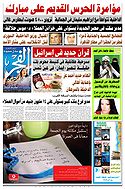 In 2005, the Muhammad cartoons controversy received only minor media attention outside of Denmark. Six of the cartoons were first reprinted by the Egyptian newspaper
El Fagr
El Fagr
El Fagr is an Egyptian independent newsweekly, based in Cairo. It launched in June 2005. Its editor is Adel Hammouda.In its 21st edition, dated October 17, 2005, El Fagr was the first newspaper worldwide to republish on its front page and page 17, a total of six cartoons portraying the Islamic...
on 17 October 2005, along with an article strongly denouncing them, but publication did not provoke any condemnations or other reactions from religious or government authorities. Between October 2005 and the end of January 2006, examples of the cartoons were reprinted in major European newspapers from the Netherlands, Germany, Scandinavia, Belgium and France. Very soon after, as protests grew, there were further re-publications around the globe, but primarily in
continental Europe
Continental Europe
Continental Europe, also referred to as mainland Europe or simply the Continent, is the continent of Europe, explicitly excluding European islands....
.
Notable for a lack of republication of the cartoons were most major newspapers in Canada, the USA and the United Kingdom, where editorials covered the story without including them. Several newspapers were closed and editors fired or arrested for their decision or intention to re-publish the cartoons, including the shutting down of a 60 year old
Malaysian newspaper
Sarawak Tribune
The New Sarawak Tribune is an English-language Malaysian newspaper published in Kuching, Sibu and Bintulu, in Sarawak. Established in 1945, publication of the paper was indefinitely suspended in 2006 following controversy pertaining to the Jyllands-Posten Muhammad cartoons controversy, but it...
permanently. In Wales, Tom Wellingham, a student newspaper editor at Cardiff University, was suspended after publishing the caricature in
Gair Rhydd
, the Students' Union paper. The
College of DuPage
College of DuPage
College of DuPage, or COD, is a two-year community college in Glen Ellyn, Illinois. The college also owns and operates facilities in the Illinois communities of Addison, Bloomingdale, Carol Stream, Naperville, West Chicago, and Westmont...
student newspaper, The Courier, reprinted the cartoons when editorial cartoonist Scott Nychay gave a lecture on campus about the cartoons and the original incident in May 2006.
Apology by Danish newspaper
Following a meeting between the editor-in-chief of the Danish newspaper
Politiken
Politiken
Politiken is a Danish daily broadsheet newspaper, published by JP/Politikens Hus.The newspaper comes third among Danish newspapers in terms of both number of readers and circulated copies ....
Tøger Seidenfaden
Tøger Seidenfaden
Tøger Seidenfaden was a Danish journalist and political scientist, and, from 1993 until his death, editor-in-chief of the broadsheet newspaper Politiken. His father, Erik Seidenfaden, was also a journalist....
and Faisal A.Z. Yamani, Saudi attorney-at-law, who represented eight Muslim groups from the Middle East and Australia, the Danish newspaper apologized for having reprinted a cartoon by Kurt Westergaard in 2008, and issued a press release saying:
The apology has prompted criticism from leading Danish politicians, among them prime minister
Lars Løkke Rasmussen
Lars Løkke Rasmussen
Lars Løkke Rasmussen is a Danish politician who served as Prime Minister of Denmark from April 2009 to October 2011. He is the leader of the centre-right liberal party, Venstre....
, who stated that "Politiken is bowing to other's views of our freedom of speech and this can lead to further attacks on Danish freedom of speech," as well as the head of the Danish Union of Journalists, but Politiken has replied that the settlement did not mean that it had imposed on itself a ban on future publications of the drawings.
Economic and social consequences
A consumer
boycott
Boycott
A boycott is an act of voluntarily abstaining from using, buying, or dealing with a person, organization, or country as an expression of protest, usually for political reasons...
was organised in
Saudi Arabia
Saudi Arabia
The Kingdom of Saudi Arabia , commonly known in British English as Saudi Arabia and in Arabic as as-Sa'ūdiyyah , is the largest state in Western Asia by land area, constituting the bulk of the Arabian Peninsula, and the second-largest in the Arab World...
,
Kuwait
Kuwait
The State of Kuwait is a sovereign Arab state situated in the north-east of the Arabian Peninsula in Western Asia. It is bordered by Saudi Arabia to the south at Khafji, and Iraq to the north at Basra. It lies on the north-western shore of the Persian Gulf. The name Kuwait is derived from the...
(led by MP Waleed AlـTabtabaie), and other Middle East countries.
For weeks, numerous demonstrations and other protests against the cartoons took place worldwide. Rumours spread via
SMS
Short message service
Short Message Service is a text messaging service component of phone, web, or mobile communication systems, using standardized communications protocols that allow the exchange of short text messages between fixed line or mobile phone devices...
and
word-of-mouth
Word of mouth
Word of mouth, or viva voce, is the passing of information from person to person by oral communication. Storytelling is the oldest form of word-of-mouth communication where one person tells others of something, whether a real event or something made up. Oral tradition is cultural material and...
. On 4 February 2006, the Danish and Norwegian embassies in
Syria
Syria
Syria , officially the Syrian Arab Republic , is a country in Western Asia, bordering Lebanon and the Mediterranean Sea to the West, Turkey to the north, Iraq to the east, Jordan to the south, and Israel to the southwest....
were set ablaze, although with no injuries. In
Beirut
Beirut
Beirut is the capital and largest city of Lebanon, with a population ranging from 1 million to more than 2 million . Located on a peninsula at the midpoint of Lebanon's Mediterranean coastline, it serves as the country's largest and main seaport, and also forms the Beirut Metropolitan...
, the Danish
Embassy
Diplomatic mission
A diplomatic mission is a group of people from one state or an international inter-governmental organisation present in another state to represent the sending state/organisation in the receiving state...
was set on fire, leaving one protester dead. The Danish embassy in
Tehran
Tehran
Tehran , sometimes spelled Teheran, is the capital of Iran and Tehran Province. With an estimated population of 8,429,807; it is also Iran's largest urban area and city, one of the largest cities in Western Asia, and is the world's 19th largest city.In the 20th century, Tehran was subject to...
was also torched. Altogether, at least 139 people were killed in protests, most due to police firing on the crowds, mainly in Nigeria, Libya,and Afghanistan.
Several
death threat
Death threat
A death threat is a threat of death, often made anonymously, by one person or a group of people to kill another person or groups of people. These threats are usually designed to intimidate victims in order to manipulate their behavior, thus a death threat is a form of coercion...
s and reward offers for killing those responsible for the cartoons were made, resulting in the cartoonists going into hiding. Four ministers have resigned amidst the controversy, among them
Roberto Calderoli
Roberto Calderoli
Roberto Calderoli is an Italian politician and a member of the Senate of Italy. He is currently a Minister without portfolio for Legislative Simplification in the Berlusconi IV Cabinet....
and
Laila Freivalds
Laila Freivalds
Laila Ligita Freivalds is a Swedish Social Democratic politician and a former Swedish Minister for Justice, Minister for Foreign Affairs and Deputy Prime Minister....
. In India, Haji Yaqoob Qureishi, a minister in the
Uttar Pradesh
Uttar Pradesh
Uttar Pradesh abbreviation U.P. , is a state located in the northern part of India. With a population of over 200 million people, it is India's most populous state, as well as the world's most populous sub-national entity...
state government, announced in February 2006 a cash reward of Rs 51 crore (roughly about US$11 million) for anyone who beheads "the Danish cartoonist" who caricatured Mohammad.
Subsequently, a case was filed against Haji Yaqoob Qureishi in the
Lucknow
Lucknow
Lucknow is the capital city of Uttar Pradesh in India. Lucknow is the administrative headquarters of Lucknow District and Lucknow Division....
district court in Uttar Pradesh and demands were made for his dismissal by eminent Muslim scholars in New Delhi.
Condoleezza Rice
Condoleezza Rice
Condoleezza Rice is an American political scientist and diplomat. She served as the 66th United States Secretary of State, and was the second person to hold that office in the administration of President George W. Bush...
,
Secretary of State of the United States
United States Secretary of State
The United States Secretary of State is the head of the United States Department of State, concerned with foreign affairs. The Secretary is a member of the Cabinet and the highest-ranking cabinet secretary both in line of succession and order of precedence...
accused Iran and Syria of
organizing many of the recent protests
Government-organized demonstration
Government-organized demonstrations or state demonstrations are demonstrations which are organized by the government of that nation.The Islamic Republic of Iran, the People's Republic of China, Republic of Cuba, the Soviet Union, Fascist Italy, and Nazi Germany among other nations, have had...
in Iran, Syria and Lebanon.
On 9 September 2006, the BBC News reported that the Muslim boycott of Danish goods had reduced Denmark's total exports by 15.5% between February and June. This was attributed to a decline in Middle East exports by approximately 50%. "The cost to Danish businesses was around 134 million euros ($170m), when compared with the same period last year, the statistics showed." However, the
Guardian
newspaper in the UK also reported, "While Danish milk products were dumped in the Middle East, fervent rightwing Americans started buying
Bang & Olufsen
Bang & Olufsen
Bang & Olufsen is a Danish company that designs and manufactures audio products, television sets and telephones. It was founded in 1925 by Peter Bang and Svend Olufsen, whose first significant product was a radio that worked with alternating current, when most radios were run from batteries...
stereos and
Lego
Lego
Lego is a line of construction toys manufactured by the Lego Group, a privately held company based in Billund, Denmark. The company's flagship product, Lego, consists of colorful interlocking plastic bricks and an accompanying array of gears, minifigures and various other parts...
. In the first quarter of this year Denmark's exports to the US soared 17%."
Further police investigations (2006–2007)
Anniversary flare-up (September 2006)
One year after the publication of the original cartoons, a video surfaced showing members of the
Danish People's Party's
Danish People's Party
The Danish People's Party is a political party in Denmark which is frequently described as right-wing populist by political scientists and commentators. The party is led by Pia Kjærsgaard...
youth wing engaged in a contest of drawing pictures that insult Muhammad. Publicity surrounding the contest led to renewed tension between the Islamic world and Denmark, with the OIC and many countries weighing in. The Danish government condemned the youths, and those who were depicted in the video went into hiding after receiving death threats.
Two weeks into this episode, a Danish
artist
Artist
An artist is a person engaged in one or more of any of a broad spectrum of activities related to creating art, practicing the arts and/or demonstrating an art. The common usage in both everyday speech and academic discourse is a practitioner in the visual arts only...
s' group, "Defending Denmark", claimed responsibility for the video and said it had
infiltrated
Espionage
Espionage or spying involves an individual obtaining information that is considered secret or confidential without the permission of the holder of the information. Espionage is inherently clandestine, lest the legitimate holder of the information change plans or take other countermeasures once it...
the Danish People's Party Youth for 18 months claiming "to document (their)
extreme right
Far right
Far-right, extreme right, hard right, radical right, and ultra-right are terms used to discuss the qualitative or quantitative position a group or person occupies within right-wing politics. Far-right politics may involve anti-immigration and anti-integration stances towards groups that are...
wing associations".
A few days later, a new episode surfaced when a member of the
Social-liberal youth movement
Radikal Ungdom
Radikal Ungdom af 1994 , is the official youth organization of the Danish political party Det Radikale Venstre. The organization was founded on 30 April 1994 after the former youth organization Radikal Ungdom was dissolved because of a case of fraud with funding from the Danish Youth Council...
stated that members of the movement had also drawn pictures of Muhammad during a weekend meeting. Unlike the Danish People's Party Youth's drawings, this episode was not condoned by the youth movement, but was done by individuals.
February 2008 death threat and resultant reprinting
On 12 February 2008, Danish police arrested three men (two
Tunisia
Tunisia
Tunisia , officially the Tunisian RepublicThe long name of Tunisia in other languages used in the country is: , is the northernmost country in Africa. It is a Maghreb country and is bordered by Algeria to the west, Libya to the southeast, and the Mediterranean Sea to the north and east. Its area...
ns and one Danish national originally from
Morocco
Morocco
Morocco , officially the Kingdom of Morocco , is a country located in North Africa. It has a population of more than 32 million and an area of 710,850 km², and also primarily administers the disputed region of the Western Sahara...
) suspected of planning to assassinate Kurt Westergaard, the cartoonist who drew the
Bomb in the Turban
cartoon. Shortly afterwards, the Dane was released without charge; the two Tunisians were not charged either, but expelled to Tunisia. Despite this, Westergaard has since been under police protection. He has said he is angry that a "perfectly normal everyday activity [drawing political cartoons] which I used to do by the thousand was abused to set off such madness."
The next day, 13 February 2008,
Jyllands-Posten
, and many other Danish newspapers including
Politiken
Politiken
Politiken is a Danish daily broadsheet newspaper, published by JP/Politikens Hus.The newspaper comes third among Danish newspapers in terms of both number of readers and circulated copies ....
and
Berlingske Tidende
Berlingske Tidende
Berlingske, previously known as Berlingske Tidende , is a Danish national daily newspaper based in Copenhagen...
, reprinted Westergaard's
Bomb in the Turban
cartoon, as a statement of commitment to freedom of speech. The liberal newspaper
Politiken
had been critical of the original publication of the cartoons, but reprinted this one now as a gesture of solidarity in the face of a specific threat.
In Denmark, some public disturbances with burnt-out cars and a school set ablaze have followed these events, but the police are unsure if it is directly related to the cartoons controversy or the fact that the two Tunisians were subsequently sentenced to deportation without a trial. Other sources claim the riots in the
Nørrebro
Nørrebro
Nørrebro is one of the 10 official districts of Copenhagen, Denmark. It is northwest of the city centre, beyond the location of the old Northern Gate , which, until dismantled in 1856, was near the current Nørreport station.-Geography:...
district of Copenhagen, which started before the arrests, were wholly unrelated to the cartoons controversy, and were rather set off by police harassment of ethnic minorities in areas of Copenhagen. Some disturbances had occurred already in the days preceding the arrests. Peaceful demonstrations were held in Copenhagen after Friday prayers, with the flags of
Hizb ut-Tahrir
Hizb ut-Tahrir
Hizb ut-Tahrir is an international Sunni. pan-Islamic political organisation but keeps it open for all including shias,some of its beliefs are against sunni school of thought, whose goal is for all Muslim countries to unify as an Islamic state or caliphate ruled by Islamic law and with a caliph...
prominent.
On 19 February 2008, "
Egypt
Egypt
Egypt , officially the Arab Republic of Egypt, Arabic: , is a country mainly in North Africa, with the Sinai Peninsula forming a land bridge in Southwest Asia. Egypt is thus a transcontinental country, and a major power in Africa, the Mediterranean Basin, the Middle East and the Muslim world...
banned editions of four foreign newspapers including the New York-based Wall Street Journal and Britain's The Observer for reprinting the controversial Danish cartoons criticizing the Prophet Muhammad". The events culminated on 2 June 2008 with an attempt to blow up the Danish embassy in
Islamabad
Islamabad
Islamabad is the capital of Pakistan and the tenth largest city in the country. Located within the Islamabad Capital Territory , the population of the city has grown from 100,000 in 1951 to 1.7 million in 2011...
.
Danish troops in Afghanistan threatened
In October 2008, Ekstra Bladet published excerpts from an interview with Taliban spokesman Qari Yousuf Ahmadi saying Danish troops in
Oruzgan Province
Oruzgan Province
Orūzgān or Urōzgān , also spelled Uruzgan or Rōzgān , is one of the thirty-four provinces of Afghanistan. It is in the center of the country, though the area is culturally and tribally linked to Kandahar in the south. Its capital is Tarin Kowt...
are a "primary target" of the Taliban because of the cartoon issue, adding the Danes would be forced to leave Afghanistan.
Yale University Press self-censorship
In August, 2009, officials at
Yale University Press
Yale University Press
Yale University Press is a book publisher founded in 1908 by George Parmly Day. It became an official department of Yale University in 1961, but remains financially and operationally autonomous....
decided to expunge reproductions of the cartoons along with all other images of Muhammad from a scholarly book entitled
The Cartoons that Shook the World

The Cartoons that Shook the World

The Cartoons that Shook the World is a 2009 book by Brandeis University professor Jytte Klausen about the Jyllands-Posten Muhammad cartoons controversy. Klausen contends that the controversy was deliberately stoked up by people with vested interests on all sides, and argues against the view that it...


,
by professor
Jytte Klausen
Jytte Klausen
Jytte Klausen is a Danish-born scholar of politics who teaches at Brandeis University in Massachusetts.Klausen is a graduate of the University of Aarhus who earned her doctorate at the New School for Social Research in New York....
. News of the decision sparked criticism from some prominent Yale alumni as well as from the
American Association of University Professors
American Association of University Professors
The American Association of University Professors is an organization of professors and other academics in the United States. AAUP membership is about 47,000, with over 500 local campus chapters and 39 state organizations...
. Yale defended its rationale by saying it feared inciting violence if the images were published. Flemming Rose, the cultural editor who commissioned the cartoons, has described Yale's action as "[giving] in to intimidation... not even intimidation but an imagined intimidation".
The images of Muhammad censored by Yale were published in the 2009 book
Muhammad: The "Banned" Images
Muhammad: The "Banned" Images
Muhammad: The "Banned" Images is a 2009 book published in response to the expunging of all images of Muhammad from The Cartoons that Shook the World, a 2009 book about the Jyllands-Posten Muhammad cartoons controversy by Jytte Klausen published by Yale University Press...
.
January 2010 Westergaard incident
On 1 January 2010, Danish police shot and wounded a man at the home of Kurt Westergaard in
Aarhus
Aarhus
Aarhus or Århus is the second-largest city in Denmark. The principal port of Denmark, Aarhus is on the east side of the peninsula of Jutland in the geographical center of Denmark...
. Westergaard drew the best known of the cartoons, which depicted the prophet Muhammad with a bomb in his turban. The man was described as a 28-year-old
Somali
Somalia
Somalia , officially the Somali Republic and formerly known as the Somali Democratic Republic under Socialist rule, is a country located in the Horn of Africa. Since the outbreak of the Somali Civil War in 1991 there has been no central government control over most of the country's territory...
linked to the Islamist al-Shabab militia. He reportedly shouted in broken English that he wanted to kill Westergaard, who alerted police after locking himself into a panic room in the house, which was a specially fortified bathroom. Police said that the man was "armed with an axe and a knife in either hand", and broke down the entrance door of the house with the axe. The man attempted unsuccessfully to break down the door of the panic room while shouting swear words. He was shot in his right leg and left hand after reportedly throwing the axe at a police officer who arrived at the scene. Westergaard's five-year-old granddaughter was present in the living room of the house during the incident, but neither Westergaard nor his grandchild were harmed. Bomb disposal experts searched the home in order to ensure that a device had not been planted. The Somali man was carried into court on a stretcher to face two charges of attempted murder, which he denied. He was not named at the time of his arrest as the result of an
injunction
Injunction
An injunction is an equitable remedy in the form of a court order that requires a party to do or refrain from doing certain acts. A party that fails to comply with an injunction faces criminal or civil penalties and may have to pay damages or accept sanctions...
in the Danish courts. A spokesman for al-Shabab, Sheikh Ali Muhamud Rage, commented: "We appreciate the incident in which a Muslim Somali boy attacked the devil who abused our prophet Mohammed and we call upon all Muslims around the world to target the people like him."
On 4 February 2011, the attacker, named in court as Mohamed Geele, was sentenced to nine years in prison for attempting to commit an act of terrorism. Geele appealed the sentence, claiming that he was attempting to scare Westergaard to make him "stop bragging about drawing the cartoon", but was subsequently sentenced to 10 years imprisonment and permanent expulsion from Denmark by the
High Court
Vestre Landsret
The Vestre Landsret is one of Denmark's two High Courts, along with the Østre Landsret...
on June 22, 2011.
September 2010 explosion in Copenhagen
A small
explosion at Hotel Jørgensen
Hotel Jørgensen explosion
The explosion in Hotel Jørgensen was a minor explosion inside of the discount hostel of the same name in central Copenhagen, Denmark. The explosion happened at 1:23 pm on September 10th, 2010. No fatalities were recorded...
in Copenhagen September 10, 2010, is described by the police as an accident with a letter bomb that was meant to be sent to Jyllands-Posten.
Iraqi terrorist in Norway suspect planned attack
In September 2010 a 37-year-old Iraqi Kurd arrested in Norway earlier that year and suspected of planning unspecified terrorist attacks confessed that one of his targets was
Jyllands-Posten
.
Book on five-year anniversary
Five years to the day after the cartoons were first published in
Jyllands-Posten,
they were republished in Denmark in Rose's book
Tyranny of Silence.
The publisher which bought the Norwegian rights to the controversial book has described it as "a 500-page collection of essays about free speech and its boundaries."
Self-censorship of Norwegian newspaper
The regional newspaper
Adresseavisen
Adresseavisen
Adresseavisen is a regional newspaper published daily, except Sundays, in Trondheim, Norway. It is an independent, conservative newspaper with a daily circulation of approximately 85,000. It is also informally known as Adressa. The newspaper covers the areas of Trøndelag and Nordmøre.Adresseavisen...
destroyed an edition of its
weekend supplement
Supplement (publishing)
A supplement is a publication that has a role secondary to that of another preceding or concurrent publication.A follow-on publication complements its predecessor, either by bringing it up-to-date , or by otherwise enhancing the predecessor's coverage of a particular topic or subject matter, as in...
in early October 2010 before it was distributed. The reason was a satirical drawing by the newspaper's cartoonist, Jan O. Henriksen, that editor
Arne Blix
Arne Blix
Arne Blix is a Norwegian journalist.Since 2006 he is the editor-in-chief of the newspaper Adresseavisen. Starting his career as a journalist in Bladet Tromsø from 1976 to 1978 and in Verdens Gang from 1978 to 1985, he has worked in Adresseavisen since, except for the years 1987 to 1989. He took...
in subsequent interviews stated was in conflict with editorial policies. Blix declined to give details of the drawing or the reason for its unacceptability, however according to Henriksen the depiction was of Kurt Westergaard holding one of his Mohammad drawings.
Danish Foreign Minister October 2010 statement
Denmark's foreign minister
Lene Espersen
Lene Espersen
Lene Espersen is a Danish politician and member of parliament who has been Danish Minister of Foreign Affairs since 23 February 2010 and was leader of the Conservative People's Party and Deputy Prime Minister from 9 September 2008 to 13 January 2011...
met in Cairo with the Grand Imam of Al-Azhar on 13 October 2010 and stated that the hurt caused to Muslims from cartoons lampooning the Prophet Mohammed was "very regrettable". She denies that this should be interpreted as an apology for the drawings, stating "I explained that the people of Denmark has no wish to violate or hurt the feelings of others. We do not wish to demonize anyone, we are a tolerant people. And then I explained our constitutional right to free speech, and they understood".
December 2010 arrests
In December 2010, five men were arrested in connection with an
suspected plot
December 2010 Copenhagen terror plot
The December 2010 Copenhagen terror plot was a terrorist plot against Jyllands-Posten, the controversial publisher of the cartoons of the prophet Muhammad in 2005.-Background:...
to stage a gun attack of the offices of the Jyllands-Posten in
Copenhagen
Copenhagen
Copenhagen is the capital and largest city of Denmark, with an urban population of 1,199,224 and a metropolitan population of 1,930,260 . With the completion of the transnational Øresund Bridge in 2000, Copenhagen has become the centre of the increasingly integrating Øresund Region...
. Jakob Scharf, the head of Denmark's
PET
Politiets Efterretningstjeneste
Politiets Efterretningstjeneste is the national security intelligence agency of Denmark...
intelligence agency, described the men as "militant Islamists". Four of the suspects, including
Munir Awad
Munir Awad
Munir Awad is a Lebanon-born citizen of Sweden who has fallen under suspicion of an association with terrorism.Munir Awad, and his fiancee, Safia Benaouda , were captured when Kenya forces, with United States support, invaded Somalia.The pair describe being held in extrajudicial detention...
, were detained in Denmark, and the fifth was detained in Sweden.
U.S. Ambassador's cable published by WikiLeaks
In December 2010,
WikiLeaks
Wikileaks
WikiLeaks is an international self-described not-for-profit organisation that publishes submissions of private, secret, and classified media from anonymous news sources, news leaks, and whistleblowers. Its website, launched in 2006 under The Sunshine Press organisation, claimed a database of more...
published a classified diplomatic cable that had been written in September 2006 by
James P. Cain
James P. Cain
James P. "Jim" Cain is a former United States Ambassador to Denmark from July 2005 to January 2009. He was appointed by President George W. Bush on June 30, 2005. He was replaced by Laurie S. Fulton. Cain is a member of the North Carolina Republican Party-Early Life:Jim Cain is a native of High...
, the
United States Ambassador to Denmark
United States Ambassador to Denmark
The first representative from the United States to Denmark was appointed in 1827 as a Chargé d'Affaires. There followed a series of chargés and ministers until 1890 when the first full ambassador was appointed...
at the time. It reported that the
Jyllands-Posten
had decided against reprinting the cartoons on the first anniversary of the original publication, and observed:
Opinions and issues
Danish journalistic tradition
Freedom of speech
Freedom of speech
Freedom of speech is the freedom to speak freely without censorship. The term freedom of expression is sometimes used synonymously, but includes any act of seeking, receiving and imparting information or ideas, regardless of the medium used...
was guaranteed in law by the Danish Constitution in 1849, as it is today by The Constitutional Act of Denmark of 5 June 1953. It is defended vigorously, although it was suspended during the German
occupation of Denmark
Occupation of Denmark
Nazi Germany's occupation of Denmark began with Operation Weserübung on 9 April 1940, and lasted until German forces withdrew at the end of World War II following their surrender to the Allies on 5 May 1945. Contrary to the situation in other countries under German occupation, most Danish...
in World War II. Freedom of expression is also protected by the
European Convention on Human Rights
European Convention on Human Rights
The Convention for the Protection of Human Rights and Fundamental Freedoms is an international treaty to protect human rights and fundamental freedoms in Europe. Drafted in 1950 by the then newly formed Council of Europe, the convention entered into force on 3 September 1953...
and the
International Covenant on Civil and Political Rights
International Covenant on Civil and Political Rights
The International Covenant on Civil and Political Rights is a multilateral treaty adopted by the United Nations General Assembly on December 16, 1966, and in force from March 23, 1976...
.
The
Danish newspapers
are privately owned and independent from the government, and Danish freedom of expression is quite far-reaching, even by Western European standards. In the past, this has provoked official protests from Germany for Denmark allowing the printing of
neo-nazi
Neo-Nazism
Neo-Nazism consists of post-World War II social or political movements seeking to revive Nazism or some variant thereof.The term neo-Nazism can also refer to the ideology of these movements....
propaganda, and from Russia for "solidarity with terrorists" following the World Chechen Congress held in Denmark in 1999. The organization
Reporters Without Borders
Reporters Without Borders
Reporters Without Borders is a France-based international non-governmental organization that advocates freedom of the press. It was founded in 1985, by Robert Ménard, Rony Brauman and the journalist Jean-Claude Guillebaud. Jean-François Julliard has served as Secretary General since 2008...
ranked Denmark at the top of its Worldwide Press Freedom Index for 2005.
Religion is often portrayed in ways that some other societies may consider illegal blasphemy. While
Jyllands-Posten
Jyllands-Posten
Morgenavisen Jyllands-Posten , commonly shortened to Jyllands-Posten or JP, is a Danish daily broadsheet newspaper. It is based in Viby, a suburb of Århus, and with a weekday circulation of approximately 120,000 copies, it is among the largest-selling newspaper in Denmark...
has published
satirical
Satire
Satire is primarily a literary genre or form, although in practice it can also be found in the graphic and performing arts. In satire, vices, follies, abuses, and shortcomings are held up to ridicule, ideally with the intent of shaming individuals, and society itself, into improvement...
cartoons depicting Christian figures, it also rejected unsolicited
surreal
Surreal humour
Surreal humour is a form of humour based on violations of causal reasoning with events and behaviours that are logically incongruent. Constructions of surreal humour involve bizarre juxtapositions, non-sequiturs, irrational situations, and/or expressions of nonsense.The humour arises from a...
cartoons in 2003 which depicted Jesus, opening them to accusations of a
double standard
Double standard
A double standard is the unjust application of different sets of principles for similar situations. The concept implies that a single set of principles encompassing all situations is the desirable ideal. The term has been used in print since at least 1895...
. In February 2006,
Jyllands-Posten
also refused to publish
Holocaust denial cartoons
Iran Holocaust Cartoons Contest
International Holocaust Cartoon Contest was a cartoon competition sponsored by the Iranian newspaper Hamshahri, to denounce what it called 'Western hypocrisy on freedom of speech'. The event was staged in response to the Jyllands-Posten Muhammad cartoons controversy, and to challenge Western...
offered by an Iranian newspaper. Six of the less controversial entries were later published by
Dagbladet Information
Dagbladet Information
Information , full name: Dagbladet Information , is a Danish newspaper published Monday through Saturday.Originally established and edited by Børge Outze and published during the World War II by the Danish resistance movement. Information was illegal during the war as it was not regulated by the...
, after the editors consulted the main rabbi in Copenhagen, and three cartoons were in fact later reprinted in
Jyllands-Posten
. After the competition had finished,
Jyllands-Posten
also reprinted the winning and
runner-up
Runner-up
Runner-up is a term used to denote a participant which finishes in second place in any of a variety of competitive endeavors, most notably sporting events and beauty pageants; in the latter instance, the term is applied to more than one of the highest-ranked non-winning contestants, the...
cartoons.
In March 2008, the film
Fitna
Fitna (film)
Fitna is a 2008 short political, propaganda film by Dutch parliamentarian Geert Wilders with his view on the religion of the Islam. Approximately 17 minutes in length, the movie shows selected excerpts from Suras of the Qur'an, interspersed with media clips and newspaper cuttings showing or...
by the Dutch politician
Geert Wilders
Geert Wilders
Geert Wilders is a Dutch right-wing politician and leader of the Party for Freedom , the third-largest political party in the Netherlands. He is the Parliamentary group leader of his party in the Dutch House of Representatives...
was released. The cartoon of Muhammad with a bomb in his turban was shown during the film's opening and closing scenes.
The Danish Union of Journalists
The Danish Union of Journalists
Danish Union of Journalists is a Danish trade union for journalists, graphic designers, communication officers, photographers, media technicians, etc., which was founded on 1 January 1961. Members are both permanent employees and freelancers...
and Kurt Westergaard described the use of the cartoon in the film as a "grave violation of Westergaard's author's right (copyright)". The Danish Union of Journalists and Westergaard sued Wilders, and in September 2008 Wilders agreed to pay Westergaard 7500
euro
Euro
The euro is the official currency of the eurozone: 17 of the 27 member states of the European Union. It is also the currency used by the Institutions of the European Union. The eurozone consists of Austria, Belgium, Cyprus, Estonia, Finland, France, Germany, Greece, Ireland, Italy, Luxembourg,...
s for using the cartoon without permission.
Aniconism
Owing to the traditions of
aniconism
Aniconism
Aniconism is the practice or belief in avoiding or shunning images of divine beings, prophets or other respected religious figures, or in different manifestations, any human beings or living creatures. The term aniconic may be used to describe the absence of graphic representations in a particular...
in Islam, the majority of
art
Art
Art is the product or process of deliberately arranging items in a way that influences and affects one or more of the senses, emotions, and intellect....
concerning Muhammad is
calligraphic
Islamic calligraphy
Islamic calligraphy, colloquially known as Perso-Arabic calligraphy, is the artistic practice of handwriting, or calligraphy, and by extension, of bookmaking, in the lands sharing a common Islamic cultural heritage. This art form is based on the Arabic script, which for a long time was used by all...
in nature. The Qur'an condemns
idolatry
Idolatry
Idolatry is a pejorative term for the worship of an idol, a physical object such as a cult image, as a god, or practices believed to verge on worship, such as giving undue honour and regard to created forms other than God. In all the Abrahamic religions idolatry is strongly forbidden, although...
, and pictoral forms are seen as ostensibly close to idol worship. These are found in A
hadith
Hadith
The term Hadīth is used to denote a saying or an act or tacit approval or criticism ascribed either validly or invalidly to the Islamic prophet Muhammad....
[plural of Hadith]:
"Ibn 'Umar reported Allah's Messenger having said: Those who paint pictures would be punished on the Day of Resurrection

Resurrection

Resurrection refers to the literal coming back to life of the biologically dead. It is used both with respect to particular individuals or the belief in a General Resurrection of the dead at the end of the world. The General Resurrection is featured prominently in Jewish, Christian, and Muslim...


and it would be said to them: Breathe soul

Soul

A soul in certain spiritual, philosophical, and psychological traditions is the incorporeal essence of a person or living thing or object. Many philosophical and spiritual systems teach that humans have souls, and others teach that all living things and even inanimate objects have souls. The...


into what you have created."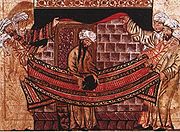 Within Muslim communities, views have varied regarding pictorial representations.
Shi'a Islam
Shi'a Islam
Shia Islam is the second largest denomination of Islam. The followers of Shia Islam are called Shi'ites or Shias. "Shia" is the short form of the historic phrase Shīʻatu ʻAlī , meaning "followers of Ali", "faction of Ali", or "party of Ali".Like other schools of thought in Islam, Shia Islam is...
has been generally tolerant of pictorial representations of human figures, including Muhammad. Contemporary
Sunni Islam
Sunni Islam
Sunni Islam is the largest branch of Islam. Sunni Muslims are referred to in Arabic as ʾAhl ūs-Sunnah wa āl-Ǧamāʿah or ʾAhl ūs-Sunnah for short; in English, they are known as Sunni Muslims, Sunnis or Sunnites....
generally forbids any pictorial representation of Muhammad, but has had periods allowing depictions of Muhammad's face covered with a veil or as a featureless void emanating light. The
Islamic Circle of North America
Islamic Circle of North America
Islamic Circle of North America , formally chartered in 1971 but active since 1968, is an Islamic North American grassroots umbrella organization....
(ICNA) has condemned the depiction of any prophet, from Adam to Moses to Jesus to Mohammed.
A few contemporary interpretations of Islam, such as some adherents of
Wahhabism
Wahhabism
Wahhabism is a religious movement or a branch of Islam. It was developed by an 18th century Muslim theologian from Najd, Saudi Arabia. Ibn Abdul Al-Wahhab advocated purging Islam of what he considered to be impurities and innovations...
and Salafism, are entirely
aniconistic
Aniconism
Aniconism is the practice or belief in avoiding or shunning images of divine beings, prophets or other respected religious figures, or in different manifestations, any human beings or living creatures. The term aniconic may be used to describe the absence of graphic representations in a particular...
and condemn pictorial representations of any kind.
The Taliban, while in power in
Afghanistan
Afghanistan
Afghanistan , officially the Islamic Republic of Afghanistan, is a landlocked country located in the centre of Asia, forming South Asia, Central Asia and the Middle East. With a population of about 29 million, it has an area of , making it the 42nd most populous and 41st largest nation in the world...
, banned television, photographs and images in newspapers and destroyed paintings including
fresco
Fresco
Fresco is any of several related mural painting types, executed on plaster on walls or ceilings. The word fresco comes from the Greek word affresca which derives from the Latin word for "fresh". Frescoes first developed in the ancient world and continued to be popular through the Renaissance...
es in the vicinity of the
Buddhas of Bamyan
Buddhas of Bamyan
The Buddhas of Bamiyan were two 6th century monumental statues of standing buddhas carved into the side of a cliff in the Bamyan valley in the Hazarajat region of central Afghanistan, situated northwest of Kabul at an altitude of 2,500 meters...
(which they also destroyed).
Prohibition against insulting Muhammad
In Muslim societies, insulting Muhammad is considered one of the gravest of all crimes. Some interpretations of the Shariah, in particular the relatively fringe
Salafi
Salafi
A Salafi come from Sunni Islam is a follower of an Islamic movement, Salafiyyah, that is supposed to take the Salaf who lived during the patristic period of early Islam as model examples...
(Wahabi) group, state that any insult to Muhammad warrants death.
However, the Organization of the Islamic Conference has denounced calls for the death of the Danish cartoonists. OIC's Secretary General
Ekmeleddin Ihsanoglu
Ekmeleddin Ihsanoglu
Ekmeleddin İhsanoğlu is a Turkish academic, diplomat and currently the Secretary-General of the Organisation of Islamic Cooperation , the second largest intergovernmental organisation after the United Nations...
stated in a press release:

The Secretary General appeals to the Muslims to stay calm and peaceful in the wake of sacrilegious depiction of Prophet Muhammad which has deeply hurt their feelings. He has stated that Islam being the religion of tolerance, mercy and peace teaches them to defend their faith through democratic and legal means.

Associating Islam with terrorism
Many Muslims have explained their anti-cartoon stance as against
insulting
pictures and not so much as against pictures in
general
. According to the
BBC
BBC
The British Broadcasting Corporation is a British public service broadcaster. Its headquarters is at Broadcasting House in the City of Westminster, London. It is the largest broadcaster in the world, with about 23,000 staff...
:
Islamism and accusations of xenophobia
Fundamentalist Islam
Islamic fundamentalism
Islamic fundamentalism is a term used to describe religious ideologies seen as advocating a return to the "fundamentals" of Islam: the Quran and the Sunnah. Definitions of the term vary. According to Christine L...
has recently been characterized as a problem in Europe, while disillusionment with
multiculturalism
Multiculturalism
Multiculturalism is the appreciation, acceptance or promotion of multiple cultures, applied to the demographic make-up of a specific place, usually at the organizational level, e.g...
is on the rise in Denmark. This was further fuelled by
Mullah Krekar
Mullah Krekar
Mullah Krekar , is a Kurdish Sunni Islamist terrorist who came to Norway as a refugee from northern Iraq in 1991. His wife and four children have Norwegian citizenship, but not Krekar himself. He speaks Kurdish, Arabic, Norwegian and English...
stating that "the number of Muslims is expanding like mosquitoes." The UNCHR Special Rapporteur, on the other hand, saw
xenophobia
Xenophobia
Xenophobia is defined as "an unreasonable fear of foreigners or strangers or of that which is foreign or strange". It comes from the Greek words ξένος , meaning "stranger," "foreigner" and φόβος , meaning "fear."...
and
racism
Racism
Racism is the belief that inherent different traits in human racial groups justify discrimination. In the modern English language, the term "racism" is used predominantly as a pejorative epithet. It is applied especially to the practice or advocacy of racial discrimination of a pernicious nature...
in Europe as the root of the controversy, particularly singling out Denmark.
Agenda in the West
Some commentators see the publications of the cartoons and the riots that took place in response, as part of a coordinated effort to show Muslims and Islam in a bad light, thus influencing public opinion in the West in aid of various political projects, for example to support further military intervention in the Middle East.
The controversy was used to highlight a supposedly irreconcilable rift between Europeans and Islam – as the journalist Andrew Mueller put it: "I am concerned that the ridiculous, disproportionate reaction to some unfunny sketches in an obscure Scandinavian newspaper may confirm that ... Islam and the West are fundamentally irreconcilable" – and many demonstrations in the Middle-East were encouraged by the regimes there for their own purposes. Different groups used this tactic for different purposes, some more explicitly than others: for example
anti-immigrant
Nativism (politics)
Nativism favors the interests of certain established inhabitants of an area or nation as compared to claims of newcomers or immigrants. It may also include the re-establishment or perpetuation of such individuals or their culture....
groups, nationalists, feminists,
classical liberals
Classical liberalism
Classical liberalism is the philosophy committed to the ideal of limited government, constitutionalism, rule of law, due process, and liberty of individuals including freedom of religion, speech, press, assembly, and free markets....
and national governments.
Muslim critics have also accused the West, in particular the EU, of double standards in adopting laws that outlaw
Holocaust denial
Holocaust denial
Holocaust denial is the act of denying the genocide of Jews in World War II, usually referred to as the Holocaust. The key claims of Holocaust denial are: the German Nazi government had no official policy or intention of exterminating Jews, Nazi authorities did not use extermination camps and gas...
. Denmark, along with Britain and Sweden, have particularly libertarian traditions concerning Holocaust denial and pressed for wording in a recent EU legislation that would avoid criminalizing debates about the Holocaust and would ensure that films and plays about the Holocaust would not be censored.
Alleged Zionist agenda
Among others,
Iran
Iran
Iran , officially the Islamic Republic of Iran , is a country in Southern and Western Asia. The name "Iran" has been in use natively since the Sassanian era and came into use internationally in 1935, before which the country was known to the Western world as Persia...
's supreme leader Ayatollah
Ali Khamenei
Ali Khamenei
Ayatollah Seyed Ali Hoseyni Khāmene'i is the Supreme Leader of Iran and the figurative head of the Muslim conservative establishment in Iran and Twelver Shi'a marja...
blamed a "Zionist
conspiracy
Conspiracy theory
A conspiracy theory explains an event as being the result of an alleged plot by a covert group or organization or, more broadly, the idea that important political, social or economic events are the products of secret plots that are largely unknown to the general public.-Usage:The term "conspiracy...
" for the row over the cartoons.
Palestinian Christian
Palestinian Christian
Palestinian Christians are Arabic-speaking Christians descended from the people of the geographical area of Palestine. Within Palestine, there are churches and believers from many Christian denominations, including Oriental Orthodoxy, Eastern Orthodoxy, Catholic , Protestant, and others...
diplomat
Afif Safieh
Afif Safieh
Afif Safieh is a Palestinian diplomat. He was most recently the Palestinian ambassador to the Russian Federation.Safieh was born in Jerusalem in 1950 to a Christian family. As a child, he attended school in Jerusalem's College Des Frères. In 1972, he obtained a degree in Political Science and...
, then the
Palestine Liberation Organization
Palestine Liberation Organization
The Palestine Liberation Organization is a political and paramilitary organization which was created in 1964. It is recognized as the "sole legitimate representative of the Palestinian people" by the United Nations and over 100 states with which it holds diplomatic relations, and has enjoyed...
's envoy to Washington, alleged the
Likud
Likud
Likud is the major center-right political party in Israel. It was founded in 1973 by Menachem Begin in an alliance with several right-wing and liberal parties. Likud's victory in the 1977 elections was a major turning point in the country's political history, marking the first time the left had...
party concocted the distribution of Muhammad caricatures worldwide in a bid to create a clash between the West and the Muslim world.
Islamist or Middle East regime agendas
Other commentators see Islamists jockeying for influence both in Europe and the
Islamic Ummah
Ummah
Ummah is an Arabic word meaning "community" or "nation." It is commonly used to mean either the collective nation of states, or the whole Arab world...
, who tried (unsuccessfully) to widen the split between the USA and Europe, and simultaneously bridge the split between the Sunnis and the Shia.
Regimes in the Middle East have been accused of taking advantage of the controversy, and adding to it, in order to demonstrate their Islamic credentials, distracting from their failures by setting up an external enemy, and "(using) the cartoons [...] as a way of showing that the expansion of freedom and democracy in their countries would lead inevitably to the denigration of Islam."
Mahmoud Ahmadinejad
announced a Holocaust Conference, supported by the Organization of the Islamic Conference, to uncover what he called the "myth" used to justify the creation of Israel. Ahmadinejad started voicing doubt about the veracity of the holocaust at the same OIC conference in Mecca that served to spread the
Akkari-Laban dossier
Akkari-Laban dossier
The Akkari-Laban dossier is a 43 page document which was created by a group of Danish Muslim clerics from multiple organizations set out to present their case and ask for support in the Jyllands-Posten Muhammad cartoons controversy....
to leaders of the Muslim world.
Alleged political correctness
Critics of
political correctness
Political correctness
Political correctness is a term which denotes language, ideas, policies, and behavior seen as seeking to minimize social and institutional offense in occupational, gender, racial, cultural, sexual orientation, certain other religions, beliefs or ideologies, disability, and age-related contexts,...
see the cartoon controversy as a sign that attempts at judicial codification of such concepts as
respect
Respect
Respect denotes both a positive feeling of esteem for a person or other entity , and also specific actions and conduct representative of that esteem. Respect can be a specific feeling of regard for the actual qualities of the one respected...
,
tolerance
Toleration
Toleration is "the practice of deliberately allowing or permitting a thing of which one disapproves. One can meaningfully speak of tolerating, ie of allowing or permitting, only if one is in a position to disallow". It has also been defined as "to bear or endure" or "to nourish, sustain or preserve"...
and offense have backfired on their advocates, "leaving them without a leg to stand on" and in retreat again:
Comparable references
Numerous comparisons have been offered in public discourse comparing earlier controversies over freedom of speech and art with the controversy that surrounded the
Jyllands-Posten
cartoons. Some examples include:
The New Yorker 2008 Imam Obama Cover (magazine cover, 2008, U.S.A.)
My Sweet Lord

Cosimo Cavallaro

Cosimo Cavallaro is an Italian-Canadian artist, filmmaker and sculptor. He is known for his numerous installation art pieces involving real cheese, including a series of photographs of the iconic 1960s model Twiggy draped in cheese and covering the inside of a New York City hotel room with melted...


(sculpture, 2007, U.S.A.)
The Life of Jesus

Gerhard Haderer

Gerhard Haderer is an Austrian cartoonist and caricaturist.-Biography:Gerhard Haderer was born in 1951 in Leonding, in upper Austria. He studied at a technical art school in Linz for four years from 1965, and then studied engraving in Stockholm. He returned to Austria in 1971 and worked as an...


(book, 2005, Greece)
Jerry Springer - The Opera (musical, 2005, Britain)
Sarah Silverman: Jesus Is Magic (concert film, 2005, U.S.A.)
Bloody Mary

Bloody Mary (South Park)

"Bloody Mary" is the fourteenth episode of the ninth season of the series South Park. It originally aired on Comedy Central in the United States on December 7, 2005. In the episode, Randy drives drunk and loses his driver's license. He then forced to go to Alcoholics Anonymous meetings, where he...


(TV, 2005, United States, New Zealand, and Australia)
Behzti

Behzti

Behzti is a play written by the British Sikh playwright Gurpreet Kaur Bhatti. The play sparked a controversy in the United Kingdom in December 2004. A controversial scene set in a Gurdwara included scenes of rape, physical abuse and murder. Some members of the Sikh community found the play deeply...


(play, 2004, United Kingdom)
Submission (short film, 2004, Netherlands)
Snow White and The Madness of Truth

Snow White and The Madness of Truth

Snow White and The Madness of Truth was an item of installation art by Swedish, Israeli-born composer and musician Dror Feiler, and his Swedish wife, artist Gunilla Sköld-Feiler...


(installation, 2004, Sweden)
Ecce Homo

Ecce Homo (exhibition)

Ecce Homo is a controversial exhibition of 12 photographs of different biblical situations, in modern surroundings, taken by the Swedish photographer Elisabeth Ohlson Wallin. The first vernissage of the exhibition was in Stockholm, July 1998 and attracted a lot of attention. As the exhibition was...


(exhibition, 2000, Europe)
Sensation

Sensation exhibition

Sensation was an exhibition of the collection of contemporary art owned by Charles Saatchi, including many works by Young British Artists, which first took place 18 September – 28 December 1997 at the Royal Academy of Art in London and later toured to Berlin and New York...


(exhibition, 1999, London and New York)
Corpus Christi

Corpus Christi (play)

Corpus Christi is a passion play by Terrence McNally dramatizing the story of Jesus and the Apostles. Written in 1997 and first staged in New York in 1998, it depicts Jesus and the Apostles as gay men living in modern-day Texas. It utilizes modern devices like television with anachronisms like...


(play, 1998, United States)
Great Lawgivers (frieze, 1997, Washington D.C.)
Tatiana Soskin (drawing, 1997, Israel)
Taslima Nasrin (newspaper, 1994, Bangladesh)
Sinéad O'Connor

Sinéad O'Connor

Sinéad Marie Bernadette O'Connor is an Irish singer-songwriter. She rose to fame in the late 1980s with her debut album The Lion and the Cobra and achieved worldwide success in 1990 with a cover of the song "Nothing Compares 2 U"....


(Saturday Night Live

Saturday Night Live

Saturday Night Live is a live American late-night television sketch comedy and variety show developed by Lorne Michaels and Dick Ebersol. The show premiered on NBC on October 11, 1975, under the original title of NBC's Saturday Night.The show's sketches often parody contemporary American culture...


performance, 1992, United States)
Piss Christ

Piss Christ

Piss Christ is a 1987 photograph by artist and photographer Andres Serrano. It depicts a small plastic crucifix submerged in a glass of the artist's urine...


(photo, 1989, United States)
The Satanic Verses

The Satanic Verses (novel)

The Satanic Verses is Salman Rushdie's fourth novel, first published in 1988 and inspired in part by the life of Prophet Muhammad. As with his previous books, Rushdie used magical realism and relied on contemporary events and people to create his characters...


(novel, 1988, global)
The Last Temptation of Christ

The Last Temptation of Christ

The Last Temptation of Christ is a novel written by Nikos Kazantzakis, first published in 1953. It was first published in English in 1960. It follows the life of Jesus Christ from his perspective...


(novel, 1960, Europe and United States) and The Last Temptation of Christ

The Last Temptation of Christ (film)

The Last Temptation of Christ is a 1988 drama film directed by Martin Scorsese. It is a film adaptation of the controversial 1953 novel of the same name by Nikos Kazantzakis. It stars Willem Dafoe as Jesus Christ, Harvey Keitel as Judas Iscariot, Barbara Hershey as Mary Magdalene, David Bowie as...


(film, 1988, United States and Europe)
The Calcutta Quran Petition

The Calcutta Quran Petition

The Calcutta Quran Petition is a book by Sita Ram Goel and Chandmal Chopra, and published by Goel under his Voice of India imprint...


(court case, 1985, India)
Hustler Magazine: Jerry Falwell Talks About His First Time (magazine parody, 1983, U.S.A.)
Life of Brian (film, 1979, United States and Europe)
The Love that Dares to Speak its Name

The Love that Dares to Speak its Name

The Love that Dares to Speak its Name is a controversial poem by James Kirkup.It is written from the viewpoint of a Roman centurion who is graphically described having sex with Jesus after his crucifixion, and also claims that Jesus had had sex with numerous disciples, guards, and even Pontius...


(poem, 1977, United Kingdom)
Mohammad, Messenger of God

Mohammad, Messenger of God (film)

Mohammad, Messenger of God is a 1976 film directed by Moustapha Akkad chronicling the life and times of Muhammad, the prophet of Islam...


(film, 1977, United States, Libya, UK and Lebanon)
And a later controversy:
Gregorius Nekschot

Gregorius Nekschot

Gregorius Nekschot is the pseudonym of a controversial Dutch cartoonist who mocks political ideas about Dutch multicultural society and the behaviour of people with rigid religious or ideological views. Islam is frequently subject of his cartoons. Gregorius Nekschot publishes his cartoons and...


(cartoons, 2008, The Netherlands)
See also
The Cartoons that Shook the World

The Cartoons that Shook the World

The Cartoons that Shook the World is a 2009 book by Brandeis University professor Jytte Klausen about the Jyllands-Posten Muhammad cartoons controversy. Klausen contends that the controversy was deliberately stoked up by people with vested interests on all sides, and argues against the view that it...



Adresseavisen

Adresseavisen

Adresseavisen is a regional newspaper published daily, except Sundays, in Trondheim, Norway. It is an independent, conservative newspaper with a daily circulation of approximately 85,000. It is also informally known as Adressa. The newspaper covers the areas of Trøndelag and Nordmøre.Adresseavisen...


– the Norwegian newspaper's controversial cartoon in response to the Danish embassy bombing in 2008
Danish embassy bombing, 2008

2008 Danish embassy bombing

The 2008 Danish embassy bombing was an attack on the Danish embassy in Islamabad, Pakistan on June 2, 2008. The suspected suicide car bombing in the parking lot of the embassy took place at around 12:10 pm , killing at least five and wounding many more. The Danish national security...



Dialogue Among Civilizations

Dialogue Among Civilizations

Former Iranian president Mohammad Khatami introduced the idea of Dialogue Among Civilizations as a response to Samuel P. Huntington's theory of a Clash of Civilizations.-Introduction:...



Islamist demonstration outside Danish Embassy in London in 2006

Islamist demonstration outside Danish Embassy in London in 2006

The 2006 Islamist demonstration outside the Embassy of Denmark in London took place on 3 February 2006, in response to controversy surrounding the publication of editorial cartoons depicting the Islamic prophet Muhammad in the Danish newspaper Jyllands-Posten on 30 September 2005...



Lars Vilks Muhammad drawings controversy

Lars Vilks Muhammad drawings controversy

The Lars Vilks Muhammad drawings controversy began in July 2007 with a series of drawings by Swedish artist Lars Vilks that depicted the Islamic prophet Muhammad as a roundabout dog . Several art galleries in Sweden declined to show the drawings, citing security concerns and fear of violence...



Everybody Draw Mohammed Day

Everybody Draw Mohammed Day

Everybody Draw Mohammed Day was an event held on 20 May 2010 in support of free speech and freedom of artistic expression of those threatened by violence for drawing representations of the Islamic Prophet Muhammad...



Theo van Gogh

Theo van Gogh (film director)

Theodoor "Theo" van Gogh was a Dutch film director, film producer, columnist, author and actor.Van Gogh worked with the Somali-born writer Ayaan Hirsi Ali to produce the film Submission, which criticized the treatment of women in Islam and aroused controversy among Muslims...



Muhammad FAQ Images Info on how to avoid looking at images of Muhammad in Wikipedia
2010 Qur'an-burning controversy

2010 Qur'an-burning controversy

The Dove World Quran-burning controversy arose in July 2010, when Terry Jones, the pastor of the Christian Dove World Outreach Center in Gainesville, Florida, U.S., declared he would burn 200 Qurans on the 2010 anniversary of the September 11 attacks. Media coverage resulted in international...



Blasphemy Day

Blasphemy Day

Blasphemy Day International is a holiday in which individuals and groups are encouraged to openly express their criticism of, or even disdain for, religion. It was founded in 2009 by the Center for Inquiry. A student contacted the Center for Inquiry in Amherst, New York to present the idea, which...


is celebrated on September 30 to coincide with the anniversary of the publication of the cartoons
December 2010 Copenhagen terror plot

December 2010 Copenhagen terror plot

The December 2010 Copenhagen terror plot was a terrorist plot against Jyllands-Posten, the controversial publisher of the cartoons of the prophet Muhammad in 2005.-Background:...


to kill "as many as possible" at Jyllands-Posten
Primary sources
Second open letter

Open letter

An open letter is a letter that is intended to be read by a wide audience, or a letter intended for an individual, but that is nonetheless widely distributed intentionally....


to the Muslims of Saudi Arabia from Jyllands-Posten
Islamic views
Non-Islamic views
Press reviews
Video
Images
Other sources
The Mohammed-Cartoon Controversy, Israel, and the Jews: A Case Study by Manfred Gerstenfeld

Manfred Gerstenfeld

Manfred Gerstenfeld is an Austrian-born Israeli author and political activist.-Biography:Manfred Gerstenfeld was born in Vienna, grew up in Amsterdam and moved to Israel in 1968. He has a Ph.D. in Environmental Studies from the University of Amsterdam. Gerstenfeld was a board member of the Israel...


of the Jerusalem Center for Public Affairs

Jerusalem Center for Public Affairs

The Jerusalem Center for Public Affairs is a public policy think tank devoted to research and analysis of critical issues facing the Middle East. The center is located in Jerusalem, Israel...



Weekly Standard Reprint of Danish Cartoons by William Kristol

William Kristol

William Kristol is an American neoconservative political analyst and commentator. He is the founder and editor of the political magazine The Weekly Standard and a regular commentator on the Fox News Channel....



Blasphemy: Art that Offends, by S. Brent Plate. This book puts the cartoon controversy into a larger history of blasphemy in the Western religious traditions. (London: Black Dog Publishing, 2006) [ISBN 1-904772-53-6]
A. Sari, The Danish Cartoons Row: Re-Drawing the Limits of the Right to Freedom of Expression?, Finnish Yearbook of International Law, Vol. 16, pp. 365–398, 2005