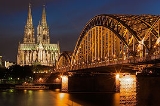 Cologne
Cologne
is Germany's fourth-largest city (after
Berlin
Berlin
Berlin is the capital city of Germany and is one of the 16 states of Germany. With a population of 3.45 million people, Berlin is Germany's largest city. It is the second most populous city proper and the seventh most populous urban area in the European Union...
,
Hamburg
Hamburg
-History:The first historic name for the city was, according to Claudius Ptolemy's reports, Treva.But the city takes its modern name, Hamburg, from the first permanent building on the site, a castle whose construction was ordered by the Emperor Charlemagne in AD 808...
and
Munich
Munich
Munich The city's motto is "" . Before 2006, it was "Weltstadt mit Herz" . Its native name, , is derived from the Old High German Munichen, meaning "by the monks' place". The city's name derives from the monks of the Benedictine order who founded the city; hence the monk depicted on the city's coat...
), and is the largest city both in the Germany Federal State of
North Rhine-Westphalia
North Rhine-Westphalia
North Rhine-Westphalia is the most populous state of Germany, with four of the country's ten largest cities. The state was formed in 1946 as a merger of the northern Rhineland and Westphalia, both formerly part of Prussia. Its capital is Düsseldorf. The state is currently run by a coalition of the...
and within the
Rhine-Ruhr Metropolitan Area
Rhine-Ruhr
The Rhine-Ruhr metropolitan region is the largest metropolitan region in Germany with about 10,100,000 inhabitants. It is of polycentric nature and the only megacity in Germany. It covers an area of 7,110 square kilometers and lies entirely within the federal state of North Rhine-Westphalia...
, one of the major European metropolitan areas with more than ten million inhabitants.
Cologne is located on both sides of the
Rhine
River. The city's famous
Cologne Cathedral
Cologne Cathedral
Cologne Cathedral is a Roman Catholic church in Cologne, Germany. It is the seat of the Archbishop of Cologne and the administration of the Archdiocese of Cologne. It is renowned monument of German Catholicism and Gothic architecture and is a World Heritage Site...
(
Kölner Dom
) is the seat of the Catholic
Archbishop of Cologne
.
1647 Thirty Years' War: Bavaria, Cologne, France and Sweden sign the Truce of Ulm.
1880 Construction of Cologne Cathedral, the most famous landmark in Cologne, Germany, is completed.
1945 Cologne is captured by American Troops.
1964 World War II veteran Walter Seifert runs amok in an elementary school in Cologne, Germany, killing at least eight children and two teachers and seriously injuring several more with a home-made flamethrower and a lance.
1977 Hanns Martin Schleyer, is kidnapped in Cologne, West Germany by the Red Army Faction and is later murdered.
2009 The building of the Historisches Archiv der Stadt Köln (Historical Archives) in Cologne, Germany, collapses.