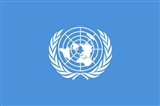 United Nations
The
United Nations
(
UN
) is an
international organization
International organization
An intergovernmental organization, sometimes rendered as an international governmental organization and both abbreviated as IGO, is an organization composed primarily of sovereign states , or of other intergovernmental organizations...
whose stated aims are facilitating cooperation in
international law
International law
Public international law concerns the structure and conduct of sovereign states; analogous entities, such as the Holy See; and intergovernmental organizations. To a lesser degree, international law also may affect multinational corporations and individuals, an impact increasingly evolving beyond...
,
international security
International security
International security consists of the measures taken by nations and international organizations, such as the United Nations, to ensure mutual survival and safety. These measures include military action and diplomatic agreements such as treaties and conventions. International and national security...
,
economic development
Economic development
Economic development generally refers to the sustained, concerted actions of policymakers and communities that promote the standard of living and economic health of a specific area...
,
social progress
Social change
Social change refers to an alteration in the social order of a society. It may refer to the notion of social progress or sociocultural evolution, the philosophical idea that society moves forward by dialectical or evolutionary means. It may refer to a paradigmatic change in the socio-economic...
, human rights, and achievement of
world peace
World peace
World Peace is an ideal of freedom, peace, and happiness among and within all nations and/or people. World peace is an idea of planetary non-violence by which nations willingly cooperate, either voluntarily or by virtue of a system of governance that prevents warfare. The term is sometimes used to...
. The UN was founded in 1945 after World War II to replace the
League of Nations
League of Nations
The League of Nations was an intergovernmental organization founded as a result of the Paris Peace Conference that ended the First World War. It was the first permanent international organization whose principal mission was to maintain world peace...
, to stop wars between countries, and to provide a platform for dialogue. It contains multiple subsidiary organizations to carry out its missions.
There are currently 193 member states, including every
internationally recognised
Diplomatic recognition
Diplomatic recognition in international law is a unilateral political act with domestic and international legal consequences, whereby a state acknowledges an act or status of another state or government in control of a state...
sovereign state in the world but the
Vatican City
Vatican City
Vatican City , or Vatican City State, in Italian officially Stato della Città del Vaticano , which translates literally as State of the City of the Vatican, is a landlocked sovereign city-state whose territory consists of a walled enclave within the city of Rome, Italy. It has an area of...
.
1944 Dumbarton Oaks Conference, prelude to the United Nations, begins.
1945 Fifty nations gather in San Francisco, California to begin the United Nations Conference on International Organizations.
1945 Founding of the United Nations
1945 The official North Korean newspaper, Rodong Sinmun, is first published under the name ''Chongro''. Australia joins the United Nations.
1945 Colombia joins the United Nations.
1945 Venezuela joins the United Nations.
1945 By a vote of 65 to 7, the United States Senate approves United States participation in the United Nations (the UN was established on October 24, 1945).
1946 The first General Assembly of the United Nations opens in London. Fifty-one nations are represented.
1946 The last meeting of the League of Nations, the precursor of the United Nations, is held.
1946 Afghanistan, Iceland and Sweden join the United Nations.