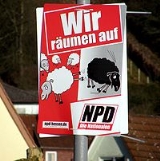 Xenophobia
Xenophobia
is defined as "an unreasonable fear of foreigners or strangers or of that which is foreign or strange". It comes from the
Greek
Greek language
Greek is an independent branch of the Indo-European family of languages. Native to the southern Balkans, it has the longest documented history of any Indo-European language, spanning 34 centuries of written records. Its writing system has been the Greek alphabet for the majority of its history;...
words ξένος (
xenos
), meaning "stranger," "foreigner" and φόβος (
phobos
), meaning "fear."
Xenophobia can manifest itself in many ways involving the relations and perceptions of an
ingroup
Ingroup
In sociology and social psychology, ingroups and outgroups are social groups to which an individual feels as though he or she belongs as a member, or to which they feel contempt, opposition, or a desire to compete. People tend to hold positive attitudes towards members of their own groups, a...
towards an outgroup, including a fear of losing identity, suspicion of its activities, aggression, and desire to eliminate its presence to secure a presumed purity.