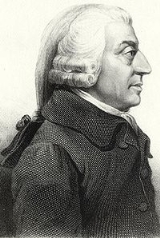 Classical liberalism
Classical liberalism
is the philosophy committed to the ideal of
limited government
Limited government
Limited government is a government which anything more than minimal governmental intervention in personal liberties and the economy is generally disallowed by law, usually in a written constitution. It is written in the United States Constitution in Article 1, Section 8...
,
constitutionalism
Constitutionalism
Constitutionalism has a variety of meanings. Most generally, it is "a complex of ideas, attitudes, and patterns of behavior elaborating the principle that the authority of government derives from and is limited by a body of fundamental law"....
,
rule of law
Rule of law
The rule of law, sometimes called supremacy of law, is a legal maxim that says that governmental decisions should be made by applying known principles or laws with minimal discretion in their application...
,
due process
Due process
Due process is the legal code that the state must venerate all of the legal rights that are owed to a person under the principle. Due process balances the power of the state law of the land and thus protects individual persons from it...
, and liberty of individuals including
freedom of religion
Freedom of religion
Freedom of religion is a principle that supports the freedom of an individual or community, in public or private, to manifest religion or belief in teaching, practice, worship, and observance; the concept is generally recognized also to include the freedom to change religion or not to follow any...
,
speech
Freedom of speech
Freedom of speech is the freedom to speak freely without censorship. The term freedom of expression is sometimes used synonymously, but includes any act of seeking, receiving and imparting information or ideas, regardless of the medium used...
,
press
Freedom of the press
Freedom of the press or freedom of the media is the freedom of communication and expression through vehicles including various electronic media and published materials...
,
assembly
Freedom of assembly
Freedom of assembly, sometimes used interchangeably with the freedom of association, is the individual right to come together and collectively express, promote, pursue and defend common interests...
, and free markets.
Classical liberalism developed in the 19th century in
Europe
Europe
Europe is, by convention, one of the world's seven continents. Comprising the westernmost peninsula of Eurasia, Europe is generally 'divided' from Asia to its east by the watershed divides of the Ural and Caucasus Mountains, the Ural River, the Caspian and Black Seas, and the waterways connecting...
and the
United States
United States
The United States of America is a federal constitutional republic comprising fifty states and a federal district...
. Although classical liberalism built on ideas that had already developed by the end of the 18th century, it advocated a specific kind of society, government and public policy as a response to the
Industrial Revolution
Industrial Revolution
The Industrial Revolution was a period from the 18th to the 19th century where major changes in agriculture, manufacturing, mining, transportation, and technology had a profound effect on the social, economic and cultural conditions of the times...
and urbanization.