 Flatbread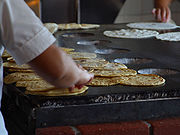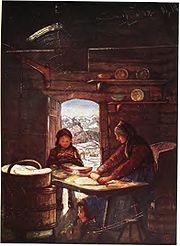 A
flatbread
is a simple
bread
Bread
Bread is a staple food prepared by cooking a dough of flour and water and often additional ingredients. Doughs are usually baked, but in some cuisines breads are steamed , fried , or baked on an unoiled frying pan . It may be leavened or unleavened...
made with
flour
Flour
Flour is a powder which is made by grinding cereal grains, other seeds or roots . It is the main ingredient of bread, which is a staple food for many cultures, making the availability of adequate supplies of flour a major economic and political issue at various times throughout history...
,
water
Water
Water is a chemical substance with the chemical formula H2O. A water molecule contains one oxygen and two hydrogen atoms connected by covalent bonds. Water is a liquid at ambient conditions, but it often co-exists on Earth with its solid state, ice, and gaseous state . Water also exists in a...
, and
salt
Salt
In chemistry, salts are ionic compounds that result from the neutralization reaction of an acid and a base. They are composed of cations and anions so that the product is electrically neutral...
and then thoroughly rolled into flattened
dough
Dough
Dough is a paste made out of any cereals or leguminous crops by mixing flour with a small amount of water and/or other liquid. This process is a precursor to making a wide variety of foodstuffs, particularly breads and bread-based items , flatbreads, noodles, pastry, and similar items)...
. Many flatbreads are unleavened: made without
yeast
Yeast
Yeasts are eukaryotic micro-organisms classified in the kingdom Fungi, with 1,500 species currently described estimated to be only 1% of all fungal species. Most reproduce asexually by mitosis, and many do so by an asymmetric division process called budding...
or
sourdough
Sourdough
Sourdough is a dough containing a Lactobacillus culture, usually in symbiotic combination with yeasts. It is one of two principal means of biological leavening in bread baking, along with the use of cultivated forms of yeast . It is of particular importance in baking rye-based breads, where yeast...
culture: although some flatbread is made with yeast, such as pita bread.
There are many other optional ingredients that flatbreads may contain, such as
curry powder
Curry powder
Curry powder is a mixture of spices of widely varying composition based on South Asian cuisine. Curry powder, and the contemporary English use of the word curry are Western inventions and do not reflect any specific Indian food, though a similar mixture of spices used in north India is called...
, diced jalapeños, chili powder, or
black pepper
Black pepper
Black pepper is a flowering vine in the family Piperaceae, cultivated for its fruit, which is usually dried and used as a spice and seasoning. The fruit, known as a peppercorn when dried, is approximately in diameter, dark red when fully mature, and, like all drupes, contains a single seed...
.
Olive oil
Olive oil
Olive oil is an oil obtained from the olive , a traditional tree crop of the Mediterranean Basin. It is commonly used in cooking, cosmetics, pharmaceuticals, and soaps and as a fuel for traditional oil lamps...
or
sesame oil
Sesame oil
Sesame oil is an edible vegetable oil derived from sesame seeds. Besides being used as a cooking oil in South India, it is often used as a flavor enhancer in Chinese, Japanese, Korean, and to a lesser extent Southeast Asian cuisine.The oil from the nutrient rich seed is popular in alternative...
may be added as well. Flatbreads can range from one millimeter to a few centimeters thick.
Religious significance
The term
unleavened bread
can also refer to breads which are not prepared with
leavening agent
Leavening agent
A leavening agent is any one of a number of substances used in doughs and batters that cause a foaming action which lightens and softens the finished product...
s. These flatbreads hold special religious significance to adherents of
Judaism
Judaism
Judaism ) is the "religion, philosophy, and way of life" of the Jewish people...
and
Christianity
Christianity
Christianity is a monotheistic religion based on the life and teachings of Jesus as presented in canonical gospels and other New Testament writings...
. Jews consume unleavened breads such as
matzo
Matzo
Matzo or matzah is an unleavened bread traditionally eaten by Jews during the week-long Passover holiday, when eating chametz—bread and other food which is made with leavened grain—is forbidden according to Jewish law. Currently, the most ubiquitous type of Matzo is the traditional Ashkenazic...
during
Passover
Passover
Passover is a Jewish holiday and festival. It commemorates the story of the Exodus, in which the ancient Israelites were freed from slavery in Egypt...
.
Unleavened bread is used in the
Western
Western Christianity
Western Christianity is a term used to include the Latin Rite of the Catholic Church and groups historically derivative thereof, including the churches of the Anglican and Protestant traditions, which share common attributes that can be traced back to their medieval heritage...
Christian liturgy
Liturgy
Liturgy is either the customary public worship done by a specific religious group, according to its particular traditions or a more precise term that distinguishes between those religious groups who believe their ritual requires the "people" to do the "work" of responding to the priest, and those...
when celebrating the
Eucharist
Eucharist
The Eucharist , also called Holy Communion, the Sacrament of the Altar, the Blessed Sacrament, the Lord's Supper, and other names, is a Christian sacrament or ordinance...
. On the other hand, most
Eastern Churches
Eastern Christianity
Eastern Christianity comprises the Christian traditions and churches that developed in the Balkans, Eastern Europe, Asia Minor, the Middle East, Northeastern Africa, India and parts of the Far East over several centuries of religious antiquity. The term is generally used in Western Christianity to...
explicitly forbid the use of unleavened bread (Greek:
azymes
Azymes
Azymes is an archaic English word for the Jewish matzah, derived from the Greek word "ἄζυμος" for unfermented bread in Biblical times; the more accepted term in modern English is simply unleavened bread or matzah, but cognates of the Greek term are still used in many Romance languages Azymes is an...
) for Eucharist as pertaining to the
Old Testament
Old Testament
The Old Testament, of which Christians hold different views, is a Christian term for the religious writings of ancient Israel held sacred and inspired by Christians which overlaps with the 24-book canon of the Masoretic Text of Judaism...
and allow only for bread with yeast, as a symbol of the
New
New Testament
The New Testament is the second major division of the Christian biblical canon, the first such division being the much longer Old Testament....
. Indeed, this was one of the three points of contention that brought about the
schism
East-West Schism
The East–West Schism of 1054, sometimes known as the Great Schism, formally divided the State church of the Roman Empire into Eastern and Western branches, which later became known as the Eastern Orthodox Church and the Roman Catholic Church, respectively...
between
Eastern
Eastern Orthodox Church
The Orthodox Church, officially called the Orthodox Catholic Church and commonly referred to as the Eastern Orthodox Church, is the second largest Christian denomination in the world, with an estimated 300 million adherents mainly in the countries of Belarus, Bulgaria, Cyprus, Georgia, Greece,...
and Western churches in 1054.
Canon Law
Canon law
Canon law is the body of laws & regulations made or adopted by ecclesiastical authority, for the government of the Christian organization and its members. It is the internal ecclesiastical law governing the Catholic Church , the Eastern and Oriental Orthodox churches, and the Anglican Communion of...
of the Latin Rite of the
Roman Catholic Church
Roman Catholic Church
The Catholic Church, also known as the Roman Catholic Church, is the world's largest Christian church, with over a billion members. Led by the Pope, it defines its mission as spreading the gospel of Jesus Christ, administering the sacraments and exercising charity...
mandates the use of unleavened bread for the Host, and unleavened wafers for the communion of the faithful. The more liturgical
Protestant
Protestantism
Protestantism is one of the three major groupings within Christianity. It is a movement that began in Germany in the early 16th century as a reaction against medieval Roman Catholic doctrines and practices, especially in regards to salvation, justification, and ecclesiology.The doctrines of the...
churches tend to follow the Latin Catholic practice, whereas others use either unleavened wafers or ordinary bread, depending on the traditions of their particular denomination or local usage.
Europe and central & West Asia
Middle East and Africa
South and East Asia
Americas
Arepa

Arepa

An arepa is a dish made of ground corn dough or cooked flour, popular in Colombia, Venezuela and other Spanish-speaking countries. It is similar in shape to the Salvadoran pupusa...


(Colombia

Colombia

Colombia, officially the Republic of Colombia , is a unitary constitutional republic comprising thirty-two departments. The country is located in northwestern South America, bordered to the east by Venezuela and Brazil; to the south by Ecuador and Peru; to the north by the Caribbean Sea; to the...


, Venezuela

Venezuela

Venezuela , officially called the Bolivarian Republic of Venezuela , is a tropical country on the northern coast of South America. It borders Colombia to the west, Guyana to the east, and Brazil to the south...


): flat, unleavened patty made of cornmeal
Bammy

Bammy

Bammy or bami is a traditional Jamaican cassava flatbread descended from the simple flatbread eaten by the Arawaks, Jamaica's original inhabitants. Today, it is produced in many rural communities and sold in stores and by street vendors in Jamaica and abroad.Bammies have been consumed since...


(Jamaica

Jamaica

Jamaica is an island nation of the Greater Antilles, in length, up to in width and 10,990 square kilometres in area. It is situated in the Caribbean Sea, about south of Cuba, and west of Hispaniola, the island harbouring the nation-states Haiti and the Dominican Republic...


): made from grated cassava root or cassava root flour and salt
Casava (Haiti

Haiti

Haiti , officially the Republic of Haiti , is a Caribbean country. It occupies the western, smaller portion of the island of Hispaniola, in the Greater Antillean archipelago, which it shares with the Dominican Republic. Ayiti was the indigenous Taíno or Amerindian name for the island...


): made from manioc (cassava

Cassava

Cassava , also called yuca or manioc, a woody shrub of the Euphorbiaceae native to South America, is extensively cultivated as an annual crop in tropical and subtropical regions for its edible starchy tuberous root, a major source of carbohydrates...


root)
Casabe (South America

South America

South America is a continent situated in the Western Hemisphere, mostly in the Southern Hemisphere, with a relatively small portion in the Northern Hemisphere. The continent is also considered a subcontinent of the Americas. It is bordered on the west by the Pacific Ocean and on the north and east...


, Caribbean

Caribbean

The Caribbean is a crescent-shaped group of islands more than 2,000 miles long separating the Gulf of Mexico and the Caribbean Sea, to the west and south, from the Atlantic Ocean, to the east and north...


): made from bitter cassava root
Cachapa

Cachapa

Cachapas are a traditional Venezuelan dish made from corn. Like arepas, they are popular at roadside stands. They can be made like pancakes of fresh corn dough, or wrapped in dry corn leaves and boiled...


(Venezuela

Venezuela

Venezuela , officially called the Bolivarian Republic of Venezuela , is a tropical country on the northern coast of South America. It borders Colombia to the west, Guyana to the east, and Brazil to the south...


, Caribbean

Caribbean

The Caribbean is a crescent-shaped group of islands more than 2,000 miles long separating the Gulf of Mexico and the Caribbean Sea, to the west and south, from the Atlantic Ocean, to the east and north...


): made from yellow maize

Maize

Maize known in many English-speaking countries as corn or mielie/mealie, is a grain domesticated by indigenous peoples in Mesoamerica in prehistoric times. The leafy stalk produces ears which contain seeds called kernels. Though technically a grain, maize kernels are used in cooking as a vegetable...


, cheese
Flatbread (North America) Made from maize flour in traditional style of early Native Americans; now topped with ground beef, vegetables, beans and cheese
Pan de Semita (Mexico

Mexico

The United Mexican States , commonly known as Mexico , is a federal constitutional republic in North America. It is bordered on the north by the United States; on the south and west by the Pacific Ocean; on the southeast by Guatemala, Belize, and the Caribbean Sea; and on the east by the Gulf of...


)
Tortilla

Tortilla

In Mexico and Central America, a tortilla is a type of thin, unleavened flat bread, made from finely ground maize...


(Mexico

Mexico

The United Mexican States , commonly known as Mexico , is a federal constitutional republic in North America. It is bordered on the north by the United States; on the south and west by the Pacific Ocean; on the southeast by Guatemala, Belize, and the Caribbean Sea; and on the east by the Gulf of...


, Central

Central America

Central America is the central geographic region of the Americas. It is the southernmost, isthmian portion of the North American continent, which connects with South America on the southeast. When considered part of the unified continental model, it is considered a subcontinent...


and South America

South America

South America is a continent situated in the Western Hemisphere, mostly in the Southern Hemisphere, with a relatively small portion in the Northern Hemisphere. The continent is also considered a subcontinent of the Americas. It is bordered on the west by the Pacific Ocean and on the north and east...


)
Tortilla de Rescoldo

Tortilla de rescoldo

Tortilla de rescoldo is a traditional Chilean unleavened bread prepared by rural travellers. It consists of a wheat flour based bread, traditionally baked in the coals of a campfire.-See also:*Damper...


(Chile

Chile

Chile ,officially the Republic of Chile , is a country in South America occupying a long, narrow coastal strip between the Andes mountains to the east and the Pacific Ocean to the west. It borders Peru to the north, Bolivia to the northeast, Argentina to the east, and the Drake Passage in the far...


): wheat flour based bread, traditionally baked in the coals of a campfire