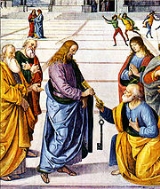 Roman Catholic Church
The
Catholic Church
, also known as the
Roman Catholic Church
, is the world's largest
Christian
Christianity
Christianity is a monotheistic religion based on the life and teachings of Jesus as presented in canonical gospels and other New Testament writings...
church, with over a billion members. Led by the
Pope
Pope
The Pope is the Bishop of Rome, a position that makes him the leader of the worldwide Catholic Church . In the Catholic Church, the Pope is regarded as the successor of Saint Peter, the Apostle...
, it defines its mission as spreading the gospel of Jesus Christ, administering the
sacraments
Sacraments of the Catholic Church
The Sacraments of the Catholic Church are, the Roman Catholic Church teaches, "efficacious signs of grace, instituted by Christ and entrusted to the Church, by which divine life is dispensed to us. The visible rites by which the sacraments are celebrated signify and make present the graces proper...
and exercising charity. The Catholic Church is among the oldest institutions in the world and has played a prominent role in the history of Western civilisation.
1170 Thomas Becket: Thomas Becket, Archbishop of Canterbury, is assassinated inside Canterbury Cathedral by followers of King Henry II; he subsequently becomes a saint and martyr in the Anglican Church and the Roman Catholic Church.
1268 Conradin, the last legitimate male heir of the Hohenstaufen dynasty of Kings of Germany and Holy Roman Emperors, is executed along with his companion Frederick I, Margrave of Baden by Charles I of Sicily, a political rival and ally to the hostile Roman Catholic church.
1409 Western Schism: the Roman Catholic church is led into a double schism as Petros Philargos is crowned Pope Alexander V after the Council of Pisa, joining Pope Gregory XII in Rome and Pope Benedict XII in Avignon.
1572 Marriage in Paris of the future Huguenot King Henry IV of Navarre to Marguerite de Valois, in a supposed attempt to reconcile Protestants and Catholics.
1789 Pope Pius VI appoints Father John Carroll as the first Catholic bishop in the United States.
1792 During what became known as the September Massacres of the French Revolution, rampaging mobs slaughter three Roman Catholic Church bishops, more than two hundred priests, and prisoners believed to be royalist sympathizers.
1839 In the Kingdom of Hawaii, Kamehameha III issues the Edict of toleration which gives Roman Catholics the freedom to worship in the Hawaiian Islands. The Hawaii Catholic Church and the Cathedral of Our Lady of Peace are established as a result.
1845 The eminent and controversial Anglican, John Henry Newman, is received into the Roman Catholic Church.
1962 Second Vatican Council: Pope John XXIII convenes the first ecumenical council of the Roman Catholic Church in 92 years.
1964 Second Vatican Council: The third session of the Roman Catholic Church's ecumenical council closes.