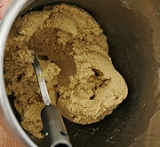 Dough
This article is about a cooking ingredient. For the British sitcom episode, see Dough (Bottom episode)

Dough (Bottom episode)

"Dough" is the fourth episode of the third series of British television sitcom, Bottom. It was first broadcast on 27 January 1995.-Synopsis:...


.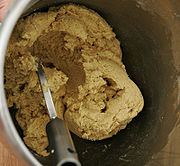 Dough
is a paste made out of any
cereal
Cereal
Cereals are grasses cultivated for the edible components of their grain , composed of the endosperm, germ, and bran...
s (grains) or
leguminous
crops by mixing
flour
Flour
Flour is a powder which is made by grinding cereal grains, other seeds or roots . It is the main ingredient of bread, which is a staple food for many cultures, making the availability of adequate supplies of flour a major economic and political issue at various times throughout history...
with a small amount of
water
Water
Water is a chemical substance with the chemical formula H2O. A water molecule contains one oxygen and two hydrogen atoms connected by covalent bonds. Water is a liquid at ambient conditions, but it often co-exists on Earth with its solid state, ice, and gaseous state . Water also exists in a...
and/or other liquid. This process is a precursor to making a wide variety of foodstuffs, particularly
bread
Bread
Bread is a staple food prepared by cooking a dough of flour and water and often additional ingredients. Doughs are usually baked, but in some cuisines breads are steamed , fried , or baked on an unoiled frying pan . It may be leavened or unleavened...
s and bread-based items (e.g.,
crust
Crust
Crust may refer to:* Crust * The Crust, television seriesPhysical sciences:* Crust , at least continent-wide structure* Soil crust, local biology-sensitive structureFood:* Crust, dense surface layer of bread...
s, dumplings),
flatbread
Flatbread
A flatbread is a simple bread made with flour, water, and salt and then thoroughly rolled into flattened dough. Many flatbreads are unleavened: made without yeast or sourdough culture: although some flatbread is made with yeast, such as pita bread....
s, noodles,
pastry
Pastry
Pastry is the name given to various kinds of baked products made from ingredients such as flour, sugar, milk, butter, shortening, baking powder and/or eggs. Small cakes, tarts and other sweet baked products are called "pastries."...
, and similar items). This includes all kinds of breads or similar recipes made from
maize
Maize
Maize known in many English-speaking countries as corn or mielie/mealie, is a grain domesticated by indigenous peoples in Mesoamerica in prehistoric times. The leafy stalk produces ears which contain seeds called kernels. Though technically a grain, maize kernels are used in cooking as a vegetable...
,
rice
Rice
Rice is the seed of the monocot plants Oryza sativa or Oryza glaberrima . As a cereal grain, it is the most important staple food for a large part of the world's human population, especially in East Asia, Southeast Asia, South Asia, the Middle East, and the West Indies...
,
sorghum
Sorghum
Sorghum is a genus of numerous species of grasses, one of which is raised for grain and many of which are used as fodder plants either cultivated or as part of pasture. The plants are cultivated in warmer climates worldwide. Species are native to tropical and subtropical regions of all continents...
,
wheat
Wheat
Wheat is a cereal grain, originally from the Levant region of the Near East, but now cultivated worldwide. In 2007 world production of wheat was 607 million tons, making it the third most-produced cereal after maize and rice...
, and other cereals or related crops used around the world.
In many parts of central
India
India
India , officially the Republic of India , is a country in South Asia. It is the seventh-largest country by geographical area, the second-most populous country with over 1.2 billion people, and the most populous democracy in the world...
, people use the quick method of making an instant roasted dough ball or
baati
Baati
Baati is a hard, unleavened bread cooked in the desert areas of Rajasthan and Gujarat. It is prized there for its long shelf life and high nutritional content, as well as the minimal quantity of water required for its preparation. It is always eaten with dal. Bati is also known as litti...
. In countries in the
Sahel
Sahel
The Sahel is the ecoclimatic and biogeographic zone of transition between the Sahara desert in the North and the Sudanian Savannas in the south.It stretches across the North African continent between the Atlantic Ocean and the Red Sea....
region of Africa, ground and boiled dough balls (made from sorghum or millet) are called aiysh or biya, but are not roasted. Flatbreads such as lafa,
lavash
Lavash
Lavash is a soft, thin flatbread popular in several countries of the northern parts of the Middle-East and the southern parts of the Caucasus.Traditionally the dough is rolled out flat and slapped against the hot walls of a clay oven....
, matzah or
matzo
Matzo
Matzo or matzah is an unleavened bread traditionally eaten by Jews during the week-long Passover holiday, when eating chametz—bread and other food which is made with leavened grain—is forbidden according to Jewish law. Currently, the most ubiquitous type of Matzo is the traditional Ashkenazic...
,
naan
Naan
Naan is a leavened, oven-baked flatbread. It is typical of and popular in South and Central Asia, in Iran, and in South Asian restaurants abroad. Influenced by the large influx of South Asian labour, naan has also become popular in Saudi Arabia and other Persian Gulf states.Originally, naan is a...
,
roti
Roti
Roti is generally a South Asian bread made from stoneground wholemeal flour, traditionally known as atta flour, that originated and is consumed in India, Pakistan, Bangladesh, Nepal and Sri Lanka. It is also consumed in parts of the Southern Caribbean, particularly in Guyana, Suriname, Trinidad and...
,
sangak
Sangak
Sangak is a plain, rectangular, or triangular Iranian whole wheat sour dough flatbread. It is considered to be Iran's national bread....
,
tortilla
Tortilla
In Mexico and Central America, a tortilla is a type of thin, unleavened flat bread, made from finely ground maize...
, or
yufka
Yufka
Yufka is a Turkish bread. It is a thin, round and unleavened flat bread similar to lavash, about 18 inches in diameter usually made from wheat flour, water and table salt. After kneading, the dough is allowed to rest for 30 min. Dough pieces are rounded and rolled into a circular sheet...
are used in many parts of the world. Some flatbreads, such as naan and roti, use leavening agents; others such, as matzo, are not leavened.
Leavened
Yeast
Yeasts are eukaryotic micro-organisms classified in the kingdom Fungi, with 1,500 species currently described estimated to be only 1% of all fungal species. Most reproduce asexually by mitosis, and many do so by an asymmetric division process called budding...
or
fermented
Fermentation (food)
Fermentation in food processing typically is the conversion of carbohydrates to alcohols and carbon dioxide or organic acids using yeasts, bacteria, or a combination thereof, under anaerobic conditions. Fermentation in simple terms is the chemical conversion of sugars into ethanol...
dough, made from dry ground grain cereals or
legume
s mixed with water and
yeast
Yeast
Yeasts are eukaryotic micro-organisms classified in the kingdom Fungi, with 1,500 species currently described estimated to be only 1% of all fungal species. Most reproduce asexually by mitosis, and many do so by an asymmetric division process called budding...
, are used all over the world.
Salt
Salt
In chemistry, salts are ionic compounds that result from the neutralization reaction of an acid and a base. They are composed of cations and anions so that the product is electrically neutral...
,
sugar
Sugar
Sugar is a class of edible crystalline carbohydrates, mainly sucrose, lactose, and fructose, characterized by a sweet flavor.Sucrose in its refined form primarily comes from sugar cane and sugar beet...
and
eggs
Egg (food)
Eggs are laid by females of many different species, including birds, reptiles, amphibians, and fish, and have probably been eaten by mankind for millennia. Bird and reptile eggs consist of a protective eggshell, albumen , and vitellus , contained within various thin membranes...
are also common ingredients in dough.
Fried dough foods are also common in many cultures.
See also