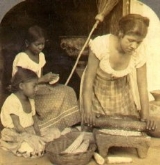 Tortilla
In
Mexico
Mexico
The United Mexican States , commonly known as Mexico , is a federal constitutional republic in North America. It is bordered on the north by the United States; on the south and west by the Pacific Ocean; on the southeast by Guatemala, Belize, and the Caribbean Sea; and on the east by the Gulf of...
and
Central America
Central America
Central America is the central geographic region of the Americas. It is the southernmost, isthmian portion of the North American continent, which connects with South America on the southeast. When considered part of the unified continental model, it is considered a subcontinent...
, a
tortilla
is a type of thin, unleavened flat
bread
Bread
Bread is a staple food prepared by cooking a dough of flour and water and often additional ingredients. Doughs are usually baked, but in some cuisines breads are steamed , fried , or baked on an unoiled frying pan . It may be leavened or unleavened...
, made from finely ground
maize
Maize
Maize known in many English-speaking countries as corn or mielie/mealie, is a grain domesticated by indigenous peoples in Mesoamerica in prehistoric times. The leafy stalk produces ears which contain seeds called kernels. Though technically a grain, maize kernels are used in cooking as a vegetable...
(usually called "corn" in the United States). In Mexico, there are three colors of maize dough for making tortillas: white maize, yellow maize and
blue maize
Blue corn
Blue corn is a variety of maize grown in northern Mexico and the Southwestern United States, particularly in the states of Arizona and New Mexico....
.
A similar bread from
South America
South America
South America is a continent situated in the Western Hemisphere, mostly in the Southern Hemisphere, with a relatively small portion in the Northern Hemisphere. The continent is also considered a subcontinent of the Americas. It is bordered on the west by the Pacific Ocean and on the north and east...
, called
arepa
Arepa
An arepa is a dish made of ground corn dough or cooked flour, popular in Colombia, Venezuela and other Spanish-speaking countries. It is similar in shape to the Salvadoran pupusa...
(though
arepas
are typically much thicker than tortillas), predates the arrival of Europeans to America, and was called
tortilla
by the Spanish from its resemblance to the traditional Spanish round, unleavened cakes and
omelette
Omelette
In cuisine, an omelette or omelet is a dish made from beaten eggs quickly cooked with butter or oil in a frying pan, sometimes folded around a filling such as cheese, vegetables, meat , or some combination of the above...
s (originally made without potatoes, which are native to South America).