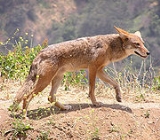 Coyote
The
coyote
also known as the
American jackal

Jackal

Although the word jackal has been historically used to refer to many small- to medium-sized species of the wolf genus of mammals, Canis, today it most properly and commonly refers to three species: the black-backed jackal and the side-striped jackal of sub-Saharan Africa, and the golden jackal of...



or the
prairie wolf
, is a
species
Species
In biology, a species is one of the basic units of biological classification and a taxonomic rank. A species is often defined as a group of organisms capable of interbreeding and producing fertile offspring. While in many cases this definition is adequate, more precise or differing measures are...
of
canine
Canidae
Canidae is the biological family of carnivorous and omnivorous mammals that includes wolves, foxes, jackals, coyotes, and domestic dogs. A member of this family is called a canid . The Canidae family is divided into two tribes: Canini and Vulpini...
found throughout
North
North America
North America is a continent wholly within the Northern Hemisphere and almost wholly within the Western Hemisphere. It is also considered a northern subcontinent of the Americas...
and Central America, ranging from
Panama
Panama
Panama , officially the Republic of Panama , is the southernmost country of Central America. Situated on the isthmus connecting North and South America, it is bordered by Costa Rica to the northwest, Colombia to the southeast, the Caribbean Sea to the north and the Pacific Ocean to the south. The...
in the south, north through Mexico, the United States and Canada. It occurs as far north as Alaska and all but the northernmost portions of Canada.
There are currently 19 recognized
subspecies
Subspecies
Subspecies in biological classification, is either a taxonomic rank subordinate to species, ora taxonomic unit in that rank . A subspecies cannot be recognized in isolation: a species will either be recognized as having no subspecies at all or two or more, never just one...
, with 16 in Canada, Mexico and the United States, and 3 in Central America. Unlike its cousin the
gray wolf
Gray Wolf
The gray wolf , also known as the wolf, is the largest extant wild member of the Canidae family...
, which is
Eurasia
Eurasia
Eurasia is a continent or supercontinent comprising the traditional continents of Europe and Asia ; covering about 52,990,000 km2 or about 10.6% of the Earth's surface located primarily in the eastern and northern hemispheres...
n in origin, evolutionary theory suggests the coyote evolved in North America during the
Pleistocene
Pleistocene
The Pleistocene is the epoch from 2,588,000 to 11,700 years BP that spans the world's recent period of repeated glaciations. The name pleistocene is derived from the Greek and ....
epoch 1.81 million years ago alongside the
Dire Wolf
Dire Wolf
The Dire Wolf, Canis dirus, is an extinct carnivorous mammal of the genus Canis, and was most common in North America and South America from the Irvingtonian stage to the Rancholabrean stage of the Pleistocene epoch living 1.80 Ma – 10,000 years ago, existing for approximately .- Relationships...
. Unlike the wolf, the coyote's range has expanded in the wake of human civilization, and coyotes readily reproduce in metropolitan areas.
Name
The name "coyote" is
borrowed
Loanword
A loanword is a word borrowed from a donor language and incorporated into a recipient language. By contrast, a calque or loan translation is a related concept where the meaning or idiom is borrowed rather than the lexical item itself. The word loanword is itself a calque of the German Lehnwort,...
from
Mexican Spanish
Mexican Spanish
Mexican Spanish is a version of the Spanish language, as spoken in Mexico and in various places of Canada and the United States of America, where there are communities of Mexican origin....
coyote
, ultimately derived from the Nahuatl word
cóyotl
. Its
scientific name
Binomial nomenclature
Binomial nomenclature is a formal system of naming species of living things by giving each a name composed of two parts, both of which use Latin grammatical forms, although they can be based on words from other languages...
,
Canis latrans
, means "barking dog" in Latin. Preliminary genetic evidence, however, has shown that "coyotes" in some areas are, genetically speaking, 85–90%
Canis latrans,
and from 10 to 15%
Canis lupus
(gray wolf), along with some domestic dog (
Canis lupus familiaris
) DNA; this prompted one researcher to suggest, jokingly, that they be called "
Canis soupus,
" as they are a "soup" (mixture) of canid species.
Description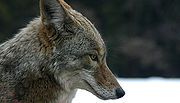 The color of the coyote's
pelt
Fur
Fur is a synonym for hair, used more in reference to non-human animals, usually mammals; particularly those with extensives body hair coverage. The term is sometimes used to refer to the body hair of an animal as a complete coat, also known as the "pelage". Fur is also used to refer to animal...
varies from
grayish
Grey
Grey or gray is an achromatic or neutral color.Complementary colors are defined to mix to grey, either additively or subtractively, and many color models place complements opposite each other in a color wheel. To produce grey in RGB displays, the R, G, and B primary light sources are combined in...
-
brown
Brown
Brown is a color term, denoting a range of composite colors produced by a mixture of orange, red, rose, or yellow with black or gray. The term is from Old English brún, in origin for any dusky or dark shade of color....
to yellowish-gray on the upper parts, while the
throat
Throat
In vertebrate anatomy, the throat is the anterior part of the neck, in front of the vertebral column. It consists of the pharynx and larynx...
and belly tend to have a buff or white color. The forelegs, sides of the head, muzzle and paws are reddish-brown. The back has tawny-colored underfur and long, black-tipped
guard hair
Guard hair
Guard hairs are the longest, coarsest hairs in a mammal's coat, forming the topcoat . They taper to a point and protect the undercoat from the elements. They are often water repellent and stick out above the rest of the coat...
s that form a black
dorsal
Dorsum (biology)
In anatomy, the dorsum is the upper side of animals that typically run, fly, or swim in a horizontal position, and the back side of animals that walk upright. In vertebrates the dorsum contains the backbone. The term dorsal refers to anatomical structures that are either situated toward or grow...
stripe and a dark cross on the
shoulder
Shoulder
The human shoulder is made up of three bones: the clavicle , the scapula , and the humerus as well as associated muscles, ligaments and tendons. The articulations between the bones of the shoulder make up the shoulder joints. The major joint of the shoulder is the glenohumeral joint, which...
area. The black-tipped
tail
Tail
The tail is the section at the rear end of an animal's body; in general, the term refers to a distinct, flexible appendage to the torso. It is the part of the body that corresponds roughly to the sacrum and coccyx in mammals, reptiles, and birds...
has a
scent gland
Scent gland
Scent glands are found in the genital area of most mammals and in various other parts of the body, such as the underarms of humans and the preorbital glands of deer and muskox. They produce a semi-viscous fluid which contains pheromones. These odor-messengers indicate information such as status,...
located on its dorsal base. Coyotes
shed
Shed
A shed is typically a simple, single-storey structure in a back garden or on an allotment that is used for storage, hobbies, or as a workshop....
once a year, beginning in May with light hair loss, ending in July after heavy shedding. The ears are proportionately large in relation to the head, while the
feet
Foot
The foot is an anatomical structure found in many vertebrates. It is the terminal portion of a limb which bears weight and allows locomotion. In many animals with feet, the foot is a separate organ at the terminal part of the leg made up of one or more segments or bones, generally including claws...
are relatively small in relation to the rest of the body. Certain experts have noted the shape of a
domestic
Domestication
Domestication or taming is the process whereby a population of animals or plants, through a process of selection, becomes accustomed to human provision and control. In the Convention on Biological Diversity a domesticated species is defined as a 'species in which the evolutionary process has been...
dog's brain case is closer to the coyote's in shape than that of a wolf's.
Mountain
Mountain
Image:Himalaya_annotated.jpg|thumb|right|The Himalayan mountain range with Mount Everestrect 58 14 160 49 Chomo Lonzorect 200 28 335 52 Makalurect 378 24 566 45 Mount Everestrect 188 581 920 656 Tibetan Plateaurect 250 406 340 427 Rong River...
-
dwelling
Dwelling
Dwelling, as well as being a term for a house, or for living somewhere, or for lingering somewhere, is a philosophical concept which was developed by Martin Heidegger. Dwelling is about making yourself at home where the home itself is a building that is a house...
coyotes tend to be dark-furred, while
desert
Desert
A desert is a landscape or region that receives an extremely low amount of precipitation, less than enough to support growth of most plants. Most deserts have an average annual precipitation of less than...
coyotes tend to be more light brown in color.
Coyotes typically grow to 30–34 in (76.2–86.4 cm) in length, not counting a tail of 12–16 in (30.5–40.6 cm), stand about 23–26 in (58.4–66 cm) at the shoulder and, on average, weigh from 15–46 lb (6.8–20.9 kg). Northern coyotes are typically larger than southern subspecies, with the largest coyotes on record weighing 74.75 pounds (33.9 kg) and measuring 1.75 m (5.7 ft) in total length.
The coyote's
dental formula
Dentition
Dentition pertains to the development of teeth and their arrangement in the mouth. In particular, the characteristic arrangement, kind, and number of teeth in a given species at a given age...
is I 3/3, C 1/1, Pm 4/4, M usually 2/2, occasionally 3/3, 3/2, or 2/3 × 2 = 40, 44, or 42 Normal spacing between the upper
canine teeth
Canine tooth
In mammalian oral anatomy, the canine teeth, also called cuspids, dogteeth, fangs, or eye teeth, are relatively long, pointed teeth...
is 29–35 mm (1.1–1.4 in) and 25 – between the lower canine teeth.
The upper frequency limit of hearing for coyotes is 80 kHz, compared to the 60 kHz of domestic dogs. Compared to wolves, and similar to domestic dogs, coyotes have a higher density of
sweat gland
Sweat gland
Sweat glands, or sudoriferous glands, are small tubular structures of the skin that produce sweat. There are two kinds of sweat glands:...
s on their paw pads. This trait, however, is absent in the large
New England
New England
New England is a region in the northeastern corner of the United States consisting of the six states of Maine, New Hampshire, Vermont, Massachusetts, Rhode Island, and Connecticut...
coyotes, which are thought to have some wolf ancestry.
During pursuit, a coyote may reach speeds up to 43 mph (69.2 km/h), and can jump a distance of over 13 ft (4 m).
Behavior
Though coyotes have been observed to travel in large groups, they primarily hunt in pairs. Typical packs consist of six, closely related adults, yearlings and young. Coyote packs are generally smaller than wolf packs, and associations between individuals are less stable, thus making their social behavior more in line with that of the
dingo
Dingo
The Australian Dingo or Warrigal is a free-roaming wild dog unique to the continent of Australia, mainly found in the outback. Its original ancestors are thought to have arrived with humans from southeast Asia thousands of years ago, when dogs were still relatively undomesticated and closer to...
. In theory, this is due to an earlier expression of aggression, and the fact that coyotes reach their full growth in their first year, unlike wolves, which reach it in their second. Common names of coyote groups are a band, a pack, or a rout.
Coyotes are primarily nocturnal, but can often be seen during daylight hours. They were once essentially diurnal, but have adapted to more nocturnal behavior with pressure from humans.
Coyotes are capable of digging their own burrows, though they often prefer the burrows of
groundhog
Groundhog
The groundhog , also known as a woodchuck, whistle-pig, or in some areas as a land-beaver, is a rodent of the family Sciuridae, belonging to the group of large ground squirrels known as marmots. Other marmots, such as the yellow-bellied and hoary marmots, live in rocky and mountainous areas, but...
s or
American badger
American Badger
The American badger is a North American badger, somewhat similar in appearance to the European badger. It is found in the western and central United States, northern Mexico and central Canada, as well as in certain areas of southwestern British Columbia.Their habitat is typified by open...
s. Coyote territorial ranges can be as much as 19 kilometers in diameter around the
den
Maternity den
A maternity den, in the animal kingdom, is a lair where the mother gives birth and nurtures the young, when they are in a vulnerable life stage. While such dens are typically subterranean, they may also be snow caves or simply beneath rock ledges. Characteristically there is an entrance, and...
, and travel occurs along fixed trails.
In areas where wolves have been exterminated, coyotes usually flourish. For example, as New England became increasingly settled and the resident wolves were eliminated, the coyote population increased, filling the empty ecological niche. Coyotes appear better able than wolves to live among people.
Coyotes have been known to live a maximum of 10 years in the wild and 18 years in captivity. They seem to be better than dogs at
observational learning
Observational learning
Observational learning is a type of learning that occurs as a function of observing, retaining and replicating novel behavior executed by others...
.
Reproduction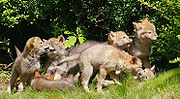 Female coyotes are monoestrous, and remain in estrus for two to five days between late January and late March, during which mating occurs. Once the female chooses a partner, the mated pair may remain temporarily monogamous for a number of years. Depending on geographic location,
spermatogenesis
Spermatogenesis
Spermatogenesis is the process by which male primary germ cells undergo division, and produce a number of cells termed spermatogonia, from which the primary spermatocytes are derived. Each primary spermatocyte divides into two secondary spermatocytes, and each secondary spermatocyte into two...
in males takes around 54 days, and occurs between January and February. The gestation period lasts from 60 to 63 days. Litter size ranges from one to 19 pups; the average is six. These large litters act as compensatory measures against the high juvenile mortality rate – about 50–70% of pups do not survive to adulthood. The pups weigh approximately 250 grams at birth, and are initially blind and limp-eared. Coyote growth rate is faster than that of wolves, being similar in length to that of the
dhole
Dhole
The dhole is a species of canid native to South and Southeast Asia. It is the only extant member of the genus Cuon, which differs from Canis by the reduced number of molars and greater number of teats...
. The eyes open and ears become erect after 10 days. Around 21–28 days after birth, the young begin to emerge from the den, and by 35 days, they are fully weaned. Both parents feed the weaned pups with regurgitated food. Male pups will disperse from their dens between months six and 9, while females usually remain with the parents and form the basis of the pack. The pups attain full growth between 9 and 12 months old. Sexual maturity is reached by 12 months. Unlike wolves, mother coyotes will tolerate other lactating females in their pack.
Interspecific hybridization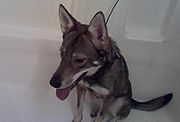 Coyotes will sometimes mate with domestic dogs, usually in areas such as Texas and Oklahoma, where the coyotes are plentiful and the breeding season is extended because of the warm weather. The resulting hybrids, called
coydog
Coydog
A coydog is the hybrid offspring of a male coyote and a female dog . Together they are genetically capable of producing fertile young. The dogote, a similar hybrid, is the result of breeding a male domestic dog with a female coyote...
s, maintain the coyote's predatory nature, along with the dog's lack of timidity toward humans, making them a more serious threat to livestock than pure-blooded animals. This crossbreeding has the added effect of confusing the breeding cycle. Coyotes usually breed only once a year, while coydogs will breed year-round, producing many more pups than a wild coyote. Differences in the ears and tail generally can be used to distinguish coydogs from domestic or feral dogs or pure coyotes. Breeding experiments in Germany with
poodle
Poodle
The Poodle is a breed of dog. The poodle breed is found officially in toy, miniature, and standard sizes, with many coat colors. Originally bred as a type of water dog, the poodle is highly intelligent and skillful in many dog sports, including agility, obedience, tracking, and even herding...
s, coyotes, and later on with the resulting dog-coyote hybrids showed that, unlike
wolfdog
Wolfdog
A wolfdog is a canid hybrid resulting from the mating of a wolf and a dog . The term "wolfdog" is preferred by most of the animals' proponents and breeders because the domestic dog recently was taxonomically recategorized as a subspecies of wolf...
s, coydogs exhibit a decrease in fertility, significant communication problems, and an increase of genetic diseases after three generations of interbreeding.
Coyotes have also been known, on occasion, to mate with wolves, though this is less common than with dogs, due to the wolf's hostility to the coyote. The offspring, known as a
coywolf
Coywolf
The coywolf or eastern coyote is a canid hybrid having a mixture of genetic stock from western coyote and either the Gray wolf or the Red wolf . They come from a constantly evolving gene pool and are viewed by some scientists as an emerging species...
, is generally intermediate in size to both parents, being larger than a pure coyote, but smaller than a pure wolf. A study showed that of 100 coyotes collected in
Maine
Maine
Maine is a state in the New England region of the northeastern United States, bordered by the Atlantic Ocean to the east and south, New Hampshire to the west, and the Canadian provinces of Quebec to the northwest and New Brunswick to the northeast. Maine is both the northernmost and easternmost...
, 22 had half or more wolf ancestry, and one was 89% wolf. The large eastern coyotes in Canada are proposed to be actually hybrids of the smaller western coyotes and wolves that met and mated decades ago, as the coyotes moved toward New England from their earlier western ranges. Ontario Ministry of Natural Resources research scientist Brent Patterson has revealed findings that most coyotes in
Eastern Ontario
Eastern Ontario
Eastern Ontario is a subregion of Southern Ontario in the Canadian province of Ontario which lies in a wedge-shaped area between the Ottawa River and St. Lawrence River...
are wolf-coyote hybrids and that the
Eastern wolves
Eastern Wolf
The Eastern Wolf , also known as Eastern Canadian Wolf or Eastern Canadian Red Wolf, may be a subspecies of gray wolf or a distinct species of canid native to the eastern part of North America since the Pleistocene era. It seems to be closely related to the Red Wolf...
in Algonquin Park are, in general, not interbreeding with coyotes.
The
red wolf
Red Wolf
The red wolf is a North American canid which once roamed throughout the Southeastern United States and is a glacial period survivor of the Late Pleistocene epoch...
is thought by certain scientists to be in fact a wolf/coyote hybrid rather than a unique species. Strong evidence for hybridization was found through genetic testing, which showed red wolves have only 5% of their alleles unique from either gray wolves or coyotes. Genetic distance calculations have indicated red wolves are intermediate between coyotes and gray wolves, and they bear great similarity to wolf/coyote hybrids in southern
Quebec
Quebec
Quebec or is a province in east-central Canada. It is the only Canadian province with a predominantly French-speaking population and the only one whose sole official language is French at the provincial level....
and
Minnesota
Minnesota
Minnesota is a U.S. state located in the Midwestern United States. The twelfth largest state of the U.S., it is the twenty-first most populous, with 5.3 million residents. Minnesota was carved out of the eastern half of the Minnesota Territory and admitted to the Union as the thirty-second state...
. Analyses of mitochondrial DNA showed the existing red wolf populations are predominantly coyote in origin.
Communication
The calls a coyote makes are high-pitched and variously described as howls, yips, yelps, and barks. These calls may be a long rising and falling note (a howl) or a series of short notes (yips). These calls are most often heard at dusk or night, but may sometimes be heard in the day, even in the middle of the day. Although these calls are made throughout the year, they are most common during the spring mating season and in the fall when the pups leave their families to establish new territories. When a coyote calls its pack together, it howls at one high note. When the pack is together, it howls higher and higher, and then they yip and yelp and also do a yi-yi sound, very shrill, with the howl.
Diet and hunting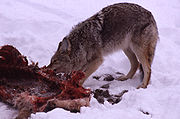 Coyotes are opportunistic, versatile carnivores with a 90% mammalian diet, depending on the season. They primarily eat small mammals, such as
vole
Vole
A vole is a small rodent resembling a mouse but with a stouter body, a shorter hairy tail, a slightly rounder head, smaller ears and eyes, and differently formed molars . There are approximately 155 species of voles. They are sometimes known as meadow mice or field mice in North America...
s, prairie dogs,
eastern cottontails
Eastern Cottontail
The eastern cottontail is a New World cottontail rabbit, a member of the family Leporidae. It is one of the most common rabbit species in North America.-Distribution:...
,
ground squirrel
Ground squirrel
The ground squirrels are members of the squirrel family of rodents which generally live on or in the ground, rather than trees. The term is most often used for the medium-sized ground squirrels, as the larger ones are more commonly known as marmots or prairie dogs, while the smaller and less...
s, and
mice
Mouse
A mouse is a small mammal belonging to the order of rodents. The best known mouse species is the common house mouse . It is also a popular pet. In some places, certain kinds of field mice are also common. This rodent is eaten by large birds such as hawks and eagles...
, though they will eat
bird
Bird
Birds are feathered, winged, bipedal, endothermic , egg-laying, vertebrate animals. Around 10,000 living species and 188 families makes them the most speciose class of tetrapod vertebrates. They inhabit ecosystems across the globe, from the Arctic to the Antarctic. Extant birds range in size from...
s,
snake
Snake
Snakes are elongate, legless, carnivorous reptiles of the suborder Serpentes that can be distinguished from legless lizards by their lack of eyelids and external ears. Like all squamates, snakes are ectothermic, amniote vertebrates covered in overlapping scales...
s,
lizard
Lizard
Lizards are a widespread group of squamate reptiles, with nearly 3800 species, ranging across all continents except Antarctica as well as most oceanic island chains...
s,
deer
Deer
Deer are the ruminant mammals forming the family Cervidae. Species in the Cervidae family include white-tailed deer, elk, moose, red deer, reindeer, fallow deer, roe deer and chital. Male deer of all species and female reindeer grow and shed new antlers each year...
, javelina, and
livestock
Livestock
Livestock refers to one or more domesticated animals raised in an agricultural setting to produce commodities such as food, fiber and labor. The term "livestock" as used in this article does not include poultry or farmed fish; however the inclusion of these, especially poultry, within the meaning...
, as well as large
insect
Insect
Insects are a class of living creatures within the arthropods that have a chitinous exoskeleton, a three-part body , three pairs of jointed legs, compound eyes, and two antennae...
s and other large
invertebrate
Invertebrate
An invertebrate is an animal without a backbone. The group includes 97% of all animal species – all animals except those in the chordate subphylum Vertebrata .Invertebrates form a paraphyletic group...
s. The coyote will also target any species of bird that nests on the ground. Though they will consume large amounts of
carrion
Carrion
Carrion refers to the carcass of a dead animal. Carrion is an important food source for large carnivores and omnivores in most ecosystems. Examples of carrion-eaters include vultures, hawks, eagles, hyenas, Virginia Opossum, Tasmanian Devils, coyotes, Komodo dragons, and burying beetles...
, they tend to prefer fresh meat. Fruits and vegetables are a significant part of the coyote's diet in the autumn and winter months. Part of the coyote's success as a species is its dietary adaptability. As such, coyotes have been known to eat human rubbish and domestic pets. They catch cats and dogs when they come too close to the pack. Urban populations of coyotes have been known to actively hunt cats, and to leap shorter fences to take small dogs. In particularly bold urban packs, coyotes have also been reported to shadow human joggers or larger dogs, and even to take small dogs while the dog is still on a leash. However, this behavior is often reported when normal urban prey, such as
brown rat
Brown Rat
The brown rat, common rat, sewer rat, Hanover rat, Norway rat, Brown Norway rat, Norwegian rat, or wharf rat is one of the best known and most common rats....
s,
black rat
Black Rat
The black rat is a common long-tailed rodent of the genus Rattus in the subfamily Murinae . The species originated in tropical Asia and spread through the Near East in Roman times before reaching Europe by the 1st century and spreading with Europeans across the world.-Taxonomy:The black rat was...
s and
rabbit
Rabbit
Rabbits are small mammals in the family Leporidae of the order Lagomorpha, found in several parts of the world...
s, have become scarce. Yet, confirmed reports of coyotes killing a human have been documented. A recent trail cam uncovered two or three coyotes killing a large deer.
Though the coyote is the basis for the character of Wile E. Coyote in the Warner Brothers
Looney Tunes
Looney Tunes
Looney Tunes is a Warner Bros. animated cartoon series. It preceded the Merrie Melodies series and was Warner Bros.'s first animated theatrical series. Since its first official release, 1930's Sinkin' in the Bathtub, the series has become a worldwide media franchise, spawning several television...
and
Merrie Melodies
Merrie Melodies
Merrie Melodies is the name of a series of animated cartoons distributed by Warner Bros. Pictures between 1931 and 1969.Originally produced by Harman-Ising Pictures, Merrie Melodies were produced by Leon Schlesinger Productions from 1933 to 1944. Schlesinger sold his studio to Warner Bros. in 1944,...
animated cartoons, especially about the
Road Runner
Wile E. Coyote and Road Runner
Wile E. Coyote and The Road Runner are a duo of cartoon characters from a series of Looney Tunes and Merrie Melodies cartoons. The characters were created by animation director Chuck Jones in 1948 for Warner Bros., while the template for their adventures was the work of writer Michael Maltese...
, coyotes have not been known as yet to attack
greater roadrunner
Greater Roadrunner
The Greater Roadrunner, taxonomically classified as Geococcyx californianus, meaning "Californian Earth-cuckoo," is a long-legged bird in the cuckoo family, Cuculidae. Along with the Lesser Roadrunner, it is one of two species in the roadrunner genus Geococcyx...
s for prey.
Coyotes shift their hunting techniques in accordance with their prey. When hunting small animals such as mice, they slowly stalk through the grass, and use their acute sense of smell to track down the prey. When the prey is located, the coyotes stiffen and pounce on the prey in a cat-like manner. Coyotes will commonly work in teams when hunting large ungulates such as deer, which is more common in winter (when large prey is likely weakened) and in larger-bodied northern coyotes. Coyotes may take turns in baiting and pursuing the deer to exhaustion, or they may drive it towards a hidden member of the pack. When attacking large prey, coyotes attack from the rear and the flanks of their prey. Occasionally, they also grab the neck and head, pulling the animal down to the ground. Coyotes are persistent hunters, with successful attacks sometimes lasting as long as 21 hours; even unsuccessful ones can continue more than eight hours before the coyotes give up. Depth of snow can affect the likelihood of a successful kill. Packs of coyotes can bring down prey as large as adult elk, which usually weigh over 250 kg (550 lbs).
The average distance covered in a night's hunting is 2.5 miles (4 km).
Interspecific predatory relationships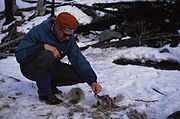 The
gray wolf
Gray Wolf
The gray wolf , also known as the wolf, is the largest extant wild member of the Canidae family...
is a significant predator of coyotes wherever their ranges overlap. Since the Yellowstone gray wolf reintroduction in 1995 and 1996, the local coyote population went through a dramatic restructuring. Until the wolves returned,
Yellowstone National Park
Yellowstone National Park
Yellowstone National Park, established by the U.S. Congress and signed into law by President Ulysses S. Grant on March 1, 1872, is a national park located primarily in the U.S. state of Wyoming, although it also extends into Montana and Idaho...
had one of the densest and most stable coyote populations in America due to a lack of human impacts. Two years after the wolf reintroductions, the population of coyotes had been reduced 50% through both competitive exclusion and
intraguild predation
Intraguild predation
Intraguild predation, or IGP, is the killing and eating of potential competitors. This interaction represents a combination of predation and competition, because both species utilize the same prey resources and also benefit from preying upon one another...
compared to before their reintroduction. In
Grand Teton
Grand Teton National Park
Grand Teton National Park is a United States National Park located in northwestern Wyoming, U.S. The Park consists of approximately and includes the major peaks of the long Teton Range as well as most of the northern sections of the valley known as Jackson Hole. Only south of Yellowstone...
, coyote densities were 33% lower than normal in the areas where they coexisted with wolves, and 39% lower in the areas of Yellowstone where wolves were reintroduced. In one study, about 16% of radio-collared coyotes were preyed upon by wolves. Yellowstone coyotes have had to shift their territories as a result, moving from open meadows to steep terrain. Carcasses in the open no longer attract coyotes; when a coyote is chased on flat terrain, it is often killed. They feel more secure on steep terrain, where they will often lead a pursuing wolf downhill. As the wolf comes after it, the coyote will turn around and run uphill. Wolves, being heavier, cannot stop and the coyote gains a large lead. Though physical confrontations between the two species are usually dominated by the larger wolves, coyotes have been known to attack wolves if they outnumber them. Both species will kill each other's pups, given the opportunity.
Wolf urine has been marketed and claimed to be an organic coyote deterrent, such as for deterring attacks on sheep.
Cougars sometimes kill coyotes. The coyote's instinctive fear of cougars has led to the development of sound systems which repel coyotes from public places by replicating the sounds of a cougar. Rarely, bears can also kill coyotes, more likely in competitive rather than predatory attacks. However, both cougars and bears have been displaced from carcasses by coyote packs.
In sympatric populations of coyotes and
red fox
Red Fox
The red fox is the largest of the true foxes, as well as being the most geographically spread member of the Carnivora, being distributed across the entire northern hemisphere from the Arctic Circle to North Africa, Central America, and the steppes of Asia...
es, fox territories tend to be located largely outside of coyote territories. The principal cause of this separation is believed to be active avoidance of coyotes by the foxes. Interactions between the two species vary in nature, ranging from active antagonism to indifference. The majority of aggressive encounters are initiated by coyotes, and there are few reports of red foxes acting aggressively toward coyotes except when attacked or when their pups were approached. Conversely, foxes and coyotes have sometimes been seen feeding together. In southern California, coyotes frequently kill gray foxes, and these smaller canids tend to avoid areas with high coyote densities.
Coyotes will sometimes form a symbiotic relationship with
American badger
American Badger
The American badger is a North American badger, somewhat similar in appearance to the European badger. It is found in the western and central United States, northern Mexico and central Canada, as well as in certain areas of southwestern British Columbia.Their habitat is typified by open...
s. Because coyotes are not very effective at digging rodents out of their burrows, they will chase the animals while they are above ground. Badgers, on the other hand, are not fast runners, but are well-adapted to digging. When hunting together, they effectively leave little escape for prey in the area.
In some areas, coyotes share their ranges with
bobcat
Bobcat
The bobcat is a North American mammal of the cat family Felidae, appearing during the Irvingtonian stage of around 1.8 million years ago . With twelve recognized subspecies, it ranges from southern Canada to northern Mexico, including most of the continental United States...
s. It is rare for these two similarly sized species to physically confront one another, though bobcat populations tend to diminish in areas with high coyote densities. However, several studies have demonstrated interference competition between coyotes and bobcats, and in all cases coyotes dominated the interaction. Multiple researchers all reported instances of coyotes killing bobcats, whereas bobcats killing coyotes is more rare. Coyotes attack bobcats using a bite-and-shake method similar to that used on medium-sized prey. Coyotes (both single individuals and groups) have been known to occasionally kill bobcats – in most cases, the bobcats were relatively small specimens, such as adult females and juveniles. However, coyote attacks (by an unknown number of coyotes) on adult male bobcats have occurred. In California, coyote and bobcat populations are not negatively correlated across different habitat types, but predation by coyotes is an important source of mortality in bobcats.
Coyotes have also competed with and occasionally eaten
Canada lynx
Canada Lynx
The Canada lynx or Canadian lynx is a North American mammal of the cat family, Felidae. It is a close relative of the Eurasian Lynx . Some authorities regard both as conspecific. However, in some characteristics the Canada lynx is more like the bobcat than the Eurasian Lynx...
es in areas where both species overlap.
Adaptation to human environment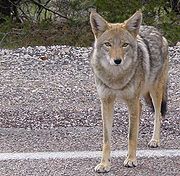 Despite being extensively hunted, the coyote is one of the few medium-to-large-sized animals that has enlarged its range since human encroachment began. It originally ranged primarily in the western half of North America, but it has adapted readily to the changes caused by human presence and, since the early 19th century, has been steadily and dramatically extending its range. Sightings now commonly occur in a majority of the United States and Canada. Coyotes inhabit nearly every contiguous U.S. state and Alaska. Coyotes have moved into most of the areas of North America formerly occupied by
wolves
Gray Wolf
The gray wolf , also known as the wolf, is the largest extant wild member of the Canidae family...
, and are often observed foraging in suburban garbage bins.
Coyotes thrive in suburban settings and even some urban ones. A study by wildlife ecologists at
Ohio State University
Ohio State University
The Ohio State University, commonly referred to as Ohio State, is a public research university located in Columbus, Ohio. It was originally founded in 1870 as a land-grant university and is currently the third largest university campus in the United States...
yielded some surprising findings in this regard. Researchers studied coyote populations in Chicago over a seven-year period (2000–2007), proposing that coyotes have adapted well to living in densely populated urban environments while avoiding contact with humans. They found, among other things, that urban coyotes tend to live longer than their rural counterparts, kill rodents and small pets, and live anywhere from parks to industrial areas. The researchers estimate that there are up to 2,000 coyotes living in "the greater Chicago area" and that this circumstance may well apply to many other urban landscapes in North America. In Washington, D.C.'s
Rock Creek Park
Rock Creek Park
Rock Creek Park is a large urban natural area with public park facilities that bisects Washington, D.C. The park is administered by the National Park Service.-Rock Creek Park:The main section of the park contains , or , along the Rock Creek Valley...
, coyotes den and raise their young, scavenge roadkill, and hunt rodents. "I don't see it as a bad thing for a park," the assigned
National Park Service
National Park Service
The National Park Service is the U.S. federal agency that manages all national parks, many national monuments, and other conservation and historical properties with various title designations...
biologist told a reporter for
Smithsonian Magazine
(March 2006). "I see it as good for keeping animal populations in control, like the squirrels and the mice."
In another testament to the coyote's habitat adaptability, a coyote nicknamed "Hal" made his way to New York City's
Central Park
Central Park
Central Park is a public park in the center of Manhattan in New York City, United States. The park initially opened in 1857, on of city-owned land. In 1858, Frederick Law Olmsted and Calvert Vaux won a design competition to improve and expand the park with a plan they entitled the Greensward Plan...
in March 2006, wandering about the park for at least two days before being captured by officials. New York's parks commissioner Adrian Benepe noted this coyote had to be very "adventurous" and "curious" to get so far into the city. An incident also occurred in April 2007 in the
Chicago Loop
Chicago Loop
The Loop or Chicago Loop is one of 77 officially designated Chicago community areas located in the City of Chicago, Illinois. It is the historic commercial center of downtown Chicago...
district, where a coyote, later nicknamed "Adrian", quietly entered a Quizno's restaurant during the lunch hours; it was later captured and released at a wildlife rehab center near
Barrington, Illinois
Barrington, Illinois
Barrington is a suburban village in Cook County, Illinois and Lake County, Illinois. The population was 10,327 at the 2010 census. Located approximately northwest of Chicago, the area features wetlands, forest preserves, parks and horse trails in a country-suburban setting...
.
In February 2010, up to three coyotes were spotted on the Columbia University campus, and another coyote sighting occurred in Central Park.
Coyotes are difficult to tame, except when raised from a very young pup, and even then, much of their wild temperament shows when they reach puberty. Coyotes have never been domesticated (not the same thing as tamed) with the exception of some
Native American
Indigenous peoples of the Americas
The indigenous peoples of the Americas are the pre-Columbian inhabitants of North and South America, their descendants and other ethnic groups who are identified with those peoples. Indigenous peoples are known in Canada as Aboriginal peoples, and in the United States as Native Americans...
tribes, such as the Hare Indians of northern
Canada
Canada
Canada is a North American country consisting of ten provinces and three territories. Located in the northern part of the continent, it extends from the Atlantic Ocean in the east to the Pacific Ocean in the west, and northward into the Arctic Ocean...
, who used
Hare Indian Dog
Hare Indian dog
The Hare Indian dog is an extinct breed of dog, formerly found in northern Canada and originally bred by the Hare Indians as a coursing dog. It was bred for speed, being much like a coyote, but it gradually lost its usefulness as aboriginal hunting methods declined...
s, which were either domesticated coyotes or a dog-coyote hybrid, for hunting. The Hare Indian dog, however, in recent years, has become so intermixed with the domestic dog as to be an essentially extinct breed.
Attacks on humans
Coyote attacks on humans are uncommon and rarely cause serious injuries, due to the relatively small size of the coyote. However, coyote attacks on humans have increased since 1998 in the state of California. Data from USDA Wildlife Services, the California Department of Fish & Game, and other sources show that while 41 attacks occurred during the period of 1988–1997, 48 attacks were verified from 1998 through 2003. The majority of these incidents occurred in Southern California near the suburban-wildland interface.
Due to an absence of harassment by residents, urban coyotes lose their natural fear of humans, which is further worsened by people intentionally feeding coyotes. In such situations, some coyotes have begun to act aggressively toward humans, chasing joggers and bicyclists, confronting people walking their dogs, and stalking small children. Non-
rabid
Rabies
Rabies is a viral disease that causes acute encephalitis in warm-blooded animals. It is zoonotic , most commonly by a bite from an infected animal. For a human, rabies is almost invariably fatal if post-exposure prophylaxis is not administered prior to the onset of severe symptoms...
coyotes in these areas will sometimes target small children, mostly under the age of 10, though some adults have been bitten. In June 2010 a 3-year-old girl and a 6-year-old girl were attacked and seriously injured in separate attacks by coyotes in Rye, New York, a suburb of New York City. The 6-year-old was attacked by two coyotes on June 25 and the 3-year-old was attacked by one coyote on June 29. There was no indication the animals were rabid, but the girls were given treatment as a precaution. In June 2011 an unattended toddler on a trampoline was attacked by a coyote which tried to drag her into the woods in North Carolina.
There are only two recorded fatalities in North America from coyote attacks. In 1981 in
Glendale, California
Glendale, California
Glendale is a city in Los Angeles County, California, United States. As of the 2010 Census, the city population is 191,719, down from 194,973 at the 2000 census. making it the third largest city in Los Angeles County and the 22nd largest city in the state of California...
, a coyote attacked toddler
Kelly Keen
Kelly Keen Coyote Attack
The Kelly Keen coyote attack was a fatal coyote attack which took place in Glendale, California in August, 1981. The victim was 3-year-old Kelly Lynn Keen, who was the first recorded victim of a fatal coyote attack in the USA.- The attack and aftermath :...
, who was rescued by her father, but died in surgery due to blood loss and a broken neck. In October 2009,
Taylor Mitchell
Taylor Mitchell
Taylor Josephine Stephanie Luciow, known by her stage name Taylor Mitchell, was a Canadian folk singer. She is the only adult person, and second person overall known to be fatally attacked by coyotes.-Personal life:...
, a 19-year-old folk singer on tour, died from injuries sustained in an attack by a pair of coyotes while hiking in the
Skyline Trail
Skyline Trail (Cape Breton Highlands National Park)
The Skyline Trail is a 7 km looping hiking trail in the Cape Breton Highlands National Park. It lies on the western side of the Cabot Trail. The trail is well-known for its scenic views.-Trail outline:...
of the
Cape Breton Highlands National Park
Cape Breton Highlands National Park
Cape Breton Highlands National Park is located on northern Cape Breton Island in the province of Nova Scotia. One-third of the Cabot Trail passes through the park featuring spectacular ocean and mountain views. The park was the first National Park in the Atlantic provinces of Canada and covers an...
in
Nova Scotia
Nova Scotia
Nova Scotia is one of Canada's three Maritime provinces and is the most populous province in Atlantic Canada. The name of the province is Latin for "New Scotland," but "Nova Scotia" is the recognized, English-language name of the province. The provincial capital is Halifax. Nova Scotia is the...
, Canada. Recent studies have shown, however, that the large northeastern coyotes responsible for this attack may in fact be coyote-wolf hybrids (or
coywolves
Coywolf
The coywolf or eastern coyote is a canid hybrid having a mixture of genetic stock from western coyote and either the Gray wolf or the Red wolf . They come from a constantly evolving gene pool and are viewed by some scientists as an emerging species...
) due to absorption of wolves when coyotes moved into eastern North America.
Livestock and pet predation
Coyotes are presently the most abundant livestock predators in western North America, causing the majority of sheep,
goat
Goat
The domestic goat is a subspecies of goat domesticated from the wild goat of southwest Asia and Eastern Europe. The goat is a member of the Bovidae family and is closely related to the sheep as both are in the goat-antelope subfamily Caprinae. There are over three hundred distinct breeds of...
and
cattle
Cattle
Cattle are the most common type of large domesticated ungulates. They are a prominent modern member of the subfamily Bovinae, are the most widespread species of the genus Bos, and are most commonly classified collectively as Bos primigenius...
losses. For example, according to the
National Agricultural Statistics Service
National Agricultural Statistics Service
The National Agricultural Statistics Service or NASS is the statistical branch of the U.S. Department of Agriculture. NASS has 46 field offices throughout the United States and Puerto Rico and a headquarters unit in Washington, D.C....
, coyotes were responsible for 60.5% of the 224,000 sheep deaths that were attributed to predation in 2004. The total number of sheep deaths in 2004 comprised 2.22% of the total sheep and lamb population in the United States. According to the
National Agricultural Statistics Service
National Agricultural Statistics Service
The National Agricultural Statistics Service or NASS is the statistical branch of the U.S. Department of Agriculture. NASS has 46 field offices throughout the United States and Puerto Rico and a headquarters unit in Washington, D.C....
USDA report, "All sheep and lamb inventory in the United States on July 1, 2005, totaled 7.80 million head, 2% above July 1, 2004.
Breeding
Animal husbandry
Animal husbandry is the agricultural practice of breeding and raising livestock.- History :Animal husbandry has been practiced for thousands of years, since the first domestication of animals....
sheep inventory at 4.66 million head on July 1, 2005 was 2% above July 1, 2004." By virtue of the fact that coyote populations are typically many times greater and more widely distributed than those of wolves, coyotes cause more overall predation losses. However, an Idaho census taken in 2005 showed that individual coyotes were one-twentieth as likely to attack livestock than individual wolves.
Relative risks of predation on livestock posed by individual wolves, black bears, mountain lions and coyotes in Idaho, Mark Collinge, United States Department of Agriculture, Animal and Plant Health Inspection Service, Wildlife Services, Boise, Idaho
Coyotes will typically bite the throat just behind the jaw and below the ear when attacking adult sheep or goats, with death commonly resulting from suffocation. Blood loss is usually a secondary cause of death. Calves and heavily-fleeced sheep are killed by attacking the flanks or hind-quarters, causing shock and blood loss. When attacking smaller prey, such as young lambs, the kill is made by biting the skull and spinal regions, causing massive tissue and ossular damage. Small or young prey may be completely carried off, leaving only blood as evidence of a kill. Coyotes will usually leave the hide and most of the skeleton of larger animals relatively intact, unless food is scarce, in which case they may leave only the largest bones. Scattered bits of wool, skin and other parts are characteristic where coyotes feed extensively on larger carcasses.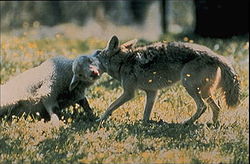 Coyote predation can usually be distinguished from dog or
coydog
Coydog
A coydog is the hybrid offspring of a male coyote and a female dog . Together they are genetically capable of producing fertile young. The dogote, a similar hybrid, is the result of breeding a male domestic dog with a female coyote...
predation by the fact that coyotes partially consume their victims. Tracks are also an important factor in distinguishing coyote from dog predation. Coyote tracks tend to be more oval-shaped and compact than those of domestic dogs, plus, claw marks are less prominent and the tracks tend to follow a straight line more closely than those of dogs. With the exception of
sighthound
Sighthound
Sighthounds, also called gazehounds, are hounds that primarily hunt by speed and sight, instead of by scent and endurance as scent hounds do.-Appearance:...
s, most dogs of similar weight to coyotes have a slightly shorter stride. Coyote kills can be distinguished from wolf kills by the fact that there is less damage to the underlying tissues. Also, coyote scats tend to be smaller than wolf scats.
The U.S. government routinely shoots, poisons, traps and kills 90,000 coyotes each year to protect livestock.
Coyotes are often attracted to
dog food
Dog food
Dog food refers to food specifically intended for consumption by dogs. Though technically omnivorous, dogs exhibit a natural carnivorous bias, have sharp, pointy teeth, and have short gastrointestinal tracts better suited for the consumption of meat...
and animals that are small enough to appear as prey. Items like garbage, pet food, and sometimes feeding stations for birds and squirrels will attract coyotes into backyards. Approximately 3 to 5 pets attacked by coyotes are brought into the Animal Urgent Care hospital of south Orange County (California) each week, the majority of which are dogs, since cats typically do not survive the attacks. Scat analysis collected near
Claremont, California
Claremont, California
Claremont is a small affluent college town in eastern Los Angeles County, California, United States, about east of downtown Los Angeles at the base of the San Gabriel Mountains. The population as of the 2010 census is 34,926. Claremont is known for its seven higher-education institutions, its...
revealed that coyotes relied heavily on pets as a food source in winter and spring. At one location in Southern California, coyotes began relying on a colony of
feral cat
Feral cat
A feral cat is a descendant of a domesticated cat that has returned to the wild. It is distinguished from a stray cat, which is a pet cat that has been lost or abandoned, while feral cats are born in the wild; the offspring of a stray cat can be considered feral if born in the wild.In many parts of...
s as a food source. Over time, the coyotes killed most of the cats, and then continued to eat the cat food placed daily at the colony site by citizens who were maintaining the cat colony.
Coyotes usually attack smaller sized dogs, but they have been known to attack even large, powerful breeds like the
Rottweiler
Rottweiler
The Rottweiler is a medium to large size breed of domestic dog that originated in Rottweil, Germany. The dogs were known as "Rottweil butchers' dogs" because they were used to herd livestock and pull carts laden with butchered meat and other products to market...
in exceptional cases. Dogs larger than coyotes are generally able to drive them off, and have been known to kill coyotes. Smaller breeds are more likely to suffer injury or death.
Pelts
In the early days of European settlement in
North Dakota
North Dakota
North Dakota is a state located in the Midwestern region of the United States of America, along the Canadian border. The state is bordered by Canada to the north, Minnesota to the east, South Dakota to the south and Montana to the west. North Dakota is the 19th-largest state by area in the U.S....
,
American Beaver
American Beaver
The North American Beaver is the only species of beaver in the Americas, native to North America and introduced to South America. In the United States and Canada, where no other species of beaver occurs, it is usually simply referred to as "beaver"...
s were the most valued and sought after furbearers, though other species were also taken, including coyotes. Coyotes are an important furbearer in the region. During the 1983–86 seasons, North Dakota buyers purchased an average of 7,913 pelts annually, for an average annual combined return to takers of $255,458. In 1986–87, South Dakota buyers purchased 8,149 pelts for a total of $349,674 to takers.
The harvest of coyote pelts in Texas has varied over the past few decades, but has generally followed a downward trend. A study from the Texas Parks and Wildlife Department, however, found that there was no indication of population decline, and suggested that, as pelt prices were not increasing, the decrease in harvest was likely due to decreasing demand, and not increasing scarcity (where pelt prices would go up.) It suggested that fashion, and the changing custom of wearing fur garments, may be significant among these factors.
Today, coyote fur is still used for full coats and trim and is particularly popular for men's coats.
Character in mythology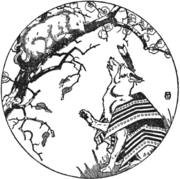 Traditional stories from many Native American,
First Nations
First Nations
First Nations is a term that collectively refers to various Aboriginal peoples in Canada who are neither Inuit nor Métis. There are currently over 630 recognised First Nations governments or bands spread across Canada, roughly half of which are in the provinces of Ontario and British Columbia. The...
, and
Aboriginal
Aboriginal peoples in Canada
Aboriginal peoples in Canada comprise the First Nations, Inuit and Métis. The descriptors "Indian" and "Eskimo" have fallen into disuse in Canada and are commonly considered pejorative....
cultures include a deity whose name is translated into English as
Coyote
. Although especially common in stories told by southwestern Native American nations, such as the
Diné
Navajo Nation
The Navajo Nation is a semi-autonomous Native American-governed territory covering , occupying all of northeastern Arizona, the southeastern portion of Utah, and northwestern New Mexico...
and
Apache
Apache
Apache is the collective term for several culturally related groups of Native Americans in the United States originally from the Southwest United States. These indigenous peoples of North America speak a Southern Athabaskan language, which is related linguistically to the languages of Athabaskan...
, stories about Coyote appear in dozens of Native American nations from Canada to Mexico.
Usually appearing as a
trickster
Trickster
In mythology, and in the study of folklore and religion, a trickster is a god, goddess, spirit, man, woman, or anthropomorphic animal who plays tricks or otherwise disobeys normal rules and conventional behavior. It is suggested by Hansen that the term "Trickster" was probably first used in this...
, a
culture hero
Culture hero
A culture hero is a mythological hero specific to some group who changes the world through invention or discovery...
or both, Coyote also often appears in creation myths and etiological myths. Although often appearing in stories as male, Coyote can be female,
hermaphrodite
Hermaphrodite
In biology, a hermaphrodite is an organism that has reproductive organs normally associated with both male and female sexes.Many taxonomic groups of animals do not have separate sexes. In these groups, hermaphroditism is a normal condition, enabling a form of sexual reproduction in which both...
, or gender changing, in traditional Aboriginal stories.
Contemporary cultural references
The coyote is a popular figure in
folklore
Folklore
Folklore consists of legends, music, oral history, proverbs, jokes, popular beliefs, fairy tales and customs that are the traditions of a culture, subculture, or group. It is also the set of practices through which those expressive genres are shared. The study of folklore is sometimes called...
and
popular culture
Popular culture
Popular culture is the totality of ideas, perspectives, attitudes, memes, images and other phenomena that are deemed preferred per an informal consensus within the mainstream of a given culture, especially Western culture of the early to mid 20th century and the emerging global mainstream of the...
. References may invoke either the animal or the mythological figure. Traits commonly described in pop culture appearances include inventiveness, mischievousness, and evasiveness. By far, the best known representation is the animated Wile E. Coyote, Super Genius, whose popularity has spread the three-syllable Spanish pronunciation of the word
coyote
throughout English-speaking North America.
Coyote
is also a slang term for a person who
smuggles illegal immigrants
People smuggling
People smuggling is defined as "the facilitation, transportation, attempted transportation or illegal entry of a person or persons across an international border, in violation of one or more countries laws, either clandestinely or through deception, such as the use of fraudulent documents"...
over the border from Mexico to the United States.
The
Phoenix Coyotes
Phoenix Coyotes
The Phoenix Coyotes are a professional ice hockey team based in Glendale, Arizona. They are members of the Pacific Division of the Western Conference of the National Hockey League . They play their home games at Jobing.com Arena....
are a
National Hockey League
National Hockey League
The National Hockey League is an unincorporated not-for-profit association which operates a major professional ice hockey league of 30 franchised member clubs, of which 7 are currently located in Canada and 23 in the United States...
franchise based in
Arizona
Arizona
Arizona ; is a state located in the southwestern region of the United States. It is also part of the western United States and the mountain west. The capital and largest city is Phoenix...
.
Teams at the
University of South Dakota
University of South Dakota
The University of South Dakota ', the state's oldest university, was founded in 1862 and classes began in 1882. Located in Vermillion, South Dakota, United States, USD is home to South Dakota's only medical school and law school. USD is governed by the South Dakota Board of Regents, and its current...
and the College of Idaho are "Coyotes".
The NBA San Antonio Spurs mascot is "The Coyote", as well.
The Daily Coyote
The Daily Coyote
The Daily Coyote is a book written by Shreve Stockton published by Simon and Schuster in 2008.It chronicles the story of a young woman who moves to Wyoming after living in New York and her adjustment to the same. During this time, she is given a ten day old coyote pup which she raises...
is a blog documenting the life of Charlie, a coyote domestically raised since he was a pup.
Subspecies
There are 19 recognized subspecies of coyote:
C. l. cagottis (Hamilton-Smith): Mexican coyote – states of Oaxaca

Oaxaca

Oaxaca , , officially Estado Libre y Soberano de Oaxaca is one of the 31 states which, along with the Federal District, comprise the 32 federative entities of Mexico. It is divided into 571 municipalities; of which 418 are governed by the system of customs and traditions...


, San Luis Potosi

San Luis Potosí

San Luis Potosí officially Estado Libre y Soberano de San Luis Potosí is one of the 31 states which, with the Federal District, comprise the 32 Federal Entities of Mexico. It is divided in 58 municipalities and its capital city is San Luis Potosí....


, Puebla

Puebla

Puebla officially Estado Libre y Soberano de Puebla is one of the 31 states which, with the Federal District, comprise the 32 Federal Entities of Mexico. It is divided in 217 municipalities and its capital city is Puebla....


, and Veracruz

Veracruz

Veracruz, formally Veracruz de Ignacio de la Llave officially Estado Libre y Soberano de Veracruz de Ignacio de la Llave , is one of the 31 states that, along with the Federal District, comprise the 32 federative entities of Mexico. It is divided in 212 municipalities and its capital city is...


in Mexico
C. l. clepticus (Elliot): San Pedro Martir coyote – northern Baja California and southwestern California
C. l. dickeyi: Salvador coyote
C. l. frustor (Woodhouse

Samuel Washington Woodhouse

thumb|1847 daguerreotypeSamuel Washington Woodhouse was an American surgeon, explorer and naturalist.Woodhouse was doctor and naturalist on the Sitgreaves Expedition led by Captain Lorenzo Sitgreaves from San Antonio to San Diego which explored the possibility of a route from the Zuni River to the...


): Southeastern coyote – southeastern and extreme eastern Kansas

Kansas

Kansas is a US state located in the Midwestern United States. It is named after the Kansas River which flows through it, which in turn was named after the Kansa Native American tribe, which inhabited the area. The tribe's name is often said to mean "people of the wind" or "people of the south...


, Oklahoma

Oklahoma

Oklahoma is a state located in the South Central region of the United States of America. With an estimated 3,751,351 residents as of the 2010 census and a land area of 68,667 square miles , Oklahoma is the 28th most populous and 20th-largest state...


, Texas, Missouri

Missouri

Missouri is a US state located in the Midwestern United States, bordered by Iowa, Illinois, Kentucky, Tennessee, Arkansas, Oklahoma, Kansas and Nebraska. With a 2010 population of 5,988,927, Missouri is the 18th most populous state in the nation and the fifth most populous in the Midwest. It...


, and Arkansas

Arkansas

Arkansas is a state located in the southern region of the United States. Its name is an Algonquian name of the Quapaw Indians. Arkansas shares borders with six states , and its eastern border is largely defined by the Mississippi River...



C. l. goldmani: Belize coyote
C. l. hondurensis: Honduras coyote
C. l. impavidus (Allen): Durango coyote – southern Sonora

Sonora

Sonora officially Estado Libre y Soberano de Sonora is one of the 31 states which, with the Federal District, comprise the 32 Federal Entities of Mexico. It is divided into 72 municipalities; the capital city is Hermosillo....


, extreme southwestern Chihuahua, western Durango

Durango

Durango officially Estado Libre y Soberano de Durango is one of the 31 states which, with the Federal District, comprise the 32 Federal Entities of Mexico. The state is located in Northwest Mexico. With a population of 1,632,934, it has Mexico's second-lowest population density, after Baja...


, western Zacatecas

Zacatecas

Zacatecas officially Estado Libre y Soberano de Zacatecas is one of the 31 states which, with the Federal District, comprise the 32 Federal Entities of Mexico. It is divided in 58 municipalities and its capital city is Zacatecas....


, and Sinaloa

Sinaloa

Sinaloa officially Estado Libre y Soberano de Sinaloa is one of the 31 states which, with the Federal District, comprise the 32 Federal Entities of Mexico. It is divided in 18 municipalities and its capital city is Culiacán Rosales....



C. l. incolatus (Hall): Northern Coyote – Yukon

Yukon

Yukon is the westernmost and smallest of Canada's three federal territories. It was named after the Yukon River. The word Yukon means "Great River" in Gwich'in....


, Northwest Territories

Northwest Territories

The Northwest Territories is a federal territory of Canada.Located in northern Canada, the territory borders Canada's two other territories, Yukon to the west and Nunavut to the east, and three provinces: British Columbia to the southwest, and Alberta and Saskatchewan to the south...


, northern British Columbia

British Columbia

British Columbia is the westernmost of Canada's provinces and is known for its natural beauty, as reflected in its Latin motto, Splendor sine occasu . Its name was chosen by Queen Victoria in 1858...


, and northern Alberta

Alberta

Alberta is a province of Canada. It had an estimated population of 3.7 million in 2010 making it the most populous of Canada's three prairie provinces...


, and Alaska
C. l. jamesi (Townsend

John Kirk Townsend

John Kirk Townsend was an American naturalist, ornithologist and collector.Townsend was born in Philadelphia and trained as a physician and pharmacist. He developed an interest in natural history in general and bird collecting in particular...


): Tiburón Island coyote – Tiburón Island

Tiburón Island

Tiburón Island is both the largest island in the Gulf of California and the largest island in Mexico, with an area of . It was made a nature reserve in 1963 by President Adolfo López Mateos. Tiburón is Spanish for shark. The etymology of the Seri name is unknown...



C. l. latrans: Plains coyote – Great Plains

Great Plains

The Great Plains are a broad expanse of flat land, much of it covered in prairie, steppe and grassland, which lies west of the Mississippi River and east of the Rocky Mountains in the United States and Canada. This area covers parts of the U.S...


from Alberta

Alberta

Alberta is a province of Canada. It had an estimated population of 3.7 million in 2010 making it the most populous of Canada's three prairie provinces...


, Manitoba

Manitoba

Manitoba is a Canadian prairie province with an area of . The province has over 110,000 lakes and has a largely continental climate because of its flat topography. Agriculture, mostly concentrated in the fertile southern and western parts of the province, is vital to the province's economy; other...


, and Saskatchewan

Saskatchewan

Saskatchewan is a prairie province in Canada, which has an area of . Saskatchewan is bordered on the west by Alberta, on the north by the Northwest Territories, on the east by Manitoba, and on the south by the U.S. states of Montana and North Dakota....


south to New Mexico

New Mexico

New Mexico is a state located in the southwest and western regions of the United States. New Mexico is also usually considered one of the Mountain States. With a population density of 16 per square mile, New Mexico is the sixth-most sparsely inhabited U.S...


and the Texas Panhandle

Texas Panhandle

The Texas Panhandle is a region of the U.S. state of Texas consisting of the northernmost 26 counties in the state. The panhandle is a rectangular area bordered by New Mexico to the west and Oklahoma to the north and east...



C. l. lestes (Merriam

Clinton Hart Merriam

Clinton Hart Merriam was an American zoologist, ornithologist, entomologist and ethnographer.Known as "Hart" to his friends, Dr. Clinton Hart Merriam was born in New York City in 1855. His father, Clinton Levi Merriam, was a U.S. congressman. He studied biology and anatomy at Yale University and...


): Mountain coyote – British Columbia and southeastern Alberta south to Utah

Utah

Utah is a state in the Western United States. It was the 45th state to join the Union, on January 4, 1896. Approximately 80% of Utah's 2,763,885 people live along the Wasatch Front, centering on Salt Lake City. This leaves vast expanses of the state nearly uninhabited, making the population the...


and Nevada

Nevada

Nevada is a state in the western, mountain west, and southwestern regions of the United States. With an area of and a population of about 2.7 million, it is the 7th-largest and 35th-most populous state. Over two-thirds of Nevada's people live in the Las Vegas metropolitan area, which contains its...



C. l. mearnsi

Canis latrans mearnsi

Canis latrans mearnsi, also known as the Mearns coyote, is the sub-species of coyote native to the American Southwest. It is one of the smaller sub-species of coyote: 18-21 inches tall, 42-50 inches long, and weighing 15-25 pounds...


(Merriam): Mearns coyote – southwestern Colorado

Colorado

Colorado is a U.S. state that encompasses much of the Rocky Mountains as well as the northeastern portion of the Colorado Plateau and the western edge of the Great Plains...


and southern Utah south to northern Sonora

Sonora

Sonora officially Estado Libre y Soberano de Sonora is one of the 31 states which, with the Federal District, comprise the 32 Federal Entities of Mexico. It is divided into 72 municipalities; the capital city is Hermosillo....


and Chihuahua
C. l. microdon (Merriam): Lower Rio Grande coyote – southern Texas and northern Tamaulipas

Tamaulipas

Tamaulipas officially Estado Libre y Soberano de Tamaulipas is one of the 31 states which, with the Federal District, comprise the 32 Federal Entities of Mexico. It is divided in 43 municipalities and its capital city is Ciudad Victoria. The capital city was named after Guadalupe Victoria, the...



C. l. ochropus (Eschscholtz

Johann Friedrich von Eschscholtz

Johann Friedrich Eschscholtz was a Livonian physician, botanist, zoologist and entomologist.Eschscholtz was born in Dorpat , Governorate of Livonia in the Russian Empire...


): California Valley coyote – California west of the Sierra Nevada
C. l. peninsulae (Merriam): Peninsula coyote – Baja California
C. l. texensis (Bailey): Texas Plains coyote – most of Texas, eastern New Mexico, and northeastern Mexico
C. l. thamnos (Jackson): Northeastern coyote – range extends from north-central Saskatchewan east to southern Ontario, south to northern Indiana

Indiana

Indiana is a US state, admitted to the United States as the 19th on December 11, 1816. It is located in the Midwestern United States and Great Lakes Region. With 6,483,802 residents, the state is ranked 15th in population and 16th in population density. Indiana is ranked 38th in land area and is...


and west to Missouri

Missouri

Missouri is a US state located in the Midwestern United States, bordered by Iowa, Illinois, Kentucky, Tennessee, Arkansas, Oklahoma, Kansas and Nebraska. With a 2010 population of 5,988,927, Missouri is the 18th most populous state in the nation and the fifth most populous in the Midwest. It...



C. l. umpquensis (Jackson): Northwest Coast coyote – coast of Washington and Oregon

Oregon

Oregon is a state in the Pacific Northwest region of the United States. It is located on the Pacific coast, with Washington to the north, California to the south, Nevada on the southeast and Idaho to the east. The Columbia and Snake rivers delineate much of Oregon's northern and eastern...



C. l. vigilis (Merriam): Colima coyote – Pacific coast of Mexico from Jalisco

Jalisco

Jalisco officially Estado Libre y Soberano de Jalisco is one of the 31 states which, with the Federal District, comprise the 32 Federal Entities of Mexico. It is located in Western Mexico and divided in 125 municipalities and its capital city is Guadalajara.It is one of the more important states...


south to Guerrero

Guerrero

Guerrero officially Estado Libre y Soberano de Guerrero is one of the 31 states which, with the Federal District, comprise the 32 Federal Entities of Mexico. It is divided in 81 municipalities and its capital city is Chilpancingo....



Genus controversy
In 1816, in the third volume of
Lorenz Oken
Lorenz Oken
Lorenz Oken was a German naturalist.Oken was born Lorenz Okenfuss in Bohlsbach in Baden and studied natural history and medicine at the universities of Freiburg and Würzburg. He went on to the University of Göttingen, where he became a Privatdozent , and shortened his name to Oken...
's
Lehrbuch der Naturgeschichte
, the author found sufficient similarities in the dentition of coyotes and jackals to place these species into a new separate genus from
Canis
called
Thos
after the classical Greek word θώς (jackal). Oken's idiosyncratic nomenclatorial ways, however, aroused the scorn of a number of zoological systematists. Nearly all the descriptive words used to justify the genus division were relative terms without a reference measure, and the argument did not take into account the size differences between the species, which can be considerable.
Angel Cabrera
Ángel Cabrera (naturalist)
Ángel Cabrera was a Spanish zoologist.Cabrera was born in Madrid and studied at the city's university. He worked the National Museum of Natural Sciences from 1902, going on several collecting expeditions to Morocco....
, in his 1932 monograph on the mammals of
Morocco
Morocco
Morocco , officially the Kingdom of Morocco , is a country located in North Africa. It has a population of more than 32 million and an area of 710,850 km², and also primarily administers the disputed region of the Western Sahara...
, briefly touched upon the question of whether or not the presence of a
cingulum
Cingulum (tooth)
In dentistry, cingulum refers to an anatomical feature of the anterior teeth . It refers to the portion of the teeth, occurring on the lingual or palatal aspects, that forms a convex protuberance at the cervical third of the anatomic crown. It represents the lingual or palatal developmental lobe...
on the upper
molars
Molar (tooth)
Molars are the rearmost and most complicated kind of tooth in most mammals. In many mammals they grind food; hence the Latin name mola, "millstone"....
of the jackals and its corresponding absence in the rest of
Canis
could justify a subdivision of the genus
Canis
. In practice, he chose the undivided-genus alternative and referred to the jackals as
Canis
. A few authors, however,
Ernest Thompson Seton
Ernest Thompson Seton
Ernest Thompson Seton was a Scots-Canadian who became a noted author, wildlife artist, founder of the Woodcraft Indians, and one of the founding pioneers of the Boy Scouts of America . Seton also influenced Lord Baden-Powell, the founder of Scouting...
being among them, accepted Oken's nomenclature, and went as far as referring to the coyote as
American jackal
.
The Oken/Heller proposal of the new genus
Thos
did not affect the classification of the coyote. Gerrit S. Miller still had in his 1924 edition of
List of North American Recent Mammals
in the section "Genus
Canis
Linnaeas," the subordinate heading "Subgenus
Thos
Oken" and backed it up with a reference to Heller. In the reworked version of the book in 1955,
Philip Hershkovitz
Philip Hershkovitz
Philip Hershkovitz was an American mammalogist. Born in Pittsburgh, he attended the Universities of Pittsburgh and Michigan and lived in South America collecting mammals. In 1947, he was appointed a curator at the Field Museum of Natural History in Chicago and he continued to work there until his...
and Hartley Jackson led him to drop
Thos
both as an available scientific term and as a viable subgenus of
Canis
. In his definitive study of the taxonomy of the coyote, Jackson had, in response to Miller, queried whether Heller had seriously looked at specimens of coyotes prior to his 1914 article, and thought the characters to be "not sufficiently important or stable to warrant subgeneric recognition for the group".
Further reading
Robert M. Timm, Hopland Research & Extension Center, University of California, Hopland, California; Rex O. Baker, California State Polytechnic University-Pomona (retired), Corona, California; Joe R. Bennett, USDA APHIS Wildlife Services, Taft, California; and Craig C. Coolahan, USDA APHIS Wildlife Services, Sacramento, California, "Coyote Attacks: An Increasing Suburban Problem" (March 3, 2004). Hopland Research & Extension Center. Paper timm_baker_P047.
Bekoff, Marc. 1977. Canis Latrans, Species Account. American Society of Mammalogists.
Moehlman, P., and H. Hofer. 1997. "Cooperative breeding, reproductive suppression, and body mass in canids", chapter in Cooperative Breeding in Canids, ed. N. G. Solomon and J. A. French. Cambridge University Press, Cambridge, United Kingdom.
Morey, Paul. 2004. "Landscape use and diet of coyotes, Canis latrans, in the Chicago metropolitan area", Masters Thesis, Utah State University.
Parker, Gerry. 1995. "Eastern Coyote: Story of Its Success", Nimbus Publishing, Halifax, Nova Scotia, Canada.
Voigt, D. R., and W. E. Berg. 1999. "Coyote", chapter 28 in Wild Furbearer Management and Conservation in North America, Section IV: Species Biology, Management, and Conservation. Queen's Printer for Ontario, Ontario, Canada.
External links