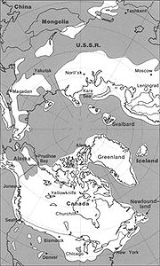 Pleistocene
The
Pleistocene
(symbol P
S
) is the
epoch
Epoch (geology)
An epoch is a subdivision of the geologic timescale based on rock layering. In order, the higher subdivisions are periods, eras and eons. We are currently living in the Holocene epoch...
from 2,588,000 to 11,700 years
BP
Before Present
Before Present years is a time scale used in archaeology, geology, and other scientific disciplines to specify when events in the past occurred. Because the "present" time changes, standard practice is to use AD 1950 as the origin of the age scale, reflecting the fact that radiocarbon...
that spans the world's recent period of repeated glaciations. The name
pleistocene
is derived from the Greek (
pleistos
"most") and (
kainos
"new").
The Pleistocene Epoch follows the
Pliocene
Pliocene
The Pliocene Epoch is the period in the geologic timescale that extends from 5.332 million to 2.588 million years before present. It is the second and youngest epoch of the Neogene Period in the Cenozoic Era. The Pliocene follows the Miocene Epoch and is followed by the Pleistocene Epoch...
Epoch and is followed by the
Holocene
Holocene
The Holocene is a geological epoch which began at the end of the Pleistocene and continues to the present. The Holocene is part of the Quaternary period. Its name comes from the Greek words and , meaning "entirely recent"...
Epoch
Geologic time scale
The geologic time scale provides a system of chronologic measurement relating stratigraphy to time that is used by geologists, paleontologists and other earth scientists to describe the timing and relationships between events that have occurred during the history of the Earth...
. The Pleistocene is the first epoch of the
Quaternary
Quaternary
The Quaternary Period is the most recent of the three periods of the Cenozoic Era in the geologic time scale of the ICS. It follows the Neogene Period, spanning 2.588 ± 0.005 million years ago to the present...
Period or 6th epoch of the
Cenozoic
Cenozoic
The Cenozoic era is the current and most recent of the three Phanerozoic geological eras and covers the period from 65.5 mya to the present. The era began in the wake of the Cretaceous–Tertiary extinction event at the end of the Cretaceous that saw the demise of the last non-avian dinosaurs and...
Era.