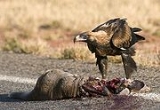 Carrion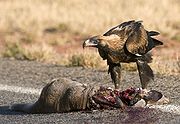 Carrion
refers to the carcass of a dead animal. Carrion is an important food source for large
carnivore
Carnivore
A carnivore meaning 'meat eater' is an organism that derives its energy and nutrient requirements from a diet consisting mainly or exclusively of animal tissue, whether through predation or scavenging...
s and
omnivore
Omnivore
Omnivores are species that eat both plants and animals as their primary food source...
s in most ecosystems. Examples of carrion-eaters (or
scavenger
Scavenger
Scavenging is both a carnivorous and herbivorous feeding behavior in which individual scavengers search out dead animal and dead plant biomass on which to feed. The eating of carrion from the same species is referred to as cannibalism. Scavengers play an important role in the ecosystem by...
s) include
vulture
Vulture
Vulture is the name given to two groups of convergently evolved scavenging birds, the New World Vultures including the well-known Californian and Andean Condors, and the Old World Vultures including the birds which are seen scavenging on carcasses of dead animals on African plains...
s,
hawk
Hawk
The term hawk can be used in several ways:* In strict usage in Australia and Africa, to mean any of the species in the subfamily Accipitrinae, which comprises the genera Accipiter, Micronisus, Melierax, Urotriorchis and Megatriorchis. The large and widespread Accipiter genus includes goshawks,...
s,
eagle
Eagle
Eagles are members of the bird family Accipitridae, and belong to several genera which are not necessarily closely related to each other. Most of the more than 60 species occur in Eurasia and Africa. Outside this area, just two species can be found in the United States and Canada, nine more in...
s,
hyena
Hyena
Hyenas or Hyaenas are the animals of the family Hyaenidae of suborder feliforms of the Carnivora. It is the fourth smallest biological family in the Carnivora , and one of the smallest in the mammalia...
s,
Virginia Opossum
Virginia Opossum
The Virginia opossum , commonly known as the North American opossum or tlacuache in Mexico, is the only marsupial found in North America north of Mexico. A solitary and nocturnal animal about the size of a domestic cat, and thus the largest opossum, it is a successful opportunist...
,
Tasmanian Devil
Tasmanian Devil
The Tasmanian devil is a carnivorous marsupial of the family Dasyuridae, now found in the wild only on the Australian island state of Tasmania. The size of a small dog, it became the largest carnivorous marsupial in the world following the extinction of the thylacine in 1936...
s,
coyote
Coyote
The coyote , also known as the American jackal or the prairie wolf, is a species of canine found throughout North and Central America, ranging from Panama in the south, north through Mexico, the United States and Canada...
s,
Komodo dragon
Komodo dragon
The Komodo dragon , also known as the Komodo monitor, is a large species of lizard found in the Indonesian islands of Komodo, Rinca, Flores, Gili Motang and Gili Dasami. A member of the monitor lizard family , it is the largest living species of lizard, growing to a maximum length of in rare cases...
s, and burying beetles. Many invertebrates like the burying beetles, as well as
maggot
Maggot
In everyday speech the word maggot means the larva of a fly ; it is applied in particular to the larvae of Brachyceran flies, such as houseflies, cheese flies, and blowflies, rather than larvae of the Nematocera, such as mosquitoes and Crane flies...
s of calliphorid flies and
Flesh-flies
Flesh-fly
Flies of the Diptera family Sarcophagidae are commonly known as flesh flies. Most flesh flies breed in carrion, dung, or decaying material, but a few species lay their eggs in the open wounds of mammals; hence their common name...
also eat carrion, playing an important role in recycling nitrogen and carbon in animal remains.
Carrion begins to decay the moment of the animal's death, and it will increasingly attract insects and breed
bacteria
Bacteria
Bacteria are a large domain of prokaryotic microorganisms. Typically a few micrometres in length, bacteria have a wide range of shapes, ranging from spheres to rods and spirals...
. Not long after the animal has died, its body will begin to exude a foul odor caused by the presence of bacteria and the emission of
cadaverine
Cadaverine
Cadaverine is a foul-smelling compound produced by protein hydrolysis during putrefaction of animal tissue. Cadaverine is a toxic diamine with the formula NH25NH2, which is similar to putrescine...
and
putrescine
Putrescine
Putrescine is a foul-smelling organic chemical compound NH24NH2 that is related to cadaverine; both are produced by the breakdown of amino acids in living and dead organisms and both are toxic in large doses...
.
Some plants and
fungi
Fungus
A fungus is a member of a large group of eukaryotic organisms that includes microorganisms such as yeasts and molds , as well as the more familiar mushrooms. These organisms are classified as a kingdom, Fungi, which is separate from plants, animals, and bacteria...
smell like
decomposing
Decomposition
Decomposition is the process by which organic material is broken down into simpler forms of matter. The process is essential for recycling the finite matter that occupies physical space in the biome. Bodies of living organisms begin to decompose shortly after death...
carrion and attract insects that aid in reproduction. Plants that exhibit this behavior are known as
carrion flower
Carrion flower
Carrion flowers or stinking flowers are flowers that emit an odor that smells like rotting flesh. Carrion flowers attract mostly scavenging flies and beetles as pollinators. Some species may trap the insects temporarily to ensure the gathering and transfer of pollen.- Amorphophallus :Many plants in...
s. Stinkhorn mushrooms are examples of fungi with this characteristic.
The word carrion is often used in Danish mythology to describe animals that have been sacrificed and animals that have been killed due to the gods' fury.
Sometimes carrion is used to describe an infected carcass that is diseased and shouldn't be touched. An example of carrion being used to describe dead and rotting bodies in literature may be found in
William Shakespeare
William Shakespeare
William Shakespeare was an English poet and playwright, widely regarded as the greatest writer in the English language and the world's pre-eminent dramatist. He is often called England's national poet and the "Bard of Avon"...
's play
Julius Caesar
Julius Caesar (play)
The Tragedy of Julius Caesar, also known simply as Julius Caesar, is a tragedy by William Shakespeare, believed to have been written in 1599. It portrays the 44 BC conspiracy against...
: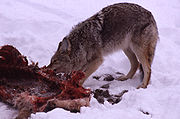 Cry 'Havoc,' and let slip the dogs of war;
That this foul deed shall smell above the earth
With carrion men, groaning for burial.
(III.i)
Another example can be found in Daniel Defoe's
Robinson Crusoe
Robinson Crusoe
Robinson Crusoe is a novel by Daniel Defoe that was first published in 1719. Epistolary, confessional, and didactic in form, the book is a fictional autobiography of the title character—a castaway who spends 28 years on a remote tropical island near Trinidad, encountering cannibals, captives, and...
when the title character kills an unknown bird for food but finds "its flesh was Carrion, and fit for nothing." A third example can be found in
J. R. R. Tolkien
J. R. R. Tolkien
John Ronald Reuel Tolkien, CBE was an English writer, poet, philologist, and university professor, best known as the author of the classic high fantasy works The Hobbit, The Lord of the Rings, and The Silmarillion.Tolkien was Rawlinson and Bosworth Professor of Anglo-Saxon at Pembroke College,...
's
The Lord of the Rings
The Lord of the Rings
The Lord of the Rings is a high fantasy epic written by English philologist and University of Oxford professor J. R. R. Tolkien. The story began as a sequel to Tolkien's earlier, less complex children's fantasy novel The Hobbit , but eventually developed into a much larger work. It was written in...
in a
footnote
Footnote
A note is a string of text placed at the bottom of a page in a book or document or at the end of a text. The note can provide an author's comments on the main text or citations of a reference work in support of the text, or both...
in Appendix A. The dwarves resort to a mass burning of the bodies of their dead following the
War of the Dwarves and Orcs
"rather than leave their kin to beast or bird or carrion-orc."