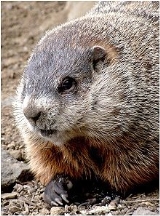 Groundhog
The
groundhog
also known as a
woodchuck
,
whistle-pig
, or in some areas as a
land-beaver
, is a
rodent
Rodent
Rodentia is an order of mammals also known as rodents, characterised by two continuously growing incisors in the upper and lower jaws which must be kept short by gnawing....
of the family Sciuridae, belonging to the group of large
ground squirrel
Ground squirrel
The ground squirrels are members of the squirrel family of rodents which generally live on or in the ground, rather than trees. The term is most often used for the medium-sized ground squirrels, as the larger ones are more commonly known as marmots or prairie dogs, while the smaller and less...
s known as
marmot
Marmot
The marmots are a genus, Marmota, of squirrels. There are 14 species in this genus.Marmots are generally large ground squirrels. Those most often referred to as marmots tend to live in mountainous areas such as the Alps, northern Apennines, Eurasian steppes, Carpathians, Tatras, and Pyrenees in...
s. Other marmots, such as the
yellow-bellied
Yellow-bellied Marmot
The yellow-bellied marmot , also known as the rock chuck, is a ground squirrel in the marmot genus.-Description:...
and
hoary marmots
Hoary Marmot
The hoary marmot is a species of marmot that inhabits the mountains of northwest North America. Hoary marmots live near the tree line on slopes with grasses and forbs to eat and rocky areas for cover....
, live in rocky and mountainous areas, but the woodchuck is a lowland creature. It is widely distributed in
North America
North America
North America is a continent wholly within the Northern Hemisphere and almost wholly within the Western Hemisphere. It is also considered a northern subcontinent of the Americas...
and common in the northeastern and central
United States
United States
The United States of America is a federal constitutional republic comprising fifty states and a federal district...
. Groundhogs are found as far north as
Alaska
Alaska
Alaska is the largest state in the United States by area. It is situated in the northwest extremity of the North American continent, with Canada to the east, the Arctic Ocean to the north, and the Pacific Ocean to the west and south, with Russia further west across the Bering Strait...
, with their habitat extending southeast to
Alabama
Alabama
Alabama is a state located in the southeastern region of the United States. It is bordered by Tennessee to the north, Georgia to the east, Florida and the Gulf of Mexico to the south, and Mississippi to the west. Alabama ranks 30th in total land area and ranks second in the size of its inland...
.
The groundhog is the largest sciurid in its geographical range, typically measuring 40 to 65 cm (15.7 to 25.6 in) long (including a 15 cm (6 in) tail) and weighing 2 to 4 kg (4.4 to 8.8 lb).