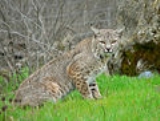 Bobcat
The
bobcat
is a North American
mammal
Mammal
Mammals are members of a class of air-breathing vertebrate animals characterised by the possession of endothermy, hair, three middle ear bones, and mammary glands functional in mothers with young...
of the cat family
Felidae
Felidae
Felidae is the biological family of the cats; a member of this family is called a felid. Felids are the strictest carnivores of the thirteen terrestrial families in the order Carnivora, although the three families of marine mammals comprising the superfamily pinnipedia are as carnivorous as the...
, appearing during the
Irvingtonian
Irvingtonian
The Irvingtonian North American Stage on the geologic timescale is the North American faunal stage according to the North American Land Mammal Ages chronology , typically set from 1,800,000 to 300,000 years BP, a period of . It is usually considered to overlap the Lower Pleistocene and Middle...
stage of around 1.8 million years ago (
AEO
Appearance Event Ordination
Appearance Event Ordination or AEO is a scientific method for biochronology through the ordering of the appearance of fossil mammal genera by multivariate analysis, using conjunctional and disconjunctional range distributions in large sets of data.-Process:AEO is based on faunal overlap and...
). With twelve recognized
subspecies
Subspecies
Subspecies in biological classification, is either a taxonomic rank subordinate to species, ora taxonomic unit in that rank . A subspecies cannot be recognized in isolation: a species will either be recognized as having no subspecies at all or two or more, never just one...
, it ranges from southern
Canada
Canada
Canada is a North American country consisting of ten provinces and three territories. Located in the northern part of the continent, it extends from the Atlantic Ocean in the east to the Pacific Ocean in the west, and northward into the Arctic Ocean...
to northern
Mexico
Mexico
The United Mexican States , commonly known as Mexico , is a federal constitutional republic in North America. It is bordered on the north by the United States; on the south and west by the Pacific Ocean; on the southeast by Guatemala, Belize, and the Caribbean Sea; and on the east by the Gulf of...
, including most of the continental United States. The bobcat is an adaptable predator that inhabits wooded areas, as well as semi-desert, urban edge, forest edges, and swampland environments. It persists in much of its original range and populations are healthy.
With a gray to brown coat, whiskered face, and black-tufted ears, the bobcat resembles the other species of the mid-sized
Lynx
Lynx
A lynx is any of the four Lynx genus species of medium-sized wildcats. The name "lynx" originated in Middle English via Latin from Greek word "λύγξ", derived from the Indo-European root "*leuk-", meaning "light, brightness", in reference to the luminescence of its reflective eyes...
genus.