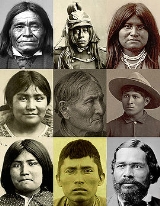 Apache
Apache
is the collective term for several culturally related groups of
Native Americans in the United States
Native Americans in the United States
Native Americans in the United States are the indigenous peoples in North America within the boundaries of the present-day continental United States, parts of Alaska, and the island state of Hawaii. They are composed of numerous, distinct tribes, states, and ethnic groups, many of which survive as...
originally from the Southwest United States. These indigenous peoples of North America speak a
Southern Athabaskan
Southern Athabaskan languages
Southern Athabaskan is a subfamily of Athabaskan languages spoken primarily in the North American Southwest with two outliers in Oklahoma and Texas...
(Apachean) language, which is related linguistically to the languages of Athabaskan speakers of
Alaska
Alaska
Alaska is the largest state in the United States by area. It is situated in the northwest extremity of the North American continent, with Canada to the east, the Arctic Ocean to the north, and the Pacific Ocean to the west and south, with Russia further west across the Bering Strait...
and western
Canada
Canada
Canada is a North American country consisting of ten provinces and three territories. Located in the northern part of the continent, it extends from the Atlantic Ocean in the east to the Pacific Ocean in the west, and northward into the Arctic Ocean...
. The modern term Apache excludes the related
Navajo
Navajo people
The Navajo of the Southwestern United States are the largest single federally recognized tribe of the United States of America. The Navajo Nation has 300,048 enrolled tribal members. The Navajo Nation constitutes an independent governmental body which manages the Navajo Indian reservation in the...
people. Since the Navajo and the other Apache groups are clearly related through culture and language, they are all considered
Apachean
.