 Strait
A
strait
or
straits
is a narrow, typically navigable channel of water that connects two larger, navigable bodies of water. It most commonly refers to a channel of water that lies between two
land mass
Land mass
Land mass refers to the total area of a country or geographical region . The Earth's total land mass is which is about 29.2% of its total surface. Water covers approximately 70.8% of the Earth's surface, mostly in the form of oceans....
es, but it may also refer to a navigable channel through a body of water that is otherwise not navigable, for example because it is too shallow, or because it contains an unnavigable
reef
Reef
In nautical terminology, a reef is a rock, sandbar, or other feature lying beneath the surface of the water ....
or
archipelago
Archipelago
An archipelago , sometimes called an island group, is a chain or cluster of islands. The word archipelago is derived from the Greek ἄρχι- – arkhi- and πέλαγος – pélagos through the Italian arcipelago...
.
Terminology
The terms
channel
Channel (geography)
In physical geography, a channel is the physical confine of a river, slough or ocean strait consisting of a bed and banks.A channel is also the natural or human-made deeper course through a reef, sand bar, bay, or any shallow body of water...
,
firth
Firth
Firth is the word in the Lowland Scots language and in English used to denote various coastal waters in Scotland and England. In mainland Scotland it is used to describe a large sea bay, or even a strait. In the Northern Isles it more usually refers to a smaller inlet...
,
pass
or
passage
, and
sound
Sound (geography)
In geography a sound or seaway is a large sea or ocean inlet larger than a bay, deeper than a bight and wider than a fjord; or it may be defined as a narrow sea or ocean channel between two bodies of land ....
can be synonymous and used interchangeably with
strait
, although each is sometimes differentiated with varying senses. Many straits are economically important. Straits can be important
shipping route
Shipping route
A shipping route is a trade route used by merchant ships.Early routes usually were coastal in nature as navigators had to rely on the coastal landmarks...
s, and
war
War
War is a state of organized, armed, and often prolonged conflict carried on between states, nations, or other parties typified by extreme aggression, social disruption, and usually high mortality. War should be understood as an actual, intentional and widespread armed conflict between political...
s have been fought for control of these straits.
Numerous artificial channels, called
canal

Canal

Canals are man-made channels for water. There are two types of canal:#Waterways: navigable transportation canals used for carrying ships and boats shipping goods and conveying people, further subdivided into two kinds:...


s
, have been constructed to connect two bodies of water over land, such as the
Suez Canal
Suez Canal
The Suez Canal , also known by the nickname "The Highway to India", is an artificial sea-level waterway in Egypt, connecting the Mediterranean Sea and the Red Sea. Opened in November 1869 after 10 years of construction work, it allows water transportation between Europe and Asia without navigation...
. Although rivers and canals often provide passage between two large lakes or a lake and a sea, and these seem to suit the formal definition of straits, they are not usually referred to as such. The term
strait
is typically reserved for much larger, wider features of the
marine
Marine (ocean)
Marine is an umbrella term. As an adjective it is usually applicable to things relating to the sea or ocean, such as marine biology, marine ecology and marine geology...
environment. There are exceptions, with straits being called canals,
Pearse Canal
Pearse Canal
Pearse Canal is a channel or strait forming part of the Canada-United States border at the southern end of the Alaska Panhandle and adjacent to the mouth of Portland Inlet. It is on the northwest side of Wales and Pearse Islands, which are in British Columbia, Canada, and forms part of the...
, for example.
Comparisons
Straits are the converse of
isthmi
Isthmus
An isthmus is a narrow strip of land connecting two larger land areas usually with waterforms on either side.Canals are often built through isthmuses where they may be particularly advantageous to create a shortcut for marine transportation...
. That is, while straits lie between two land masses and connect two larger bodies of water, isthmi lie between two bodies of water and connect two larger land masses.
Some straits have the potential to generate significant
tidal power
Tidal power
Tidal power, also called tidal energy, is a form of hydropower that converts the energy of tides into useful forms of power - mainly electricity....
using tidal stream turbines. Tides are more predictable than
wave power
Wave power
Wave power is the transport of energy by ocean surface waves, and the capture of that energy to do useful work — for example, electricity generation, water desalination, or the pumping of water...
or
wind power
Wind power
Wind power is the conversion of wind energy into a useful form of energy, such as using wind turbines to make electricity, windmills for mechanical power, windpumps for water pumping or drainage, or sails to propel ships....
. The
Pentland Firth
Pentland Firth
The Pentland Firth , which is actually more of a strait than a firth, separates the Orkney Islands from Caithness in the north of Scotland.-Etymology:...
(actually a strait) may be capable of generating 10 GW.
Cook Strait
Cook Strait
Cook Strait is the strait between the North and South Islands of New Zealand. It connects the Tasman Sea on the west with the South Pacific Ocean on the east....
in New Zealand may be capable of generating 12GW.
Navigational (legal) regime
Straits used for international navigation through the territorial sea between one part of the high seas or an exclusive economic zone and another part of the high seas or an
exclusive economic zone
Exclusive Economic Zone
Under the law of the sea, an exclusive economic zone is a seazone over which a state has special rights over the exploration and use of marine resources, including production of energy from water and wind. It stretches from the seaward edge of the state's territorial sea out to 200 nautical...
are subject to the legal regime of
transit passage
Transit passage
Transit passage is a concept in Law of the Sea which allows for a vessel and aircraft in accordance with United Nations Convention on the Law of the Sea of the freedom of navigation and overflight solely for the purpose of continuous and expeditious transit of the strait between one part of the...
(
Strait of Gibraltar
Strait of Gibraltar
The Strait of Gibraltar is a narrow strait that connects the Atlantic Ocean to the Mediterranean Sea and separates Spain in Europe from Morocco in Africa. The name comes from Gibraltar, which in turn originates from the Arabic Jebel Tariq , albeit the Arab name for the Strait is Bab el-Zakat or...
, Dover Strait,
Strait of Hormuz
Strait of Hormuz
The Strait of Hormuz is a narrow, strategically important waterway between the Gulf of Oman in the southeast and the Persian Gulf. On the north coast is Iran and on the south coast is the United Arab Emirates and Musandam, an exclave of Oman....
). The regime of
innocent passage
Innocent passage
Innocent passage is a concept in admiralty law which allows for a vessel to pass through the territorial waters of another state subject to certain restrictions. The UN Convention on the Law of the Sea defines innocent passage as:...
applies in straits used for international navigation (1) that connect a part of high seas or an exclusive economic zone with the territorial sea of coastal nation (Strait of Tiran,
Strait of Juan de Fuca
Strait of Juan de Fuca
The Strait of Juan de Fuca is a large body of water about long that is the Salish Sea outlet to the Pacific Ocean...
,
Strait of Baltiysk
Strait of Baltiysk
The Strait of Baltiysk is a strait in Kaliningrad Oblast, Russia, enabling passage from the Baltic Sea into the Vistula Lagoon. It separates the Sambian Peninsula and Vistula Spit...
) and (2) in straits formed by an island of a state bordering the strait and its mainland if there exists seaward of the island a route through the high seas or through an exclusive economic zone of similar convenience with respect to navigational and hydrographical characteristics (
Strait of Messina
Strait of Messina
The Strait of Messina is the narrow passage between the eastern tip of Sicily and the southern tip of Calabria in the south of Italy. It connects the Tyrrhenian Sea with the Ionian Sea, within the central Mediterranean...
,
Pentland Firth
Pentland Firth
The Pentland Firth , which is actually more of a strait than a firth, separates the Orkney Islands from Caithness in the north of Scotland.-Etymology:...
). There may be no suspension of innocent passage through such straits.
Well-known straits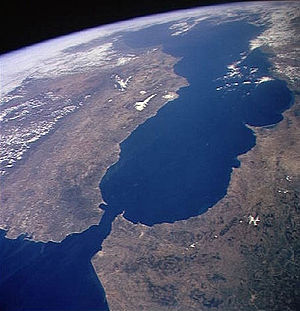 Well-known straits in the world include: