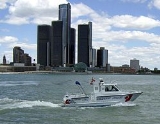 Detroit River
The
Detroit River
is a 28 miles (45.1 km)
strait
Strait
A strait or straits is a narrow, typically navigable channel of water that connects two larger, navigable bodies of water. It most commonly refers to a channel of water that lies between two land masses, but it may also refer to a navigable channel through a body of water that is otherwise not...
in the
Great Lakes
Great Lakes
The Great Lakes are a collection of freshwater lakes located in northeastern North America, on the Canada – United States border. Consisting of Lakes Superior, Michigan, Huron, Erie, and Ontario, they form the largest group of freshwater lakes on Earth by total surface, coming in second by volume...
system. The name comes from the
French
French language
French is a Romance language spoken as a first language in France, the Romandy region in Switzerland, Wallonia and Brussels in Belgium, Monaco, the regions of Quebec and Acadia in Canada, and by various communities elsewhere. Second-language speakers of French are distributed throughout many parts...
Rivière du Détroit
, which translates literally as "River of the Strait". The Detroit River has served an important role in the history of Detroit and is one of the busiest waterways in the world. The river travels south from
Lake St. Clair
Lake Saint Clair (North America)
Lake St. Clair is a fresh-water lake named after Clare of Assisi that lies between the Province of Ontario and the State of Michigan, and its midline also forms the boundary between Canada and the United States of America. Lake St. Clair includes the Anchor Bay along the Metro Detroit coastline...
to
Lake Erie
Lake Erie
Lake Erie is the fourth largest lake of the five Great Lakes in North America, and the tenth largest globally. It is the southernmost, shallowest, and smallest by volume of the Great Lakes and therefore also has the shortest average water residence time. It is bounded on the north by the...
, and the whole river carries the international border between
Canada
Canada
Canada is a North American country consisting of ten provinces and three territories. Located in the northern part of the continent, it extends from the Atlantic Ocean in the east to the Pacific Ocean in the west, and northward into the Arctic Ocean...
and the
United States
United States
The United States of America is a federal constitutional republic comprising fifty states and a federal district...
.