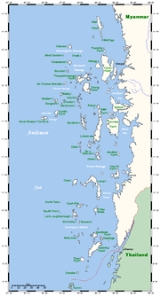 Archipelago
An
archipelago
sometimes called an
island group
, is a chain or cluster of
island
Island
An island or isle is any piece of sub-continental land that is surrounded by water. Very small islands such as emergent land features on atolls can be called islets, cays or keys. An island in a river or lake may be called an eyot , or holm...
s. The word
archipelago
is derived from the
Greek
Greek language
Greek is an independent branch of the Indo-European family of languages. Native to the southern Balkans, it has the longest documented history of any Indo-European language, spanning 34 centuries of written records. Its writing system has been the Greek alphabet for the majority of its history;...
ἄρχι- – arkhi-
("chief") and
πέλαγος – pélagos
("sea") through the Italian
arcipelago
. In
Italian
Italian language
Italian is a Romance language spoken mainly in Europe: Italy, Switzerland, San Marino, Vatican City, by minorities in Malta, Monaco, Croatia, Slovenia, France, Libya, Eritrea, and Somalia, and by immigrant communities in the Americas and Australia...
, possibly following a tradition of
antiquity
Ancient Greece
Ancient Greece is a civilization belonging to a period of Greek history that lasted from the Archaic period of the 8th to 6th centuries BC to the end of antiquity. Immediately following this period was the beginning of the Early Middle Ages and the Byzantine era. Included in Ancient Greece is the...
, the
Arcipelago
(from
medieval Greek
Medieval Greek
Medieval Greek, also known as Byzantine Greek, is the stage of the Greek language between the beginning of the Middle Ages around 600 and the Ottoman conquest of the city of Constantinople in 1453. The latter date marked the end of the Middle Ages in Southeast Europe...
*
Linguistic reconstruction
Linguistic reconstruction is the practice of establishing the features of the unattested ancestor of one or more given languages. There are two kinds of reconstruction. Internal reconstruction uses irregularities in a single language to make inferences about an earlier stage of that language...
ἀρχιπέλαγος) was the proper name for the
Aegean Sea
Aegean Sea
The Aegean Sea[p] is an elongated embayment of the Mediterranean Sea located between the southern Balkan and Anatolian peninsulas, i.e., between the mainlands of Greece and Turkey. In the north, it is connected to the Marmara Sea and Black Sea by the Dardanelles and Bosporus...
and, later, usage shifted to refer to the
Aegean Islands
Aegean Islands
The Aegean Islands are the group of islands in the Aegean Sea, with mainland Greece to the west and north and Turkey to the east; the island of Crete delimits the sea to the south, those of Rhodes, Karpathos and Kasos to the southeast...
(since the sea is remarkable for its large number of islands).