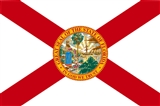 Florida
Florida
is a
state
U.S. state
A U.S. state is any one of the 50 federated states of the United States of America that share sovereignty with the federal government. Because of this shared sovereignty, an American is a citizen both of the federal entity and of his or her state of domicile. Four states use the official title of...
in the
southeastern
Southeastern United States
The Southeastern United States, colloquially referred to as the Southeast, is the eastern portion of the Southern United States. It is one of the most populous regions in the United States of America....
United States
United States
The United States of America is a federal constitutional republic comprising fifty states and a federal district...
, located on the nation's
Atlantic
East Coast of the United States
The East Coast of the United States, also known as the Eastern Seaboard, refers to the easternmost coastal states in the United States, which touch the Atlantic Ocean and stretch up to Canada. The term includes the U.S...
and
Gulf
Gulf Coast of the United States
The Gulf Coast of the United States, sometimes referred to as the Gulf South, South Coast, or 3rd Coast, comprises the coasts of American states that are on the Gulf of Mexico, which includes Texas, Louisiana, Mississippi, Alabama, and Florida and are known as the Gulf States...
coasts. It is bordered to the west by the
Gulf of Mexico
Gulf of Mexico
The Gulf of Mexico is a partially landlocked ocean basin largely surrounded by the North American continent and the island of Cuba. It is bounded on the northeast, north and northwest by the Gulf Coast of the United States, on the southwest and south by Mexico, and on the southeast by Cuba. In...
, to the north by
Alabama
Alabama
Alabama is a state located in the southeastern region of the United States. It is bordered by Tennessee to the north, Georgia to the east, Florida and the Gulf of Mexico to the south, and Mississippi to the west. Alabama ranks 30th in total land area and ranks second in the size of its inland...
and
Georgia
Georgia (U.S. state)
Georgia is a state located in the southeastern United States. It was established in 1732, the last of the original Thirteen Colonies. The state is named after King George II of Great Britain. Georgia was the fourth state to ratify the United States Constitution, on January 2, 1788...
and to the east by the
Atlantic Ocean
Atlantic Ocean
The Atlantic Ocean is the second-largest of the world's oceanic divisions. With a total area of about , it covers approximately 20% of the Earth's surface and about 26% of its water surface area...
. With a population of 18,801,310 as measured by the 2010 census, it is the
fourth most populous
state in the country. With an area of 65755 square miles (170,305 km²), Florida ranks 22nd in size among the 50 U.S.