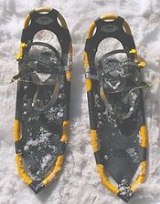 Snowshoe
A
snowshoe
is
footwear
Footwear
Footwear consists of garments worn on the feet, for fashion, protection against the environment, and adornment. Being barefoot is commonly associated with poverty, but some cultures chose not to wear footwear at least in some situations....
for walking over the
snow
Snow
Snow is a form of precipitation within the Earth's atmosphere in the form of crystalline water ice, consisting of a multitude of snowflakes that fall from clouds. Since snow is composed of small ice particles, it is a granular material. It has an open and therefore soft structure, unless packed by...
. Snowshoes work by distributing the weight of the person over a larger area so that the person's foot does not sink completely into the snow, a quality called "flotation".
Traditional snowshoes have a hardwood frame with rawhide lacings. Some modern snowshoes are similar, but most are made of materials such as lightweight metal, plastic, and synthetic fabric. In addition to distributing the weight, snowshoes are generally raised at the toe for maneuverability. They must not accumulate snow, hence the
latticework
Latticework
Latticework is a framework consisting of a criss-crossed pattern of strips of building material, typically wood or metal. The design is created by crossing the strips to form a network...
, and require bindings to attach them to the feet.
In the past, snowshoes were essential tools for fur traders,
trappers
Trapping (Animal)
Animal trapping, or simply trapping, is the use of a device to remotely catch an animal. Animals may be trapped for a variety of purposes, including food, wildlife management, hunting, and pest control...
and anyone whose life or living depended on the ability to get around in areas of deep and frequent snowfall, and they remain necessary equipment for forest rangers and others who must be able to get around areas inaccessible to motorized vehicles when the snow is deep. However, today snowshoes are mainly used for recreation, primarily by
hikers
Hiking
Hiking is an outdoor activity which consists of walking in natural environments, often in mountainous or other scenic terrain. People often hike on hiking trails. It is such a popular activity that there are numerous hiking organizations worldwide. The health benefits of different types of hiking...
and
runners
Running
Running is a means of terrestrial locomotion allowing humans and other animals to move rapidly on foot. It is simply defined in athletics terms as a gait in which at regular points during the running cycle both feet are off the ground...
who like to continue their hobby in wintertime. Snowshoeing is easy to learn, and in appropriate conditions is a relatively safe and inexpensive recreational activity. However, snowshoeing in icy, steep terrain is more dangerous.
Origins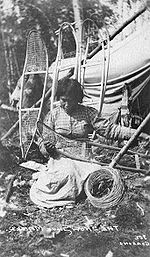 Before man built snowshoes, nature provided examples. Several animals, most notably the
snowshoe hare
Snowshoe Hare
The Snowshoe Hare , also called the Varying Hare, or Snowshoe Rabbit, is a species of hare found in North America. It has the name "snowshoe" because of the large size of its hind feet and the marks its tail leaves. The animal's feet prevent it from sinking into the snow when it hops and walks...
, had
evolved
Evolution
Evolution is any change across successive generations in the heritable characteristics of biological populations. Evolutionary processes give rise to diversity at every level of biological organisation, including species, individual organisms and molecules such as DNA and proteins.Life on Earth...
over the years with oversized feet enabling them to move more quickly through deep snow.
The origin and age of snowshoes are not precisely known, although historians believe they were invented from 6,000 to 8,000+ years ago..
British
United Kingdom
The United Kingdom of Great Britain and Northern IrelandIn the United Kingdom and Dependencies, other languages have been officially recognised as legitimate autochthonous languages under the European Charter for Regional or Minority Languages...
archaeologist
Archaeology
Archaeology, or archeology , is the study of human society, primarily through the recovery and analysis of the material culture and environmental data that they have left behind, which includes artifacts, architecture, biofacts and cultural landscapes...
Jacqui Wood
Jacqui Wood
Jacqui Wood is a British archaeologist and writer, specializing in the daily life of prehistoric Europeans.As of 2001, she is director of Saveock Water Archaeology, and also the director and founder of Cornwall Celtic Village, a reconstructed Bronze-Iron Age settlement.She was a member of the...
hypothesized that the equipment interpreted to be the frame of a backpack of the
mummy
Mummy
A mummy is a body, human or animal, whose skin and organs have been preserved by either intentional or incidental exposure to chemicals, extreme coldness , very low humidity, or lack of air when bodies are submerged in bogs, so that the recovered body will not decay further if kept in cool and dry...
Otzi was actually part of a snowshoe.
Strabo
Strabo
Strabo, also written Strabon was a Greek historian, geographer and philosopher.-Life:Strabo was born to an affluent family from Amaseia in Pontus , a city which he said was situated the approximate equivalent of 75 km from the Black Sea...
wrote that the inhabitants of the
Caucasus
Caucasus
The Caucasus, also Caucas or Caucasia , is a geopolitical region at the border of Europe and Asia, and situated between the Black and the Caspian sea...
used to attach flat surfaces of leather under their feet and that the
Armenians
Armenians
Armenian people or Armenians are a nation and ethnic group native to the Armenian Highland.The largest concentration is in Armenia having a nearly-homogeneous population with 97.9% or 3,145,354 being ethnic Armenian....
used round wooden surfaces, something akin to blocks, instead. However, the "traditional" webbed snowshoe as we know it today had direct origins to North American indigenous people, e.g., the Huron, Cree, and so forth.
Samuel de Champlain
Samuel de Champlain
Samuel de Champlain , "The Father of New France", was a French navigator, cartographer, draughtsman, soldier, explorer, geographer, ethnologist, diplomat, and chronicler. He founded New France and Quebec City on July 3, 1608....
wrote, referencing the Huron and Algonquin First Nations, in his travel memoirs (V.III, pg. 164), "Winter, when there is much snow, they (the Indians) make a kind of snowshoe that are two to three times larger than those in France, that they tie to their feet, and thus go on the snow, without sinking into it, otherwise they would not be able to hunt or go from one location to the other".
Two groups of snowshoe pioneers diverged early on, setting patterns that can still be seen today. One group abandoned the snowshoe as it migrated north to what is now
Scandinavia
Scandinavia
Scandinavia is a cultural, historical and ethno-linguistic region in northern Europe that includes the three kingdoms of Denmark, Norway and Sweden, characterized by their common ethno-cultural heritage and language. Modern Norway and Sweden proper are situated on the Scandinavian Peninsula,...
, eventually turning the design into the forerunners of the
Nordic ski
Cross-country skiing
Cross-country skiing is a winter sport in which participants propel themselves across snow-covered terrain using skis and poles...
. The other went northeast, eventually crossing the
Bering Strait
Bering Strait
The Bering Strait , known to natives as Imakpik, is a sea strait between Cape Dezhnev, Chukotka Autonomous Okrug, Russia, the easternmost point of the Asian continent and Cape Prince of Wales, Alaska, USA, the westernmost point of the North American continent, with latitude of about 65°40'N,...
into
North America
North America
North America is a continent wholly within the Northern Hemisphere and almost wholly within the Western Hemisphere. It is also considered a northern subcontinent of the Americas...
.
North American indigenous peoples
North American indigenous people developed the most advanced and diverse snowshoes prior to
European exploration and colonization
European colonization of the Americas
The start of the European colonization of the Americas is typically dated to 1492. The first Europeans to reach the Americas were the Vikings during the 11th century, who established several colonies in Greenland and one short-lived settlement in present day Newfoundland...
. Nearly every
Amerindian
Indigenous peoples of the Americas
The indigenous peoples of the Americas are the pre-Columbian inhabitants of North and South America, their descendants and other ethnic groups who are identified with those peoples. Indigenous peoples are known in Canada as Aboriginal peoples, and in the United States as Native Americans...
tribe developed its own particular shape of shoe, the simplest and most primitive being those of
the far north
Arctic
The Arctic is a region located at the northern-most part of the Earth. The Arctic consists of the Arctic Ocean and parts of Canada, Russia, Greenland, the United States, Norway, Sweden, Finland, and Iceland. The Arctic region consists of a vast, ice-covered ocean, surrounded by treeless permafrost...
. The
Inuit
Inuit
The Inuit are a group of culturally similar indigenous peoples inhabiting the Arctic regions of Canada , Denmark , Russia and the United States . Inuit means "the people" in the Inuktitut language...
have two styles, one being triangular in shape and about 18 inches (45.7 cm) in length, and the other almost circular, both reflecting the need for high flotation in deep, loose and powdery snow. However, contrary to popular perception, the Inuit did not use their snowshoes much since they did most of their foot travel in winter over sea ice or on the
tundra
Tundra
In physical geography, tundra is a biome where the tree growth is hindered by low temperatures and short growing seasons. The term tundra comes through Russian тундра from the Kildin Sami word tūndâr "uplands," "treeless mountain tract." There are three types of tundra: Arctic tundra, alpine...
, where snow does not pile up deeply.
Southward the shoe becomes gradually narrower and longer, the largest being the hunting snow-shoe of the
Cree
Cree
The Cree are one of the largest groups of First Nations / Native Americans in North America, with 200,000 members living in Canada. In Canada, the major proportion of Cree live north and west of Lake Superior, in Ontario, Manitoba, Saskatchewan, Alberta and the Northwest Territories, although...
, which is nearly 6 ft (1.8 m) long and turned up at the toe. Even smaller models, developed most notably by the
Iroquois
Iroquois
The Iroquois , also known as the Haudenosaunee or the "People of the Longhouse", are an association of several tribes of indigenous people of North America...
, are narrower and shorter, reflecting the need for maneuverability in
forest
Forest
A forest, also referred to as a wood or the woods, is an area with a high density of trees. As with cities, depending where you are in the world, what is considered a forest may vary significantly in size and have various classification according to how and what of the forest is composed...
ed areas where wetter and shallower snow cover during winter made flotation less important.
The
Plains Indians
Plains Indians
The Plains Indians are the Indigenous peoples who live on the plains and rolling hills of the Great Plains of North America. Their colorful equestrian culture and resistance to White domination have made the Plains Indians an archetype in literature and art for American Indians everywhere.Plains...
wore snowshoes on their wintertime
bison
American Bison
The American bison , also commonly known as the American buffalo, is a North American species of bison that once roamed the grasslands of North America in massive herds...
hunts before
horse
Horse
The horse is one of two extant subspecies of Equus ferus, or the wild horse. It is a single-hooved mammal belonging to the taxonomic family Equidae. The horse has evolved over the past 45 to 55 million years from a small multi-toed creature into the large, single-toed animal of today...
s were introduced. Despite their great diversity in form, snowshoes were, in fact, one of the few cultural elements common to all First Nations tribes that lived where the winters were snowy, in particular, the Northern regions.
Use by Europeans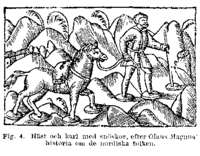 Snowshoes were slowly adopted by
European
European ethnic groups
The ethnic groups in Europe are the various ethnic groups that reside in the nations of Europe. European ethnology is the field of anthropology focusing on Europe....
s in what became
Canada
Canada
Canada is a North American country consisting of ten provinces and three territories. Located in the northern part of the continent, it extends from the Atlantic Ocean in the east to the Pacific Ocean in the west, and northward into the Arctic Ocean...
and the
United States
United States
The United States of America is a federal constitutional republic comprising fifty states and a federal district...
, with the
French
French people
The French are a nation that share a common French culture and speak the French language as a mother tongue. Historically, the French population are descended from peoples of Celtic, Latin and Germanic origin, and are today a mixture of several ethnic groups...
voyageur

Voyageurs

The Voyageurs were the persons who engaged in the transportation of furs by canoe during the fur trade era. Voyageur is a French word which literally translates to "traveler"...


s
and
Coureur des bois
Coureur des bois
A coureur des bois or coureur de bois was an independent entrepreneurial French-Canadian woodsman who traveled in New France and the interior of North America. They travelled in the woods to trade various things for fur....
well in advance of
British
British people
The British are citizens of the United Kingdom, of the Isle of Man, any of the Channel Islands, or of any of the British overseas territories, and their descendants...
settler
Settler
A settler is a person who has migrated to an area and established permanent residence there, often to colonize the area. Settlers are generally people who take up residence on land and cultivate it, as opposed to nomads...
s. According to the Encyclopædia Britannica, French Voyageurs were primarily 18th and 19th century French Canadian fur traders who explored the frontier waterways by canoe. Superior French snowshoeing skill almost turned the
French and Indian War
French and Indian War
The French and Indian War is the common American name for the war between Great Britain and France in North America from 1754 to 1763. In 1756, the war erupted into the world-wide conflict known as the Seven Years' War and thus came to be regarded as the North American theater of that war...
, a conflict that saw two engagements named the
Battle on Snowshoes
Battle on Snowshoes
The 1758 Battle on Snowshoes occurred on March 13, 1758, during the French and Indian War. It was fought by members of British Ranger companies led by Robert Rogers against French troops and Indians allied to France...
, to their favor.
However, the British were quick learners. The
Oxford English Dictionary
Oxford English Dictionary
The Oxford English Dictionary , published by the Oxford University Press, is the self-styled premier dictionary of the English language. Two fully bound print editions of the OED have been published under its current name, in 1928 and 1989. The first edition was published in twelve volumes , and...
reports the term being used by the English as early as 1674. Sixteen years later, after a French-Indian raiding party attacked a British settlement near what is today
Schenectady, New York
Schenectady, New York
Schenectady is a city in Schenectady County, New York, United States, of which it is the county seat. As of the 2010 census, the city had a population of 66,135...
, the British took to their own snowshoes and pursued the attackers for almost 50 miles (80.5 km), ultimately recovering both people and goods taken by their attackers.
The "teardrop" snowshoes worn by lumberjacks are about 40 inches (1 m) long and broad in proportion, while the tracker's shoe is over 5 feet (1.5 m) long and very narrow. This form, the stereotypical snowshoe, resembles a
tennis
Tennis
Tennis is a sport usually played between two players or between two teams of two players each . Each player uses a racket that is strung to strike a hollow rubber ball covered with felt over a net into the opponent's court. Tennis is an Olympic sport and is played at all levels of society at all...
racquet
Racquet
A racquet or racket is a sports implement consisting of a handled frame with an open hoop across which a network of cord is stretched tightly. It is used for striking a ball in such games as squash, tennis, racquetball, and badminton...
, and indeed the
French
French language
French is a Romance language spoken as a first language in France, the Romandy region in Switzerland, Wallonia and Brussels in Belgium, Monaco, the regions of Quebec and Acadia in Canada, and by various communities elsewhere. Second-language speakers of French are distributed throughout many parts...
term is
raquette de neige
.
This form was copied by the
Canadian
Canada
Canada is a North American country consisting of ten provinces and three territories. Located in the northern part of the continent, it extends from the Atlantic Ocean in the east to the Pacific Ocean in the west, and northward into the Arctic Ocean...
snowshoe clubs of the late 18th century. Originally founded for military training purposes, they became the earliest recreational users of snowshoes.
The snowshoe clubs such as the Montreal Snowshoe club (1840) shortened the teardrop to about 40 inches (101.6 cm) long and 15 to 18 in (381 to 457.2 mm) broad, slightly turned up at the toe and terminating in a kind of tail behind. This is made very light for racing purposes, but much stouter for touring or hunting. The tail keeps the shoe straight while walking.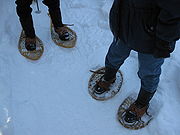 Another variant, the "bearpaw", ends in a curved heel instead of a tail. While many early enthusiasts found this more difficult to learn on, as they were thicker in the middle and rather cumbersome, they did have the advantage of being easier to pack and nimbler in tight spaces. Two forms of traditional bearpaw snowshoes developed; an eastern version used by "spruce gummers" consisting of an oval frame with wooden cross braces, and a western version with a rounded triangular frame and no wooden bracing.
Traditional snowshoes are made of a single strip of some tough wood, usually
white ash
White Ash
For another species referred to as white ash, see Eucalyptus fraxinoides.Fraxinus americana is a species of Fraxinus native to eastern North America found in mesophytic hardwood forests from Nova Scotia west to Minnesota, south to northern Florida, and southwest to eastern...
, curved round and fastened together at the ends and supported in the middle by a light cross-bar, the space within the frame thus made being filled with a close webbing of dressed caribou or neat's-hide strips, leaving a small opening just behind the cross-bar for the toe of the
moccasined
Moccasin (footwear)
A moccasin is a slipper made of deerskin or other soft leather, consisting of a sole and sides made of one piece of leather, stitched together at the top, and sometimes with a vamp . Though sometimes worn inside, it is chiefly intended for outdoor use, as in exploring wildernesses and running from...
foot. They are fastened to the moccasin by
leather
Leather
Leather is a durable and flexible material created via the tanning of putrescible animal rawhide and skin, primarily cattlehide. It can be produced through different manufacturing processes, ranging from cottage industry to heavy industry.-Forms:...
thongs, sometimes by
buckle
Buckle
The buckle or clasp is a device used for fastening two loose ends, with one end attached to it and the other held by a catch in a secure but adjustable manner. Usually overlooked and taken for granted, the invention of the buckle has been indispensable in securing two ends before the invention of...
s. Such shoes are still made and sold by native peoples.
Modern
Outside of indigenous populations and some competitions such as
Arctic Winter Games
Arctic Winter Games
The Arctic Winter Games is an international biennial celebration of circumpolar sports and culture.-Background:The Arctic Winter Games were founded in 1969 under the leadership of Governor Walter J. Hickel of Alaska, Stuart M. Hodgson, Commissioner of the Northwest Territories, and Yukon...
, very few of the old-fashioned snowshoes are actually used by enthusiasts anymore, although some value them for the artisanship involved in their construction. They are sometimes seen as decorations, mounted on walls, or on
mantel
Fireplace mantel
Fireplace mantel or mantelpiece, also known as a chimneypiece, originated in medieval times as a hood that projected over a grate to catch the smoke. The term has evolved to include the decorative framework around the fireplace, and can include elaborate designs extending to the ceiling...
s, in ski lodges .
Even though many enthusiasts prefer aluminum snowshoes there is still a large group of snowshoe enthusiasts that prefer wooden snowshoes. Wood snowshoes provide more than twice the flotation that metal snow shoes do while weighing the same. Additionally, wooden frames do not freeze as readily. Many enthusiasts also prefer wood snowshoes because they are very quiet.
While recreational use of snowshoes began with snowshoe clubs in
Quebec
Quebec
Quebec or is a province in east-central Canada. It is the only Canadian province with a predominantly French-speaking population and the only one whose sole official language is French at the provincial level....
, Canada (who held events where races and hikes were combined with fine food and drink), the manufacture of snowshoes for recreational purposes really began in the late 19th century, when serious recreational use became more widespread.
In the late 20th century the snowshoe underwent a radical redesign. It started in the 1950s when the
Vermont
Vermont
Vermont is a state in the New England region of the northeastern United States of America. The state ranks 43rd in land area, , and 45th in total area. Its population according to the 2010 census, 630,337, is the second smallest in the country, larger only than Wyoming. It is the only New England...
-based Tubbs company created the
Green Mountain
Green Mountains
The Green Mountains are a mountain range in the U.S. state of Vermont. The range extends approximately .-Peaks:The most notable mountains in the range include:*Mount Mansfield, , the highest point in Vermont*Killington Peak, *Mount Ellen,...
Bearpaw, which combined the shortness of that style with an even narrower width than had previously been used. This rapidly became one of the most popular snowshoes of its day.
The "Western"
In 1972, experimenting with new designs in Washington's Cascade Mountains, Gene and Bill Prater created the snowshoe known today. They began using aluminum tubing and replaced the lace with
neoprene
Neoprene
Neoprene or polychloroprene is a family of synthetic rubbers that are produced by polymerization of chloroprene. Neoprene in general has good chemical stability, and maintains flexibility over a wide temperature range...
and
nylon
Nylon
Nylon is a generic designation for a family of synthetic polymers known generically as polyamides, first produced on February 28, 1935, by Wallace Carothers at DuPont's research facility at the DuPont Experimental Station...
decking. To make them easier to use in
mountaineering
Mountaineering
Mountaineering or mountain climbing is the sport, hobby or profession of hiking, skiing, and climbing mountains. While mountaineering began as attempts to reach the highest point of unclimbed mountains it has branched into specialisations that address different aspects of the mountain and consists...
, the Praters developed a hinged binding and added
cleat
Cleat (shoe)
Cleats or studs are protrusions on the sole of a shoe, or on an external attachment to a shoe, that provide additional traction on a soft or slippery surface...
s to the bottom of the shoe.
The Sherpa Snowshoe company started manufacturing these "
Western
Western United States
.The Western United States, commonly referred to as the American West or simply "the West," traditionally refers to the region comprising the westernmost states of the United States. Because the U.S. expanded westward after its founding, the meaning of the West has evolved over time...
" shoes and they proved very popular.
Eastern
Eastern United States
The Eastern United States, the American East, or simply the East is traditionally defined as the states east of the Mississippi River. The first two tiers of states west of the Mississippi have traditionally been considered part of the West, but can be included in the East today; usually in...
snowshoers were a bit more skeptical at first, believing that the style was unnecessary in the east, until the Praters demonstrated their improved effectiveness on
New Hampshire
New Hampshire
New Hampshire is a state in the New England region of the northeastern United States of America. The state was named after the southern English county of Hampshire. It is bordered by Massachusetts to the south, Vermont to the west, Maine and the Atlantic Ocean to the east, and the Canadian...
's
Mount Washington
Mount Washington (New Hampshire)
Mount Washington is the highest peak in the Northeastern United States at , famous for dangerously erratic weather. For 76 years, a weather observatory on the summit held the record for the highest wind gust directly measured at the Earth's surface, , on the afternoon of April 12, 1934...
. In time all users switched to the Sherpas.
These use an aluminum or
stainless steel
Stainless steel
In metallurgy, stainless steel, also known as inox steel or inox from French "inoxydable", is defined as a steel alloy with a minimum of 10.5 or 11% chromium content by mass....
frame and take advantage of technical advances in
plastic
Plastic
A plastic material is any of a wide range of synthetic or semi-synthetic organic solids used in the manufacture of industrial products. Plastics are typically polymers of high molecular mass, and may contain other substances to improve performance and/or reduce production costs...
s and
injection molding
Injection moulding
Injection molding is a manufacturing process for producing parts from both thermoplastic and thermosetting plastic materials. Material is fed into a heated barrel, mixed, and forced into a mold cavity where it cools and hardens to the configuration of the cavity...
to make a lighter and more durable shoe. They require little maintenance, and usually incorporate aggressive crampons.
Some, such as the "Denali" model made by
Mountain Safety Research
Mountain Safety Research
Mountain Safety Research, or MSR, is an American corporation located in Seattle, Washington, and owned by Cascade Designs. It was founded in 1969 by Larry Penberthy because he was not pleased with the safety and reliability of outdoor equipment....
, use no metal frame and can be fitted with optional detachable tail extenders. Newer models have heel-lifters, called "ascenders", that flip up to facilitate hill climbing.
The use of solid decking in place of the standard latticework of lacing came as a surprise to many enthusiasts, since it challenged a long-held belief that the lattice was necessary to prevent snow from accumulating on the shoe. In practice, however, it seems that very little snow comes through the openings in either type of shoe.
Neoprene/nylon decks also displayed superior water resistance, neither stretching as rawhide will when wet nor requiring annual treatment with spar varnish, features that were immediately appreciated. Eventually they were replaced with even lighter materials such as
polypropylene
Polypropylene
Polypropylene , also known as polypropene, is a thermoplastic polymer used in a wide variety of applications including packaging, textiles , stationery, plastic parts and reusable containers of various types, laboratory equipment, loudspeakers, automotive components, and polymer banknotes...
.
These more athletic designs have helped the sport enjoy a renaissance after a period of eclipse when winter recreationists showed more interest in skiing. In the U.S., the number of snowshoers tripled during the 1990s.
In fact,
ski resort
Ski resort
A ski resort is a resort developed for skiing and other winter sports. In Europe a ski resort is a town or village in a ski area - a mountainous area, where there are ski trails and supporting services such as hotels and other accommodation, restaurants, equipment rental and a ski lift system...
s with available land are beginning to offer snowshoe trails to visitors, and some popular hiking areas are almost as busy in the colder months as they are on warm summer weekends.
Selection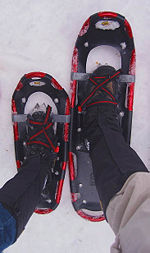 As many winter recreationists rediscover snowshoeing, many more new models of snowshoe are becoming available. Ski areas and outdoor equipment stores are offering snowshoes for
rent
Renting
Renting is an agreement where a payment is made for the temporary use of a good, service or property owned by another. A gross lease is when the tenant pays a flat rental amount and the landlord pays for all property charges regularly incurred by the ownership from landowners...
.
Snowshoes today are divided into three types:
aerobic/running (small and light; not intended for backcountry use);
recreational (a bit larger; meant for use in gentle-to moderate walks of 3–5 mi (4.8–8 km)); and
mountaineering (the largest, meant for serious hill-climbing, long-distance trips and off-trail use).
Sizes are often given in inches, even though snowshoes are nowhere near perfectly
rectangular
Rectangle
In Euclidean plane geometry, a rectangle is any quadrilateral with four right angles. The term "oblong" is occasionally used to refer to a non-square rectangle...
. Mountaineering shoes can be at least 30 inches (76.2 cm) long by 10 inches (25.4 cm) wide; a lighter pair of racing shoes can be slightly narrower and 25 inches (63.5 cm) or shorter.
Regardless of configuration, all wooden shoes are referred to as "traditional" and all shoes made of other materials are called "modern."
Notwithstanding these variations in planned use, larger users should plan on buying larger snowshoes. A common formula is that for every pound of body weight, there should be one square inch of snowshoe surface (14.5 cm²/kg) per snowshoe to adequately support the wearer. Users should also consider the weight of any gear they will be packing, especially if they expect to break trail. Those planning to travel into deep powder look for even larger shoes.
Many manufacturers now include weight-based flotation ratings for their shoes, although there is no standard for setting this as of yet.
Bindings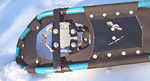 When traditional wooden shoes were still popular, it was common to buy the bindings separately (much like downhill skis), and many wooden shoes are still sold this way). They were commonly called "H" bindings, since they consisted of a strap around the heel crossing a strap around the toe and one at the instep, forming a rough version of that letter.
On modern shoes, there are two styles of binding: fixed-rotation (also known as "limited-rotation") bindings, and full-rotation (also known as "pivot") bindings. With either binding system, the
heel
Heel
In human anatomy, the heel is the prominence at the posterior end of the foot. It is based on the projection of one bone, the calcaneus or heel bone, behind the articulation of the bones of the lower leg.- Human anatomy :...
is left free, and the difference is in how the ball of the foot is attached to the snowshoe.
In fixed-rotation bindings, the binding is attached to the snowshoe with an elastic strap that brings the tail of the snowshoe up with each step. The snowshoe therefore moves with the foot and the tail does not drag. Fixed-rotation bindings are preferred for racing. Full-rotation bindings allow the user's toes to pivot below the deck of the snowshoe. They allow the crampon cleats that are under the foot to be kicked into a slope for grip in climbing, but are relatively awkward for stepping sideways and backwards as the tail of the snowshoe can drag. Fixed-rotation bindings often cause snow to be kicked up the back of the wearer's legs; this does not tend to happen with full-rotation bindings.
A series of straps, usually three, are used to fasten the foot to the snowshoe. Some styles of binding use a cup for the toe. It is important that a user be able to manipulate these straps easily, as removing or securing the foot often must be done outdoors in cold weather with bare hands, exposing him or her to the possibility of
frostbite
Frostbite
Frostbite is the medical condition where localized damage is caused to skin and other tissues due to extreme cold. Frostbite is most likely to happen in body parts farthest from the heart and those with large exposed areas...
. When putting on snowshoes, left is distinguished from right by which way the loose ends of the binding straps point: always outward, to avoid stepping on them repeatedly.
In 1994, Bill Torres and a younger associate developed the step-in binding, designed to make it easier for snowshoers wearing hard-shelled plastic boots (serious mountaineers) to change from snowshoes to crampons and back again as needed.
Accessories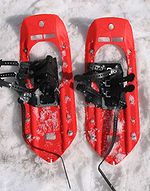 Snowshoers often use
trekking poles
Trekking poles
Trekking poles are a common hiking accessory used to assist walkers with their rhythm and provide stability on rough terrain.-Description:...
as an accessory to help them keep their balance on the snow. Some manufacturers have begun making special snowshoeing models of their poles, with larger baskets more like those found on ski poles (which can also be used).
Other than that, no other special accessories are required. Most types of footwear can be worn with snowshoes, although
hiking boot
Hiking boot
Hiking boots are footwear specifically designed for the sport of hiking. They are considered the most important hiking gear since their quality and durability can determine a hiker's ability to move farther, faster, and more safely...
s are the preferred choice among most recreational users (except racers, who prefer
running shoes
Athletic shoe
Athletic shoe is a generic name for the footwear primarily designed for sports or other forms of physical exercise but in recent years has come to be used for casual everyday activities....
).
Ski boot
Ski boot
Ski boots are specialized footwear that are used in skiing to provide a way to attach the skier to skis using ski bindings. This ski-boot-binding combination is used to effectively transmit control inputs from the skier to the snow....
s, however, will only work with certain snowshoes such as the MSR Denali, otherwise requiring backcountry skiers to carry other footwear for the snowshoe portion of their trip.
If going into deep snow, snowshoers will often take along gaiters to keep snow from getting into their boots from above. Some manufacturers make their snowshoes with boot or toe covers to provide the same protection.
A carrier of some type is also advisable, particularly if the trip will not take place entirely on snowshoes. Some
backpack
Backpack
A backpack is, in its simplest form, a cloth sack carried on one's back and secured with two straps that go over the shoulders, but there can be exceptions...
manufacturers have designed special packs with "
daisy chain
Daisy chain
Daisy chain may refer to a daisy garland created from daisy flowers, the original meaning and the one from which the following derive by analogy:*Daisy chain *Daisy chain *Daisy chain...
s," strips of looped nylon
webbing
Webbing
Webbing is a strong fabric woven as a flat strip or tube of varying width and fibres often used in place of rope. The name webbing comes from the meshed material frequently used in its construction, which resembles a web...
on which the shoes can be secured. Snowshoe manufacturers, too, have begun including carriers and
tote bag
Tote bag
A tote bag is large and open bag, with a handle centered atop each side. In the classic cloth version, arched straps form both handles. Straps' ends run down both sides, ending under the second fabric layer there, which shields the lower surfaces...
s for their products, if for no other reason than to prevent the often-sharp cleats on the bottom from damaging surfaces they come in contact with.
Since snowshoeing is commonly done in cold weather, users typically prepare for it by dressing in layers and carrying the appropriate equipment.
Use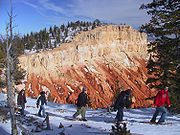 Snowshoes function best when there is enough snow beneath them to pack a layer between them and the ground, usually at a depth of 8 inches (20.3 cm) or more. However, contrary to popular belief, snowshoes perform poorly on very icy and steep terrain. Compared to
crampons
Crampons
Crampons are traction devices used to improve mobility on snow and ice. There are three main attachment systems for footwear: step-in, hybrid, and strap bindings. The first two require boots with welts, the last adapt to any type....
, snowshoes give relatively little grip on ice. It is common for novice snowshoers to climb up a steep slope to a summit and then have difficulty climbing back down, which tends to be more difficult than ascending. In icy conditions, summer hiking routes may require
mountaineering
Mountaineering
Mountaineering or mountain climbing is the sport, hobby or profession of hiking, skiing, and climbing mountains. While mountaineering began as attempts to reach the highest point of unclimbed mountains it has branched into specialisations that address different aspects of the mountain and consists...
skills and equipment, not snowshoes.
Snowshoeing can be done anywhere there is sufficient snow. There is no need to go to a special area of any kind, although such areas may offer some amenities not found in the typical woodlot or
golf course
Golf course
A golf course comprises a series of holes, each consisting of a teeing ground, fairway, rough and other hazards, and a green with a flagstick and cup, all designed for the game of golf. A standard round of golf consists of playing 18 holes, thus most golf courses have this number of holes...
.
Walking
It is often said by snowshoers that if you can walk, you can snowshoe. This is true in optimal conditions, but snowshoeing properly requires some slight adjustments to walking. The method of walking is to lift the shoes slightly and slide the inner edges over each other, thus avoiding the unnatural and fatiguing "straddle-gait" that would otherwise be necessary. A snowshoer must be willing to roll his or her feet slightly as well. An exaggerated stride works best when starting out, particularly with larger or traditional shoes.
Turning
Walking skills are easily transferable to straightforward snowshoe travel, but this is not always the case with turning around. While a snowshoer with space to do so can, and usually does, simply walk in a small
semicircle
Semicircle
In mathematics , a semicircle is a two-dimensional geometric shape that forms half of a circle. Being half of a circle's 360°, the arc of a semicircle always measures 180° or a half turn...
, on a steep slope or in close quarters such as a boreal forest this may be impractical or impossible. It is thus necessary in such circumstances to execute a "kick turn" similar to the one employed on skis: lifting one foot high enough to keep the entire snowshoe in the air while keeping the other planted, putting the foot at a [180 degree angle] and parallel to the other (or as close as possible for the situation and the snowshoer's physical comfort), then planting it on the snow and quickly repeating the action with the other foot. This is much easier to accomplish with poles.
Ascending
While the cleating and traction improvements to modern snowshoes have greatly enhanced snowshoers' climbing abilities, on very steep slopes it is still beneficial to make "kick steps," kicking the toes of the shoes into the snow to create a kind of snow stairs for the next traveler to use.
Alternatively, snowshoers can use two techniques borrowed from skis: the herringbone (walking uphill with the shoes spread outward at an angle to increase their support) and the sidestep.
For those snowshoers who use poles, it can be easier to rely on the poles to 'pull' oneself with regular stride, up the slope.
Descending
Once a trail has been broken up a mountain or hill, snowshoers often find a way to speed up the return trip that manages to also be fun and rests the leg muscles:
glissading
Glissade (climbing)
Glissading is the act of descending a steep snow- or scree-covered slope via a controlled slide on one's feet or buttocks. It is an alternative to other descent methods such as plunge stepping, and may be used to expedite a descent, or simply for the thrill....
the trail, or sliding down on their
buttocks
Buttocks
The buttocks are two rounded portions of the anatomy, located on the posterior of the pelvic region of apes and humans, and many other bipeds or quadrupeds, and comprise a layer of fat superimposed on the gluteus maximus and gluteus medius muscles. Physiologically, the buttocks enable weight to...
. This does not damage the trail, and in fact helps pack the snow better for later users.
In situations where they must break trail downhill and thus cannot glissade, snowshoers sometimes run downhill in exaggerated steps, sliding slightly on the snow as they do, an option sometimes called "step sliding." Also effective, are poles placed in front as you descend in a regular stride. If carrying poles and properly experienced, they can also employ skiing techniques such as
telemarking
Telemark skiing
Telemark skiing is a form of skiing using the Telemark turn. Unlike alpine skiing equipment, the skis used for telemarking either have a binding that only connects the boot to the ski at the toes, just as in cross-country skiing, or may be released to only connect there.Telemark turns are led with...
.
Breaking trail
On newly fallen snow it is necessary for a snowshoer to "break" a trail. This is tiring (it may require up to 50% more energy than simply following behind) even on level terrain, and frequently in groups this work is shared among all participants.
A trail breaker can improve the quality of the ensuing route by using a technique, similar to the hiking
rest step
Rest step
In mountaineering and hiking, the rest step is a human walking gait used in ascending steep slopes. Its essential characteristic is a pause of motion with the rear leg vertical and fully extended, while the front leg is relaxed except as needed to adjust the balancing of the climber's body and...
, called "stamping": pausing momentarily after each step before putting full weight on the foot. This helps smooth the snow underneath and compacts it even better for the next user.
A well-broken trail is usually a rut in the snow about 6–8 in (15.2–20.3 cm) deep and 2 feet (61 cm) wide. While it may appear after heavy use as if it is possible to "bareboot" or walk it without benefit of snowshoes, this practice is frowned upon by serious snowshoers as it leads to "postholing," or roughening of the trail from places where boots have fallen through (initial appearances to the contrary, the snow in a broken trail is not sufficiently packed to support the more concentrated weight of a foot).
In soft conditions, following trails broken by
backcountry skiers
Ski touring
Ski touring is a form of backcountry skiing involving traveling over the winter landscape on skis under human power rather than through the assistance of ski lifts or snow vehicles. It can take place in terrain ranging from perfectly flat to extremely steep...
can be difficult on snowshoes. In addition, since snowshoes destroy ski tracks, many areas ask that snowshoers observe traditional backcountry courtesy and stay out of ski tracks. Ski trails are normally much narrower than a typical snowshoe trail, and less well packed because skis offer more flotation than snowshoes. If the snow is deep and soft, snowshoers may find themselves postholing right through the ski track. In most cases the ski track offers little advantage and putting in a separate snowshoe track allows both snowshoers and skiers to have a positive experience and avoids friction with skiers who often resent having their tracks obliterated and their skiing enjoyment greatly reduced.
Benefits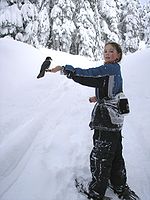 Snowshoeing expands the potential for exercise available in the wintertime. , at least 500
American schools
Education in the United States
Education in the United States is mainly provided by the public sector, with control and funding coming from three levels: federal, state, and local. Child education is compulsory.Public education is universally available...
, mostly but not exclusively in the
Northeast
Northeastern United States
The Northeastern United States is a region of the United States as defined by the United States Census Bureau.-Composition:The region comprises nine states: the New England states of Connecticut, Maine, Massachusetts, New Hampshire, Rhode Island and Vermont; and the Mid-Atlantic states of New...
have started offering snowshoe programs in their
physical education
Physical education
Physical education or gymnastics is a course taken during primary and secondary education that encourages psychomotor learning in a play or movement exploration setting....
classes to help combat
obesity
Obesity
Obesity is a medical condition in which excess body fat has accumulated to the extent that it may have an adverse effect on health, leading to reduced life expectancy and/or increased health problems...
. It had the added benefit of being gentler on the feet than walking or running the equivalent routes, since snow cushions the foot's impact.
For the same reason, it is less detrimental to the environment, since the snow likewise buffers the earth against the impact of so many hikers and campers, cutting back on trail
erosion
Erosion
Erosion is when materials are removed from the surface and changed into something else. It only works by hydraulic actions and transport of solids in the natural environment, and leads to the deposition of these materials elsewhere...
and other effects of heavy use.
While the cold creates its own safety risks, there is less chance of a hiker getting lost on snowshoes, since they can follow their own trail back.
Snowshoeing makes even familiar hikes different and new. If the snow is deep enough, obstacles such as large boulders and fallen logs can be more easily bypassed.
Adverse effects
Immoderate snowshoeing leads to serious lameness of the feet and ankles which Canadian
voyageurs
called
mal de raquette
. Modern snowshoes are much lighter and more comfortable so that lameness caused by snowshoeing is now very rare.
Nonetheless, many snowshoers find that their legs, particularly their calf muscles, take some time to get used to snowshoeing again at the start of each winter. Frequently the first serious trip leaves them
sore for several days afterwards
Delayed onset muscle soreness
Delayed onset muscle soreness , also called muscle fever, is the pain and stiffness felt in muscles several hours to days after unaccustomed or strenuous exercise. The soreness is felt most strongly 24 to 72 hours after the exercise. It is caused by eccentric exercise...
.
Winter recreation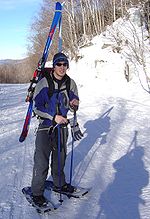 The resurgence of interest in snowshoeing in the late 20th century was in some part due to
snowboard
Snowboard
Snowboards are boards, usually with a width the length of one's foot, with the ability to glide on snow. Snowboards are differentiated from monoskis by the stance of the user...
ers, who took to them as a way to reach backcountry powder bowls and other areas while they were still banned from most ski areas. Their similarities to snowboards, in shape and binding, led many of them to continue use even after snowboarders were allowed to use most ski slopes. Despite most ski areas now allowing snowboarders, there is a growing interest in backcountry and sidecountry snowboarding in the search for fresh powder. The recent development of
splitboard
Splitboard
A splitboard is a snowboard that can be separated into two parts. The two parts are used like skis with climbing skins to ascend slopes the same way alpine touring or telemark skis are used...
s has enabled snowboarders to access backcountry without the need for snowshoes.
Downhill skiers
Alpine skiing
Alpine skiing is the sport of sliding down snow-covered hills on skis with fixed-heel bindings. Alpine skiing can be contrasted with skiing using free-heel bindings: Ski mountaineering and nordic skiing – such as cross-country; ski jumping; and Telemark. In competitive alpine skiing races four...
, too, found snowshoes useful in reaching the same areas.
Another popular expedition, particularly among hikers, is the "ski-shoe" trip combining a
cross-country ski
Cross-country skiing
Cross-country skiing is a winter sport in which participants propel themselves across snow-covered terrain using skis and poles...
portion on a level, wide
trail
Trail
A trail is a path with a rough beaten or dirt/stone surface used for travel. Trails may be for use only by walkers and in some places are the main access route to remote settlements...
with a snowshoe up a less skiable section, usually to a mountain summit.
Competition
Runners have found that using light snowshoes allows them to continue exercising and racing during winter. Like their warm-weather counterparts, events cover all distances, from sprints of 100 m to the 100 km "Iditashoe." There are even
hurdle
Hurdling
Hurdling is a type of track and field race.- Distances :There are sprint hurdle races and long hurdle races. The standard sprint hurdle race is 110 meters for men and 100 meters for women. The standard long hurdle race is 400 meters for both men and women...
events.
Snowshoe segments have become common in many
multi-sport event
Multi-sport event
A multi-sport event is an organized sporting event, often held over multiple days, featuring competition in many different sports between organized teams of athletes from nation-states. The first major, modern, multi-sport event of international significance was the modern Olympic Games.Many...
s and
adventure races
Adventure racing
Adventure racing is a combination of two or more endurance disciplines, including orienteering and/or navigation , cross-country running, mountain biking, paddling and climbing and related rope skills...
, including a required snowshoe segment in the winter
quadrathlon
Quadrathlon
A quadrathlon is an endurance sports event composed of four individual disciplines. All four disciplines are completed in succession and the lowest overall time decides the winner....
. Some competitors in those events like
Sally Edwards
Sally Edwards
Sally Edwards is an author and one of the pioneers in the Olympic sport of triathlon. She resides in Sacramento, California. Edwards has helped to organize both the national and international governing body for the sport...
and Tom Sobal have emerged as stars.
While snowshoe racing has probably been around as long as there have been snowshoes, as an organized sport it is relatively new. The United States Snowshoe Association was founded in 1977 to serve as a governing body for competitive snowshoeing. It is headquartered in
Corinth
Corinth (village), New York
Corinth is a village in Saratoga County, New York, USA. The population was 2,474 at the 2000 census. The village gets its name from the Greek city of Corinth.The Village of Corinth is by the east town line of the Town of Corinth...
,
New York
New York
New York is a state in the Northeastern region of the United States. It is the nation's third most populous state. New York is bordered by New Jersey and Pennsylvania to the south, and by Connecticut, Massachusetts and Vermont to the east...
, which considers itself the "Snowshoe Capital of the World" as a result. Similar organizations, such as the European Snowshoe Committee and
Japan
Japan
Japan is an island nation in East Asia. Located in the Pacific Ocean, it lies to the east of the Sea of Japan, China, North Korea, South Korea and Russia, stretching from the Sea of Okhotsk in the north to the East China Sea and Taiwan in the south...
's Chikyu Network, exist in other countries and there is an international competitive level as well.
Snowshoe races are part of the
Arctic Winter Games
Arctic Winter Games
The Arctic Winter Games is an international biennial celebration of circumpolar sports and culture.-Background:The Arctic Winter Games were founded in 1969 under the leadership of Governor Walter J. Hickel of Alaska, Stuart M. Hodgson, Commissioner of the Northwest Territories, and Yukon...
and the winter
Special Olympics
Special Olympics
Special Olympics is the world's largest sports organization for children and adults with intellectual disabilities, providing year-round training and competitions to more than 3.1 million athletes in 175 countries....
. However, they are not yet an
Olympic
Winter Olympic Games
The Winter Olympic Games is a sporting event, which occurs every four years. The first celebration of the Winter Olympics was held in Chamonix, France, in 1924. The original sports were alpine and cross-country skiing, figure skating, ice hockey, Nordic combined, ski jumping and speed skating...
event.
Maintenance and repair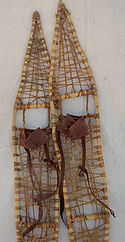 The rawhide webbing of traditional snowshoes, as noted above, needs regular
waterproofing
Waterproofing
Waterproof or water-resistant describes objects relatively unaffected by water or resisting the ingress of water under specified conditions. Such items may be used in wet environments or under water to specified depths...
. Spar varnish is the preferred waterproofing for traditional snowshoes. A light sanding is preferred before 3 coats of spar varnish is applied. Modern snowshoes need no regular maintenance save a sharpening of cleats if desired.
Both kinds of snowshoe, however, can and do break. The most common damage suffered is to the frame, which can be splinted with a stick or piece of wood if necessary. Decking rarely gets broken, but if it is punctured and the hole looks as if it might continue to grow, the best solution is the patching kits made for
tent
Tent
A tent is a shelter consisting of sheets of fabric or other material draped over or attached to a frame of poles or attached to a supporting rope. While smaller tents may be free-standing or attached to the ground, large tents are usually anchored using guy ropes tied to stakes or tent pegs...
s.
Cable tie
Cable tie
A cable tie, also known as a zip tie or tie-wrap , is a type of fastener, especially for binding several electronic cables or wires together and to organize cables and wires.-Design and use:...
s can serve many purposes in repairing snowshoes. They can splint frames in a pinch, replace a broken rivet, secure a tie or lace, and repair winter clothing as well.
See also
Winter sport

Winter sport

A winter sport is a sport which is played on snow or ice. Most such sports are variations of skiing, ice skating and sledding. Traditionally such sports were only played in cold areas during winter, but artificial snow and ice allow more flexibility...


s
Les raquetteurs

Les raquetteurs

Les raquetteurs is a 1958 Direct Cinema documentary film co-directed by Michel Brault and Gilles Groulx. The film explores life in rural Quebec, at a convention of snowshoers in Sherbrooke, Quebec in February of 1958...



Sneaux Shoes (brand of shoes with satiric misspelling)
External links