 Tent
A
tent
is a shelter consisting of sheets of
fabric
Textile
A textile or cloth is a flexible woven material consisting of a network of natural or artificial fibres often referred to as thread or yarn. Yarn is produced by spinning raw fibres of wool, flax, cotton, or other material to produce long strands...
or other material draped over or attached to a frame of poles or attached to a supporting rope. While smaller tents may be free-standing or attached to the ground, large tents are usually anchored using guy ropes tied to stakes or
tent peg
Tent peg
A tent peg is a spike, usually with a hook or hole on the top end, typically made from wood, metal, plastic, or composite material, pushed or driven into the ground for holding a tent to the ground, either directly by attaching to the tent's material, or by connecting to ropes attached to the tent...
s. First used as portable homes by
nomad
Nomad
Nomadic people , commonly known as itinerants in modern-day contexts, are communities of people who move from one place to another, rather than settling permanently in one location. There are an estimated 30-40 million nomads in the world. Many cultures have traditionally been nomadic, but...
ic peoples, tents are now more often used for recreational camping and temporary shelters.
Tents range in size from "
bivouac
Bivouac sack
A bivouac sack is an extremely small, lightweight, waterproof shelter, and an alternative to traditional tent systems. It is used by climbers, mountaineers, hikers, ultralight backpackers, soldiers and minimalist campers...
" structures just big enough for one person to sleep in up to huge
circus
Circus
A circus is commonly a travelling company of performers that may include clowns, acrobats, trained animals, trapeze acts, musicians, hoopers, tightrope walkers, jugglers, unicyclists and other stunt-oriented artists...
tents capable of seating thousands of people. The bulk of this article is concerned with tents used for recreational camping which have sleeping space for one to ten people. Larger tents are discussed in a separate section below.
Tents for recreational camping fall into two categories. Tents intended to be carried by backpackers are the smallest and lightest type. Smaller tents may be sufficiently light that they can be carried for long distances on a
touring bicycle
Touring bicycle
A touring bicycle is a bicycle designed or modified to handle bicycle touring. To make the bikes sufficiently robust, comfortable and capable of carrying heavy loads, special features may include a long wheelbase , frame materials that favor flexibility over rigidity , heavy duty wheels , and...
, a
boat
Boat
A boat is a watercraft of any size designed to float or plane, to provide passage across water. Usually this water will be inland or in protected coastal areas. However, boats such as the whaleboat were designed to be operated from a ship in an offshore environment. In naval terms, a boat is a...
, or when
backpacking
Backpacking (wilderness)
Backpacking combines the activities of hiking and camping for an overnight stay in backcountry wilderness...
. The military organizations of most nations use such tents to temporarily house troops living and working under field conditions.
The second type are larger, heavier tents which are usually carried in a car or other vehicle. Depending on tent size and the experience of the person or people involved, such tents can usually be assembled (pitched) in between 5 and 25 minutes; disassembly (striking) takes a similar length of time. Some very specialised tents have spring-loaded poles and can be 'pitched' in seconds, but take somewhat longer to strike.
History
Tents are mentioned in Genesis 4:20 where
Jabal
Jabal (Bible)
Jabal is an individual mentioned in the Hebrew Bible, in .- Family :Jabal was a descendant of Cain, the son of Lamech and Adah, and the brother of Jubal, half-brother of Tubal-cain and Naamah...
is described as 'the first to live in tents and raise sheep and
goat
Goat
The domestic goat is a subspecies of goat domesticated from the wild goat of southwest Asia and Eastern Europe. The goat is a member of the Bovidae family and is closely related to the sheep as both are in the goat-antelope subfamily Caprinae. There are over three hundred distinct breeds of...
s'. (
CEV
Contemporary English Version
The Contemporary English Version or CEV is a translation of the Bible into English,published by the American Bible Society...
) The Roman Army used leather tents, copies of which have been used successfully by modern reenactors. Various styles developed over time, some derived from traditional nomadic tents, such as the
yurt
Yurt
A yurt is a portable, bent wood-framed dwelling structure traditionally used by Turkic nomads in the steppes of Central Asia. The structure comprises a crown or compression wheel usually steam bent, supported by roof ribs which are bent down at the end where they meet the lattice wall...
.
There are only so many ways to drape a simple piece of cloth over a basic framework, however. Soldiers of
George Washington
George Washington
George Washington was the dominant military and political leader of the new United States of America from 1775 to 1799. He led the American victory over Great Britain in the American Revolutionary War as commander-in-chief of the Continental Army from 1775 to 1783, and presided over the writing of...
's era slept in tents that a Roman soldiers would not have found unusual. The major difference was the use of linen or hemp canvas for the canopy versus leather for the Romans. The primary use of tents was still to provide portable shelter for a small number of men in the field.
By
World War I
World War I
World War I , which was predominantly called the World War or the Great War from its occurrence until 1939, and the First World War or World War I thereafter, was a major war centred in Europe that began on 28 July 1914 and lasted until 11 November 1918...
larger designs were being deployed in rear areas to provide shelter for support activities and supplies.
Use
Tents are used as habitation by nomads, recreational campers, and disaster victims. Tents are typically used as overhead shelter for festivals, weddings, backyard parties, and major corporate events. They are also used for excavation (construction) covers, industrial shelters.
Traditional
Tents have traditionally been used by
nomad
Nomad
Nomadic people , commonly known as itinerants in modern-day contexts, are communities of people who move from one place to another, rather than settling permanently in one location. There are an estimated 30-40 million nomads in the world. Many cultures have traditionally been nomadic, but...
ic people all over the world, such as
Native Americans
Indigenous peoples of the Americas
The indigenous peoples of the Americas are the pre-Columbian inhabitants of North and South America, their descendants and other ethnic groups who are identified with those peoples. Indigenous peoples are known in Canada as Aboriginal peoples, and in the United States as Native Americans...
, Mongolian and Tibetan Nomads, and the
Bedouin
Bedouin
The Bedouin are a part of a predominantly desert-dwelling Arab ethnic group traditionally divided into tribes or clans, known in Arabic as ..-Etymology:...
.
Military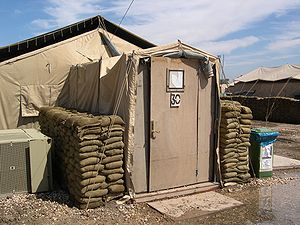 Armies all over the world have long used tents as part of their working life. Tents are preferred by the military for their relatively quick setup and take down times, compared to more traditional shelters. One of the world's largest users of tents is the US Department of Defense. The US Department of Defense has strict rules on tent quality and tent specifications. The most common tent uses for the military are temporary barracks (sleeping quarters), DFAC buildings (dining facilities), Forward Operating Bases (FOBs), After Action Review (AAR), Tactical Operations Center (TOC), Morale, Welfare, and Recreation (MWR) facilities, and security checkpoints. Furthermore, most of these tents are set up and operated through the support of
Natick Soldier Systems Center
U.S. Army Soldier Systems Center
The United States Army Soldier Systems Center is a military research complex and installation in Natick, Massachusetts charged by the U.S. Department of Defense with the research and development of food, clothing, shelters, airdrop systems, and other servicemember support items for the U.S....
. One of the most popular military designs currently fielded by the US DoD is the TEMPER Tent. TEMPER is an acronym for Tent Expandable Modular PERsonnel. The U.S. military is beginning to use a more modern tent called the
deployable rapid assembly shelter
Deployable rapid assembly shelter
DRASH is a portable, geodesic shelter that can be set up within minutes of arriving on site with no special tools. The structure is supported by composite struts. DHS Systems LLC handles all the manufacturing, maintenance, training and sales for these shelters.- Design :DRASH shelters have...
or DRASH. Similar quick erect shelters are offered by Utilis USA. It is a collapsible tent with provisions for air conditioning and heating.
Recreational
Camping
Camping
Camping is an outdoor recreational activity. The participants leave urban areas, their home region, or civilization and enjoy nature while spending one or several nights outdoors, usually at a campsite. Camping may involve the use of a tent, caravan, motorhome, cabin, a primitive structure, or no...
is a popular form of recreation which often involves the use of tents. A tent is economical and practical because of its portability and low environmental impact. These qualities are necessary when used in the wilderness or backcountry.
Emergency
Tents are often used in humanitarian emergencies, such as
war
War
War is a state of organized, armed, and often prolonged conflict carried on between states, nations, or other parties typified by extreme aggression, social disruption, and usually high mortality. War should be understood as an actual, intentional and widespread armed conflict between political...
,
earthquake
Earthquake
An earthquake is the result of a sudden release of energy in the Earth's crust that creates seismic waves. The seismicity, seismism or seismic activity of an area refers to the frequency, type and size of earthquakes experienced over a period of time...
s and
fire
Fire
Fire is the rapid oxidation of a material in the chemical process of combustion, releasing heat, light, and various reaction products. Slower oxidative processes like rusting or digestion are not included by this definition....
. The primary choice of tents in humanitarian emergencies are canvas tents, because a cotton canvas tent allows functional breathability while serving the purpose of temporary shelter. Tents distributed by organisations such as UNHCR are made by various manufacturers, depending on the region where the tents are deployed, as well as depending on the purpose.
At times, however, these temporary shelters become a permanent or semi-permanent home, especially for displaced people living in
refugee camp
Refugee camp
A refugee camp is a temporary settlement built to receive refugees. Hundreds of thousands of people may live in any one single camp. Usually they are built and run by a government, the United Nations, or international organizations, or NGOs.Refugee camps are generally set up in an impromptu...
s or
shanty town
Shanty town
A shanty town is a slum settlement of impoverished people who live in improvised dwellings made from scrap materials: often plywood, corrugated metal and sheets of plastic...
s who can't return to their former home and for whom no replacement homes are made available.
General considerations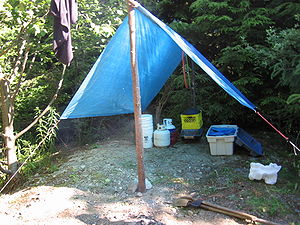 Tent fabric may be made of many materials including
cotton
Cotton
Cotton is a soft, fluffy staple fiber that grows in a boll, or protective capsule, around the seeds of cotton plants of the genus Gossypium. The fiber is almost pure cellulose. The botanical purpose of cotton fiber is to aid in seed dispersal....
(
canvas
Canvas
Canvas is an extremely heavy-duty plain-woven fabric used for making sails, tents, marquees, backpacks, and other items for which sturdiness is required. It is also popularly used by artists as a painting surface, typically stretched across a wooden frame...
),
nylon
Nylon
Nylon is a generic designation for a family of synthetic polymers known generically as polyamides, first produced on February 28, 1935, by Wallace Carothers at DuPont's research facility at the DuPont Experimental Station...
,
felt
Felt
Felt is a non-woven cloth that is produced by matting, condensing and pressing woollen fibres. While some types of felt are very soft, some are tough enough to form construction materials. Felt can be of any colour, and made into any shape or size....
and
polyester
Polyester
Polyester is a category of polymers which contain the ester functional group in their main chain. Although there are many polyesters, the term "polyester" as a specific material most commonly refers to polyethylene terephthalate...
. Cotton absorbs water, so it can become very heavy when wet, but the associated swelling tends to block any minute holes so that wet cotton is more waterproof than dry cotton. Cotton tents were often treated with
paraffin
Paraffin
In chemistry, paraffin is a term that can be used synonymously with "alkane", indicating hydrocarbons with the general formula CnH2n+2. Paraffin wax refers to a mixture of alkanes that falls within the 20 ≤ n ≤ 40 range; they are found in the solid state at room temperature and begin to enter the...
to enhance water resistance. Nylon and polyester are much lighter than cotton and do not absorb much water; with suitable coatings they can be very waterproof, but they tend to deteriorate over time due to a slow chemical breakdown caused by
ultraviolet
Ultraviolet
Ultraviolet light is electromagnetic radiation with a wavelength shorter than that of visible light, but longer than X-rays, in the range 10 nm to 400 nm, and energies from 3 eV to 124 eV...
light. The most common treatments to make fabric waterproof are silicone impregnation or polyurethane coating. Since stitching makes tiny holes in a fabric seams are often sealed or taped to block these holes and maintain waterproofness, though in practice a carefully sewn seam can be waterproof.
Rain resistance is measured as a hydrostatic head in millimetres (mm). This indicates the pressure of water needed to penetrate a fabric. Heavy or wind-driven rain has a higher pressure than light rain. Standing on a groundsheet increases the pressure on any water underneath. Fabric with a hydrostatic head rating of 1000 mm or less is best regarded as shower resistant, with 1500 mm being usually suitable for summer camping. Tents for year-round use generally have at least 2000 mm; expedition tents intended for extreme conditions are often rated at 3000 mm. Where quoted, groundsheets may be rated for 5000 mm or more.
Many tent manufacturers indicate capacity by such phrases as "3 berth" or "2 person". These numbers indicate how many people the manufacturer thinks can use the tent, though these numbers do not always allow for any personal belongings, such as luggage, inflatable mattresses, camp beds, cots, etc., nor do they always allow for people who are of above average height. Checking the quoted sizes of sleeping areas reveals that several manufacturers consider that a width of 150 cm (5 feet) is enough for three people — snug is the operative word. Experience indicates that camping may be more comfortable if the actual number of occupants is one or even two less than the manufacturer's suggestion, though different manufacturers have different standards for space requirement and there is no accepted standard.
If the tent will be used where mosquitoes, gnats and other biting insects are expected, it should have all window, vent and door openings covered with fine-mesh "
no-see-um
Ceratopogonidae
Ceratopogonidae, or biting midges , are a family of small flies in the order Diptera...
"
netting
Mosquito net
A mosquito net offers protection against mosquitos, flies, and other insects, and thus against diseases such as malaria, dengue fever, yellow fever, and various forms of encephalitis, including the West Nile virus, if used properly and especially if treated with an insecticide, which can double...
.
Tents can be improvised using waterproof fabric, string, and sticks. This allows them to be easily built and moved.
List of traditional tent types
Parts of a modern tent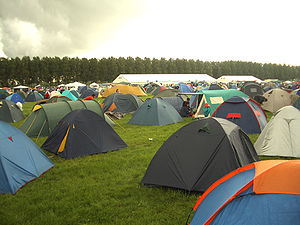 There are three basic configurations of tents, each of which may appear with many variations:
Single skin (USA: single wall)
: Only one waterproof layer of fabric is used, comprising at least roof and walls. To minimize condensation on the inside of the tent, some expedition tents use waterproof/breathable fabrics.
Single skin with flysheet
: A waterproof
flysheet
or
rain fly
is suspended over and clear of the roof of the tent; it often overlaps the tent roof slightly, but does not extend down the sides or ends of the tent.
Double skin (USA: double wall)
: The
outer tent
is a waterproof layer which extends down to the ground all round. One or more 'inner tents' provide sleeping areas. The outer tent may be just a little larger than the inner tent, or it may be a lot larger and provide a covered living area separate from the sleeping area(s). An inner tent need not be waterproof. The double layer may provide some
insulation
Thermal insulation
Thermal insulation is the reduction of the effects of the various processes of heat transfer between objects in thermal contact or in range of radiative influence. Heat transfer is the transfer of thermal energy between objects of differing temperature...
.
Components:
A flysheet or rain fly (found only in double skin tents) is used to protect the actual tent from water. A flysheet is waterproof on the outside and also provides a surface to collect condensation

Condensation

Condensation is the change of the physical state of matter from gaseous phase into liquid phase, and is the reverse of vaporization. When the transition happens from the gaseous phase into the solid phase directly, the change is called deposition....


on the inside, which then runs down to the ground. When a flysheet is used, it is important that there be no contact with the inner tent it is protecting; this keeps the inner dry. 'Expedition' tents often have extra poles to help ensure that wind does not blow the two layers into contact.
The inner tent comprises the main living and sleeping area of the tent. For double skin tents, the inner tent (often mesh) is not waterproof since it is protected by the rain fly. For single skin tents, the inner tent is often made of waterproof-breathable material that prevents liquid water from penetrating the inside of the tent, but still allows water vapour to be transported out.
The vestibule (they can be plural) is a floorless covered section located outside a tent entrance that is typically used for the storage of boots, packs, and other small equipment. Vestibules are often used for activities that are preferably not performed within the tent itself, such as cooking or equipment cleaning. Vestibules may be included as a removable attachment or integrated into the tent itself. Vestibule size varies considerably, ranging from extended areas with more surface than the inner tent down to practically nothing.
A groundsheet is used to provide a waterproof barrier between the ground and a sleeping bag. With double skin tents, the inner tents normally have a sewn-in groundsheet, but a separate flat groundsheet may be provided for any living area. With single skin tents, the groundsheet may be sewn in or separate. Normal practice with sewn-in groundsheets is for the groundsheet to extend some 15 cm (6 in) up the lower part of the walls (sometimes called a 'bathtub' arrangement); this copes with a situation where water seeps under the side walls of the tent. Separate groundsheets allow load-sharing when backpacking, and may make it easier to pitch and strike a tent, but they provide less protection against insects etc. getting into the sleeping area; also, if any part of a separate groundsheet protrudes from under the side walls, then it provides a ready path for moisture to flow into the tent.
The poles provide structural

Structure

Structure is a fundamental, tangible or intangible notion referring to the recognition, observation, nature, and permanence of patterns and relationships of entities. This notion may itself be an object, such as a built structure, or an attribute, such as the structure of society...


support. They may be collapsible for easier transport and storage. Some designs use rigid poles, typically made of metal

Metal

A metal , is an element, compound, or alloy that is a good conductor of both electricity and heat. Metals are usually malleable and shiny, that is they reflect most of incident light...


, or sometimes wood

Wood

Wood is a hard, fibrous tissue found in many trees. It has been used for hundreds of thousands of years for both fuel and as a construction material. It is an organic material, a natural composite of cellulose fibers embedded in a matrix of lignin which resists compression...


. Other designs use semi-rigid poles, typically made of fiberglass

Fiberglass

Glass fiber is a material consisting of numerous extremely fine fibers of glass.Glassmakers throughout history have experimented with glass fibers, but mass manufacture of glass fiber was only made possible with the invention of finer machine tooling...


, or sometimes of special metal alloy

Alloy

An alloy is a mixture or metallic solid solution composed of two or more elements. Complete solid solution alloys give single solid phase microstructure, while partial solutions give two or more phases that may or may not be homogeneous in distribution, depending on thermal history...


s. Another pole type uses inflatable beams as the structural support. Some tents, particularly very lightweight models, actually use hiking poles as their structural supports.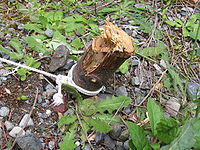 Stakes (or tent peg

Tent peg

A tent peg is a spike, usually with a hook or hole on the top end, typically made from wood, metal, plastic, or composite material, pushed or driven into the ground for holding a tent to the ground, either directly by attaching to the tent's material, or by connecting to ropes attached to the tent...


s) or screws

Screw picket

A screw picket is a metal device used to secure something to the ground. Today, screw pickets are used widely to temporarily "picket" dogs and grazing animals such as sheep, goats, and horses...


may be used to fasten the tent to the ground. Some are attached to guy ropes that pull outward on the poles and/or fabric to help shape the tent or give it additional stability. Others are used to anchor the bottom edge of the fabric to the ground. Pegs may be made of wood, plastic, or metal. A mallet

Mallet

A mallet is a kind of hammer, usually of rubber,or sometimes wood smaller than a maul or beetle and usually with a relatively large head.-Tools:Tool mallets come in different types, the most common of which are:...


may be needed to drive thicker pegs into the ground. Skewer metal pegs consisting essentially of a length of thick wire with a hook on one end can usually be inserted by hand, except if the ground is very hard, but may not be as strong as more substantial pegs. Pegs used for guy ropes should not be driven vertically into the ground; instead for maximum strength they should be driven in at an angle so that the peg is at right angles to the guy rope attached to it. Lighter free standing tents may need some guy ropes and pegs to prevent them from being blown away.
Air vents help reduce the effects of condensation. When people breathe

Breathing

Breathing is the process that moves air in and out of the lungs. Aerobic organisms require oxygen to release energy via respiration, in the form of the metabolism of energy-rich molecules such as glucose. Breathing is only one process that delivers oxygen to where it is needed in the body and...


, they expel quite a lot of water vapour. If the outside of the tent is colder than the inside (the usual case), then this vapour will condense on the inside of the tent, on any clothing lying about, on the outside of a sleeping bag, etc. Hence ventilation helps to remove the vapour, although this may let in cold air.
An optional tent footprint or groundsheet protector may be used. This is a separate flat groundsheet which goes underneath the main groundsheet, and is slightly smaller than that groundsheet. The intention is to protect the main groundsheet, especially when camping on rough terrain, since it is much cheaper to replace a separate footprint groundsheet than it is to replace a sewn-in groundsheet.
Design factors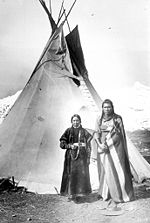 Many factors affect tent design, including:
Financial cost
Intended use

Backpacking

Backpacking (wilderness)

Backpacking combines the activities of hiking and camping for an overnight stay in backcountry wilderness...


/tramping

Tramper

A tramper is a person who hikes, and normally camps in the backcountry for a period of time, which is normally over one or more nights. The term is commonly used in New Zealand, and in Australia to a lesser extent .-Clubs:...


, lengthy duration for carrying the tent. Weight and size are the most crucial factors.
Touring, high frequency of pitching and striking the tent. Ease of pitching/striking the tent is important.
Static, staying at one campsite for a week or two at a time. A comfortable camping experience is the target.
A tent required only for summer use may be very different from one to be used in the depths of winter. Manufacturers label tents as one-season, two/three-season, three/four season, four season, etc. A one-season tent is generally for summer use only, and may only be capable of coping with light showers. A three-season tent is for spring/summer/autumn and should be capable of withstanding fairly heavy rain, or very light snow. A four-season tent should be suitable for winter camping in all but the most extreme conditions; an expedition tent (for mountain conditions) should be strong enough to cope with heavy snow, strong winds, as well as heavy rain. Some tents are sold, quite cheaply, as festival tents; these may be suitable only for camping in dry weather, and may not even be showerproof.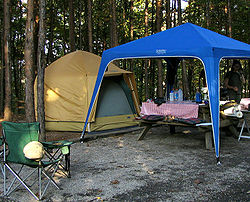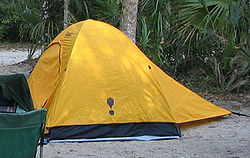 Size of tent

The number and age of people who will be camping determines how big and what features the sleeping area(s) must have.
To allow for inclement weather, some covered living space separate from the sleeping area(s) may be desirable. Alternatively, cyclists on a camping trip may wish for enough covered space to keep their bicycles out of the weather.
To allow for sunshine, an awning to provide shade may not go amiss. Some tents have additional poles so that the fabric doorways can be used as awnings.
Internal height. Manufacturers quote the maximum internal height, but the usable internal height may be a little lower, depending on the tent style. Ridge tents have a steeply sloping roof so the whole height is rarely usable. Dome tents slope gently in all directions from the peak enabling nearly the entire height to be usable for a large portion of the tent. Tunnel tents have a good usable height along the center line. Frame and cabin tents have gently sloping roofs and near vertical walls. To fully evaluate the usable space in a tent, both the maximum wall height and slope must be considered. There are four useful heights used to evaluate appropriate tent height: lie down only, sit, kneel, stand. The exact heights at which these apply depend on the heights of the campers involved; those over 182 cm (6 ft) are likely to have less choice of tents than those who are somewhat shorter. As a starting point, sitting height is often between 90 and 105 cm (3 ft to 3 ft 6 in), and kneeling height may be between 120 and 150 cm (4 ft to 5 ft). These different heights are useful for evaluating whether certain tasks, such as changing clothes, can be accomplished in the tent.
Larger tents sometimes are partitioned into separate sleeping areas or rooms. A tent described as viz-a-viz usually has two separate sleeping areas with a living area in between.
In some areas of some countries, there may be restrictions as to what color tents can be, thereby reducing the visual impact of campsites. The best colors for low visibility are green, brown, or tans.
An opposing consideration is of safety and calls for visible unnatural colors, such as bright yellow or red. Bright-colored tents can be easily spotted from the air in cases of an emergency. They are important in places where vehicles may not notice a low-visibility tent and run over its unsuspecting occupiers. Campers wandering away from camp will find their way back more easily if their tent is highly visible. Additionally, lost hikers may find rescue by spotting a visible camp site from afar.
Some styles of camping and living outdoors entails quick setup of tents. As a general rule, the more robust the tent, the more time and effort needed to set up and dismantle, though specific design attention on quick setup (possibly in exchange for cost and/or weight) can alter that (for example, the Swedish manufacturer Hilleberg

Hilleberg

Hilleberg is a Swedish tent-making company founded in 1973 by a husband and wife team, Bo & Renate Hilleberg. Control of the company has since passed to their children Rolf & Petra Hilleberg. Their son Rolf Hilleberg manages the European division from Sweden while their daughter Petra Hilleberg...


specify a design goal that their toughest tents should be easily pitched by a single camper in inclement weather while wearing mittens, but the implementation of that adds to their price). The style of the tent also has a great impact on its ease of use.
A tent can be more or less able to cope with cold weather or rainy conditions. The amount of water resistance is sometimes meassured in the unit millimeters, water gauge

Millimeters, water gauge

mm.Wg means millimeters, water gauge. It is the pressure required to support a water column of the specified height . As a pressure unit it varies with temperature, but approximately 1 mm H2O = 9.8 Pa...


.
Shelters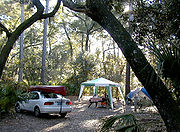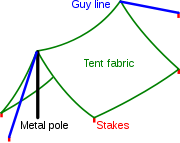 Shelters are not normally used for sleeping. Instead they may act as a store or provide shelter from sun, rain, or dew.
A flysheet consists of a single rectangular sheet of material. Two opposite sides are held up in the middle by poles, or sometimes just a rope between conveniently placed trees. The tops of the poles are attached via guy ropes to pegs, in order to keep the poles upright. Additional guy ropes are attached to the lower edges to pull them outwards away from the poles.
A Gazebo

Gazebo

A gazebo is a pavilion structure, sometimes octagonal, that may be built, in parks, gardens, and spacious public areas. Gazebos are freestanding or attached to a garden wall, roofed, and open on all sides; they provide shade, shelter, ornamental features in a landscape, and a place to rest...


uses a framework of metal poles to support a roof. This structure provides a lot more usable space than does a flysheet, since the gently sloping roof allows for a reasonable amount of headroom even at the edges (like a frame tent). Because a gazebo is free-standing, it is often used as a shelter for a temporary shop at a fair or street market.
Beach tents are often a simplified form of dome tent and provide a useful (relatively sand-free) place to temporarily store beach equipment, but are at most showerproof. Some beach tents use specially treated fabric which is opaque to ultra-violet light, and so provide some protection against sunburn. Maximum height is typically about 120 cm (4 ft), and they are usually not large enough for an adult to lie down in.
Fishermen's tents are also modified dome tents, often with a projecting awning high enough to sit under, but sometimes with no closable doorway.
Current tent styles
With modern materials, tent manufacturers have great freedom to vary types and styles and shapes of tents.
The poles effectively hold the tent in the required shape.
Poles which dismantle for ease of transport are either colour-coded or linked by chain or cord, so there is little doubt as to which poles connect where.
Relatively few guy ropes are needed (sometimes none).
The exact positioning of any guy ropes is not too critical.
Rigid poles
Many tents which use rigid steel poles are free-standing and do not require guy ropes, though they may require pegs around the bottom edge of the fabric. These tents are usually so heavy (25 to 80 kg) that it takes a rather strong wind to blow them away.
Frame tents are double-skin tents. They have a living area and one or more cotton/nylon/polyester inner tents. The outer tent is draped over a free-standing steel frame, and may be made of canvas or polyester (the latter often has a hydrostatic head of 3000mm, i.e. three season camping). The living area is generally at least as large as the sleeping area, and there may be a specific section with window and extra air vents for use as a kitchen. The walls are nearly vertical and are typically about 150 to 180 cm high (5 ft to 6 ft). The center of the gently sloping roof is often 210 cm (7 ft) high or more and provides reasonable headroom throughout. The smaller 2-person models were less than 3 metres square (10 ft), but these have largely been replaced by dome or tunnel tents. The larger 8-person models may exceed 5 metres (16 ft) in length and/or width.
Cabin tents are single-skin tents used mainly in the USA. They often have nylon walls, polyester roof, and a polyethylene floor, plus an awning at one or both ends. With a hydrostatic head of only 1000 mm, they may best be considered as summer tents. Removable internal dividers allow the cabin to be split into 'rooms'. Sizes may range from 13 ft by 8 ft (2 rooms) up to 25 ft by 10 ft (4 rooms), with wall and roof heights similar to those of frame tents. There are three separate pole units, with each unit consisting of two uprights and a connecting ridge. These pole units support the centre and ends of the roof, and are usually outside the tent.
Wall tents are the largest and most accommodating canvas tents available. They are very popular with hunters and backcountry campers. Wall tents provide lots of room space, as well as more than enough head space which allows people to move about freely inside the tent without crouching or bending over. This type of set up is great for those who spend a lot of time in their tents, as well as for those who need extra space for cots, tables, stoves, etc. Also known as outfitter tents.
Spike tents are smaller and lighter than wall tents and so they are easier to pack and lighter to haul, they are a good choice if weight is a main concern for you and if you do not have a lot of people sleeping in one tent. Spike tent frames vary in size and style but are almost always lighter than wall tent frames. Also known as wigwam tents.
Range tents are similar to spike tents in their shape and size, except range tents usually do not have side walls at all. They resemble a pyramid type shape and are often referred to as pyramid tents. Range tents can either be set up with a bi-pole system that goes on the outside of the tent, or they can be set up using a single frame pole which goes in the middle of the tent on the inside, and they can also be set up by tying the top of the tent to a hanging tree branch. Also known as teepee tents.
Flexible poles
Flexible poles used for tents in this section are typically between 3 and 6 metres long (10 and 20 feet). Cheap poles are made of tubes of fibreglass with an external diameter less than 1 cm (1/3 inch), whereas more expensive
aluminium
Aluminium
Aluminium or aluminum is a silvery white member of the boron group of chemical elements. It has the symbol Al, and its atomic number is 13. It is not soluble in water under normal circumstances....
alloys are the material of choice for added strength and durability. For ease of transportation, these poles are made in sections some 30 cm to 60 cm long (1 to 2 ft), with one end of each section having a socket into which the next section can fit. For ease of assembly, the sections for each pole are often connected by an internal elastic cord running the entire length of the pole.
Dome tents have a very simple structure and are available in a wide variety of sizes ranging from lightweight 2-person tents with limited headroom up to 6 or 9-person tents with headroom exceeding 180 cm (6 ft). These may be single wall, or single-wall with partial flysheet, or double wall. Depending on the pole arrangement, some models pitch outer-tent first, while others pitch inner-tent first. The former helps keep the inner tent dry, but the latter is easier to pitch.
The basic dome has a rectangular floor and two poles which cross at the peak; each pole runs in a smooth curve from one bottom corner, up to the peak, and then down to the diagonally opposite bottom corner. There are usually special fittings at each corner which fit into sockets at the ends of each pole - pole tension keeps everything in shape. The poles can run on either the inside or outside of the tent fabric. When located on the interior, poles are held in place by a variety of means including hook and loop style straps, clips, and other fastening hardware. Poles that are located on the outside of the tent fabric are attached via fabric pole sleeves or plastic clips. Dome tents do not require guy ropes and pegs for structural integrity as they are considered free-standing, but must be pegged down in high winds.
The basic dome design has been modified extensively, producing tents with three poles, tents with irregularly-shaped bases, and other unusual types. A common variation is to add a third pole between two adjacent corners; this is angled away from the tent and supports an extension of the flysheet, to give a porch/storage area.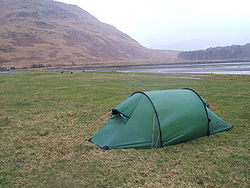 Tunnel tents may offer more usable internal space than a dome tent with the same ground area, but almost always need guy ropes and pegs to stay upright. These are almost always double wall tents. Sizes range from 1-person tents with very limited headroom up to 8 or 10-person tents with headroom exceeding 180 cm (6 ft).
A basic tunnel tent uses two or more flexible poles, arranged as parallel hoops, with tent fabric attached to form a half-cylinder or tapering tunnel. The most common designs have a sleeping area at one end and a vestibule area at the other, though vestibules (possibly extended) at each end are not uncommon, or vis-a-vis sleeping at either end and a central opening to a common vestibule area are made too.
Hybrid dome/tunnel tents are now common. One variation is to use a basic dome as the sleeping area; one or two hooped poles to one side are linked by a tunnel to the dome to provide a porch. Another variation is to use a large dome as the living area, with up to 4 tunnel extensions to provide sleeping areas.
Geodesic

Geodesic dome

A geodesic dome is a spherical or partial-spherical shell structure or lattice shell based on a network of great circles on the surface of a sphere. The geodesics intersect to form triangular elements that have local triangular rigidity and also distribute the stress across the structure. When...


tents are essentially dome tents with 2 or more extra poles which criss-cross the normal two poles to help support the basic shape and minimise the amount of unsupported fabric. This makes them more suitable for use in snowy conditions and in strong winds. To help withstand strong winds they are rarely more than 120 or 150 cm high (4 to 5 ft).
Single-hoop tents use just one flexible pole and are often sold as light-weight 1 or 2-person tents. These are the modern equivalent of older style pup tents, and have the same feature of somewhat limited headroom. Different styles may have the pole going either along or across the tent.
The pop-up tent is a recent innovation. This type of tent is equipped with built-in very flexible hoops so that when the tent is unpacked, it springs into shape immediately, and so is extremely easy to set up. Such tents are usually single-skinned and are generally aimed at the one-season or children's end of the market; their high flexibility makes them unsuitable for use in windy situations. After use the tent is packed down into a thick disc shape.
Inflatable airbeams
Inflatable pole supports, also known as airbeams, serve as rigid structural supports when inflated but are soft and pliable when deflated. Tents using such technology are neither commonly used nor widely accepted and are available from a very limited number of suppliers.
Much like a bicycle tube and tire, airbeams are often composed of a highly dimensionally stable (i.e. no stretch) fabric sleeve and an air-holding inner bladder. However, other airbeam constructions consist of coated fabrics that are cut and manufactured to its intended shape by a method such as thermal welding. Depending on the desired tent size, airbeams can be anywhere from 2-40 inches in diameter, inflated to different pressures. High pressure airbeams (40-80 psi) that are filled by compressors are most often used in larger shelters, whereas low pressure beams (5-7 psi) are preferred for recreational use. The relatively low pressure enables the use of a manual pump to inflate the airbeam to the desired level. Airbeams have the unique quality of bending, rather than breaking, when overloaded. Tents that use inflatable airbeams are structured almost identically to those that use flexible poles.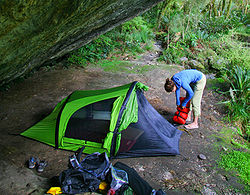 Dome tents that use inflatable airbeam support are available in a variety of sizes ranging from lightweight 2-person to larger 6+ person shelters, and are virtually identical to the arrangement of flexible-pole supported dome tents. Beams are usually integrated into the tent shell such that they do not have to be reinserted every time setup occurs. Airbeams can be located on either the inside or outside of the tent shell. Similar to the pole-supported construction, airbeam supported dome tents are free standing but should be staked out with pegs and guyout lines to increase stability and strength.
Tunnel tents are a common form of airbeam supported tents because their size can be easily modified by adding additional hoops. Military applications use this style of tent for a range of purposes including medical shelters, helicopter enclosures, and airplane hangars. In these constructions, hoops are generally identical in size. In commercial airbeam supported tents, the hoops can be different sizes. Tunnel tents tend to withstand high winds well because of their low profile shape. However, the tents are not freestanding and must be anchored and guyed out securely.
Older tent styles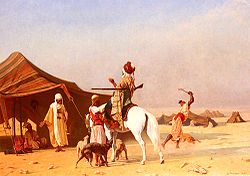 Most of these tent styles are no longer generally available. Most of these are single-skin designs, with optional fly sheets for the ridge tents.
All the tents listed here had a canvas fabric and used a substantial number of guy ropes (8 to 18). The guys had to be positioned and tensioned fairly precisely in order to pitch the tent correctly, so some training and experience were needed. This made these styles relatively unsuitable for casual or occasional campers. Pup tents might use wooden or metal poles, but all the other styles mentioned here used wooden poles.
A pup tent is a small version of a ridge tent intended for 2 or 3 people. It usually has a rectangular floor of size ranging from 4 ft by 6 ft up to 6 ft by 8 ft, and ridge heights ranging from 3 ft up to 5 ft. The side walls are usually about 1 ft high. There are guy ropes for each pole, at each corner, and in the centre of each side, and these guy ropes help to maintain the required shape. Earlier versions had a single upright pole at each end, while later versions often have two poles at each end, arranged rather like an 'A' shape, in order to make access easier. Some models have a horizontal ridge pole joining the tops of the end poles to support the centre of the tent.
A ridge tent can sleep 5 to 8 people. They usually have a rectangular floor of size ranging from 8 ft by 10 ft up to 10 ft by 16 ft, and ridge heights around 6 ft to 7 ft. The side walls are usually about 3 ft high. They normally have a single upright pole at each end with the tops joined by a horizontal ridge pole. Longer models might have an additional upright pole in the centre to help support the ridge pole. They often have two guy ropes at each corner, and guy ropes every 2 ft along the sides. If strong winds are expected then two additional storm guy ropes are attached to the top of each pole.
A square centre-pole tent was often used for family camping in the first half of the 20th century. Despite the use of 9 poles and 12 guy ropes, such a tent could be pitched by an (experienced) family of four in some 10 to 15 minutes. These tents had a square floor of size ranging from 8 by 8 ft up to 15 by 15 ft. There were poles about 5 ft high at each corner and in the middle of each side, and a 10 ft or 12 ft pole in the centre - the walls were vertical and the roof was pyramid-shaped, so there was plenty of headroom over most of the tent.
A Sibley tent

Sibley tent

The Sibley tent was invented by the American military officer Henry Hopkins Sibley and patented in 1856. Of conical design, it stands about twelve feet high and eighteen feet in diameter. It can comfortably house about a dozen men....


(bell tent) had a circular floor plan some 10 ft to 15 ft across, a single central pole some 10 ft high, and walls about 3 ft high. Guy ropes were connected every 2 ft around the top of the walls - these had to carefully tensioned to hold the pole upright and keep the tent in shape.
Marquees and larger tents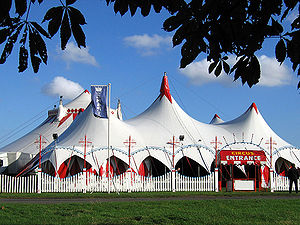 These larger tents are seldom used for sleeping.
A marquee is a large tent used as a temporary building. They have long been used for circus or other performances, fairs, banquets, large weddings or, more recently corporate entertainment

Corporate entertainment

Corporate entertainment relates to private events held by corporations or businesses for their staff, clients or stakeholders.These events can be for large audiences such as conventions and conferences, or smaller events such as retreats, holiday parties or even private concerts.It is also commonly...


events. Traditionally made of canvas, modern "party tents" are more likely to use PE (polythene) or, for higher quality, PVC. 'DIY' marquees are available up to 20 feet (6m) wide. 30 to 150 feet (9m to 45m) widths are very expensive and require specialized equipment and skill to erect, so they must usually be rented. Many corporations own large (9m to 45m wide) marquee tents but have them installed and maintained by qualified professionals. Party tents are held down with tensioned ratchets and/or stakes. Sizes range from 10 x 10 feet (3m x 3m) to 150 x 400 feet (45m x 120m). Marquees / party tents are dramatic and very strong.
A pole marquee

Pole marquee

A pole marquee or pole tent is a variety of large tent often used to shelter summer events such as shows, festivals, and weddings. They are particularly associated with typical English country garden weddings....


consists of canvas and more recently PVC, under tension by means of centre poles, side poles and guy ropes which are attached to ground stakes hammered into soft surfaces only such as a lawn or field. Hand made of white cotton canvas, traditional poled marquees are more attractive but much less practical and versatile than aluminium frame marquees. The modern PVC traditional pole marquee was introduced due to the material being easier to clean than woven canvas and giving them a longer hire life span.
A tension tent, flex tent or stretch tent is a newer variation of the pole marquee

Pole marquee

A pole marquee or pole tent is a variety of large tent often used to shelter summer events such as shows, festivals, and weddings. They are particularly associated with typical English country garden weddings....


. The general design is similar to the pole marquee. However, it usually has fewer poles, and the integrity of the structure is maintained by the tension of the fabric. It also is very similar to a tensile structure

Tensile structure

A tensile structure is a construction of elements carrying only tension and no compression or bending. The term tensile should not be confused with tensegrity, which is a structural form with both tension and compression elements....


It is often used for outdoor weddings, parties and other events. It is generally more economical with poles than tents supported by an aluminum frame. It has since been adapted and updated in various other tent types including the High Peak Frame Tent and Freeform / Stretch / Flex Tent styles developed in South Africa
Freeform / Stretch / Flex Tents have developed since 2000 driven predominantly by companies in South Africa and in Australia. The composition of the fabric differs slightly between those from South Africa and those in Australia. Stretch Tent Fabrics have been produced using Nylon

Nylon

Nylon is a generic designation for a family of synthetic polymers known generically as polyamides, first produced on February 28, 1935, by Wallace Carothers at DuPont's research facility at the DuPont Experimental Station...


and Polyester

Polyester

Polyester is a category of polymers which contain the ester functional group in their main chain. Although there are many polyesters, the term "polyester" as a specific material most commonly refers to polyethylene terephthalate...


. Since 2007 Stretch Tents

Stretch tents

Stretch Tents are a recent development of pole marquees. Originating out of the outdoor trance dance music scene in South Africa from the late 1990s onwards. Stretch Tents are now available in Europe and Australasia...


have been introduced into Europe by some of the South African companies such as Intent. Stretch Tents

Stretch tents

Stretch Tents are a recent development of pole marquees. Originating out of the outdoor trance dance music scene in South Africa from the late 1990s onwards. Stretch Tents are now available in Europe and Australasia...


utilize aluminum, wooden and bamboo

Bamboo

Bamboo is a group of perennial evergreens in the true grass family Poaceae, subfamily Bambusoideae, tribe Bambuseae. Giant bamboos are the largest members of the grass family....


poles capped by molded polypropylene

Polypropylene

Polypropylene , also known as polypropene, is a thermoplastic polymer used in a wide variety of applications including packaging, textiles , stationery, plastic parts and reusable containers of various types, laboratory equipment, loudspeakers, automotive components, and polymer banknotes...


or rubber

Rubber

Natural rubber, also called India rubber or caoutchouc, is an elastomer that was originally derived from latex, a milky colloid produced by some plants. The plants would be 'tapped', that is, an incision made into the bark of the tree and the sticky, milk colored latex sap collected and refined...


domes that push through the stretched fabric, creating tension between the ground and the fabric. The fabric can be sculpted into various organic

Organic (model)

Organic describes forms, methods and patterns found in living systems such as the organisation of cells, to populations, communities, and ecosystems.Typically organic models stress the interdependence of the component parts, as well as their differentiation...


and curvaceous

Googie architecture

Googie architecture is a form of modern architecture, a subdivision of futurist architecture influenced by car culture and the Space and Atomic Ages....


forms to provide shade and rain cover for events. The tensioned fabric must be made rigid and the tent form allow water run-off and resistance to wind load before erection is complete.
Aluminium frame marquees - Aluminium frame tents have no centre poles or guy ropes, can be erected on any surface and adjacent to buildings or annexe tents. Much more stable and can span a much wider area over pools, flower beds or trees.
A newer category of the Marquee/Party tents is the High Peak Frame Tents (known by several brand names like "frame & cable", "vista", "pinnacle", etc.). These tents have the advantage of the pole tents with the high top, ease of installation, cleaner look, and fewer parts. They also have the advantage of the Frame Tents as they do not have support pole(s) on the inside of the tent that touches the ground. The high top look is accomplished by using a "floating pole", which is a pole that sits on cables that run across the tent interior from the top of the sides. Most tent manufactures are now making these tents and they come in a variety of sizes and shapes that can be joined together to meet the needs of unique space requirements.
Marquee tents typically have interchangeable parts, which allow for a rental company to easily expand to larger sizes. Tents can be ordered in a variety of colours. However, white is by far the most popular colour. Skylights can also be built into the fabric, which allow a greater amount of light to enter and is useful if walls are being used. Walls can also be ordered with clear vinyl windows in them.
Shamiana

Shamiana

Shamiana is a popular Indian tent shelter, which is commonly used for outdoor parties, marriages, feasts etc.. Its side walls are removable. The external fabric can be multicolored or can hold exquisite designs. The four corners are supported with wooden poles. The history of Shamiana, dates back...


is a popular Indian ethnic tent shelter, which is commonly used for outdoor parties, marriages, restaurants etc. Its side walls are detachable. The external fabric can be multicolored or can hold exquisite designs. The history of Shamiana, dates back to the Mughal era. As per Government of India service tax rules under Finance Act 1997, the definition of Shamiana is given under the clause (77A) of section 65, that is: "pandal or shamiana means a place specially prepared or arranged for organizing an official, social or business function".
"Bail Ring Tents" are usually tents that are 100 to 150 feet (30m x 45m) wide and expandable to any length. They can be made from either vinyl or canvas. The purpose of the bail ring style is to raise an enormous amount of material "the tent" off the ground without using heavy machinery. Initially, the center poles are raised and guyed out to stakes after which the tent is spread out and connected to the bail ring using shackles. Once the outside of the tent is raised a crew of men can go under the tent and start raising the bail ring up the center pole using a system of pulleys. This style of tent is not as popular as it was in the past due to the advancement of forklifts and skidsteers. There was a time when even smaller tents 40 to 100 feet (12m to 30m) were often raised and set using a bail ring.
The four Major golf tournaments have tents set up. They are usually 40×40 feet (12m×12m).
Tents or marquees are often hired from specialist companies.
A "Rubb Hall

Rubb hall

The term Rubb hall is used generically in Norway and parts of America to describe a large, relocatable tent-like structure often used in emergency or industrial situations. The origins of this term derive from Rubb Building Systems, creators of this kind of structure....


" is a large tent used primarily as emergency warehousing.
A circus

Circus

A circus is commonly a travelling company of performers that may include clowns, acrobats, trained animals, trapeze acts, musicians, hoopers, tightrope walkers, jugglers, unicyclists and other stunt-oriented artists...


tent usually has one or more oval or circular arenas surrounded by tiered seating which might accommodate thousands of people. Nowadays such large tents are made of some artificial fibre (polyester or vinyl) and are often erected with the help of cranes. In earlier times it was common for the circus elephants to be used as a source of power for pulling ropes to haul the canvas into position.
The Beach Marquee - Recently designed smaller framed marquee has been designed for Australia's beaches. Made of aluminium it is rust free and will last several years. This is a great innovation for beach users especially in Australia which is the company that produces this Marquees target market.6
Influence on building design
Tent design has influenced many large modern buildings, these buildings have in turn influenced tent design. Tent-style
tensile structure
Tensile structure
A tensile structure is a construction of elements carrying only tension and no compression or bending. The term tensile should not be confused with tensegrity, which is a structural form with both tension and compression elements....
s are used to cover large public areas such as
entertainment venue
Theatre
Theatre is a collaborative form of fine art that uses live performers to present the experience of a real or imagined event before a live audience in a specific place. The performers may communicate this experience to the audience through combinations of gesture, speech, song, music or dance...
s,
arena
Arena
An arena is an enclosed area, often circular or oval-shaped, designed to showcase theater, musical performances, or sporting events. It is composed of a large open space surrounded on most or all sides by tiered seating for spectators. The key feature of an arena is that the event space is the...
s and
retail area
Shopping mall
A shopping mall, shopping centre, shopping arcade, shopping precinct or simply mall is one or more buildings forming a complex of shops representing merchandisers, with interconnecting walkways enabling visitors to easily walk from unit to unit, along with a parking area — a modern, indoor version...
s (example:
The O2
The O2 (London)
The O2, visually typeset in branding as The O2, is a large entertainment district on the Greenwich peninsula in South East London, England, including an indoor arena, a music club, a Cineworld cinema, an exhibition space, piazzas, bars and restaurants...
) or
sports stadium
Sports Stadium
Sports Stadium was an Irish television sport programme on Raidió Teilifís Éireann . Broadcast between 1973 and 1997, it was RTÉ's flagship sports programme and one of its longest-running shows....
s (example: Munich Olympic Stadium) and
airport
Airport
An airport is a location where aircraft such as fixed-wing aircraft, helicopters, and blimps take off and land. Aircraft may be stored or maintained at an airport...
s (example:
Denver International Airport
Denver International Airport
Denver International Airport , often referred to as DIA, is an airport in Denver, Colorado. By land size, at , it is the largest international airport in the United States, and the third largest international airport in the world after King Fahd International Airport and Montréal-Mirabel...
).
See also
Bender tent

Bender tent

A bender tent is a simple shelter. A bender is made using flexible branches or withies, such as those of hazel or willow. These are lodged in the ground, then bent and woven together to form a strong dome-shape. The dome is then covered using any tarpaulin available...



Campsite

Campsite

A campsite or camping pitch is a place used for overnight stay in the outdoors. In British English a campsite is an area, usually divided into a number of pitches, where people can camp overnight using tents or camper vans or caravans; this British English use of the word is synonymous with the...



List of human habitation forms
Roof tent

Roof tent

A roof tent is an accessory which may be fitted to the roof of a motor vehicle which allows the users to sleep in relative safety and comfort above the vehicle, and leaves the internal load-space free. The first example of roof-tents appeared in Western Europe in the 1930s...



Tensile architecture
Lightweight materials
External links
Sheltercentre.org, a United Nations

United Nations

The United Nations is an international organization whose stated aims are facilitating cooperation in international law, international security, economic development, social progress, human rights, and achievement of world peace...


guide to the use and logistics of family tents in humanitarian relief.