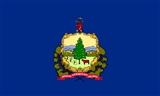 Vermont
Vermont
is a
state
U.S. state
A U.S. state is any one of the 50 federated states of the United States of America that share sovereignty with the federal government. Because of this shared sovereignty, an American is a citizen both of the federal entity and of his or her state of domicile. Four states use the official title of...
in the
New England
New England
New England is a region in the northeastern corner of the United States consisting of the six states of Maine, New Hampshire, Vermont, Massachusetts, Rhode Island, and Connecticut...
region of the northeastern United States of America. The state ranks 43rd in land area, 9250 square miles (23,957.4 km²), and 45th in total area. Its population according to the 2010 census, 630,337, is the second smallest in the country, larger only than
Wyoming
Wyoming
Wyoming is a state in the mountain region of the Western United States. The western two thirds of the state is covered mostly with the mountain ranges and rangelands in the foothills of the Eastern Rocky Mountains, while the eastern third of the state is high elevation prairie known as the High...
. It is the only New England state not bordering the Atlantic Ocean.
Lake Champlain
Lake Champlain
Lake Champlain is a natural, freshwater lake in North America, located mainly within the borders of the United States but partially situated across the Canada—United States border in the Canadian province of Quebec.The New York portion of the Champlain Valley includes the eastern portions of...
forms half of Vermont's western border, which it shares with the state of
New York
New York
New York is a state in the Northeastern region of the United States. It is the nation's third most populous state. New York is bordered by New Jersey and Pennsylvania to the south, and by Connecticut, Massachusetts and Vermont to the east...
.
Freedom and Unity

Vermont State Motto
The gods of the valley are not the gods of the hills, and you shall understand it.

Ethan Allen, in reply to the King's attorney-general, in a New York court case decided against him, prior to his armed resistance to claims of New York authority over Vermont; quoted in Curiosities of Human Nature (1844) by Samuel Griswold Goodrich|Samuel Griswold Goodrich, p. 145.
Vermont is a small state which makes an enormous difference.

Fred Rogers, Commencement Address at Middlebury College (May 2001)
I am Vermont.

Valerie Frankel|Valerie Frankel, "Runway To The White House: Searching for a Defining Look In the Land of Ben & Jerry's", New York Times, August 31, 2003