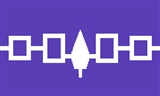 Iroquois
The Iroquois also known as the Haudenosaunee or the "People of the Longhouse", are an association of several tribes of
indigenous people
Indigenous peoples of the Americas
The indigenous peoples of the Americas are the pre-Columbian inhabitants of North and South America, their descendants and other ethnic groups who are identified with those peoples. Indigenous peoples are known in Canada as Aboriginal peoples, and in the United States as Native Americans...
of North America. After the Iroquoian-speaking peoples of present-day central and upstate New York coalesced as distinct tribes, by the 16th century or earlier, they came together in an association known today as the Iroquois League, or the "League of Peace and Power". The original Iroquois League was often known as the Five Nations, as it was composed of the
Mohawk
Mohawk nation
Mohawk are the most easterly tribe of the Iroquois confederation. They call themselves Kanien'gehaga, people of the place of the flint...
,
Oneida
Oneida tribe
The Oneida are a Native American/First Nations people and are one of the five founding nations of the Iroquois Confederacy in the area of upstate New York...
,
Onondaga
Onondaga (tribe)
The Onondaga are one of the original five constituent nations of the Iroquois Confederacy. Their traditional homeland is in and around Onondaga County, New York...
,
Cayuga
Cayuga nation
The Cayuga people was one of the five original constituents of the Haudenosaunee , a confederacy of American Indians in New York. The Cayuga homeland lay in the Finger Lakes region along Cayuga Lake, between their league neighbors, the Onondaga to the east and the Seneca to the west...
and
Seneca nation
Seneca nation
The Seneca are a group of indigenous people native to North America. They were the nation located farthest to the west within the Six Nations or Iroquois League in New York before the American Revolution. While exact population figures are unknown, approximately 15,000 to 25,000 Seneca live in...
s.