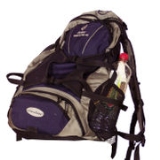 Backpack
A
backpack
is, in its simplest form, a cloth
sack
Sack
A sack is a bag, especially a large one for carrying or storing goods.Sack may also refer to:* Quarterback sack, a tackle of the quarterback behind the line of scrimmage in American and Canadian football* Sack , an Irish band...
carried on one's back and secured with two straps that go over the
shoulder
Shoulder
The human shoulder is made up of three bones: the clavicle , the scapula , and the humerus as well as associated muscles, ligaments and tendons. The articulations between the bones of the shoulder make up the shoulder joints. The major joint of the shoulder is the glenohumeral joint, which...
s, but there can be exceptions. Lightweight types of backpacks are sometimes worn on only one shoulder strap.
Backpacks are often preferred to
handbag
Handbag
A handbag, or purse in American English, is a handled medium-to-large bag that is often fashionably designed, typically used by women, to hold personal items such as wallet/coins, keys, cosmetics, a hairbrush, pepper spray, cigarettes, mobile phone etc....
s for carrying heavy loads or carrying any sort of equipment, because of the limited capacity to carry heavy weights for long periods of time in the
hand
Hand
A hand is a prehensile, multi-fingered extremity located at the end of an arm or forelimb of primates such as humans, chimpanzees, monkeys, and lemurs...
s.