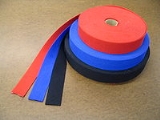 Webbing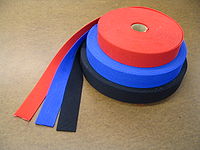 Webbing
is a strong fabric
woven
Weaving
Weaving is a method of fabric production in which two distinct sets of yarns or threads are interlaced at right angles to form a fabric or cloth. The other methods are knitting, lace making and felting. The longitudinal threads are called the warp and the lateral threads are the weft or filling...
as a flat strip or tube of varying width and fibres often used in place of
rope
Rope
A rope is a length of fibres, twisted or braided together to improve strength for pulling and connecting. It has tensile strength but is too flexible to provide compressive strength...
. The name webbing comes from the
mesh
Mesh
Mesh consists of semi-permeable barrier made of connected strands of metal, fiber, or other flexible/ductile material. Mesh is similar to web or net in that it has many attached or woven strands.-Types of mesh:...
ed material frequently used in its construction, which resembles a web. It is a versatile component used in
climbing
Climbing
Climbing is the activity of using one's hands and feet to ascend a steep object. It is done both for recreation and professionally, as part of activities such as maintenance of a structure, or military operations.Climbing activities include:* Bouldering: Ascending boulders or small...
,
slacklining
Slacklining
Slacklining is a practice in balance that typically uses 1 inch nylon webbing tensioned between two anchor points. Slacklining is distinct from tightrope walking in that the line is not held rigidly taut ; it is instead dynamic, stretching and bouncing like a long and narrow trampoline...
,
furniture
Furniture
Furniture is the mass noun for the movable objects intended to support various human activities such as seating and sleeping in beds, to hold objects at a convenient height for work using horizontal surfaces above the ground, or to store things...
manufacturing
Manufacturing
Manufacturing is the use of machines, tools and labor to produce goods for use or sale. The term may refer to a range of human activity, from handicraft to high tech, but is most commonly applied to industrial production, in which raw materials are transformed into finished goods on a large scale...
,
automobile
Automobile
An automobile, autocar, motor car or car is a wheeled motor vehicle used for transporting passengers, which also carries its own engine or motor...
safety
Safety
Safety is the state of being "safe" , the condition of being protected against physical, social, spiritual, financial, political, emotional, occupational, psychological, educational or other types or consequences of failure, damage, error, accidents, harm or any other event which could be...
,
auto racing
Auto racing
Auto racing is a motorsport involving the racing of cars for competition. It is one of the world's most watched televised sports.-The beginning of racing:...
,
towing
Tow truck
A tow truck is a vehicle used to transport motor vehicles to another location , or to recover vehicles which are no longer on a drivable surface.Towing services are generally provided by an emergency road service operator...
,
parachuting
Parachuting
Parachuting, also known as skydiving, is the action of exiting an aircraft and returning to earth with the aid of a parachute. It may or may not involve a certain amount of free-fall, a time during which the parachute has not been deployed and the body gradually accelerates to terminal...
,
military apparel
Battledress
Battledress, or fatigues in the general sense, is the type of uniform used as combat uniforms, as opposed to 'display' dress or formal uniform worn at parades and functions. It may be either monochrome or in a camouflage pattern...
, and many other fields.
Originally made of
cotton
Cotton
Cotton is a soft, fluffy staple fiber that grows in a boll, or protective capsule, around the seeds of cotton plants of the genus Gossypium. The fiber is almost pure cellulose. The botanical purpose of cotton fiber is to aid in seed dispersal....
or
flax
Flax
Flax is a member of the genus Linum in the family Linaceae. It is native to the region extending from the eastern Mediterranean to India and was probably first domesticated in the Fertile Crescent...
, most modern webbing is made of synthetic fibers such as
nylon
Nylon
Nylon is a generic designation for a family of synthetic polymers known generically as polyamides, first produced on February 28, 1935, by Wallace Carothers at DuPont's research facility at the DuPont Experimental Station...
,
polypropylene
Polypropylene
Polypropylene , also known as polypropene, is a thermoplastic polymer used in a wide variety of applications including packaging, textiles , stationery, plastic parts and reusable containers of various types, laboratory equipment, loudspeakers, automotive components, and polymer banknotes...
or
polyester
Polyester
Polyester is a category of polymers which contain the ester functional group in their main chain. Although there are many polyesters, the term "polyester" as a specific material most commonly refers to polyethylene terephthalate...
. Webbing is also made from exceptionally high-strength material, such as Dyneema, and
Kevlar
Kevlar
Kevlar is the registered trademark for a para-aramid synthetic fiber, related to other aramids such as Nomex and Technora. Developed at DuPont in 1965, this high strength material was first commercially used in the early 1970s as a replacement for steel in racing tires...
. Webbing is both light and strong, with
breaking strengths
Tensile strength
Ultimate tensile strength , often shortened to tensile strength or ultimate strength, is the maximum stress that a material can withstand while being stretched or pulled before necking, which is when the specimen's cross-section starts to significantly contract...
readily available in excess of 10,000
lb
Pound-force
The pound force is a unit of force in some systems of measurement including English engineering units and British gravitational units.- Definitions :...
(44.4 kN)
There are two basic constructions of webbing. Flat webbing is a solid weave, with seatbelts and most backpack
straps being common examples. Tubular webbing consists of a flattened tube, and is commonly used in climbing and industrial applications.
Sporting goods
In rock climbing, nylon webbing is used in
slings
Sling (climbing equipment)
A sling or runner is an item of climbing equipment consisting of a tied or sewn loop of webbing that can be wrapped around sections of rock, hitched to other pieces of equipment or tied directly to a tensioned line using a prusik knot; for anchor extension , equalization, or climbing the...
, runners,
harnesses
Climbing harness
A climbing harness is a piece of equipment used in certain types of rock-climbing, abseiling or other activities requiring the use of ropes to provide access or safety...
, anchor extensions and
quickdraw
Quickdraw
Quickdraws are used by rock climbers to connect the climbing rope to bolt anchors or other protection, while lead climbing...
s. Webbing is used in many ways in
hiking
Hiking
Hiking is an outdoor activity which consists of walking in natural environments, often in mountainous or other scenic terrain. People often hike on hiking trails. It is such a popular activity that there are numerous hiking organizations worldwide. The health benefits of different types of hiking...
and
camping
Camping
Camping is an outdoor recreational activity. The participants leave urban areas, their home region, or civilization and enjoy nature while spending one or several nights outdoors, usually at a campsite. Camping may involve the use of a tent, caravan, motorhome, cabin, a primitive structure, or no...
gear including backpacks, straps, load adjusters and
tent
Tent
A tent is a shelter consisting of sheets of fabric or other material draped over or attached to a frame of poles or attached to a supporting rope. While smaller tents may be free-standing or attached to the ground, large tents are usually anchored using guy ropes tied to stakes or tent pegs...
adjusters. There are two types of webbing: tubular and flat.
The most popular webbing is one inch but it is available in two and three inch widths which in earlier days were often used in lieu of climbing harnesses. Wrapped around the waist several times, they were less bulky and more comfortable than the old school method of tying the rope around the waist. More elaborate configurations would include leg loops, which were essential to hold a climber who had fallen or otherwise found themselves dangling. If left supported only by rope or webbing wrapped around the waist, the diaphragm could be constricted and many climbers died as a result of asphyxiation.
Narrower webbing is frequently looped through chockstones which are typically metal in shapes such as hexagonal, square, tubular, T, etc., and which are jammed into cracks as safety anchors. In other cases, webbing is looped over rock outcroppings. Unlike tubular rope, webbing is less likely to inch its way off the rock. Note that webbing construction is either utterly flat or flat-tubular; the latter tends to handle better but knots are more likely to jam.
The most popular knots in webbing are the
water knot
Water knot
The water knot is a knot frequently used in climbing for joining two ends of webbing together, for instance when making a sling.-Tying the water knot:...
and the grapevine knot. The latter is stronger, but uses more webbing for the knot. It is customary to leave a couple inches extending from the knot, and in many cases climbers tape the ends down onto the main loops. Webbing is also less expensive than rope of similar size particularly kernmantle rope which requires elaborate and expensive manufacturing. Unlike rope, which has manufacturers seeking brand identification and customer loyalty, webbing manufacture is typically generic. Climbing shops sell it off of a spool on a per yard or per foot basis. It is cut with a hot wire as is nylon rope, which prevents fraying and unravelling. However, when webbing does fray and unravel, the result is less disastrous than with rope, which is another albeit minimal advantage. Webbing suffers the drawback of less elasticity than perlon rope, and it may be more difficult to handle with gloves or mittens on.
Automotive and racing safety
Seat belt
Seat belt
A seat belt or seatbelt, sometimes called a safety belt, is a safety harness designed to secure the occupant of a vehicle against harmful movement that may result from a collision or a sudden stop...
s are an obvious example of webbings used in auto safety but there are myriad other uses. Nylon and polyester webbing are used a great deal in auto racing safety for a large variety of items.
Racing harnesses
Seat belt
A seat belt or seatbelt, sometimes called a safety belt, is a safety harness designed to secure the occupant of a vehicle against harmful movement that may result from a collision or a sudden stop...
restraining the driver have used nylon webbing for years, but since the death of Dale Earnhardt Polyester webbing is becoming more popular due to its increased strength, and lower rate of elongation under load. The nylon commercial type 9 webbing generally used in racing harnesses stretches approximately 20 to 30 percent of its initial length at 2500
lb
Pound-force
The pound force is a unit of force in some systems of measurement including English engineering units and British gravitational units.- Definitions :...
(11.1 Kn) while Polyester only stretches 5 to 15 percent. Window nets to prevent objects from entering the driver compartment are constructed of polypropylene webbing, as are helmet nets used to reduce side loads to the head in
Sprint cars
Sprint car racing
Sprint cars are high-powered race cars designed primarily for the purpose of running on short oval or circular dirt or paved tracks. Sprint car racing is popular in the United States, Canada, Australia, New Zealand and South Africa....
. The
HANS device
HANS device
The HANS device is a safety item compulsory in many car racing sports...
uses webbing tethers to attach the helmet to the collar, and the
Hutchens device
Hutchens device
The Hutchens device is a device for protecting race car drivers in the event of an accident by controlling head movement, reducing head and neck injuries due to whiplash. It consists of a series of straps, attached to the helmet and connected across the chest and at the waist, depending on the lap...
is made almost entirely of webbing.
Furniture
Webbing is used in couches and chairs as a base for the seating areas that is both strong and flexible. Webbing used as a support is often rubberised to improve resilience and add elasticity. Many types of outdoor furniture use little more than thin light webbing for the seating areas. Webbing is also used to reinforce joints and areas that tend to flex.
Military
Main Article
Webbing equipment
Webbing is used to make military belts, packs and pouches, and by extension also refers to the items themselves. The British Army adopted cotton webbing to replace leather after the Second Boer War although leather belts are still worn in more formal dress. The term is still used for a soldier's...
Webbing is used to make military belts, packs and pouches, and by extension also refers to the items themselves. The
British Army
British Army
The British Army is the land warfare branch of Her Majesty's Armed Forces in the United Kingdom. It came into being with the unification of the Kingdom of England and Scotland into the Kingdom of Great Britain in 1707. The new British Army incorporated Regiments that had already existed in England...
adopted cotton webbing to replace
leather
Leather
Leather is a durable and flexible material created via the tanning of putrescible animal rawhide and skin, primarily cattlehide. It can be produced through different manufacturing processes, ranging from cottage industry to heavy industry.-Forms:...
after the
Second Boer War
Second Boer War
The Second Boer War was fought from 11 October 1899 until 31 May 1902 between the British Empire and the Afrikaans-speaking Dutch settlers of two independent Boer republics, the South African Republic and the Orange Free State...
although leather belts are still worn in more formal dress. The term is still used for a soldier's combat equipment, although cotton webbing has since been replaced with more advanced materials. The webbing system used by the British Army today is known as
Personal Load Carrying Equipment
Personal Load Carrying Equipment
Personal Load Carrying Equipment is the current tactical webbing system of the British Army. It consists of a belt, yoke and a number of pouches. Associated with PLCE webbing is a series of other similar load carrying equipment and rucksacks .The purpose of PLCE is to hold everything a soldier...
and is informally called "webbing".
In the British Army, this webbing system is designed to be light enough to carry the vital things needed in battle and for outdoor survival. It is made so that if the
backpack
Backpack
A backpack is, in its simplest form, a cloth sack carried on one's back and secured with two straps that go over the shoulders, but there can be exceptions...
or bergen is lost or abandoned, the soldier can survive on emergency rations carried in the "webbing" for up to 24 hours, although this can be extended if supplies are rationed. Typical contents of webbing include cooking equipment, 24 hours worth of rations, ammunition, first aid or survival supplies and sheltering equipment. Most webbing systems incorporate a degree of modular construction consisting of a yoke (a type of shoulder harness), a belt and a variety of pouches specific to different tasks, for example pouches designed to carry ammunition magazines may have dividers or special waterproofing. Different combinations of pouches can be used to customise webbing to better suit the mission it is needed for. Generally it is unusual for western armies to fight with a cumbersome, complete backpack or bergen and so prior to an anticipated battle the main backpack is usually stowed away from the forward edge of the battle area and "webbing" (a day pack,) is used as the immediate load bearing equipment instead.
Webbing belts are also used frequently by modern cadet and scout groups, as well as police and security forces.
Transportation
Tie downs, tie straps, cargo straps, E-track straps, cargo hoist straps, tow ropes, winch straps, cargo nets, and dozens of other items are used by thousands of shipping and trucking companies every day. The transportation industry is perhaps the largest user of high strength webbing in the world.
Apparel
Belts
Belt (clothing)
A belt is a flexible band or strap, typically made of leather or heavy cloth, and worn around the waist. A belt supports trousers or other articles of clothing.-History:...
,
suspenders
Suspenders
Suspenders or braces are fabric or leather straps worn over the shoulders to hold up trousers. Straps may be elasticated, either entirely or only at attachment ends and most straps are of woven cloth forming an X or Y shape at the back. Braces are typically attached to trousers with buttons...
,
sandal
Sandal (footwear)
Sandals are an open type of outdoor footwear, consisting of a sole held to the wearer's foot by straps passing over the instep and, sometimes, around the ankle...
s and
purses
Handbag
A handbag, or purse in American English, is a handled medium-to-large bag that is often fashionably designed, typically used by women, to hold personal items such as wallet/coins, keys, cosmetics, a hairbrush, pepper spray, cigarettes, mobile phone etc....
are woven from various forms of webbing. Corset style
back brace
Back brace
A back brace is a device designed to limit the motion of the spine in cases of fracture or in post-operative fusions. Limiting the motion of the spine enhances the healing process and minimizes the patient's discomfort.Common back braces include:...
s and other medical braces often incorporate straps made from webbing.
Hardware
Webbing is often outfitted with various forms of
tie down hardware
Tie down hardware
Tie down hardware is used to turn webbing into a tie down strap. There are various categories of tie down strap hardware that allow for the creation of a virtually unlimited number of different types of tie down straps...
to extend its range of abilities (and create
tie down straps
Tie down straps
Tie down straps are fasteners used to hold down cargo or equipment during transport. Tie down straps are essentially webbing that is outfitted with tie down hardware. This hardware allows the tie down strap to attach to the area surrounding the cargo or equipment, loop over the cargo or...
). This hardware can take the form of:
End Fittings (S-hooks, snap hooks, bolt/anchor plates, J-hooks, flat hooks, etc.)
Fasteners (over-center, cam, ratchet, etc.)
Buckles (slide buckles, snap buckles, etc.)
There is also hardware associated with the various end fittings to attach them to a surface, such as footman's loops, brackets and E-track fittings.
See also
In education and learning
Webbing
is a method of diagrammatically representing facts and information, similar to Mind Mapping.
Related articles
Blanco

Blanco (compound)

Blanco was a compound used by British soldiers . The compound was used from 1880 to whiten British Army Slade Wallace buckskin leather equipment then adapted to coloured versions for use on the cotton Web Infantry Equipment, Pattern 1908 webbing used in World War I and beyond and the Web Equipment...



Safety harness

Safety harness

A safety harness is a form of protective equipment designed to protect a person, animal, or object from injury or damage. The harness is an attachment between a stationary and non-stationary object and is usually fabricated from rope, cable or webbing and locking hardware...



Seat belt

Seat belt

A seat belt or seatbelt, sometimes called a safety belt, is a safety harness designed to secure the occupant of a vehicle against harmful movement that may result from a collision or a sudden stop...


s
PLCE