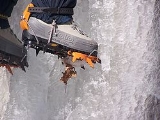 Crampons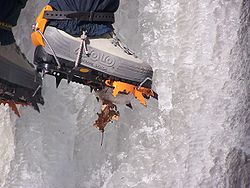 Crampons
are traction devices used to improve mobility on
snow
Snow
Snow is a form of precipitation within the Earth's atmosphere in the form of crystalline water ice, consisting of a multitude of snowflakes that fall from clouds. Since snow is composed of small ice particles, it is a granular material. It has an open and therefore soft structure, unless packed by...
and
ice
Ice
Ice is water frozen into the solid state. Usually ice is the phase known as ice Ih, which is the most abundant of the varying solid phases on the Earth's surface. It can appear transparent or opaque bluish-white color, depending on the presence of impurities or air inclusions...
. There are three main attachment systems for footwear: step-in, hybrid, and strap bindings. The first two require boots with welts, the last adapt to any type.
Oscar Eckenstein
Oscar Eckenstein
Oscar Johannes Ludwig Eckenstein was an English rock climber and mountaineer, and a pioneer in the sport of bouldering...
designed the first 10-point crampon in 1908, dramatically reducing the need for step cutting. This design was then made commercially available by the Italian Henry Grivel.
Characteristics
Materials
Crampons are made of hardened steel, light weight aluminum, or a combination of the two. Lighter weight crampons are popular for
alpine ski touring
Ski touring
Ski touring is a form of backcountry skiing involving traveling over the winter landscape on skis under human power rather than through the assistance of ski lifts or snow vehicles. It can take place in terrain ranging from perfectly flat to extremely steep...
where demands are generally lower and light weight a premium.
Points
Early 10-point crampons lacked forward angled spikes and thus required step cutting on steep terrain. In the 1930s two additional forward-slanting points were added, making them exceptional for
mountaineering
Mountaineering
Mountaineering or mountain climbing is the sport, hobby or profession of hiking, skiing, and climbing mountains. While mountaineering began as attempts to reach the highest point of unclimbed mountains it has branched into specialisations that address different aspects of the mountain and consists...
and
glacier
Glacier
A glacier is a large persistent body of ice that forms where the accumulation of snow exceeds its ablation over many years, often centuries. At least 0.1 km² in area and 50 m thick, but often much larger, a glacier slowly deforms and flows due to stresses induced by its weight...
travel and beginning a revolution in
front pointing
Front pointing
Front pointing is a fundamental technique in mountaineering and ice climbing which is used to ascend moderate to steep ice slopes. Also referred to as the German technique, it is accomplished through the use of crampons with two front-slanting points or spikes, which allow traction to be...
. Today, specialized crampons with as many as 14 points, and models with single monopoints for
ice climbing
Ice climbing
Ice climbing, as the term indicates, is the activity of ascending inclined ice formations. Usually, ice climbing refers to roped and protected climbing of features such as icefalls, frozen waterfalls, and cliffs and rock slabs covered with ice refrozen from flows of water. For the purposes of...
, are made.
Attachment
Improved attachment systems - such as a cam action "step-in" system similar to a ski binding and particularly well adapted to plastic technical mountaineering boots - have widely increased crampons use.
Anti-balling
To prevent snow from balling up under crampons, especially in temperatures around freezing, most models can be fitted with plastic or rubber "anti-balling" sytems to reduce build-up. Rubber models use flexion to repel snow while plastic employ a
hydrophobic
Hydrophobe
In chemistry, hydrophobicity is the physical property of a molecule that is repelled from a mass of water....
surface to prevent adhesion.
Grades
Crampons are graded C1, C2 and C3 relative to their flexibility and general compatibility with different styles of boots. A C1 is compatible with a B1 boot (a sturdy hillwalking boot), a C1 and a C2 with a B2 (a stiffer mountaineering boot), and all types of crampons with a B3 (a fully rigid climbing and mountaineering boot).
Ski crampons
Specialized "ski crampons" are employed in
ski mountaineering
Ski mountaineering
Ski mountaineering is form of ski touring that variously combines the sports of Telemark, Alpine, and backcountry skiing with that of mountaineering...
on hard snow and ice. Far more common in the Alps than in the US, these ski crampons are known by their European names:
Harscheisen
(German),
couteaux
(French) and
coltelli
(Italian), literally French and Italian for "knives" in those tongues.
External links