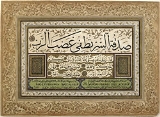 Calligraphy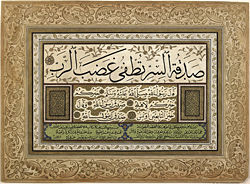 Calligraphy
is a type of
visual art
Visual arts
The visual arts are art forms that create works which are primarily visual in nature, such as ceramics, drawing, painting, sculpture, printmaking, design, crafts, and often modern visual arts and architecture...
. It is often called the art of fancy lettering (Mediavilla 1996: 17). A contemporary definition of calligraphic practice is "the art of giving form to signs in an expressive, harmonious and skillful manner" (Mediavilla 1996: 18). The story of writing is one of aesthetic evolution framed within the technical skills, transmission speed(s) and material limitations of a person, time and place (Diringer 1968: 441). A style of writing is described as a script, hand or alphabet (Fraser and Kwiatkowski 2006; Johnston 1909: Plate 6).
Modern calligraphy ranges from functional hand-lettered inscriptions and designs to fine-art pieces where the abstract expression of the handwritten mark may or may not compromise the legibility of the letters (Mediavilla 1996). Classical calligraphy differs from
typography
Typography
Typography is the art and technique of arranging type in order to make language visible. The arrangement of type involves the selection of typefaces, point size, line length, leading , adjusting the spaces between groups of letters and adjusting the space between pairs of letters...
and non-classical hand-lettering, though a calligrapher may create all of these; characters are historically disciplined yet fluid and spontaneous, at the moment of writing (Pott 2006 and 2005; Zapf 2007 and 2006).
Calligraphy continues to flourish in the forms of
wedding
Wedding
A wedding is the ceremony in which two people are united in marriage or a similar institution. Wedding traditions and customs vary greatly between cultures, ethnic groups, religions, countries, and social classes...
and event invitations,
font
Font
In typography, a font is traditionally defined as a quantity of sorts composing a complete character set of a single size and style of a particular typeface...
design/
typography
Typography
Typography is the art and technique of arranging type in order to make language visible. The arrangement of type involves the selection of typefaces, point size, line length, leading , adjusting the spaces between groups of letters and adjusting the space between pairs of letters...
, original hand-lettered
logo
Logo
A logo is a graphic mark or emblem commonly used by commercial enterprises, organizations and even individuals to aid and promote instant public recognition...
design, religious art, announcements/
graphic design
Graphic design
Graphic design is a creative process – most often involving a client and a designer and usually completed in conjunction with producers of form – undertaken in order to convey a specific message to a targeted audience...
/commissioned calligraphic art, cut stone inscriptions and memorial
document
Document
The term document has multiple meanings in ordinary language and in scholarship. WordNet 3.1. lists four meanings :* document, written document, papers...
s. It is also used for
prop
Theatrical property
A theatrical property, commonly referred to as a prop, is an object used on stage by actors to further the plot or story line of a theatrical production. Smaller props are referred to as "hand props". Larger props may also be set decoration, such as a chair or table. The difference between a set...
s and moving images for film and television,
testimonial
Testimonial
In promotion and of advertising, a testimonial or show consists of a written or spoken statement, sometimes from a person figure, sometimes from a private citizen, extolling the virtue of some product. The term "testimonial" most commonly applies to the sales-pitches attributed to ordinary...
s,
birth
Birth certificate
A birth certificate is a vital record that documents the birth of a child. The term "birth certificate" can refer to either the original document certifying the circumstances of the birth or to a certified copy of or representation of the ensuing registration of that birth...
and
death
Death certificate
The phrase death certificate can describe either a document issued by a medical practitioner certifying the deceased state of a person or popularly to a document issued by a person such as a registrar of vital statistics that declares the date, location and cause of a person's death as later...
certificates,
map
Map
A map is a visual representation of an area—a symbolic depiction highlighting relationships between elements of that space such as objects, regions, and themes....
s, and other works involving writing (see for example Letter Arts Review; Propfe 2005; Geddes and Dion 2004). Some of the finest works of modern calligraphy are
charters
Royal Charter
A royal charter is a formal document issued by a monarch as letters patent, granting a right or power to an individual or a body corporate. They were, and are still, used to establish significant organizations such as cities or universities. Charters should be distinguished from warrants and...
and
letters patent
Letters patent
Letters patent are a type of legal instrument in the form of a published written order issued by a monarch or president, generally granting an office, right, monopoly, title, or status to a person or corporation...
issued by
monarch
Monarch
A monarch is the person who heads a monarchy. This is a form of government in which a state or polity is ruled or controlled by an individual who typically inherits the throne by birth and occasionally rules for life or until abdication...
s and officers of state in various countries.
Western calligraphy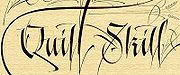 Tools and techniques
Tools
The principal tools for a calligrapher are the
pen
Pen
A pen is a device used to apply ink to a surface, usually paper, for writing or drawing. Historically, reed pens, quill pens, and dip pens were used, with a nib of some sort to be dipped in the ink. Ruling pens allow precise adjustment of line width, and still find a few specialized uses, but...
, which may be flat-balled or round-nibbed, and the brush (Reaves and Schulte 2006; Child 1985; Lamb 1956). For some decorative purposes, multi-nibbed pens—steel brushes—can be used. However, works have also been made with felt-tip and
ballpoint pen
Ballpoint pen
A ballpoint pen is a writing instrument with an internal ink reservoir and a sphere for a point. The internal chamber is filled with a viscous ink that is dispensed at its tip during use by the rolling action of a small sphere...
s, although these works do not employ angled lines. Ink for writing is usually water-based and much less viscous than the oil based inks used in printing. High quality paper, which has good consistency of porosity, will enable cleaner lines, although parchment or
vellum
is often used, as a knife can be used to erase work on them and a light box is not needed to allow lines to pass through it. In addition, light boxes and templates are used to achieve straight lines without pencil markings detracting from the work. Ruled paper, either for a light box or direct use, is most often ruled every quarter or half inch, although inch spaces are occasionally used, such as with
litterea unciales
(hence the name), and college ruled paper acts as a guideline often as well.
Pens may be obtained from various stationery sources - from the traditional "nib" pens dipped in ink, to calligraphy pens that have cartridges built-in, avoiding the need to have to continually dip them into inkwells.
Styles & techniques
Sacred Western calligraphy has some special features, such as the illumination of the first letter of each book or chapter in medieval times. A decorative "carpet page" may precede the literature, filled with ornate, geometrical depictions of bold-hued animals. The
Lindisfarne Gospels
Lindisfarne Gospels
The Lindisfarne Gospels is an illuminated Latin manuscript of the gospels of Matthew, Mark, Luke and John in the British Library...
(715-720 AD) are an early example (Brown 2004).
As with Chinese or Arabian calligraphies, Western calligraphic script had strict rules and shapes. Quality writing had a rhythm and regularity to the letters, with a "geometrical" order of the lines on the page. Each character had, and often still has, a precise stroke order.
Unlike a typeface, irregularity in the characters' size, style and colors adds meaning to the Greek translation "beautiful letters". The content may be completely illegible, but no less meaningful to a viewer with some empathy for the work on view. Many of the themes and variations of today's contemporary Western calligraphy are found in the pages of The Saint John's Bible. A particularly modern example is The Holy Bible,
Timothy Botts
Timothy Botts
Timothy Botts is a noted calligrapher and illustrator. He has published several books containing calligraphic inscriptions of biblical passages. He has taught seminars at such places as Regent College and College of DuPage, Glen Ellyn, Illinois...
Illustrated edition (Tyndale House Publishers 2000), with 360 calligraphic images as well as a calligraphy
typeface
Typeface
In typography, a typeface is the artistic representation or interpretation of characters; it is the way the type looks. Each type is designed and there are thousands of different typefaces in existence, with new ones being developed constantly....
.
Historical developments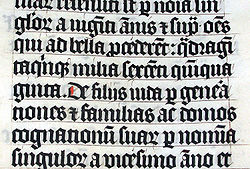 Western calligraphy is recognizable by the use of
the Roman alphabet
Latin alphabet
The Latin alphabet, also called the Roman alphabet, is the most recognized alphabet used in the world today. It evolved from a western variety of the Greek alphabet called the Cumaean alphabet, which was adopted and modified by the Etruscans who ruled early Rome...
, which evolved from the
Phoenician
Phoenician alphabet
The Phoenician alphabet, called by convention the Proto-Canaanite alphabet for inscriptions older than around 1050 BC, was a non-pictographic consonantal alphabet, or abjad. It was used for the writing of Phoenician, a Northern Semitic language, used by the civilization of Phoenicia...
,
Greek
Greek alphabet
The Greek alphabet is the script that has been used to write the Greek language since at least 730 BC . The alphabet in its classical and modern form consists of 24 letters ordered in sequence from alpha to omega...
, and Etruscan alphabets. The first Roman alphabet appeared about 600 BC, in Rome, and by the first century developed into Roman imperial capitals carved on stones,
Rustic capitals
Rustic capitals
Rustic capitals is an ancient Roman calligraphic script. As the term is negatively connotated supposing an opposition to the more 'civilized' form of the Roman square capitals Bernhard Bischoff prefers to call the script canonized capitals.Rustic capitals are similar to Roman square capitals, but...
painted on walls, and
Roman cursive
Roman cursive
Roman cursive is a form of handwriting used in ancient Rome and to some extent into the Middle Ages. It is customarily divided into old cursive, and new cursive.- Old Roman cursive :...
for daily use. In the second and third centuries the
Uncial
Uncial
Uncial is a majuscule script commonly used from the 3rd to 8th centuries AD by Latin and Greek scribes. Uncial letters are written in either Greek, Latin, or Gothic.-Development:...
lettering style developed. As writing withdrew to monasteries, uncial script was found more suitable for copying the Bible and other religious texts. It was the monasteries which preserved calligraphic traditions during the fourth and fifth centuries, when the Roman Empire fell and Europe entered the Dark Ages.
At the height of the Roman Empire its power reached as far as Great Britain; when the empire fell, its literary influence remained. The Semi-uncial generated the Irish Semi-uncial, the small Anglo-Saxon. Each region seems to have developed its own standards following the main monastery of the region (i.e.
Merovingian script
Merovingian script
Merovingian script was a medieval script so called because it was developed in France during the Merovingian dynasty. It was used in the 7th and 8th centuries before the Carolingian dynasty and the development of Carolingian minuscule.-Script types:...
, Laon script,
Luxeuil script
Luxeuil Abbey
Luxeuil Abbey was one of the oldest and best-known monasteries in Burgundy, located in the "département" of Haute-Saône in Franche-Comté, France.-Columbanus:...
,
Visigothic script
Visigothic script
Visigothic script was a type of medieval script that originated in the Visigothic kingdom in Hispania...
,
Beneventan script
Beneventan script
Beneventan script was a medieval script, so called because it originated in the Duchy of Benevento in southern Italy. It was also called Langobarda, Longobarda, Longobardisca , or sometimes Gothica; it was first called Beneventan by palaeographer E. A...
), which are mostly cursive and hardly readable.
The rising
Carolingian Dynasty
Carolingian
The Carolingian dynasty was a Frankish noble family with origins in the Arnulfing and Pippinid clans of the 7th century AD. The name "Carolingian", Medieval Latin karolingi, an altered form of an unattested Old High German *karling, kerling The Carolingian dynasty (known variously as the...
Empire encouraged a new standardized script, which was developed by several famous monasteries (including
Corbie Abbey
Corbie Abbey
Corbie Abbey is a former Benedictine monastery in Corbie, Picardy, France, dedicated to Saint Peter.-Foundation:It was founded in about 659/661 under Merovingian royal patronage by Balthild, widow of Clovis II, and her son Clotaire III...
and
Beauvais
Beauvais
Beauvais is a city approximately by highway north of central Paris, in the northern French region of Picardie. It currently has a population of over 60,000 inhabitants.- History :...
) around the eighth century. The script from
Saint
Saint
A saint is a holy person. In various religions, saints are people who are believed to have exceptional holiness.In Christian usage, "saint" refers to any believer who is "in Christ", and in whom Christ dwells, whether in heaven or in earth...
Martin of Tours
Martin of Tours
Martin of Tours was a Bishop of Tours whose shrine became a famous stopping-point for pilgrims on the road to Santiago de Compostela. Around his name much legendary material accrued, and he has become one of the most familiar and recognizable Christian saints...
was ultimately set as the Imperial standard, named the Carolingian script (or "the Caroline"). From the powerful Carolingian Empire, this standard also became used in neighboring kingdoms.
In the eleventh century, the Caroline evolved into the
Gothic script
Blackletter
Blackletter, also known as Gothic script, Gothic minuscule, or Textura, was a script used throughout Western Europe from approximately 1150 to well into the 17th century. It continued to be used for the German language until the 20th century. Fraktur is a notable script of this type, and sometimes...
, which was more compact and made it possible to fit more text on a page. The Gothic calligraphy styles became dominant throughout Europe; and in 1454, when
Johannes Gutenberg
developed the first printing press in Mainz, Germany, he adopted the Gothic style, making it the first
typeface
Typeface
In typography, a typeface is the artistic representation or interpretation of characters; it is the way the type looks. Each type is designed and there are thousands of different typefaces in existence, with new ones being developed constantly....
.
In the 15th century, the rediscovery of old Carolingian texts encouraged the creation of the
humanist minuscule
Humanist minuscule
Humanist minuscule is a handwriting or style of script that was invented in secular circles in Italy, at the beginning of the fifteenth century. "Few periods in Western history have produced writing of such great beauty", observes the art historian Millard Meiss...
or
littera antiqua
. The 17th century saw the Batarde script from France, and the 18th century saw the
English script
English script (calligraphy)
English script is a cursive style, especially for capital letters, first used in the 18th century in England, and later across the world. This very cursive script appeared with the spread of metallic quill....
spread across Europe and world by their books.
The contemporary
typeface
Typeface
In typography, a typeface is the artistic representation or interpretation of characters; it is the way the type looks. Each type is designed and there are thousands of different typefaces in existence, with new ones being developed constantly....
s used by computers, from simple word processing programs like Microsoft Word or Apple Pages to professional designers' software packages like Adobe InDesign, owe a considerable debt to the past and to a small number of professional typeface designers today (Zapf 2007; Mediavilla 2006; Henning 2002).
Influences
Several other Western styles use the same tools and practices, but differ by the characters set, and by stylistic preferences.
For
Slavonic lettering
Slavonic lettering
- Glagolitic script :Alphabets that became a basis for slavonic writing were called "Glagolitic" and "Cyrillic" alphabets. The history of their emergence is totally unknown. The extant monuments of glagolitsa are dated no later than the end of the 10th century...
, the history of the
slavonic
Slavic peoples
The Slavic people are an Indo-European panethnicity living in Eastern Europe, Southeast Europe, North Asia and Central Asia. The term Slavic represents a broad ethno-linguistic group of people, who speak languages belonging to the Slavic language family and share, to varying degrees, certain...
and consequently
Russia
Russia
Russia or , officially known as both Russia and the Russian Federation , is a country in northern Eurasia. It is a federal semi-presidential republic, comprising 83 federal subjects...
n
writing system
Writing system
A writing system is a symbolic system used to represent elements or statements expressible in language.-General properties:Writing systems are distinguished from other possible symbolic communication systems in that the reader must usually understand something of the associated spoken language to...
s differs fundamentally from the one of the
Latin language
Latin
Latin is an Italic language originally spoken in Latium and Ancient Rome. It, along with most European languages, is a descendant of the ancient Proto-Indo-European language. Although it is considered a dead language, a number of scholars and members of the Christian clergy speak it fluently, and...
. It evolved from the 10th century to today.
Eastern Asian calligraphy
Names, tools and techniques
Names
The local name for calligraphy is
Shūfǎ
書法 in China, literally "The way/method/law of writing";,
Shodō
in Japan, literally "The way/principle of writing"; and
Seoye (서예)
書藝 in Korea, literally "The art of writing". The calligraphy of East Asian characters is an important and appreciated aspect of
East Asia
East Asia
East Asia or Eastern Asia is a subregion of Asia that can be defined in either geographical or cultural terms...
n culture.
Tools:
Traditional
East Asia
East Asia
East Asia or Eastern Asia is a subregion of Asia that can be defined in either geographical or cultural terms...
n writing uses the
Four Treasures of the Study
Four Treasures of the Study
Four Treasures of the Study, Four Jewels of the Study or Four Friends of the Study is an expression used to denote the brush, ink, paper and ink stone used in Chinese and other East Asian calligraphic traditions...
(T: 文房四寶 / S: 文房四宝) : the
ink brush
Ink brush
Ink brushes are used in Chinese calligraphy. They are also used in Chinese painting and descendant brush painting styles. The ink brush was invented in China, believed to be around 300BCE...
es to write
Chinese character
Chinese character
Chinese characters are logograms used in the writing of Chinese and Japanese , less frequently Korean , formerly Vietnamese , or other languages...
s, Chinese ink, paper, and inkstone, known as the
Four Friends of the Study
(HG: 문방사우 / HJ: 文房四友) in Korea. In addition to these four tools, desk pads and paperweights are also used by calligraphers.
Technique
The shape, size, stretch and hair type of the ink brush, the color, color density and water density of the ink, as well as the paper's water absorption speed and surface texture are the main physical parameters influencing the final result. The calligrapher also influences the result by the quantity of ink/water he lets the brush take , then by the pressure, inclination, and direction he gives to the brush, producing thinner or bolder strokes, and smooth or toothed borders. Eventually, the speed, accelerations, decelerations of the writer's moves, turns, and crochets, and the
stroke order
Stroke order
Stroke order refers to the order in which the strokes of a Chinese character are written. A stroke is a movement of a writing instrument on a writing surface. Chinese characters are used in various forms in Chinese, Japanese, and in Korean...
give the "spirit" to the characters, by influencing greatly their final shapes.
Historical evolution
Ancient China
In ancient China, the oldest Chinese characters existing are
Jiǎgǔwén characters
Oracle bone script
Oracle bone script refers to incised ancient Chinese characters found on oracle bones, which are animal bones or turtle shells used in divination in Bronze Age China...
carved on
ox
Ox
An ox , also known as a bullock in Australia, New Zealand and India, is a bovine trained as a draft animal. Oxen are commonly castrated adult male cattle; castration makes the animals more tractable...
scapula
Scapula
In anatomy, the scapula , omo, or shoulder blade, is the bone that connects the humerus with the clavicle ....
and
tortoise
Tortoise
Tortoises are a family of land-dwelling reptiles of the order of turtles . Like their marine cousins, the sea turtles, tortoises are shielded from predators by a shell. The top part of the shell is the carapace, the underside is the plastron, and the two are connected by the bridge. The tortoise...
plastrons,because the dominators in Shang Dynasty carved pits on such animals's bones and
then baked them to gain auspice of military affairs ,agricultural harvest,or even procreating and weather,etc. During the divination ceremony, after the cracks were made, the characters were written with a brush on the shell or bone to be later carved.(Keightley, 1978). With the development of
Jīnwén
Bronzeware script
Chinese Bronze inscriptions are writing in a variety of Chinese scripts on Chinese bronze artifacts such as zhōng bells and dǐng tripodal cauldrons from the Shāng dynasty to the Zhōu dynasty and even later...
(Bronzeware script) and
Dàzhuàn
Large Seal Script
Large Seal script or Great Seal script is a traditional reference to Chinese writing from before the Qin dynasty, and is now popularly understood to refer narrowly to the writing of the Western and early Eastern Zhou dynasties, and more broadly to also include the oracle bone script...
(Large Seal Script) "cursive" signs continued. Moreover, each archaic kingdom of current China had its own set of characters.
Imperial China
In Imperial China, the graphs on old steles — some dating from 200 BC, and in Xiaozhuan style — are still accessible.
About 220 BC, the emperor
Qin Shi Huang
Qin Shi Huang
Qin Shi Huang , personal name Ying Zheng , was king of the Chinese State of Qin from 246 BC to 221 BC during the Warring States Period. He became the first emperor of a unified China in 221 BC...
, the first to conquer the entire Chinese basin, imposed several reforms, among them
Li Si
Li Si
Li Si was the influential Prime Minister of the feudal state and later of the dynasty of Qin, between 246 BC and 208 BC. A famous Legalist, he was also a notable calligrapher. Li Si served under two rulers: Qin Shi Huang, king of Qin and later First Emperor of China—and his son, Qin Er Shi...
's character unification, which created a set of 3300 standardized
Xiǎozhuàn
characters. Despite the fact that the main writing implement of the time was already the brush, few papers survive from this period, and the main examples of this style are on steles.
The
Lìshū style
Clerical script
The clerical script , also formerly chancery script, is an archaic style of Chinese calligraphy which evolved in the Warring States period to the Qin dynasty, was dominant in the Han dynasty, and remained in use through the Wèi-Jìn periods...
(clerical script) which is more regularized, and in some ways similar to modern text, have been also authorised under Qin Shi Huangdi.
Kǎishū style
Regular script
Regular script , also called 正楷 , 真書 , 楷体 and 正書 , is the newest of the Chinese script styles Regular script , also called 正楷 , 真書 (zhēnshū), 楷体 (kǎitǐ) and 正書 (zhèngshū), is the newest of the Chinese script styles Regular script , also called 正楷 , 真書 (zhēnshū), 楷体 (kǎitǐ) and 正書 (zhèngshū), is...
(traditional regular script) — still in use today — and attributed to
Wang Xizhi
Wang Xizhi
Wang Xizhi was a Chinese calligrapher, traditionally referred to as the Sage of Calligraphy , who lived during the Jin Dynasty...
(王羲之, 303-361) and his followers, is even more regularized. Its spread was encouraged by Emperor Mingzong of Later Tang (926-933), who ordered the printing of the classics using new wooden blocks in Kaishu. Printing technologies here allowed a shape stabilization. The Kaishu shape of characters 1000 years ago was mostly similar to that at the end of Imperial China. But small changes have be made, for example in the shape of 广 which is not absolutely the same in the
Kangxi Dictionary
Kangxi dictionary
The Kangxi Dictionary was the standard Chinese dictionary during the 18th and 19th centuries. The Kangxi Emperor of the Manchu Qing Dynasty ordered its compilation in 1710. The creator innovated greatly by reusing and confirming the new Zihui system of 596 radicals, since then known as 596 Kangxi...
of 1716 as in modern books. The Kangxi and current shapes have tiny differences, while stroke order is still the same, according to old style.
Styles which did not survive include Bāfēnshū, a mix made of Xiaozhuan style at 80%, and Lishu at 20%.
Some
Variant Chinese character
Variant Chinese character
Variant Chinese characters are Chinese characters that are homophones and synonyms. Almost all variants are allographs in most circumstances, such as casual handwriting...
s were unorthodox or locally used for centuries. They were generally understood but always rejected in official texts. Some of these unorthodox variants, in addition to some newly created characters, compose the Simplified Chinese character set.
Cursive styles and hand-written styles
Cursive styles such as
Xíngshū
Semi-cursive script
Semi-cursive script is a cursive style of Chinese characters. Because it is not as abbreviated as cursive, most people who can read regular script can read semi-cursive....
(semi-cursive or running script) and
Cǎoshū
(cursive or grass script) are less constrained and faster, where more movements made by the writing implement are visible. These styles' stroke orders vary more, sometimes creating radically different forms. They are descended from Clerical script, in the same time as Regular script (
Han Dynasty
Han Dynasty
The Han Dynasty was the second imperial dynasty of China, preceded by the Qin Dynasty and succeeded by the Three Kingdoms . It was founded by the rebel leader Liu Bang, known posthumously as Emperor Gaozu of Han. It was briefly interrupted by the Xin Dynasty of the former regent Wang Mang...
), but Xíngshū and Cǎoshū were use for personal notes only, and were never used as standard. Caoshu style was highly appreciated in
Emperor Wu of Han
Emperor Wu of Han
Emperor Wu of Han , , personal name Liu Che , was the seventh emperor of the Han Dynasty of China, ruling from 141 BC to 87 BC. Emperor Wu is best remembered for the vast territorial expansion that occurred under his reign, as well as the strong and centralized Confucian state he organized...
reign (140-87).
Printed and computer styles
Examples of modern printed styles are Song from the
Song Dynasty
Song Dynasty
The Song Dynasty was a ruling dynasty in China between 960 and 1279; it succeeded the Five Dynasties and Ten Kingdoms Period, and was followed by the Yuan Dynasty. It was the first government in world history to issue banknotes or paper money, and the first Chinese government to establish a...
's printing press, and sans-serif. These are not considered traditional styles, and are normally not written.
Influences
Other calligraphies
Japanese and Korean people developed specific sensibilities and styles of calligraphies. By example,
Japanese calligraphy
Japanese calligraphy
is a form of calligraphy, or artistic writing, of the Japanese language. For a long time, the most esteemed calligrapher in Japan had been Wang Xizhi, a Chinese calligrapher in the 4th century but after the invention of Hiragana and Katakana, the Japanese unique syllabaries, the distinctive...
go out of the set of CJK strokes to also include local alphabets such as
hiragana
Hiragana
is a Japanese syllabary, one basic component of the Japanese writing system, along with katakana, kanji, and the Latin alphabet . Hiragana and katakana are both kana systems, in which each character represents one mora...
and
katakana
Katakana
is a Japanese syllabary, one component of the Japanese writing system along with hiragana, kanji, and in some cases the Latin alphabet . The word katakana means "fragmentary kana", as the katakana scripts are derived from components of more complex kanji. Each kana represents one mora...
, with specific problematics such as new curves and moves. In the case of
Korean calligraphy
Korean calligraphy
Korean calligraphy is a variant of Chinese calligraphy, formerly applied to Chinese characters to transcribe Korean speech. It later also applied to the Korean alphabet . Hangul introduces the circle stroke...
, the Hangeul and the existence of the circle required the creation of a new technique which usually confuses Chinese calligraphers.
The existence of temporary calligraphy is also to notice, which is a practice of water-only calligraphy on the floor which, indeed, dry out within minutes. This practice is especially appreciated by the new generation of retired Chinese in public parks of China.
Other arts
Calligraphy has influenced
ink and wash painting
Ink and wash painting
Ink and wash painting is an East Asian type of brush painting also known as ink wash painting. Only black ink — the same as used in East Asian calligraphy — is used, in various concentrations....
, which is accomplished using similar tools and techniques. Calligraphy has influenced most major art styles in
East Asia
East Asia
East Asia or Eastern Asia is a subregion of Asia that can be defined in either geographical or cultural terms...
, including
Ink and wash painting
Ink and wash painting
Ink and wash painting is an East Asian type of brush painting also known as ink wash painting. Only black ink — the same as used in East Asian calligraphy — is used, in various concentrations....
, a style of
Chinese
Chinese painting
Chinese painting is one of the oldest continuous artistic traditions in the world. The earliest paintings were not representational but ornamental; they consisted of patterns or designs rather than pictures. Early pottery was painted with spirals, zigzags, dots, or animals...
,
Korean
Korean painting
Korean painting includes paintings made in Korea or by overseas Koreans on all surfaces. It includes art as old as the petroglyphs through post-modern conceptual art using transient forms of light...
,
Japanese painting
Japanese painting
is one of the oldest and most highly refined of the Japanese visual arts, encompassing a wide variety of genres and styles. As with the history of Japanese arts in general, the long history of Japanese painting exhibits synthesis and competition between native Japanese aesthetics and adaptation of...
, and Vietnamese painting based entirely on calligraphy.
Indian calligraphy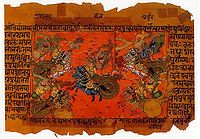 On the subject of Indian calligraphy, writes:

Aśoka's edicts (c. 265–238 BC) were committed to stone. These inscriptions are stiff and angular in form. Following the Aśoka style of Indic writing, two new calligraphic types appear: Kharoṣṭī and Brāhmī

Brāhmī script

Brāhmī is the modern name given to the oldest members of the Brahmic family of scripts. The best-known Brāhmī inscriptions are the rock-cut edicts of Ashoka in north-central India, dated to the 3rd century BCE. These are traditionally considered to be early known examples of Brāhmī writing...


. Kharoṣṭī was used in the northwestern regions of India from the 3rd century BC to the 4th century of the Christian Era, and it was used in Central Asia

Central Asia

Central Asia is a core region of the Asian continent from the Caspian Sea in the west, China in the east, Afghanistan in the south, and Russia in the north...


until the 8th century.


In many parts of ancient India, the inscriptions were carried out in smoke-treated palm leaves. This tradition dates back to over two thousand years. Even after the Indian languages were put on paper in the 13th century, palm leaves where considered a preferred medium of writing owing to its longevity (nearly 400 years) compared to paper. Both sides of the leaves were used for writing. Long rectangular strips were gathered on top of one another, holes were drilled through all the leaves, and the book was held together by string. Books of this manufacture were common to Southeast Asia

Southeast Asia

Southeast Asia, South-East Asia, South East Asia or Southeastern Asia is a subregion of Asia, consisting of the countries that are geographically south of China, east of India, west of New Guinea and north of Australia. The region lies on the intersection of geological plates, with heavy seismic...


. The palm leaf was an excellent surface for penwriting, making possible the delicate lettering used in many of the scripts of southern Asia.



Burnt clay and Copper

Copper

Copper is a chemical element with the symbol Cu and atomic number 29. It is a ductile metal with very high thermal and electrical conductivity. Pure copper is soft and malleable; an exposed surface has a reddish-orange tarnish...


were a favoured material for Indic inscriptions. In the north of India, birch bark was used as a writing surface as early as the 2nd century AD.

Nepalese calligraphy
Nepalese calligraphy has a huge impact on
Mahayana
Mahayana
Mahāyāna is one of the two main existing branches of Buddhism and a term for classification of Buddhist philosophies and practice...
and Vajrayana Buddhism.
Ranjana script
Ranjana script
The Rañjanā script is an abugida writing system which developed in the 11th century. It is primarily used for writing Nepal Bhasa but is also used in monasteries of India, Tibet, coastline China, Mongolia, and Japan. It is usually written from left to right but the Kutakshar form is written from...
is the primary form of this calligraphy. The script itself and its derivatives (like Lantsa, Phagpa, Kutila) are used in Nepal, Tibet, Bhutan, Leh, Mongolia, coastal China, Japan and Korea to write "Om mane pame om" and other sacred Buddhist texts, mainly those derived from
Sanskrit
Sanskrit
Sanskrit , is a historical Indo-Aryan language and the primary liturgical language of Hinduism, Jainism and Buddhism.Buddhism: besides Pali, see Buddhist Hybrid Sanskrit Today, it is listed as one of the 22 scheduled languages of India and is an official language of the state of Uttarakhand...
and
Pali
Páli
- External links :* *...
.
Tibetan calligraphy

Calligraphy is central in
Tibet
Tibet
Tibet is a plateau region in Asia, north-east of the Himalayas. It is the traditional homeland of the Tibetan people as well as some other ethnic groups such as Monpas, Qiang, and Lhobas, and is now also inhabited by considerable numbers of Han and Hui people...
an culture. The script is derived from Indic scripts. The nobles of Tibet, such as the High
Lama
Lama
Lama is a title for a Tibetan teacher of the Dharma. The name is similar to the Sanskrit term guru .Historically, the term was used for venerated spiritual masters or heads of monasteries...
s and inhabitants of the
Potala Palace
Potala Palace
The Potala Palace is located in Lhasa, Tibet Autonomous Region, China. It was named after Mount Potala, the abode of Chenresig or Avalokitesvara...
, were usually capable calligraphers.
Tibet
Tibet
Tibet is a plateau region in Asia, north-east of the Himalayas. It is the traditional homeland of the Tibetan people as well as some other ethnic groups such as Monpas, Qiang, and Lhobas, and is now also inhabited by considerable numbers of Han and Hui people...
has been a center of
Buddhism
Buddhism
Buddhism is a religion and philosophy encompassing a variety of traditions, beliefs and practices, largely based on teachings attributed to Siddhartha Gautama, commonly known as the Buddha . The Buddha lived and taught in the northeastern Indian subcontinent some time between the 6th and 4th...
for several centuries, and that religion places a great deal of significance on written word. This does not provide for a large body of secular pieces, although they do exist (but are usually related in some way to Tibetan Buddhism). Almost all high religious writing involved calligraphy, including letters sent by the
Dalai Lama
Dalai Lama
The Dalai Lama is a high lama in the Gelug or "Yellow Hat" branch of Tibetan Buddhism. The name is a combination of the Mongolian word далай meaning "Ocean" and the Tibetan word bla-ma meaning "teacher"...
and other religious and secular authority. Calligraphy is particularly evident on their prayer wheels, although this calligraphy was forged rather than scribed, much like Arab and Roman calligraphy is often found on buildings. Although originally done with a reed, Tibetan calligraphers now use chisel tipped pens and markers as well.
Islamic calligraphy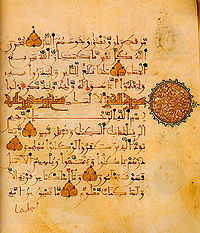 Islamic calligraphy (
calligraphy
in Arabic is
Khatt ul-Yad
خط اليد) has evolved alongside the
religion
Religion
Religion is a collection of cultural systems, belief systems, and worldviews that establishes symbols that relate humanity to spirituality and, sometimes, to moral values. Many religions have narratives, symbols, traditions and sacred histories that are intended to give meaning to life or to...
of
Islam
Islam
Islam . The most common are and . : Arabic pronunciation varies regionally. The first vowel ranges from ~~. The second vowel ranges from ~~~...
and the
Arabic language
Arabic language
Arabic is a name applied to the descendants of the Classical Arabic language of the 6th century AD, used most prominently in the Quran, the Islamic Holy Book...
. As it is based on Arabic letters, some call it "Arabic calligraphy". However the term "Islamic calligraphy" is a more appropriate term as it comprises all works of calligraphy by the Muslim calligraphers from Morocco to China.
Islamic calligraphy is associated with geometric Islamic art (
arabesque
Arabesque
The arabesque is a form of artistic decoration consisting of "surface decorations based on rhythmic linear patterns of scrolling and interlacing foliage, tendrils" or plain lines, often combined with other elements...
) on the walls and ceilings of
mosque
Mosque
A mosque is a place of worship for followers of Islam. The word is likely to have entered the English language through French , from Portuguese , from Spanish , and from Berber , ultimately originating in — . The Arabic word masjid literally means a place of prostration...
s as well as on the page. Contemporary artists in the Islamic world draw on the heritage of calligraphy to use calligraphic inscriptions or abstractions.
Instead of recalling something related to the spoken word, calligraphy for
Muslim
Muslim
A Muslim, also spelled Moslem, is an adherent of Islam, a monotheistic, Abrahamic religion based on the Quran, which Muslims consider the verbatim word of God as revealed to prophet Muhammad. "Muslim" is the Arabic term for "submitter" .Muslims believe that God is one and incomparable...
s is a visible expression of the highest art of all, the art of the
spiritual
Spirituality
Spirituality can refer to an ultimate or an alleged immaterial reality; an inner path enabling a person to discover the essence of his/her being; or the "deepest values and meanings by which people live." Spiritual practices, including meditation, prayer and contemplation, are intended to develop...
world. Calligraphy has arguably become the most venerated form of Islamic art because it provides a link between the languages of the Muslims with the religion of Islam. The holy book of Islam, al-
Qur'an
Qur'an
The Quran , also transliterated Qur'an, Koran, Alcoran, Qur'ān, Coran, Kuran, and al-Qur'ān, is the central religious text of Islam, which Muslims consider the verbatim word of God . It is regarded widely as the finest piece of literature in the Arabic language...
, has played an important role in the development and evolution of the Arabic language, and by extension, calligraphy in the Arabic alphabet.
Proverb
Proverb
A proverb is a simple and concrete saying popularly known and repeated, which expresses a truth, based on common sense or the practical experience of humanity. They are often metaphorical. A proverb that describes a basic rule of conduct may also be known as a maxim...
s and passages from the Qur'an are still sources for Islamic calligraphy.
It is generally accepted that Islamic calligraphy excelled during the Ottoman era. Turkish calligraphers still present the most refined and creative works. Istanbul is an open exhibition hall for all kinds and varieties of calligraphy, from inscriptions in mosques to fountains, schools, houses, etc.
Persian calligraphy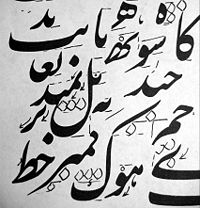 Persian calligraphy
is the calligraphy of Persian writing system. The history of calligraphy in Persia dates back to the pre-Islam era. In
Zoroastrianism
Zoroastrianism
Zoroastrianism is a religion and philosophy based on the teachings of prophet Zoroaster and was formerly among the world's largest religions. It was probably founded some time before the 6th century BCE in Greater Iran.In Zoroastrianism, the Creator Ahura Mazda is all good, and no evil...
beautiful and clear writings were always praised.
History and evolution
It is believed that ancient Persian script was invented by about 600-500 BC to provide monument inscriptions for the Achaemenid kings. These scripts consisted of horizontal, vertical, and diagonal nail-shape letters and that is the reason in
Persian
Persian language
Persian is an Iranian language within the Indo-Iranian branch of the Indo-European languages. It is primarily spoken in Iran, Afghanistan, Tajikistan and countries which historically came under Persian influence...
it is called
"Script of Nails/Cuneiform Script"
Cuneiform script
Cuneiform script )) is one of the earliest known forms of written expression. Emerging in Sumer around the 30th century BC, with predecessors reaching into the late 4th millennium , cuneiform writing began as a system of pictographs...
(Khat-e-Mikhi). Centuries later, other scripts such as "
Pahlavi
Pahlavi scripts
Pahlavi or Pahlevi denotes a particular and exclusively written form of various Middle Iranian languages. The essential characteristics of Pahlavi are*the use of a specific Aramaic-derived script, the Pahlavi script;...
" and "Avestan" scripts were used in ancient Persia.
After the Arab conquest in the 7th century, Persians adapted the Arabic alphabet to fit the Persian language and developed a contemporary Persian alphabet. The Arabic alphabet has 28 characters to which Iranians added another four letters for it to fit the sounds and letters of the Persian language that do not exist in Arabic.
Contemporary scripts
"Nasta'liq" is the most popular contemporary style among classical Persian calligraphy scripts and Persian calligraphers call it "Bride of the Calligraphy Scripts". This calligraphy style has been based on such a strong structure that it has changed very little since.
Mir Ali Tabrizi
Mir Ali Tabrizi
Mir Ali Tabrizi also known as Mir Ali Heravi is distinguished Persian. The precision of tradition still allows for creativity, and there is a telling story of a famous Persian calligrapher, Mir Ali Tabrizi Mir Ali Tabrizi also known as Mir Ali Heravi (b. in Herat Afghanistan and d. in Tabriz in...
had found the optimum composition of the letters and graphical rules so it has just been fine-tuned during the past seven centuries. It has very strict rules for graphical shape of the letters and for combination of the letters, words, and composition of the whole calligraphy piece.
Mayan Glyphs
Mayan calligraphy was expressed via Mayan hieroglyphs; modern Mayan calligraphy is mainly used on seals and monuments in the
Yucatán Peninsula
Yucatán Peninsula
The Yucatán Peninsula, in southeastern Mexico, separates the Caribbean Sea from the Gulf of Mexico, with the northern coastline on the Yucatán Channel...
in Mexico. Mayan hieroglyphs are rarely used in government offices, however in
Campeche
Campeche
Campeche is one of the 31 states which, with the Federal District, comprise the 32 Federal Entities of Mexico. Located in Southeast Mexico, it is bordered by the states of Yucatán to the north east, Quintana Roo to the east, and Tabasco to the south west...
,
Yucatán
Yucatán
Yucatán officially Estado Libre y Soberano de Yucatán is one of the 31 states which, with the Federal District, comprise the 32 Federal Entities of Mexico. It is divided in 106 municipalities and its capital city is Mérida....
and
Quintana Roo
Quintana Roo
Quintana Roo officially Estado Libre y Soberano de Quintana Roo is one of the 31 states which, with the Federal District, comprise the 32 Federal Entities of Mexico. It is divided in 10 municipalities and its capital city is Chetumal....
, Mayan calligraphy is written in Latin letters. Some commercial companies in Southern Mexico use Mayan hieroglyphs as symbols of their business. Some
community
Community
The term community has two distinct meanings:*a group of interacting people, possibly living in close proximity, and often refers to a group that shares some common values, and is attributed with social cohesion within a shared geographical location, generally in social units larger than a household...
associations and modern Mayan brotherhoods use Mayan hieroglyphs as symbols of their groups.
Most of the archaeological sites in Mexico such as
Chichen Itza
Chichen Itza
Chichen Itza is a large pre-Columbian archaeological site built by the Maya civilization located in the northern center of the Yucatán Peninsula, in the Municipality of Tinúm, Yucatán state, present-day Mexico....
, Labna,
Uxmal
Uxmal
Uxmal was dominant from 875 to 900 CE. The site appears to have been the capital of a regional state in the Puuc region from 850-950 CE. The Maya dynasty expanded their dominion over their neighbors. This prominence didn't last long...
,
Edzna
Edzna
Edzná is a Maya archaeological site in the north of the Mexican state of Campeche. The site is open to visitors.The most remarkable building at the plaza is the main temple. Built on a platform 40 meters high, it provides a wide overview of the surroundings. Another significant building located in...
,
Calakmul
Calakmul
Calakmul is a Maya archaeological site in the Mexican state of Campeche, deep in the jungles of the greater Petén Basin region. It is from the Guatemalan border. Calakmul was one of the largest and most powerful ancient cities ever uncovered in the Maya lowlands...
, etc. have glyphs in their structures. Stone carved monuments also known as
stele
Stele
A stele , also stela , is a stone or wooden slab, generally taller than it is wide, erected for funerals or commemorative purposes, most usually decorated with the names and titles of the deceased or living — inscribed, carved in relief , or painted onto the slab...
are a common source of ancient Mayan calligraphy.
Graffiti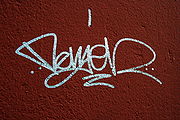 Although
graffiti
Graffiti
Graffiti is the name for images or lettering scratched, scrawled, painted or marked in any manner on property....
is often seen as destruction and vandalism to society, over the decades graffiti has emerged as passionate art, showing expression of style, culture, and identity. Graffiti has come to be regarded as another form of writing style. Both Calligraphy and Graffiti share similar attributes where different cultures and communities use varying tools and techniques to make their own distinct and unique visual lettering.
See also
People and groups
Ellesmere Chaucer
Marc Drogin

Marc Drogin

Marc Drogin is an American writer and illustrator.-Biography:Drogin began work as a technical secretary, first at New York University, and then at Columbia University in New York City. His first drawings appeared as line fillers in New York's The Village Voice in the 1950s...


- Author of : «Medieval Calligraphy: Its History and Technique», and «Calligraphy of the Middle Ages and How to Do It»Tools
Ink

Ink

Ink is a liquid or paste that contains pigments and/or dyes and is used to color a surface to produce an image, text, or design. Ink is used for drawing and/or writing with a pen, brush, or quill...



International Association of Master Penmen, Engrossers and Teachers of Handwriting

International Association of Master Penmen, Engrossers and Teachers of Handwriting

The International Association of Master Penmen, Engrossers and Teachers of Handwriting is an international association for practicing and preserving the arts of calligraphy, engrossing and penmanship...



Paper

Paper

Paper is a thin material mainly used for writing upon, printing upon, drawing or for packaging. It is produced by pressing together moist fibers, typically cellulose pulp derived from wood, rags or grasses, and drying them into flexible sheets....



Pen

Pen

A pen is a device used to apply ink to a surface, usually paper, for writing or drawing. Historically, reed pens, quill pens, and dip pens were used, with a nib of some sort to be dipped in the ink. Ruling pens allow precise adjustment of line width, and still find a few specialized uses, but...



Stylus

Stylus

A stylus is a writing utensil, or a small tool for some other form of marking or shaping, for example in pottery. The word is also used for a computer accessory . It usually refers to a narrow elongated staff, similar to a modern ballpoint pen. Many styli are heavily curved to be held more easily...



Others
External links
East-Asian calligraphy
Chinese
Japanese
Western Calligraphy
Islamic calligraphy
Islamic calligraphy
Modern Iranian calligraphy
Calligraphy of other scripts
Calligraphy museums
World calligraphy associations
International Competitions