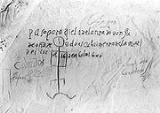 Graffiti
Graffiti
is the name for images or lettering scratched, scrawled, painted or marked in any manner on property.
Graffiti is any type of public markings that may appear in the forms of simple written words to elaborate wall paintings. Graffiti has existed since ancient times, with examples dating back to
Ancient Greece
Ancient Greece
Ancient Greece is a civilization belonging to a period of Greek history that lasted from the Archaic period of the 8th to 6th centuries BC to the end of antiquity. Immediately following this period was the beginning of the Early Middle Ages and the Byzantine era. Included in Ancient Greece is the...
and the
Roman Empire
Roman Empire
The Roman Empire was the post-Republican period of the ancient Roman civilization, characterised by an autocratic form of government and large territorial holdings in Europe and around the Mediterranean....
.
In modern times, paint, particularly
spray paint
Aerosol paint
Aerosol paint is a type of paint that comes in a sealed pressurized container and is released in a fine spray mist when depressing a valve button. A form of spray painting, aerosol paint leaves a smooth, evenly coated surface, unlike many rolled or brushed paints. Standard sized cans are portable,...
, and
marker pen
Marker pen
thumb|MarkerA marker pen, marking pen, felt-tip pen, flow or marker, is a pen which has its own ink-source, and usually a tip made of a porous, pressed fibres; such as felt or nylon.-Permanent marker:...
s have become the most commonly used graffiti materials.