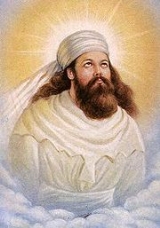 Zoroastrianism
Zoroastrianism
ˌ is a
religion
Religion
Religion is a collection of cultural systems, belief systems, and worldviews that establishes symbols that relate humanity to spirituality and, sometimes, to moral values. Many religions have narratives, symbols, traditions and sacred histories that are intended to give meaning to life or to...
and philosophy based on the teachings of prophet
Zoroaster
Zoroaster
Zoroaster , also known as Zarathustra , was a prophet and the founder of Zoroastrianism who was either born in North Western or Eastern Iran. He is credited with the authorship of the Yasna Haptanghaiti as well as the Gathas, hymns which are at the liturgical core of Zoroastrianism...
(also known as Zarathustra, in
Avestan
Avestan language
Avestan is an East Iranian language known only from its use as the language of Zoroastrian scripture, i.e. the Avesta, from which it derives its name...
) and was formerly among the world's largest religions. It was probably founded some time before the
6th century BCE
6th century BC
The 6th century BC started the first day of 600 BC and ended the last day of 501 BC.Pāṇini, in India, composed a grammar for Sanskrit, in this century or slightly later...
in
Greater Iran
Greater Iran
Greater Iran refers to the regions that have significant Iranian cultural influence. It roughly corresponds to the territory on the Iranian plateau and its bordering plains, stretching from Iraq, the Caucasus, and Turkey in the west to the Indus River in the east...
.
In Zoroastrianism, the
Creator
Creator deity
A creator deity is a deity responsible for the creation of the world . In monotheism, the single God is often also the creator deity, while polytheistic traditions may or may not have creator deities...
Ahura Mazda
Ahura Mazda
Ahura Mazdā is the Avestan name for a divinity of the Old Iranian religion who was proclaimed the uncreated God by Zoroaster, the founder of Zoroastrianism...
is all good, and no
evil
Evil
Evil is the violation of, or intent to violate, some moral code. Evil is usually seen as the dualistic opposite of good. Definitions of evil vary along with analysis of its root motive causes, however general actions commonly considered evil include: conscious and deliberate wrongdoing,...
originates from
Him
God
God is the English name given to a singular being in theistic and deistic religions who is either the sole deity in monotheism, or a single deity in polytheism....
. Thus, in Zoroastrianism good and evil have distinct sources, with evil (
druj
) trying to destroy the creation of Mazda (
asha
Asha
Asha is the Avestan language term for a concept of cardinal importance to Zoroastrian theology and doctrine. In the moral sphere, aša/arta represents what has been called "the decisive confessional concept of Zoroastrianism." ...
), and good trying to sustain it.