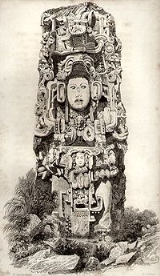 Stele
A
stele
also
stela
(plural
stelae
ˈ), is a stone or wooden slab, generally taller than it is wide, erected for funerals or
commemorative purposes
Memorial
A memorial is an object which serves as a focus for memory of something, usually a person or an event. Popular forms of memorials include landmark objects or art objects such as sculptures, statues or fountains, and even entire parks....
, most usually decorated with the names and titles of the deceased or living — inscribed, carved in relief (bas-relief, sunken-relief, high-relief, and so forth), or painted onto the slab. It can also be used as a territorial marker to delineate land ownership.
Stelae were also used as territorial markers, as the boundary stelae of Akhenaton at
Amarna
Amarna
Amarna is an extensive Egyptian archaeological site that represents the remains of the capital city newly–established and built by the Pharaoh Akhenaten of the late Eighteenth Dynasty , and abandoned shortly afterwards...
, or to commemorate military victories.