 Theatrical property
A
theatrical property
, commonly referred to as a
prop
, is an object used on stage by actors to further the plot or story line of a
theatrical production
Theatrical production
A theatrical production is any theatre stage play, musical, comedy or drama produced from a written book or script. These works are protected by common law or statuary copyright unless in the public domain....
. Smaller props are referred to as "hand props". Larger props may also be set decoration, such as a chair or table. The difference between a set decoration and a prop is use. If the item is not touched by a performer for any reason it is simply a set decoration. If it is touched by the actor in accordance to script requirements or as deemed by the director, it is a prop.
History
Small acting troupes formed during the renaissance, travelled throughout Europe. These "companies," functioning as cooperatives, pooled resources and divided any income. Many performers provided their own costumes, but special items: stage weapons, furniture or other hand-held devices were considered "company property," thus the term "property," which eventually was shortened to "prop." The first known props were stylized hand held masks, called Onkoi, used by performers in "Greek Theatre" and have become symbols of theatre today, known as the "
comedy and tragedy masks
Theatre of Ancient Greece
The theatre of Ancient Greece, or ancient Greek drama, is a theatrical culture that flourished in ancient Greece between c. 550 and c. 220 BC. The city-state of Athens, which became a significant cultural, political and military power during this period, was its centre, where it was...
".
On stage, backstage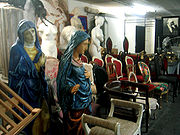 The term "theatrical property" originated to describe an object used in a stage play and similar entertainments to further the action. Technically, a prop is any object that gives the scenery, actors, or performance space specific period, place, or character. The term comes from live-performance practice, especially theatrical methods, but its modern use extends beyond the traditional plays and musical, circus, novelty, comedy, and even public-speaking performances, to film, television, and electronic media.
Props in a production originate from off stage unless they have been preset on the stage before the production begins. Props are stored on a prop table backstage near the actor's entrance during production then generally locked in a storage area between performances. The person in charge of handling the props is generally called the props "master/mistress" however, varying positions also include coordinators, production assistance and interns as may be needed for a specific project.
Modern usage
The term has readily transferred to
television
Television
Television is a telecommunication medium for transmitting and receiving moving images that can be monochrome or colored, with accompanying sound...
and motion picture production, where they are commonly referred to by the phrase
movie prop
or
film prop
. In recent years, the increasing popularity of
movie memorabilia
Movie memorabilia
Film memorabilia consist of objects considered of value because of their connection to the cinema. These include costumes, props, advertising posters, and scripts, among other things...
(a broader term that also includes costumes) has added new meaning to the term "prop," broadening its existence to include a valuable after-life as a prized collector's item. Typically not available until after a film's premiere, movie props appearing on-screen are christened "screen-used", and can fetch thousands of dollars in online auctions and charity benefits.
Many props are ordinary objects. However, a prop must "read well" from the house or on-screen, meaning it must look real to the audience. Many real objects are poorly adapted to the task of looking like themselves to an audience, due to their size, durability, or color under bright lights, so some props are specially designed to look more like the actual item than the real object would look. In some cases, a prop is designed to behave differently than the real object would, often for the sake of safety.
Examples of special props are:
A prop sack representing a burlap bag, might have another black fabric bag sewn, discreetly inside the burlap, giving it strength, hiding the contents and creating a visual void to the audience view.
A prop weapon (such as a stage gun or a stage sword) that reads well but lacks the intentional harmfulness of the corresponding real weapon. In the theater, prop weapons are almost always either non-operable replicas, or have safety features to ensure they are not dangerous. Guns fire caps or noisy blanks, swords are dulled, and knives are often made of plastic or rubber. In film production, fully functional weapons are mostly used, but typically only with special smoke blanks with blank adapted guns instead of real bullets. Real cartridges with bullets removed are still dangerously charged which has caused several tragic instances when used on stage or film. The safety and proper handling of real weapons used as movie props is the premiere responsibility of the prop master,. ATF and other law enforcement agencies may monitor the use of real guns for film and television but this is generally not necessary with stage props as these guns are permanently "plugged".
Breakaway objects, or stunt props, such as balsa

Balsa

Ochroma pyramidale, commonly known as the balsa tree , is a species of flowering plant in the mallow family, Malvaceae. It is a large, fast-growing tree that can grow up to tall. It is the source of balsa wood, a very lightweight material with many uses...


-wood furniture, or sugar glass

Sugar glass

Sugar glass is used to simulate glass in movies, photographs and plays. Although it is much less likely to cause injuries than real glass, it breaks convincingly, making it an excellent choice for stunts...


(mock-glassware made of crystallized sugar) whose breakage and debris look real but rarely cause injury due to their light weight and weak structure. Even for such seemingly safe props, very often a stunt double

Stunt double

A stunt double is a type of body double, specifically a skilled replacement used for dangerous film or video sequences, in movies and television , and for other sophisticated stunts...


will replace the main actor for shots involving use of breakaway props. Rubber bladed-weapons and guns are examples of props used by stuntmen

Stunt performer

A stuntman, or daredevil is someone who performs dangerous stunts, often as a career.These stunts are sometimes rigged so that they look dangerous while still having safety mechanisms, but often they are as dangerous as they appear to be...


to minimize injury, or by actors where the action requires a prop which minimizes injury.
Hero props are the more detailed pieces that a main character would carry in film and television. The term may sometimes be used in stage production as many props from film find their way into theatre from common rental and purchase shops.
Design, construct and acquire
Working in coordination with the set designer, costume designer, lighting and sometimes, sound designer, this overlapping position has only in recent years become of greater importance. Props have become more and more specialized due in large part to realism as well as the rise of
theatre in the round
Theatre in the round
Theatre-in-the-round or arena theatre is any theatre space in which the audience surrounds the stage area...
, where few sets are used and the simple prop becomes as important a design element as costumes and lighting.
Besides the obvious artistic creations made in the prop workshop, much of the work done by the property designer is research, phone searches, and general footwork in finding needed items.
Of all the positions within theatre and film, the property designer may well receive the least accolades. There are no awards for props and credit may sometimes not be listed.
Further reading
|first=
|title=The Stage Life of Props
|url=http://books.google.ca/books?id=tc9x7eS23vsC
|accessdate=2009-01-30
|edition=illust.
|year=2003
|publisher=
University of Michigan Press
University of Michigan Press
The University of Michigan Press is part of the University of Michigan Library and serves as a primary publishing unit of the University of Michigan, with special responsibility for the creation and promotion of scholarly, educational, and regional books and other materials in digital and print...
|isbn=0-472-06839-3
}}
External links