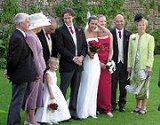 Wedding
A
wedding
is the
ceremony
Ceremony
A ceremony is an event of ritual significance, performed on a special occasion. The word may be of Etruscan origin.-Ceremonial occasions:A ceremony may mark a rite of passage in a human life, marking the significance of, for example:* birth...
in which two people are united in
marriage
Marriage
Marriage is a social union or legal contract between people that creates kinship. It is an institution in which interpersonal relationships, usually intimate and sexual, are acknowledged in a variety of ways, depending on the culture or subculture in which it is found...
or a similar institution. Wedding traditions and customs vary greatly between
culture
Culture
Culture is a term that has many different inter-related meanings. For example, in 1952, Alfred Kroeber and Clyde Kluckhohn compiled a list of 164 definitions of "culture" in Culture: A Critical Review of Concepts and Definitions...
s,
ethnic group
Ethnic group
An ethnic group is a group of people whose members identify with each other, through a common heritage, often consisting of a common language, a common culture and/or an ideology that stresses common ancestry or endogamy...
s,
religion
Religion
Religion is a collection of cultural systems, belief systems, and worldviews that establishes symbols that relate humanity to spirituality and, sometimes, to moral values. Many religions have narratives, symbols, traditions and sacred histories that are intended to give meaning to life or to...
s,
countries
Country
A country is a region legally identified as a distinct entity in political geography. A country may be an independent sovereign state or one that is occupied by another state, as a non-sovereign or formerly sovereign political division, or a geographic region associated with a previously...
, and
social class
Social class
Social classes are economic or cultural arrangements of groups in society. Class is an essential object of analysis for sociologists, political scientists, economists, anthropologists and social historians. In the social sciences, social class is often discussed in terms of 'social stratification'...
es. Most wedding ceremonies involve an exchange of
wedding vows
Marriage vows
Marriage vows are promises each partner in a couple makes to the other during a wedding ceremony. Marriage customs have developed over history and keep changing as human society develops.-Background:...
by the couple, presentation of a gift (offering, ring(s), symbolic item, flowers, money), and a public proclamation of marriage by an authority figure or leader. Special wedding garments are often worn, and the ceremony is sometimes followed by a
wedding reception
Wedding reception
A wedding reception is a party held after the completion of a marriage ceremony. It is held usually as hospitality for those who have attended the wedding, hence the name reception: the couple receives society, in the form of family and friends, for the first time as a married couple. Hosts...
.