 Timeline of astronauts by nationality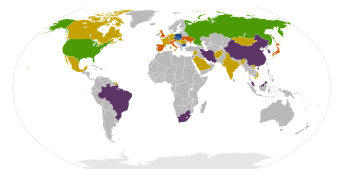 Since the first
human spaceflight
Human spaceflight
Human spaceflight is spaceflight with humans on the spacecraft. When a spacecraft is manned, it can be piloted directly, as opposed to machine or robotic space probes and remotely-controlled satellites....
by the
Soviet Union
Soviet Union
The Soviet Union , officially the Union of Soviet Socialist Republics , was a constitutionally socialist state that existed in Eurasia between 1922 and 1991....
, citizens of 38 countries have flown in space. For each nationality, the launch date of the first mission is listed. The list is based on the nationality of the person at the time of the spaceflight. Only 3 of the 38 "first flyers" have been women (Sharman in 1991, Ansari in 2006, Yi in 2008). Only three nations (Soviet Union, U.S., China) have launched their own manned spacecraft, with the Soviets/Russians and the American programs providing rides to other nations' astronauts. Twenty-four "first flights" occurred on Soviet or Russian flights while the United States carried thirteen.
Timeline
Note: All dates given are
UTC
Coordinated Universal Time
Coordinated Universal Time is the primary time standard by which the world regulates clocks and time. It is one of several closely related successors to Greenwich Mean Time. Computer servers, online services and other entities that rely on having a universally accepted time use UTC for that purpose...
. Countries indicated in
bold
have independent human spaceflight capability.
#
Country
Name
Flight
Date (UTC)
1960s
1
 Soviet Union
Yuri Gagarin

Yuri Gagarin

Yuri Alekseyevich Gagarin was a Soviet pilot and cosmonaut. He was the first human to journey into outer space, when his Vostok spacecraft completed an orbit of the Earth on April 12, 1961....



  Vostok 1

Vostok 1

Vostok 1 was the first spaceflight in the Vostok program and the first human spaceflight in history. The Vostok 3KA spacecraft was launched on April 12, 1961. The flight took Yuri Gagarin, a cosmonaut from the Soviet Union, into space. The flight marked the first time that a human entered outer...



12 April 1961
2
 United States
Alan Shepard

Alan Shepard

Alan Bartlett Shepard, Jr. was an American naval aviator, test pilot, flag officer, and NASA astronaut who in 1961 became the second person, and the first American, in space. This Mercury flight was designed to enter space, but not to achieve orbit...



  MR-3

Mercury-Redstone 3

Mercury-Redstone 3 was the first manned space mission of the United States. Astronaut Alan Shepard piloted a 15-minute Project Mercury suborbital flight in the Freedom 7 spacecraft on May 5, 1961 to become the first American in space, three weeks after the Soviet cosmonaut Yuri Gagarin had carried...



5 May 1961
1970s
3
 Czechoslovakia
Vladimír Remek

Vladimír Remek

Vladimír Remek is the first Czechoslovak in space and the first cosmonaut from a country other than the Soviet Union or the United States. As of 2004, with the entry of the Czech Republic into the European Union Vladimír Remek is considered to be the first astronaut from the EU...



  Soyuz 28

Soyuz 28

-Backup crew:-Mission parameters:*Mass: *Perigee: *Apogee: *Inclination: 51.65°*Period: 88.95 minutes-Mission highlights:...



2 March 1978
4
 Poland
Mirosław Hermaszewski
  Soyuz 30

Soyuz 30

Soyuz 30 was a 1978 manned Soviet space flight to the Salyut 6 space station. It was the sixth mission to and fifth successful docking at the orbiting facility...



27 June 1978
5
 German Democratic Republic
Sigmund Jähn

Sigmund Jähn

Sigmund Werner Paul Jähn is a German pilot who became the first German to fly in space as part of the Soviet Union's Interkosmos program.-Biography:Jähn was born in Morgenröthe-Rautenkranz, in the Vogtland district of Saxony, Germany...



  Soyuz 31

Soyuz 31

-Backup crew:-Mission parameters:*Mass: *Perigee: *Apogee: *Inclination: 51.64°*Period: 88.81 minutes-Mission highlights:Soyuz 31, the third Intercosmos flight, was launched 26 August 1978...



26 August 1978
6
 Bulgaria
Georgi Ivanov

Georgi Ivanov

Major general Georgi Ivanov Kakalov is a retired Bulgarian military officer and the first Bulgarian cosmonaut. He was a member of the National Assembly of Bulgaria in 1990.-Early life and military career:...



  Soyuz 33

Soyuz 33

-Backup crew:-Mission parameters:*Mass: *Perigee: *Apogee: *Inclination: 51.63°*Period: 88.99 minutes-Mission highlights:...



10 April 1979
1980s
7
 Hungary
Bertalan Farkas

Bertalan Farkas

Bertalan Farkas was the first Hungarian cosmonaut and the first Esperantist in space. He is currently the president of Airlines Service and Trade...



  Soyuz 36

Soyuz 36

-Backup crew:-Mission parameters:*Mass: *Perigee: *Apogee: *Inclination: 51.62°*Period: 89.0 minutes-Mission highlights:...



26 May 1980
8
 Vietnam
Phạm Tuân
  Soyuz 37

Soyuz 37

-Backup crew:-Mission parameters:*Mass: *Perigee: *Apogee: *Inclination: 51.61°*Period: 89.12 minutes-Mission highlights:...



23 July 1980
9
 Cuba
Arnaldo Tamayo Méndez

Arnaldo Tamayo Méndez

Arnaldo Tamayo Méndez was the first Cuban citizen and the first person from a country in the Western Hemisphere other than the United States to travel into earth orbit...



  Soyuz 38

Soyuz 38

-Backup crew:-Mission parameters:*Mass: 6800 kg*Perigee: 199.7 km*Apogee: 273.5 km*Inclination: 51.63°*Period: 88.194 minutes-Mission highlights:...



18 September 1980
10
 Mongolia
Jügderdemidiin Gürragchaa
  Soyuz 39

Soyuz 39

Soyuz 39 was a Soviet space flight.-Backup crew:-Mission parameters:*Mass: 6800 kg*Perigee: 197.5 km*Apogee: 282.8 km*Inclination: 51.6°*Period: 89.01 minutes-Mission highlights:...



22 March 1981
11
 Romania
Dumitru Prunariu

Dumitru Prunariu

Dumitru-Dorin Prunariu is a retired Romanian astronaut who flew aboard Soyuz 40.-Early life and career:Born on September 27, 1952 in Braşov, Romania, Prunariu graduated from the Physics and Mathematics high school in Braşov in 1971 and from the University POLITEHNICA of Bucharest in 1976,...



  Soyuz 40

Soyuz 40

-Backup crew:-Mission parameters:*Mass: 6800 kg*Perigee: 198.1 km*Apogee: 287 km*Inclination: 51.6°*Period: 89.06 minutes-Mission highlights:...



14 May 1981
12
 Early Modern France
Jean-Loup Chrétien

Jean-Loup Chrétien

Jean-Loup Jacques Marie Chrétien, is a French engineer, a retired Général de Brigade in the Armée de l'Air , and a former CNES astronaut. He flew on two Franco-Soviet space missions and a NASA Space Shuttle mission...



  Soyuz T-6

Soyuz T-6

-Backup crew:-Mission parameters:*Mass: 6850 kg*Perigee: 189 km*Apogee: 233 km*Inclination: 51.7°*Period: 88.7 minutes-Mission highlights:...



24 June 1982
13
 West Germany
Ulf Merbold

Ulf Merbold

Dr. Ulf Dietrich Merbold is the first West German citizen and second German native to have flown in space. He is also the first member of the European Space Agency Astronaut Corps to participate in a spaceflight mission. He holds the distinction of being the first non-US citizen to reach orbit in...



  STS-9

STS-9

STS-9 was a NASA Space Shuttle mission which carried the first Spacelab module into orbit to conduct space-based scientific experiments. It was the sixth mission of the Space Shuttle Columbia, and was Columbia's last flight until STS-61-C in January 1986...



28 November 1983
14
 India
Rakesh Sharma

Rakesh Sharma

Wing commander Rakesh Sharma, AC, is a former Indian Air Force test pilot, and Cosmonaut aboard Soyuz T-11 as part of an Intercosmos Research Team...



  Soyuz T-11

Soyuz T-11

-Backup crew:-Mission parameters:*Mass: 6850 kg*Perigee: 195 km*Apogee: 224 km*Inclination: 51.6°*Period: 88.7 minutes-Mission highlights:...



3 April 1984
15
 Canada
Marc Garneau

Marc Garneau

Joseph Jean-Pierre Marc Garneau, CC CD FCASI MP is a Canadian retired military officer, former astronaut, engineer and politician.Garneau was the first Canadian in space taking part in three flights aboard NASA Space shuttles...



  STS-41-G

STS-41-G

STS 41-G was the 13th flight of NASA's Space Shuttle program and the sixth flight of Space Shuttle Challenger. Challenger launched on 5 October 1984, and conducted the second shuttle landing at Kennedy Space Center on 13 October...



5 October 1984
16
 Saudi Arabia
Sultan al-Saud
  STS-51-G

STS-51-G

STS-51-G was the eighteenth flight of NASA's Space Shuttle program, and the fifth flight of Space Shuttle Discovery. The mission launched from Kennedy Space Center, Florida, on 17 June 1985...



17 June 1985
17
 Netherlands
Wubbo Ockels

Wubbo Ockels

Prof. Dr. Wubbo Johannes Ockels is a Dutch physicist and a former ESA astronaut. In 1985 he participated in a flight on a space shuttle , making him the first Dutch citizen in space. He was not the first Dutch-born astronaut, as he is preceded by the naturalized American Lodewijk van den Berg, who...



  STS-61-A

STS-61-A

STS-61-A was the 22nd mission of NASA's Space Shuttle program. It was a scientific Spacelab mission, funded and directed by West Germany – hence the non-NASA designation of D-1 . STS-61-A was the last successful mission of the Space Shuttle Challenger, which was destroyed during STS-51-L in 1986...



30 October 1985
18
 Mexico
Rodolfo Neri Vela

Rodolfo Neri Vela

Rodolfo Neri Vela is a Mexican scientist and astronaut who flow aboard a NASA Space Shuttle mission in 1985. He is the first and only Mexican, and then the second Latin-American, to have traveled to space.-Personal :...



  STS-61-B

STS-61-B

STS-61-B was NASA's 23rd Space Shuttle mission, and its second using Space Shuttle Atlantis. The shuttle was launched from Kennedy Space Center, Florida, on 26 November 1985. During STS-61-B, the shuttle crew deployed three communications satellites, and tested techniques of constructing...



26 November 1985
19
 Syria
Muhammed Faris

Muhammed Faris

Muhammed Ahmed Faris is a Syrian military aviator. He was the first Syrian and the second Arab in space.Born in Aleppo, Syria, he was a pilot in the Syrian Air Force with the rank of a colonel...



  Soyuz TM-3

Soyuz TM-3

-Mission parameters:*Mass: 7100 kg*Perigee: 297 km*Apogee: 353 km*Inclination: 51.6°*Period: 91.0 minutes...



22 July 1987
20
 Afghanistan
Abdul Ahad Mohmand

Abdul Ahad Mohmand

Abdul Ahad Momand is a former Afghan Air Force aviator who became the first Afghan in space when he spent nine days aboard the Mir space station in 1988 as a Intercosmos Research Cosmonaut...



  Soyuz TM-6

Soyuz TM-6

Dr. Valeri Polyakov remained behind on Mir with cosmonauts Musa Manarov and Vladimir Titov when Mohmand and Lyakhov returned to Earth in Soyuz TM-5....



29 August 1988
1990s
21
 Japan
Toyohiro Akiyama

Toyohiro Akiyama

is a Japanese TV journalist best known for his flight to the Mir space station aboard a Russian Soyuz spacecraft in 1990. Akiyama is the first person of Japanese descent to have flown in space. He was known as the "Space Journalist" in Japan....



  Soyuz TM-11

Soyuz TM-11

-Mission highlights:Soyuz TM-11 was launched the same day as STS-35.11th expedition to Mir. Toyohiro Akiyama was a reporter/space tourist for a Japanese television network....



2 December 1990
22
 United Kingdom
Helen Sharman

Helen Sharman

Helen Patricia Sharman, OBE PhD , is a British chemist. She was the first Briton in space, visiting the Mir space station aboard Soyuz TM-12 in 1991....



  Soyuz TM-12

Soyuz TM-12

-Mission highlights:12th expedition to Mir. Included first Briton in space.The Derbents welcomed aboard Mir Anatoli Artsebarski, Sergei Krikalev , and British cosmonaut-researcher Helen Sharman, who was aboard as part of Project Juno, a cooperative venture partly sponsored by British private...



18 May 1991
23
 Austria
Franz Viehböck

Franz Viehböck

Franz Artur Viehböck is an Austrian electrical engineer, and was Austria's first astronaut. He visited the Mir space station in 1991 aboard Soyuz TM-13, returning aboard Soyuz TM-12 after spending just over a week in space....



  Soyuz TM-13

Soyuz TM-13

-Mission highlights:13th expedition to Mir. Included astronaut from Austria and cosmonaut from soon to be independent Kazakhstan.Soyuz-TM 13 carried Austrian cosmonaut-researcher Franz Viehböck and still Soviet-Kazakh cosmonaut-researcher Toktar Aubakirov. The flight was unusual for carrying no...



2 October 1991
24
 Russia
Aleksandr Kaleri,
Aleksandr Viktorenko
  Soyuz TM-14

Soyuz TM-14

-Mission highlights:14th expedition to Mir. Included astronaut from Germany.The First Russian Soyuz mission after the collapse of the Soviet Union....



17 March 1992
25
 Belgium
Dirk Frimout

Dirk Frimout

Dirk Dries David Damiaan, Viscount Frimout is an astrophysicist for the European Space Agency. He flew aboard NASA Space Shuttle mision STS-45 as a payload specialist, making him the first Belgian in space....



  STS-45

STS-45

STS-45 was a 1992 spaceflight using Space Shuttle Atlantis.-Crew:-Mission parameters:*Mass:**Orbiter landing with payload: **Payload: *Perigee: *Apogee: *Inclination: 57.0°*Period: 90.3 min...



24 March 1992
26
 Italy
Franco Malerba

Franco Malerba

Franco Egidio Malerba is an Italian astronaut. He was the first citizen of Italy to travel to space....



  STS-46

STS-46

STS-46 was a NASA space shuttle mission using orbiter Atlantis and launched on 31 July 1992 at 9:56:48 am EDT.-Crew:-Mission parameters:*Mass:**Orbiter landing with payload: **Payload: *Perigee: *Apogee:...



31 July 1992
27
 Switzerland
Claude Nicollier

Claude Nicollier

Claude Nicollier is the first astronaut from Switzerland, and has flown on four Space Shuttle missions. His first spaceflight was in 1992, and his final spaceflight was in 1999. He took part in two servicing missions to the Hubble Space Telescope...



  STS-46

STS-46

STS-46 was a NASA space shuttle mission using orbiter Atlantis and launched on 31 July 1992 at 9:56:48 am EDT.-Crew:-Mission parameters:*Mass:**Orbiter landing with payload: **Payload: *Perigee: *Apogee:...



31 July 1992
28
 Ukraine
Leonid Kadenyuk
  STS-87

STS-87

STS-87 was a Space Shuttle mission launched from KSC pad 39-B on 19 November 1997. It was the 88th flight of the Space Shuttle, and the 24th flight of Columbia...



19 November 1997
29
 Spain
Pedro Duque

Pedro Duque

Pedro Duque Duque is a Spanish astronaut and a veteran of two space missions.Duque earned a degree in Aeronautical Engineering from the Universidad Politécnica de Madrid in 1986. He worked for GMV and for the European Space Agency for six years before being selected as an astronaut candidate in...



  STS-95

STS-95

STS-95 was a Space Shuttle Discovery mission launched from Kennedy Space Center, Florida on 29 October 1998. It was the 25th flight of Discovery and the 92nd mission flown since the start of the Space Shuttle program in April 1981. It was a highly publicized mission due to former Project Mercury...



29 October 1998
30
 Slovakia
Ivan Bella

Ivan Bella

Ivan Bella is a Slovak Air Force officer who became the first Slovak citizen to fly in space...



  Soyuz TM-29

Soyuz TM-29

Soyuz TM-29 was a Russian manned spacecraft launched from the Baikonur Cosmodrome aboard a Soyuz 11A511U rocket. It docked with Mir on February 22 at 05:36 GMT with Cosmonauts Viktor Afanasyev of Russia, Jean-Pierre Haigneré of France, and Ivan Bella of Slovakia aboard. Since two crew seats had...



20 February 1999
2000s
31
 South Africa
Mark Shuttleworth

Mark Shuttleworth

Mark Richard Shuttleworth is a South African entrepreneur who was the second self-funded space tourist. Shuttleworth founded Canonical Ltd. and as of 2010, provides leadership for the Ubuntu operating system...



  Soyuz TM-34

Soyuz TM-34

Soyuz TM-34 was the fourth Soyuz mission to the International Space Station . Soyuz TM-34 was launched by a Soyuz-U launch vehicle.-Crew:-Docking with ISS:*Docked to ISS: April 27, 2002, 07:55 UTC...



25 April 2002
32
 Israel
Ilan Ramon

Ilan Ramon

Ilan Ramon was a fighter pilot in the Israeli Air Force, and later the first Israeli astronaut....



  STS-107

STS-107

-Mission parameters:*Mass:**Orbiter Liftoff: **Orbiter Landing: **Payload: *Perigee: *Apogee: *Inclination: 39.0°*Period: 90.1 min- Insignia :...



16 January 2003
33
 Mainland China
Yang Liwei

Yang Liwei

Yáng Lìwěi is a Chinese major general and military pilot and a CNSA astronaut. He was the first man sent into space by the Chinese space program and his mission, Shenzhou 5, made China the third country to independently send people into space.-Background:...



  Shenzhou 5

Shenzhou 5

Shenzhou 5 — was the first human spaceflight mission of the People's Republic of China , launched on October 15, 2003. The Shenzhou spacecraft was launched on a Long March 2F launch vehicle. There had been four previous flights of unmanned Shenzhou missions since 1999...



15 October 2003
34
 Brazil
Marcos Pontes

Marcos Pontes

Marco Pontes is a Brazilian Air Force pilot. He became the first Brazilian and the first Lusophone to go into space when he launched to the International Space Station aboard Soyuz TMA-8 on March 30, 2006...



  Soyuz TMA-8

Soyuz TMA-8

-Back-up crew:-Docking with ISS:*Docked to ISS: April 1, 2006, 04:19 UTC *Undocked from ISS: September 28, 2006, 21:53 UTC -Mission highlights:29th manned flight to ISS...



30 March 2006
35
 Iran
Anousheh Ansari

Anousheh Ansari

Anousheh Ansari is an engineer and the Iranian-American co-founder and chairman of Prodea Systems. Her previous business accomplishments include serving as co-founder and CEO of Telecom Technologies, Inc. . The Ansari family is also the title sponsor of the Ansari X Prize. On September 18, 2006,...



  Soyuz TMA-9

Soyuz TMA-9

-Crew notes:Daisuke Enomoto Was originally scheduled to be the spaceflight participant, but on on 21 August 2006, he was determined to be unfit for the flight due to medical reasons, and replaced by Anousheh Ansari, his back-up crew member.-Docking with ISS:...



18 September 2006
36
 Sweden
Christer Fuglesang

Christer Fuglesang

Dr. Arne Christer Fuglesang is a Swedish physicist and an ESA astronaut. He was first launched aboard the STS-116 Space Shuttle mission on December 10, 2006, at 01:47 GMT, making him the first Swedish citizen in space....



  STS-116

STS-116

-Crew notes:Originally this mission was to carry the Expedition 8 crew to the ISS. The original crew was to be:-Mission highlights:* The STS-116 mission delivered and attached the International Space Station's third port truss segment, the P5 truss....



10 December 2006
37
 Malaysia
Sheikh Muszaphar Shukor

Sheikh Muszaphar Shukor

Sheikh Muszaphar Shukor is a Malaysian orthopaedic surgeon and was the first Malaysian to go into space. He was launched to the International Space Station aboard Soyuz TMA-11 with the Expedition 16 crew on October 10, 2007...



  Soyuz TMA-11

Soyuz TMA-11

Soyuz TMA-11 was a human spaceflight mission using a Soyuz-TMA spacecraft to transport personnel to and from the International Space Station . The mission began at 13:22 UTC on October 10, 2007 when the spacecraft was launched from the Baikonur Cosmodrome by a Soyuz FG launch vehicle...



10 October 2007
38
 South Korea
Yi So-yeon

Yi So-yeon

Yi So-yeon is a South Korean scientist and Ph.D. graduate of KAIST . On April 8, 2008, she became the first Korean and the second Asian woman to fly in space, after Chiaki Mukai.-Biography:Yi So-yeon was born to father Yi Gil-soo...



  Soyuz TMA-12

Soyuz TMA-12

Soyuz TMA-12 was a Soyuz mission to the International Space Station which was launched by a Soyuz FG rocket at 11:16 UTC on 8 April 2008. It docked to the Pirs module of the station on 10 April 2008. Landing occurred at 03:37 on 24 October...



8 April 2008
Other claims
The above list uses the nationality at the time of launch. Lists with differing criteria might include the following people:
External links