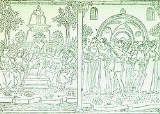 The Decameron
The Decameron, also called Prince Galehaut
is a
14th-century
14th century in literature
See also: 14th century in poetry, 13th century in literature, other events of the 14th century, 15th century in literature, list of years in literature.-Events:*c.1330 - Production of the Macclesfield Psalter.*1331 - Production of the Nuremberg Mahzor....
medieval allegory by
Giovanni Boccaccio
Giovanni Boccaccio
Giovanni Boccaccio was an Italian author and poet, a friend, student, and correspondent of Petrarch, an important Renaissance humanist and the author of a number of notable works including the Decameron, On Famous Women, and his poetry in the Italian vernacular...
, told as a
frame story
Frame story
A frame story is a literary technique that sometimes serves as a companion piece to a story within a story, whereby an introductory or main narrative is presented, at least in part, for the purpose of setting the stage either for a more emphasized second narrative or for a set of shorter stories...
encompassing 100
tale
Tale
Tale may refer to:*Cautionary tale, a traditional story told in folklore, to warn its hearer of a danger*Fairy tale, a fictional story that usually features folkloric characters and enchantments*Folk tale, a story passed-down within a particular population, which comprises the traditions of that...
s by ten young people.
Boccaccio probably began composing the work in 1350, and finished it in 1351 or 1353. The bawdy tales of love in
The Decameron
range from the erotic to the tragic. Tales of
wit
Wit
Wit is a form of intellectual humour, and a wit is someone skilled in making witty remarks. Forms of wit include the quip and repartee.-Forms of wit:...
,
practical joke
Practical joke
A practical joke is a mischievous trick played on someone, typically causing the victim to experience embarrassment, indignity, or discomfort. Practical jokes differ from confidence tricks in that the victim finds out, or is let in on the joke, rather than being fooled into handing over money or...
s, and life lessons contribute to the mosaic. In addition to its literary import, it documents life in
14th-century
14th century
As a means of recording the passage of time, the 14th century was the century which lasted from January 1, 1301 to December 31, 1400.-Events:* The transition from the Medieval Warm Period to the Little Ice Age....
Italy
Italy
Italy , officially the Italian Republic languages]] under the European Charter for Regional or Minority Languages. In each of these, Italy's official name is as follows:;;;;;;;;), is a unitary parliamentary republic in South-Central Europe. To the north it borders France, Switzerland, Austria and...
.
Title
The book's primary title exemplifies Boccaccio's fondness for Greek
philology
Philology
Philology is the study of language in written historical sources; it is a combination of literary studies, history and linguistics.Classical philology is the philology of Greek and Classical Latin...
:
Decameron
combines two Greek words,
déka
("ten") and (
hēméra
("day"), to form a term that means "ten-day event". Ten days is the time period in which the characters of the frame story tell their tales.
Boccaccio's alternative title,
Prencipe Galeotto
(Prince Galehaut), refers to
Galehaut
Galehaut
Galehaut , Sire des Lointaines Isles appears for the first time in Arthurian literature in the early-thirteenth-century prose Lancelot, the central work in the series of anonymous French prose romances collectively called the Lancelot-Grail or Arthurian Vulgate Cycle...
, a fictional king portrayed in the
Lancelot-Grail
Lancelot-Grail
The Lancelot–Grail, also known as the Prose Lancelot, the Vulgate Cycle, or the Pseudo-Map Cycle, is a major source of Arthurian legend written in French. It is a series of five prose volumes that tell the story of the quest for the Holy Grail and the romance of Lancelot and Guinevere...
who was sometimes called by the title
haut prince
("high prince"). Galehaut was a close friend of
Lancelot
Lancelot
Sir Lancelot du Lac is one of the Knights of the Round Table in the Arthurian legend. He is the most trusted of King Arthur's knights and plays a part in many of Arthur's victories...
and an enemy of
King Arthur
King Arthur
King Arthur is a legendary British leader of the late 5th and early 6th centuries, who, according to Medieval histories and romances, led the defence of Britain against Saxon invaders in the early 6th century. The details of Arthur's story are mainly composed of folklore and literary invention, and...
. When Galehaut learned that Lancelot loved Arthur's wife,
Guinevere
Guinevere
Guinevere was the legendary queen consort of King Arthur. In tales and folklore, she was said to have had a love affair with Arthur's chief knight Sir Lancelot...
, he set aside his own ardor for the queen in order to arrange a
tryst
Tryst
Tryst may refer to:*A meeting of two lovers, as in courtship*Tryst , a book by Elswyth Thane*Tryst , a play by Karoline Leach*A nightclub at the Wynn Las Vegas hotel...
between his younger friend Lancelot and Guinevere. At this meeting the Queen first kisses Lancelot, and so begins their love affair.
In Canto V of
Inferno
Inferno (Dante)
Inferno is the first part of Dante Alighieri's 14th-century epic poem Divine Comedy. It is followed by Purgatorio and Paradiso. It is an allegory telling of the journey of Dante through what is largely the medieval concept of Hell, guided by the Roman poet Virgil. In the poem, Hell is depicted as...
,
Dante
Dante Alighieri
Durante degli Alighieri, mononymously referred to as Dante , was an Italian poet, prose writer, literary theorist, moral philosopher, and political thinker. He is best known for the monumental epic poem La commedia, later named La divina commedia ...
compares these fictional lovers with the real-life paramours
Francesca da Rimini
Francesca da Rimini
Francesca da Rimini or Francesca da Polenta was the daughter of Guido da Polenta, lord of Ravenna. She was a historical contemporary of Dante Alighieri, who portrayed her as a character in the Divine Comedy.-Arranged marriage:...
and
Paolo Malatesta
Paolo Malatesta
Paolo Malatesta was the third son of Malatesta da Verucchio, lord of Rimini. He is best known for the story of his affair with Francesca da Polenta, portrayed by Dante in a famous episode of his Inferno...
, whose relationship he fictionalises. In
Inferno
, Francesca and Paolo read of Lancelot and Guinevere, and the story impassions them to lovemaking.
Dante's description of Galehaut's munificence and savoir-faire admidst this intrigue impressed Boccaccio. By invoking the name
Prencipe Galeotto
in the alternative title to
Decameron
, Boccaccio alludes to a sentiment he expresses in the text: his compassion for women deprived of free speech and social liberty, confined to their homes and, at times,
lovesick
Lovesickness
Lovesickness describes the informal syndrome of rejected or unrequited love and covers physical as well as mental symptoms. It is not to be confused with the condition of being lovestruck....
. He contrasts this life with that of the menfolk, who enjoy respite in sport, such as hunting, fishing, riding, and falconry.
Frame story
In Italy during the time of the
Black Death
Black Death
The Black Death was one of the most devastating pandemics in human history, peaking in Europe between 1348 and 1350. Of several competing theories, the dominant explanation for the Black Death is the plague theory, which attributes the outbreak to the bacterium Yersinia pestis. Thought to have...
, a group of seven young women and three young men flee from plague-ridden
Florence
Florence
Florence is the capital city of the Italian region of Tuscany and of the province of Florence. It is the most populous city in Tuscany, with approximately 370,000 inhabitants, expanding to over 1.5 million in the metropolitan area....
to a villa, where no one lives, in the countryside of
Fiesole
Fiesole
Fiesole is a town and comune of the province of Florence in the Italian region of Tuscany, on a famously scenic height above Florence, 8 km NE of that city...
for two weeks. To pass the evenings, every member of the party tells a story each night for ten days, except for one day per week for chores, and the holy days in which they do no work at all. Thus, by the end of the
fortnight
Fortnight
The fortnight is a unit of time equal to fourteen days, or two weeks. The word derives from the Old English fēowertyne niht, meaning "fourteen nights"....
they have told
100 stories
Summary of Decameron tales
This article contains summaries and commentaries of the 100 stories contained in Giovanni Boccaccio's The Decameron.Each story of the Decameron begins with a short heading explaining the plot of the story. The 1903 J. M. Rigg English translation headings are used in many of these summaries...
.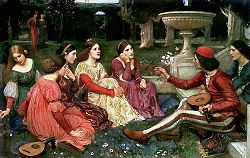 Each of the ten characters is charged as King or Queen of the company for one of the ten days in turn. This charge extends to choosing the theme of the stories for that day, and all but two days have topics assigned: examples of the power of fortune; examples of the power of human will; love tales that end tragically; love tales that end happily; clever replies that save the speaker; tricks that women play on men; tricks that people play on each other in general; examples of virtue. Only Dioneo, who usually tells the tenth tale each day, has the right to tell a tale on any topic he wishes, due to his wit.,. Many authors have argued that Dioneo expresses the views of Boccaccio himself. Each day also includes a short introduction and conclusion to continue the frame of the tales by describing other daily activities besides story-telling. These frame tale interludes frequently include transcriptions of Italian folk songs. The interactions among tales in a day, or across days, as Boccaccio spins
variations and reversals
Appropriation (art)
Appropriation is a fundamental aspect in the history of the arts . Appropriation can be understood as "the use of borrowed elements in the creation of a new work."...
of previous material, forms a whole and not just a collection of stories. The basic plots of the stories including mocking the lust and greed of the clergy; tensions in Italian society between the new wealthy commercial class and noble families; the perils and adventures of traveling merchants.
Analysis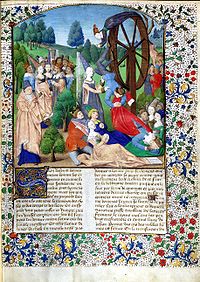 Throughout
Decameron
the mercantile ethic prevails and predominates. The commercial and urban values of quick wit, sophistication, and intelligence are treasured, while the vices of stupidity and dullness are cured, or punished. While these traits and values may seem obvious to the modern reader, they were an emerging feature in Europe with the rise of urban centers and a monetized economic system beyond the traditional rural feudal and monastery systems which placed greater value on piety and loyalty.
Beyond the unity provided by the frame narrative,
Decameron
provides a unity in philosophical outlook. Throughout runs the common medieval theme of Lady Fortune, and how quickly one can rise and fall through the external influences of the "
Wheel of Fortune
The Wheel of Fortune
The Wheel of Fortune, or Rota Fortunae, is a concept in medieval and ancient philosophy referring to the capricious nature of Fate. The wheel belongs to the goddess Fortuna, who spins it at random, changing the positions of those on the wheel - some suffer great misfortune, others gain windfalls...
". Boccaccio had been educated in the tradition of Dante's
Divine Comedy
which used various levels of
allegory
Allegory
Allegory is a demonstrative form of representation explaining meaning other than the words that are spoken. Allegory communicates its message by means of symbolic figures, actions or symbolic representation...
to show the connections between the literal events of the story and the Christian message. However,
Decameron
uses Dante's model not to educate the reader but to satirize this method of learning. The
Roman Catholic Church
Roman Catholic Church
The Catholic Church, also known as the Roman Catholic Church, is the world's largest Christian church, with over a billion members. Led by the Pope, it defines its mission as spreading the gospel of Jesus Christ, administering the sacraments and exercising charity...
, priests, and religious belief become the satirical source of comedy throughout. This was part of a wider historical trend in the aftermath of the Black Death which saw widespread discontent with the church.
Many details of the
Decameron
are infused with a medieval sense of
numerological
Numerology
Numerology is any study of the purported mystical relationship between a count or measurement and life. It has many systems and traditions and beliefs...
and mystical significance. For example, it is widely believed that the seven young women are meant to represent the Four Cardinal Virtues (Prudence, Justice, Temperance, and Fortitude) and the Three Theological Virtues (Faith, Hope, and Charity). It is further supposed that the three men represent the classical Greek tripartite division of the soul (Reason, Spirit, and Appetite, see Book IV of
Republic
Republic (Plato)
The Republic is a Socratic dialogue written by Plato around 380 BC concerning the definition of justice and the order and character of the just city-state and the just man...
). Boccaccio himself notes that the names he gives for these ten characters are in fact
pseudonym
Pseudonym
A pseudonym is a name that a person assumes for a particular purpose and that differs from his or her original orthonym...
s chosen as "appropriate to the qualities of each". The Italian names of the seven women, in the same (most likely significant) order as given in the text, are:
Pampinea, Fiammetta, Filomena, Emilia, Lauretta, Neifile
, and
Elissa
. The men, in order, are:
Panfilo, Filostrato
, and
Dioneo
.
Boccaccio focused on the naturalness of sex by combining and interlacing sexual experiences with nature. By weaving them the way he does, Boccaccio permanently places sex into the world of nature by making it seem normal.
Literary sources
Boccaccio, in turn, borrowed the plots of almost all of his stories. Although he only consulted French, Italian, and Latin sources, some of the tales have their ultimate origin in such far-off lands as India, Persia, Spain, and other places. Moreover, some were already centuries old. For example, part of the tale of Andreuccio of Perugia (II, 5) originated in second century Ephesus (in the
Ephesian Tale
Ephesian Tale
The Ephesian Tale of Anthia and Habrocomes by Xenophon of Ephesus is a novel written in the mid-2nd century CE.Translator Graham Anderson sees the Ephesiaca as "a specimen of penny dreadful literature in antiquity." Moses Hadas, an earlier translator, takes a slightly different view: "If An...
). The frame narrative structure (though not the characters or plot) originates from the
Panchatantra
Panchatantra
The Panchatantra is an ancient Indian inter-related collection of animal fables in verse and prose, in a frame story format. The original Sanskrit work, which some scholars believe was composed in the 3rd century BCE, is attributed to Vishnu Sharma...
, which was written in
Sanskrit
Sanskrit
Sanskrit , is a historical Indo-Aryan language and the primary liturgical language of Hinduism, Jainism and Buddhism.Buddhism: besides Pali, see Buddhist Hybrid Sanskrit Today, it is listed as one of the 22 scheduled languages of India and is an official language of the state of Uttarakhand...
before 500 AD and came to Boccaccio through a chain of translations that includes
Old Persian
Old Persian language
The Old Persian language is one of the two directly attested Old Iranian languages . Old Persian appears primarily in the inscriptions, clay tablets, and seals of the Achaemenid era...
,
Arabic
Arabic language
Arabic is a name applied to the descendants of the Classical Arabic language of the 6th century AD, used most prominently in the Quran, the Islamic Holy Book...
,
Hebrew
Hebrew language
Hebrew is a Semitic language of the Afroasiatic language family. Culturally, is it considered by Jews and other religious groups as the language of the Jewish people, though other Jewish languages had originated among diaspora Jews, and the Hebrew language is also used by non-Jewish groups, such...
, and
Latin
Latin
Latin is an Italic language originally spoken in Latium and Ancient Rome. It, along with most European languages, is a descendant of the ancient Proto-Indo-European language. Although it is considered a dead language, a number of scholars and members of the Christian clergy speak it fluently, and...
. Even the description of the central current event of the narrative, the
Black Plague
Black Death
The Black Death was one of the most devastating pandemics in human history, peaking in Europe between 1348 and 1350. Of several competing theories, the dominant explanation for the Black Death is the plague theory, which attributes the outbreak to the bacterium Yersinia pestis. Thought to have...
(which Boccaccio surely witnessed), is not original, but based on the
Historia gentis Langobardorum
of
Paul the Deacon
Paul the Deacon
Paul the Deacon , also known as Paulus Diaconus, Warnefred, Barnefridus and Cassinensis, , was a Benedictine monk and historian of the Lombards.-Life:...
, who lived in the eighth century.
Some scholars have suggested that some of the tales for which there is no prior source may still have not have been invented by Boccaccio, but may have been circulating in the local oral tradition and Boccaccio may have been simply the first person known to record them. Boccaccio himself says that he heard some of the tales orally. In VII, 1, for example, he claims to have heard the tale from an old woman who heard it as a child.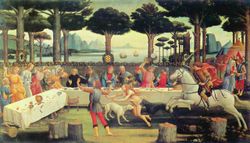 However, just because Boccaccio borrowed the storylines that make up most of the
Decameron
doesn't mean he mechanically reproduced them. Most of the stories take place in the 14th century and have been sufficiently updated for the author's time that a reader may not know that they had been written centuries earlier or in a foreign culture. Also, Boccaccio often combined two or more unrelated tales into one (such as in II, 2 and VII, 7).
Moreover, many of the characters actually existed, such as
Giotto di Bondone
Giotto di Bondone
Giotto di Bondone , better known simply as Giotto, was an Italian painter and architect from Florence in the late Middle Ages...
,
Guido Cavalcanti
Guido Cavalcanti
Guido Cavalcanti was a Florentine poet, as well as an intellectual influence on his best friend, Dante. His poems in their original Italian are available on Wikisource .-Historical background:...
,
Saladin
Saladin
Ṣalāḥ ad-Dīn Yūsuf ibn Ayyūb , better known in the Western world as Saladin, was an Arabized Kurdish Muslim, who became the first Sultan of Egypt and Syria, and founded the Ayyubid dynasty. He led Muslim and Arab opposition to the Franks and other European Crusaders in the Levant...
and King
William II of Sicily
William II of Sicily
William II , called the Good, was king of Sicily from 1166 to 1189. William's character is very indistinct. Lacking in military enterprise, secluded and pleasure-loving, he seldom emerged from his palace life at Palermo. Yet his reign is marked by an ambitious foreign policy and a vigorous diplomacy...
. Scholars have even been able to verify the existence of less famous characters, such as the tricksters Bruno and
Buffalmacco
Buonamico Buffalmacco
Buonamico di [son of] Martino or Buonamico Buffalmacco was an Italian painter who worked in Florence, Bologna and Pisa...
and their victim
Calandrino
Calandrino
Calandrino is a beloved character from Giovanni Boccaccio's the Decameron, in which he appears as a character in four stories. In these tales he is the victim of the pranks of Bruno and Buffalmacco....
. Still other fictional characters are based on real people, such as the Madonna Fiordaliso from tale II, 5, who is derived from a Madonna Flora who lived in the red light district of Naples. Boccaccio often intentionally muddled historical (II, 3) and geographical (V, 2) facts for his narrative purposes. Within the tales of the Decameron, the principal characters are usually developed through their dialogue and actions, so that by the end of the story they seem real and their actions logical given their context.
Another of Boccaccio's frequent techniques was to make already existing tales more complex. A clear example of this is in tale IX, 6, which was also used by Chaucer in his "
The Reeve's Tale
The Reeve's Tale
"The Reeve's Tale" is the third story told in Geoffrey Chaucer's The Canterbury Tales. The reeve, named Oswald in the text, is the manager of a large estate who reaped incredible profits for his master and himself. He is described in the Tales as skinny and bad-tempered. The Reeve had once been...
", but more closely follows the original French source than does Boccaccio's version. In the Italian version, the host's wife (in addition to the two young male visitors) occupy all three beds and she also creates an explanation of the happenings of the evening. Both elements are Boccaccio's invention and make for a more complex version than either Chaucer's version or the French source (a
fabliau
Fabliau
A fabliau is a comic, often anonymous tale written by jongleurs in northeast France between ca. 1150 and 1400. They are generally characterized by an excessiveness of sexual and scatological obscenity. Several of them were reworked by Giovanni Boccaccio for the Decamerone and by Geoffrey Chaucer...
by Jean de Boves).
Literary influence
The compelling way in which the tales were written and their almost exclusively Renaissance flair made the stories from the Decameron an irresistible source that many later writers borrowed from. Notable examples include:
The famous first tale (I, 1) of the notorious Ser Ciappelletto was later translated into Latin by Olimpia Fulvia Morata

Olympia Fulvia Morata

Olimpia Fulvia Morata was an Italian classical scholar. She was born in Ferrara.Her father, who had been tutor to the young princes of the ducal house of Este, was on intimate terms with the most learned men of Italy, and the daughter grew up in an atmosphere of classical learning...


and translated again by Voltaire

Voltaire

François-Marie Arouet , better known by the pen name Voltaire , was a French Enlightenment writer, historian and philosopher famous for his wit and for his advocacy of civil liberties, including freedom of religion, free trade and separation of church and state...


.
Martin Luther

Martin Luther

Martin Luther was a German priest, professor of theology and iconic figure of the Protestant Reformation. He strongly disputed the claim that freedom from God's punishment for sin could be purchased with money. He confronted indulgence salesman Johann Tetzel with his Ninety-Five Theses in 1517...


retells tale I, 2, in which a Jew converts to Catholicism after visiting Rome

Rome

Rome is the capital of Italy and the country's largest and most populated city and comune, with over 2.7 million residents in . The city is located in the central-western portion of the Italian Peninsula, on the Tiber River within the Lazio region of Italy.Rome's history spans two and a half...


and seeing the corruption of the Catholic hierarchy. However, in Luther's version (found in his "Table-talk #1899"), Luther and Philipp Melanchthon

Philipp Melanchthon

Philipp Melanchthon , born Philipp Schwartzerdt, was a German reformer, collaborator with Martin Luther, the first systematic theologian of the Protestant Reformation, intellectual leader of the Lutheran Reformation, and an influential designer of educational systems...


try to dissuade the Jew from visiting Rome.
Marguerite de Navarre

Marguerite de Navarre

Marguerite de Navarre , also known as Marguerite of Angoulême and Margaret of Navarre, was the queen consort of Henry II of Navarre...


, Heptaméron

Heptameron

The Heptameron is a collection of 72 short stories written in French by Marguerite of Navarre, published in 1558. It has the form of a frame narrative and was inspired by The Decameron of Giovanni Boccaccio...


.
The ring parable is at the heart of both Gotthold Ephraim Lessing

Gotthold Ephraim Lessing

Gotthold Ephraim Lessing was a German writer, philosopher, dramatist, publicist, and art critic, and one of the most outstanding representatives of the Enlightenment era. His plays and theoretical writings substantially influenced the development of German literature...


's 1779 play Nathan the Wise and tale I, 3. In a letter to his brother on August 11, 1778, he says explicitly that he got the story from the Decameron. Jonathan Swift

Jonathan Swift

Jonathan Swift was an Irish satirist, essayist, political pamphleteer , poet and cleric who became Dean of St...


also used the same story for his first major published work, A Tale of a Tub

A Tale of a Tub

A Tale of a Tub was the first major work written by Jonathan Swift, composed between 1694 and 1697 and published in 1704. It is arguably his most difficult satire, and perhaps his most masterly...


.
Posthumus's wager on Imogen's chastity in Cymbeline was taken by Shakespeare from an English translation of a fifteenth century German tale, "Frederyke of Jennen", whose basic plot came from tale II, 9.
Both Molière

Molière

Jean-Baptiste Poquelin, known by his stage name Molière, was a French playwright and actor who is considered to be one of the greatest masters of comedy in Western literature...


and Lope de Vega

Lope de Vega

Félix Arturo Lope de Vega y Carpio was a Spanish playwright and poet. He was one of the key figures in the Spanish Golden Century Baroque literature...


use tale III, 3 to create plays in their respective vernaculars. Molière wrote L'école des maris in 1661 and Lope de Vega wrote Discreta enamorada.
Tale III, 9, which Shakespeare converted into All's Well That Ends Well

All's Well That Ends Well

All's Well That Ends Well is a play by William Shakespeare. It is believed to have been written between 1604 and 1605, and was originally published in the First Folio in 1623....


. Shakespeare probably first read a French translation of the tale in William Painter

William Painter

William Painter was an English author and translator.William Painter was a native of Kent. He matriculated at St John's College, Cambridge, in 1554. In 1561 he became clerk of the ordnance in the Tower of London, a position in which he appears to have amassed a fortune out of the public funds...


's Palace of Pleasure.
Tale IV, 1 was reabsorbed into folklore to appear as Child ballad 269, Lady Diamond

Lady Diamond

-Synopsis:A great king had a daughter , who fell in love with his kitchen boy. She became pregnant. Her father demands to know the father, and she tells him. He has the kitchen boy secretly murdered, but then, in most variants, brings his heart to his daughter. She dies...


.
John Keats

John Keats

John Keats was an English Romantic poet. Along with Lord Byron and Percy Bysshe Shelley, he was one of the key figures in the second generation of the Romantic movement, despite the fact that his work had been in publication for only four years before his death.Although his poems were not...


borrowed the tale of Lisabetta and her pot of basil (IV, 5) for his poem, Isabella, or the Pot of Basil

Isabella, or the Pot of Basil

Isabella, or the Pot of Basil is a narrative poem by John Keats adapted from a story in Boccaccio's Decameron . It tells the tale of a young woman whose family intend to marry her to "some high noble and his olive trees", but who falls for Lorenzo, one of her brothers' employees. When the brothers...


.
Lope de Vega

Lope de Vega

Félix Arturo Lope de Vega y Carpio was a Spanish playwright and poet. He was one of the key figures in the Spanish Golden Century Baroque literature...


also used parts of V, 4 for his play No son todos ruiseñores (They're Not All Nightingales).
Christoph Martin Wieland

Christoph Martin Wieland

Christoph Martin Wieland was a German poet and writer.- Biography :He was born at Oberholzheim , which then belonged to the Free Imperial City of Biberach an der Riss in the south-east of the modern-day state of Baden-Württemberg...


's set of six novellas Das Hexameron von Rosenhain is based on the structure of the Decameron.
The title character in George Eliot

George Eliot

Mary Anne Evans , better known by her pen name George Eliot, was an English novelist, journalist and translator, and one of the leading writers of the Victorian era...


's historical novel Romola

Romola

Romola is a historical novel by George Eliot set in the fifteenth century, and is "a deep study of life in the city of Florence from an intellectual, artistic, religious, and social point of view". It first appeared in fourteen parts published in Cornhill Magazine from July 1862 to August 1863...


emulates Gostanza in tale V, 2, by buying a small boat and drifting out to sea to die, after she realizes that she no longer has anyone on whom she can depend.
Tale V, 9 became the source for works by two famous nineteenth century writers in the English language. Henry Wadsworth Longfellow

Henry Wadsworth Longfellow

Henry Wadsworth Longfellow was an American poet and educator whose works include "Paul Revere's Ride", The Song of Hiawatha, and Evangeline...


used it in his "The Falcon of Ser Federigo" as part of Tales of a Wayside Inn in 1863. Alfred, Lord Tennyson

Alfred Tennyson, 1st Baron Tennyson

Alfred Tennyson, 1st Baron Tennyson, FRS was Poet Laureate of the United Kingdom during much of Queen Victoria's reign and remains one of the most popular poets in the English language....


used it in 1879 for a play entitled The Falcon.
Molière also borrowed from tale VII, 4 in his George Dandin, ou le Mari Confondu (The Confounded Husband). In both stories the husband is convinced that he has accidentally caused his wife's suicide.
Giuseppe Petrosinelli in his libretto for Domenico Cimarosa

Domenico Cimarosa

Domenico Cimarosa was an Italian opera composer of the Neapolitan school...


's opera The Italian Girl in London

The Italian Girl in London

The Italian Girl in London is one of eight comic operas, termed intermezzi, which Domenico Cimarosa wrote between 1777 and 1784 for the Teatro Valle, a handsome neo-classical Roman theatre built in 1726, which still stands today....


uses the story of the heliotrope (bloodstone) in tale VIII, 3.
The motif of the three trunks in The Merchant of Venice

The Merchant of Venice

The Merchant of Venice is a tragic comedy by William Shakespeare, believed to have been written between 1596 and 1598. Though classified as a comedy in the First Folio and sharing certain aspects with Shakespeare's other romantic comedies, the play is perhaps most remembered for its dramatic...


by Shakespeare is found in tale X, 1. However, both Shakespeare and Boccaccio probably came upon the tale in Gesta Romanorum

Gesta Romanorum

Gesta Romanorum, a Latin collection of anecdotes and tales, was probably compiled about the end of the 13th century or the beginning of the 14th...


.
At his death Percy Bysshe Shelley

Percy Bysshe Shelley

Percy Bysshe Shelley was one of the major English Romantic poets and is critically regarded as among the finest lyric poets in the English language. Shelley was famous for his association with John Keats and Lord Byron...


had left a fragment of a poem entitled "Ginevra", which he took from the first volume of an Italian book called L'Osservatore Fiorentino. The earlier Italian text had a plot taken from tale X, 4.
Tale X, 5 shares its plot with Chaucer's "The Franklin's Tale", although this is not due to a direct borrowing from Boccaccio. Rather, both authors used a common French source.
The tale of patient Griselda (X, 10) was the source of Chaucer's "The Clerk's Tale." However, there are some scholars that believe Chaucer may not have been directly familiar with the Decameron, and instead derived it from a Latin translation/retelling of that tale by Petrarch

Petrarch

Francesco Petrarca , known in English as Petrarch, was an Italian scholar, poet and one of the earliest humanists. Petrarch is often called the "Father of Humanism"...


.
Christine de Pizan

Christine de Pizan

Christine de Pizan was a Venetian-born late medieval author who challenged misogyny and stereotypes prevalent in the male-dominated medieval culture. As a poet, she was well known and highly regarded in her own day; she completed 41 works during her 30 year career , and can be regarded as...


often restructures tales from Decameron in her work "The Book of the City of Ladies

The Book of the City of Ladies

thumb|400px|right|Picture from The Book of the City of LadiesThe Book of the City of Ladies , or Le Livre de la Cité des Dames, is perhaps Christine de Pizan's most famous literary work, and it is her second work of lengthy prose. Pizan uses the vernacular French language to compose the book, but...


"
Tzvetan Todorov

Tzvetan Todorov

Tzvetan Todorov is a Franco-Bulgarian philosopher. He has lived in France since 1963 with his wife Nancy Huston and their two children, writing books and essays about literary theory, thought history and culture theory....


used the Decameron as the basis for The Grammar of the Decameron (1969), an exploration of the general structure of all narrative.
In the '60s, Hugh Hefner

Hugh Hefner

Hugh Marston "Hef" Hefner is an American magazine publisher, founder and Chief Creative Officer of Playboy Enterprises.-Early life:...


tried to adapt the bawdier stories from the Decameron into full-fledged pornography.
The Charles Bukowski

Charles Bukowski

Henry Charles Bukowski was an American poet, novelist and short story writer. His writing was influenced by the social, cultural and economic ambience of his home city of Los Angeles...


novel Women (1978) was inspired by The Decameron.
Paul Calandrino's play The Nincompoop (2007) casts Calandrino in a new tale in which the simpleton is inspired to paint the ceiling of his local church while Bruno and Buffalmacco plot new ways to humiliate him.
Steven James's mystery thriller novel The Knight (2009) depicts a serial killer who bases his murders off tales told in day four of The Decameron.
Film adaptations
A number of film adaptations have been based on tales from
The Decameron
.
Pier Paolo Pasolini
Pier Paolo Pasolini
Pier Paolo Pasolini was an Italian film director, poet, writer, and intellectual. Pasolini distinguished himself as a poet, journalist, philosopher, linguist, novelist, playwright, filmmaker, newspaper and magazine columnist, actor, painter and political figure...
's
Decameron
(1971) is one of the most famous.
Decameron Nights
Decameron Nights
Decameron Nights is a 1953 anthology film based on three tales from The Decameron by Giovanni Boccaccio, specifically the ninth and tenth tales of the second day and the ninth tale of the third...
(1953) was based on three of the tales and starred
Louis Jourdan
as Boccaccio.
Dino De Laurentiis
Dino De Laurentiis
Agostino "Dino" De Laurentiis was an Italian film producer.-Early life:He was born at Torre Annunziata in the province of Naples, and grew up selling spaghetti produced by his father...
produced a
romantic comedy film
Romantic comedy film
Romantic comedy films are films with light-hearted, humorous plotlines, centered on romantic ideals such as that true love is able to surmount most obstacles. One dictionary definition is "a funny movie, play, or television program about a love story that ends happily"...
version,
Virgin Territory
Virgin Territory
Virgin Territory is a 2007 romantic comedy film based upon Giovanni Boccaccio's Decameron. It has also been known under the working titles The Decameron, Angels and Virgins, Guilty Pleasures and Chasing Temptation. The film's Italian title Decameron Pie pays tribute to both the title of the...
, in 2007.
Boccaccio's drawings
Since
The Decameron
was very popular among contemporaries, especially merchants, many manuscripts of it survive. The Italian philologist Vittore Branca did a comprehensive survey of them and identified a few copied under Boccaccio's supervision; some have notes written in Boccaccio's hand. Two in particular have elaborate drawings, probably done by Boccaccio himself. Since these manuscripts were widely circulated, Branca thought that they influenced all subsequent illustrations.
See also
Cent Nouvelles nouvelles

Cent Nouvelles nouvelles

The Cent Nouvelles Nouvelles is a collection of stories supposed to be narrated by various persons at the court of Philippe le Bon, and collected together by Antoine de la Sale in the mid-15th century....



One Thousand and One Nights
External links
Decameron Web, from Brown University

Brown University

Brown University is a private, Ivy League university located in Providence, Rhode Island, United States. Founded in 1764 prior to American independence from the British Empire as the College in the English Colony of Rhode Island and Providence Plantations early in the reign of King George III ,...



The Decameron - Introduction, from the Internet Medieval Sourcebook
'The Enchanted Garden', a painting by John William Waterhouse

John William Waterhouse

John William Waterhouse was an English painter known for working in the Pre-Raphaelite style. He worked several decades after the breakup of the Pre-Raphaelite Brotherhood, which had seen its heydey in the mid-nineteenth century, leading him to have gained the moniker of "the modern Pre-Raphaelite"...


(Rigg translation) (Rigg translation) (Payne translation)
Decameron English and Italian text for a direct comparison
from Decameron – Federigo degli Alberighi (9th novel) on audio mp3 – free download (in Italian & English)