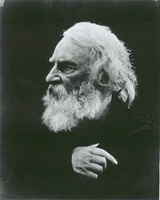 Henry Wadsworth Longfellow
Henry Wadsworth Longfellow
(February 27, 1807 – March 24, 1882) was an American poet and educator whose works include "
Paul Revere's Ride
Paul Revere's Ride (poem)
"Paul Revere's Ride" is a poem by an American poet Henry Wadsworth Longfellow that commemorates the actions of American patriot Paul Revere on April 18, 1775.-Overview:...
",
The Song of Hiawatha
The Song of Hiawatha
The Song of Hiawatha is an 1855 epic poem, in trochaic tetrameter, by Henry Wadsworth Longfellow, featuring an Indian hero and loosely based on legends and ethnography of the Ojibwe and other Native American peoples contained in Algic Researches and additional writings of Henry Rowe Schoolcraft...
, and
Evangeline
Evangeline
Evangeline, A Tale of Acadie, is an epic poem published in 1847 by the American poet Henry Wadsworth Longfellow. The poem follows an Acadian girl named Evangeline and her search for her lost love Gabriel, set during the time of the Expulsion of the Acadians.The idea for the poem came from...
. He was also the first American to translate
Dante Alighieri's
Dante Alighieri
Durante degli Alighieri, mononymously referred to as Dante , was an Italian poet, prose writer, literary theorist, moral philosopher, and political thinker. He is best known for the monumental epic poem La commedia, later named La divina commedia ...
The Divine Comedy
The Divine Comedy
The Divine Comedy is an epic poem written by Dante Alighieri between 1308 and his death in 1321. It is widely considered the preeminent work of Italian literature, and is seen as one of the greatest works of world literature...
and was one of the five
Fireside Poets
Fireside Poets
The Fireside Poets were a group of 19th-century American poets from New England.-Overview:...
.
Longfellow was born in
Portland, Maine
Portland, Maine
Portland is the largest city in Maine and is the county seat of Cumberland County. The 2010 city population was 66,194, growing 3 percent since the census of 2000...
, then part of Massachusetts, and studied at
Bowdoin College
Bowdoin College
Bowdoin College , founded in 1794, is an elite private liberal arts college located in the coastal Maine town of Brunswick, Maine. As of 2011, U.S. News and World Report ranks Bowdoin 6th among liberal arts colleges in the United States. At times, it was ranked as high as 4th in the country. It is...
. After spending time in Europe he became a professor at Bowdoin and, later, at
Harvard College
Harvard College
Harvard College, in Cambridge, Massachusetts, is one of two schools within Harvard University granting undergraduate degrees...
. His first major poetry collections were
Voices of the Night
(1839) and
Ballads and Other Poems
(1841).
I heard the trailing garments of the NightSweep through her marble halls!I saw her sable skirts all fringed with lightFrom the celestial walls!

wikisource:Hymn to the Night|Hymn to the Night, st. 1 (1839)
There is a Reaper, whose name is Death,And, with his sickle keen,He reaps the bearded grain at a breath,And the flowers that grow between.

wikisource:The Reaper and the Flowers|The Reaper and the Flowers, st. 1 (1839)
Thus, seamed with many scarsBursting these prison bars,Up to its native starsMy soul ascended!There from the flowing bowlDeep drinks the warrior's soul,Skoal! to the Northland! skoal!—Thus the tale ended.

wikisource:The Skeleton in Armor|The Skeleton in Armor, st. 20 (1841)
No one is so accursed by fate,No one so utterly desolate,But some heart, though unknown,Responds unto his own.

wikisource:Endymion|Endymion, st. 8 (1842)
I like that ancient Saxon phrase, which callsThe burial-ground God's-Acre! It is just;It consecrates each grave within its walls,And breathes a benison o'er the sleeping dust.

wikisource:God's-Acre|God's-Acre, st. 1 (1842)
The shades of night were falling fast,As through an Alpine village passedA youth, who bore, 'mid snow and ice,A banner with the strange device,Excelsior!

wikisource:Excelsior|Excelsior, st. 1 (1842)