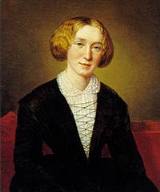 George Eliot
Mary Anne Evans (22 November 1819 – 22 December 1880), better known by her pen name George Eliot, was an English novelist, journalist and translator, and one of the leading writers of the
Victorian era
Victorian era
The Victorian era of British history was the period of Queen Victoria's reign from 20 June 1837 until her death on 22 January 1901. It was a long period of peace, prosperity, refined sensibilities and national self-confidence...
. She is the author of seven novels, including
Adam Bede
Adam Bede
Adam Bede, the first novel written by George Eliot , was published in 1859. It was published pseudonymously, even though Evans was a well-published and highly respected scholar of her time...
(1859),
The Mill on the Floss
The Mill on the Floss
The Mill on the Floss is a novel by George Eliot , first published in three volumes in 1860 by William Blackwood. The first American edition was by Thomas Y...
(1860),
Silas Marner
Silas Marner
Silas Marner: The Weaver of Raveloe is a dramatic novel by George Eliot. Her third novel, it was first published in 1861. An outwardly simple tale of a reclusive weaver, in its strong realism it represents one of Eliot's most sophisticated treatments of her attitude to religion.-Plot summary:The...
(1861),
Middlemarch
Middlemarch
Middlemarch: A Study of Provincial Life is a novel by George Eliot, the pen name of Mary Anne Evans, later Marian Evans. It is her seventh novel, begun in 1869 and then put aside during the final illness of Thornton Lewes, the son of her companion George Henry Lewes...
(1871–72), and
Daniel Deronda
Daniel Deronda
Daniel Deronda is a novel by George Eliot, first published in 1876. It was the last novel she completed and the only one set in the contemporary Victorian society of her day...
(1876), most of them set in provincial England and well known for their
realism
Realism (arts)
Realism in the visual arts and literature refers to the general attempt to depict subjects "in accordance with secular, empirical rules", as they are considered to exist in third person objective reality, without embellishment or interpretation...
and psychological insight.
She used a male pen name, she said, to ensure her works be taken seriously.
My own experience and development deepen everyday my conviction that our moral progress may be measured by the degree in which we sympathize with individual suffering and individual joy.

Letter to Charles Bray (15 November 1857)
If art does not enlarge men's sympathies, it does nothing morally.

Letter to Charles Bray (5 July 1859)
An election is coming. Universal peace is declared, and the foxes have a sincere interest in prolonging the lives of the poultry.

Felix Holt, the Radical (1866)
'Tis God gives skill,But not without men's hands: He could not makeAntonio Stradivari's violinsWithout Antonio.

Stradivarius (c. 1868)
I like not only to be loved, but also to be told that I am loved. I am not sure that you are of the same kind. But the realm of silence is large enough beyond the grave. This is the world of light and speech, and I shall take leave to tell you that you are very dear.

Letter to Georgiana Burne-Jones, wife of the artist Edward Burne-Jones|Edward Burne-Jones (1875)