 Domenico Cimarosa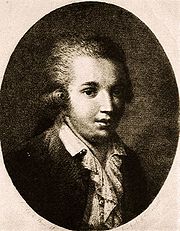 Domenico Cimarosa
was an
Italian
Music of Italy
The music of Italy ranges across a broad spectrum of opera and instrumental classical music and a body of popular music drawn from both native and imported sources. Music has traditionally been one of the cultural markers of Italian national and ethnic identity and holds an important position in...
opera
Opera
Opera is an art form in which singers and musicians perform a dramatic work combining text and musical score, usually in a theatrical setting. Opera incorporates many of the elements of spoken theatre, such as acting, scenery, and costumes and sometimes includes dance...
composer
Composer
A composer is a person who creates music, either by musical notation or oral tradition, for interpretation and performance, or through direct manipulation of sonic material through electronic media...
of the Neapolitan school. He wrote more than eighty operas during his lifetime, including his masterpiece,
Il matrimonio segreto
Il matrimonio segreto
Il matrimonio segreto is an opera in two acts, music by Domenico Cimarosa, on a libretto by Giovanni Bertati, based on the play The Clandestine Marriage by George Colman the Elder and David Garrick...
(1792).
Early life and education
Cimarosa was born in
Aversa
Aversa
Aversa is a town and comune in the Province of Caserta in Campania southern Italy, about 15 kilometres north of Naples. It is the centre of an agricultural district, the agro aversano, producing wine and cheese...
in
Campania
Campania
Campania is a region in southern Italy. The region has a population of around 5.8 million people, making it the second-most-populous region of Italy; its total area of 13,590 km² makes it the most densely populated region in the country...
.
His parents were poor, but, anxious to give their son a good education, they sent him to a free school connected with one of the monasteries in Naples after moving to that city. The organist of the monastery, Padre Polcano, was struck by the boy's intellect, and voluntarily instructed him in the elements of music and also in the ancient and modern literature of his country. Because of his influence, Cimarosa obtained a scholarship at the musical institute of
Santa Maria di Loreto
Music Conservatories of Naples
The Music Conservatory of Naples is a music institution in Naples, southern Italy. It is currently located in the complex of San Pietro a Majella.-San Pietro a Majella:...
in Naples, where he remained for eleven years, chiefly studying with great masters of the old Italian school;
Niccoló Piccinni
Niccolò Piccinni
Niccolò Piccinni was an Italian composer of symphonies, sacred music, chamber music, and opera. Although he is somewhat obscure, even to music lovers today, Piccinni was one of the most popular composers of opera—particularly the Neapolitan opera buffa—of his day...
, Antonio Maria Gaspare Sacchini, and other musicians of repute are mentioned among his teachers.
Early career
At the age of twenty-three, Cimarosa began his career as a composer with an
opera buffa
Opera buffa
Opera buffa is a genre of opera. It was first used as an informal description of Italian comic operas variously classified by their authors as 'commedia in musica', 'commedia per musica', 'dramma bernesco', 'dramma comico', 'divertimento giocoso' etc...
called Le stravaganze del conte, first performed at the Teatro del Fiorentini at
Naples
Naples
Naples is a city in Southern Italy, situated on the country's west coast by the Gulf of Naples. Lying between two notable volcanic regions, Mount Vesuvius and the Phlegraean Fields, it is the capital of the region of Campania and of the province of Naples...
in 1772. The work met with approval, and was followed in the same year by Le pazzie di Stelladaura e di Zoroastro, a
farce
Farce
In theatre, a farce is a comedy which aims at entertaining the audience by means of unlikely, extravagant, and improbable situations, disguise and mistaken identity, verbal humour of varying degrees of sophistication, which may include word play, and a fast-paced plot whose speed usually increases,...
full of humour and eccentricity. This work was also successful, and the fame of the young composer began to spread all over Italy. In 1774, he was invited to
Rome
Rome
Rome is the capital of Italy and the country's largest and most populated city and comune, with over 2.7 million residents in . The city is located in the central-western portion of the Italian Peninsula, on the Tiber River within the Lazio region of Italy.Rome's history spans two and a half...
to write an opera for the stagione of that year; and there he produced another comic opera called
L'italiana in Londra
The Italian Girl in London
The Italian Girl in London is one of eight comic operas, termed intermezzi, which Domenico Cimarosa wrote between 1777 and 1784 for the Teatro Valle, a handsome neo-classical Roman theatre built in 1726, which still stands today....
.
Midlife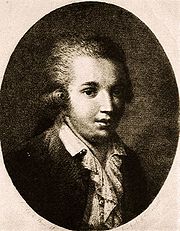 Over the next thirteen years, Cimarosa wrote a number of operas for the various theatres of Italy, living temporarily in Rome, in Naples, or wherever else his vocation as conductor of his works happened to take him. From 1784 to 1787, he lived in
Florence
Florence
Florence is the capital city of the Italian region of Tuscany and of the province of Florence. It is the most populous city in Tuscany, with approximately 370,000 inhabitants, expanding to over 1.5 million in the metropolitan area....
, writing exclusively for the theatre of that city. The productions of this period of his life are very numerous, consisting of operas (both comic and serious),
cantata
Cantata
A cantata is a vocal composition with an instrumental accompaniment, typically in several movements, often involving a choir....
s, and various sacred compositions. The following works may be mentioned, among many others: Cajo Mario; the three Biblical operas, Assalone, La giuditta, and Il sacrificio d'Abramo; Il convito di pietra; and La ballerina amante, a
comic opera
Comic opera
Comic opera denotes a sung dramatic work of a light or comic nature, usually with a happy ending.Forms of comic opera first developed in late 17th-century Italy. By the 1730s, a new operatic genre, opera buffa, emerged as an alternative to opera seria...
first performed at
Venice
Venice
Venice is a city in northern Italy which is renowned for the beauty of its setting, its architecture and its artworks. It is the capital of the Veneto region...
with enormous success.
In 1787, Cimarosa went to St. Petersburg by invitation of Empress Catherine II. He remained at her court for four years and wrote an enormous number of compositions, mostly of the nature of pièces d'occasion; of most of these, not even the names are on record. One important exception was a
Requiem
Requiem
A Requiem or Requiem Mass, also known as Mass for the dead or Mass of the dead , is a Mass celebrated for the repose of the soul or souls of one or more deceased persons, using a particular form of the Roman Missal...
, entitled Messa da Requiem in G Minor. The piece, composed in 1787, was commissioned to mark the death of the wife of the French ambassador in St. Petersburg. In 1792, Cimarosa left St. Petersburg and went to
Vienna
Vienna
Vienna is the capital and largest city of the Republic of Austria and one of the nine states of Austria. Vienna is Austria's primary city, with a population of about 1.723 million , and is by far the largest city in Austria, as well as its cultural, economic, and political centre...
at the invitation of Emperor
Leopold II
Leopold II, Holy Roman Emperor
Leopold II , born Peter Leopold Joseph Anton Joachim Pius Gotthard, was Holy Roman Emperor and King of Hungary and Bohemia from 1790 to 1792, Archduke of Austria and Grand Duke of Tuscany from 1765 to 1790. He was a son of Emperor Francis I and his wife, Empress Maria Theresa...
. Here, he produced his masterpiece,
Il matrimonio segreto
Il matrimonio segreto
Il matrimonio segreto is an opera in two acts, music by Domenico Cimarosa, on a libretto by Giovanni Bertati, based on the play The Clandestine Marriage by George Colman the Elder and David Garrick...
, which ranks among the highest achievements of light operatic music. In 1793, Cimarosa returned to Naples, where Il matrimonio segreto and other works were received with great acclaim. Among the works belonging to his last stay in Naples that may be mentioned is the charming opera, Le astuzie femminili.
This period of his life is said to have been embittered by the intrigues of envious and hostile persons, among whom figured his old rival,
Giovanni Paisiello
Giovanni Paisiello
Giovanni Paisiello was an Italian composer of the Classical era.-Life:Paisiello was born at Taranto and educated by the Jesuits there. He became known for his beautiful singing voice and in 1754 was sent to the Conservatorio di S. Onofrio at Naples, where he studied under Francesco Durante, and...
. During the occupation of Naples by the troops of the French Republic, Cimarosa joined the liberal party, and on the return of the Bourbons, was, like many of his political friends, condemned to death. By the intercession of influential admirers, his sentence was commuted to banishment, and he left Naples with the intention of returning to St. Petersburg—but his health was broken, and after much suffering, he died in Venice on 11 January 1801 of inflammation of the
intestine
Intestine
In human anatomy, the intestine is the segment of the alimentary canal extending from the pyloric sphincter of the stomach to the anus and, in humans and other mammals, consists of two segments, the small intestine and the large intestine...
s. The nature of his disease led to the rumor of his having been poisoned by his enemies; however, a formal
inquest
Inquest
Inquests in England and Wales are held into sudden and unexplained deaths and also into the circumstances of discovery of a certain class of valuable artefacts known as "treasure trove"...
proved this to be unfounded. He worked till the last moment of his life, and one of his operas, Artemizia, remained unfinished at his death. The place of his death is marked by a memorial in Campo San Angelo near the calle de Caffetier.
Main works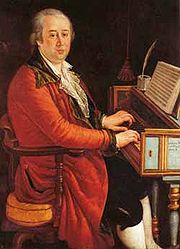 Le stravaganze del conte (carnival 1772 Naples Teatro San Giovanni dei Fiorentini) [Le magie di Merlina e Zoroastro; Le pazzie di Stelladaura e Zoroastro]
La finta parigina

La finta parigina

La finta parigina is an opera buffa by Domenico Cimarosa with a mostly Italian libretto by Francesco Cerlone. The opera premiered at the Teatro Nuovo in Naples, Italy in 1773.-Historical background and analysis:...


(carnival 1773 Naples Teatro Nuovo)
I sdegni per amore (1.1776 Naples Teatro Nuovo)
I matrimoni in ballo (carnival 1776 Naples Teatro Nuovo)
La frascatana nobile (winter 1776 Naples Teatro Nuovo) [La finta frascatana]
I tre amanti (carnival 1777 Rome Teatro Della alla Valle

Teatro Valle

The Teatro Valle is a theatre and former opera house in Rome, Italy.Commissioned by the Capranica family, the architect Tommaso Morelli designed the theatre which was built in 1726. It was inaugurated with the staging of the tragedy Matilde by Simon Falconio Pratoli...


) [Le gare degl'amanti]
Il fanatico per gli antiche Romani (spring 1777 Naples Teatro San Giovanni dei Fiorentini)
L'Armida immaginaria

L'Armida immaginaria

L'Armida immaginaria is a dramma giocoso in three acts by composer Domenico Cimarosa with an Italian libretto by Giuseppe Palomba. The opera was first performed in Naples, Italy during the summer of 1777 at the Teatro di Fiorentini.-Roles:...


(summer 1777 Naples Teatro (San Giovanni) dei Fiorentini)
Gli amanti comici, o sia La famiglia in scompiglio (1778? ?Naples Teatro (San Giovanni) dei Fiorentini; carnival 1796 Crema) [Il matrimonio in commedia; La famiglia stravagante, ovvero Gli amanti comici]
Il ritorno di Don Calandrino (carnival 1778 Rome Teatro Della alla Valle) [Armidoro e Laurina]
Le stravaganze d'amore (1778 Naples Teatro San Giovanni dei Fiorentini)
Il matrimonio per industria (1778? Naples?) [?]
La contessina (summer 1778 Bologna) [?] [+ G. Astaritta, F.L. Gassmann]
Il matrimonio per raggiro (1778/9? Rome?; carnival 1802 Rome Teatro Della alla Valle) [La donna bizzarra]
L'italiana in Londra

The Italian Girl in London

The Italian Girl in London is one of eight comic operas, termed intermezzi, which Domenico Cimarosa wrote between 1777 and 1784 for the Teatro Valle, a handsome neo-classical Roman theatre built in 1726, which still stands today....


(carnival 1779 Rome Teatro Della alla Valle) [La virtù premiata]
L'infedeltà fedele (summer 1779 Naples, Teatro del Fondo

Teatro del Fondo

The Teatro del Fondo is a theatre in Naples, now known as the Teatro Mercadante. Together with the Teatro San Carlo, it was originally one of the two royal opera houses of the 18th and 19th-century city....


)
Le donne rivali

Le donne rivali

Le donne rivali is an intermezzo in two acts by composer Domenico Cimarosa with an Italian libretto by a now unknown poet. It is speculated that Giuseppe Petrosellini may have been the author of the libretto. The opera premiered at the Teatro Valle in Rome, Italy during Carnival in 1780...


(carnival 1780 Rome Teatro Della alla Valle) [et al.]
Cajo Mario (carnival 1780 Teatro delle Dame)
I finti nobili (carnival 1780 Naples Teatro San Giovanni dei Fiorentini)
Il falegname (1780 Naples F) [L'artista]
L'avviso ai maritati (1780? ?Naples Teatro San Giovann) dei Fiorentini) [?]
Il capriccio drammatico (1781? Turin?; 1794 London)
Il pittor parigino (carnival 1781 Rome Teatro Della alla Valle) [Le brame deluse]
Alessandro nell'Indie (carnival 1781 Rome A)
L'amante combattuto dalle donne di Punto (1781 Naples Teatro San Giovanni dei Fiorentini) [La biondolina; La giardiniera fortunata]
Giunio Bruto (aut.1781 Verona)
Giannina e Bernardone

Giannina e Bernardone

Giannina e Bernardone is a dramma giocoso in two acts by composer Domenico Cimarosa with an Italian libretto by Filippo Livigni. The opera premiered in the autumn of 1781 at the Teatro San Samuele in Venice, Italy...


(aut.1781 Venice SS) [Il villano geloso]
Il convito (carnival 1782 Venice SS) [Der Schmaus]
L'amor costante (carnival 1782 Rome Teatro Della alla Valle) [Giulietta ed Armidoro]
L'eroe cinese (13.8.1782 Naples SC)
La ballerina amante (1782 Naples Teatro San Giovanni dei Fiorentini) [L'amante ridicolo]
La Circe (carnival 1783 Milan S)
I due baroni di Rocca Azzurra (carnival 1783 Rome Teatro Della alla Valle) [Dve nevesty; I due baroni; La sposa in contrasto; Il barone deluso]
La villana riconosciuta (1783 Naples Teatro del Fondo) [La villanella rapita]
Oreste (13.8.1783 Naples SC)
Chi dell'altrui si veste presto si spoglia (1783 Naples F) [Nina e Martuffo]
Il vecchio burlato (1783 Venice) [?]
I matrimoni impensati (carnival 1784 Rome Teatro Della alla Valle) [La bella greca]
L'apparenza inganna, o sia La villeggiatura (spring 1784 Naples F)
La vanità delusa (spring 1784 Florence P) [Il mercato di Malmantile]
L'Olimpiade (10.7.1784 Vicenza)
I due supposti conti, ossia Lo sposo senza moglie (aut.1784 Milan S) [Lo sposo ridicolo]
Artaserse (26.12.1784 Turin TR)
Il barone burlato (1784 Naples Teatro Nuovo) [rev. Il pittor parigino] [+ F. Cipolla]
Li finti conti (spring 1785 Turin, Gallo-Ughetti) [?]
I fratelli papamosche (spring 1785 Turin, Gallo-Ughetti) [?]
Le statue parlante (1785 Correggio) [?]
Il marito disperato (1785 Naples F) [Il marito geloso; Die bestrafte Eifersucht]
La donna sempre al suo peggior s'appiglia (1785 Naples Teatro Nuovo)
Il credulo (carnival 1786 Naples Teatro Nuovo) [La baronessa stramba; Il credulo deluso]
Le trame deluse (1786 Naples Teatro Nuovo) [L'amor contrastato; Li raggiri scoperti]
L'impresario in angustie

L'impresario in angustie

L'impresario in angustie is an operatic farsa in one act by composer Domenico Cimarosa with an Italian libretto by Giuseppe Maria Diodati. The opera premiered at the Teatro Nuovo in Naples, Italy in 1786.-Roles:-Discography:...


(1786 Naples Teatro Nuovo) [Die theatralischen Abenteuer]
La baronessa stramba (1786 Naples Teatro Nuovo) [rev. I matrimoni in ballo] [Il credulo]
Gli amanti alla prova (1786 Naples) [?]
L'impostore punito (1786/7 Turin C) [?]
Volodimiro (carnival 1787 Turin TR)
Il fanatico burlato (1787 Naples Teatro del Fondo) [La burla felice; Der adelsüchtige Bürger]
Messa da Requiem in G minor (1787 St Petersburg E)
La felicità inaspettata (3.1788 St Petersburg E)
La vergine del sole (1788? ?St Petersburg E; 6.11.1789 St Petersburg BK)
La scuffiara (1788) [?]
La Cleopatra

La Cleopatra

La Cleopatra is an opera seria in two acts by composer Domenico Cimarosa with an Italian libretto by F. Moretti.-Historical background and musical analysis:...


(27.9.1789 St Petersburg E) [Cleopatra e Marc'Antonio]
Il matrimonio segreto

Il matrimonio segreto

Il matrimonio segreto is an opera in two acts, music by Domenico Cimarosa, on a libretto by Giovanni Bertati, based on the play The Clandestine Marriage by George Colman the Elder and David Garrick...


(7.2.1792 Vienna B), score
Sophie et Dorval [rev. Il matrimonio segreto]
Il matrimonio per susurro [?]
La calamità dei cuori (1792/3 Vienna B) [?]
Contrattempi (1793 Bonn) [?]
Amor rende sagace (1.4.1793 Vienna B)
I traci amanti (19.6.1793 Naples Teatro Nuovo) [Il padre alla moda, ossia Lo Sbarco di Mustanzir Bassà; Gli turchi amanti; Les amants Turcs]
Il maestro di cappella

Il maestro di cappella

Il maestro di cappella is an operatic intermezzo in one act by Domenico Cimarosa. The first known performance of the work was on July 2, 1793 in Berlin, Germany...


(2.7.1793 Berlin, Germany)
Le astuzie femminili

Le astuzie femminili

Le astuzie femminili is an dramma giocoso in four acts by composer Domenico Cimarosa with an Italian libretto by Giuseppe Palomba. The opera buffa first premiered at the Teatro dei Fiorentini in Naples, Italy on August 26, 1794...


(26.8.1794 Naples Teatro (San Giovanni) dei Fiorentini)
La pupilla astuta (1794 Naples Teatro del Fondo) [?]
La serva innamorata (1794 Naples F) [?]
Penelope (carnival 1795 Naples Teatro del Fondo)
Le nozze in garbuglio (1795 Messina)
L'impegno superato (1795 Naples Teatro del Fondo)
La finta ammalata (1796 Lisbon)
I nemici generosi (carnival 1796 Rome Teatro Della alla Valle) [Il duello per complimento]
Gli Orazi e i Curiazi

Gli Orazi e i Curiazi

Gli Orazi e i Curiazi is an opera in three acts composed by Domenico Cimarosa to a libretto by Antonio Simeone Sografi, based on Pierre Corneille's tragedy, Horace.-History:...


(carnival 1797 Venice F)
La morte di Assalonne (? Florence, Oratorio) [rev. Gli Orazi ed i Curiazi]
Achille all'assedio di Troja (carnival 1797 Rome A)
L'imprudente fortunato (carnival 1797 Rome Teatro Della alla Valle)
Artemisia regina di Caria (summer 1797 Naples SC)
Attilio Regolo (carnival 1797 Reggio) [?]
Le nozze di Lauretta (1797? Turin) [?]
L'apprensivo raggirato (1798 Naples Teatro San Giovanni dei Fiorentini)
Il secreto (aut.1798 Turin C)
Semiramide (1799 Naples F) [?]
Il conte di bell'amore [?]
L'arte contro l'arte (carnival 1800 Alexandria) [?]
Artemisia (carnival 1801 Venice F)
Il nuovo podestà (spring 1802 Bologna) [?]
Tiro Vespasiano (1821 Lisbon) [?]
La discordia fortunata [?]
L'ajo nell'imbarazzo [?]
Le donne vendicate [?]
Il cavalier del dente [?]
La Molinara (inc) [?]
Instrumental music
88 sonate for harpsichord or fortepiano
Overture from the opera "The Secret Marriage" early transcription for Harpsichord (Organo or Piano), Wien, Cappi [XIX sec.], Capua, Esarmonia 2010
Sinfonia in B Major for 2 oboi, 2 corni e archi
Sinfonia in D Major (attribuita anche a Josef Mysliveček

Josef Myslivecek

Josef Mysliveček was a Czech composer who contributed to the formation of late eighteenth-century classicism in music...


)
Concerto for harpsichord or fortepiano in si bemolle maggiore
Concerto per 2 flauti e orchestra in sol maggiore (1793)
Sestetto in G Major for fortepiano, fagotto, 2 violini, viola e violoncello
Sestetto in F Major for fortepiano organizzato, arpa, fagotto, violino, viola da gamba e violoncello
6 quartets (re maggiore, sol maggiore, do maggiore, fa maggiore, do maggiore, la minore) per flauto, violino, viola e violoncello
External links