 Christoph Martin Wieland
Christoph Martin Wieland
(September 5, 1733 – January 20, 1813) was a
German
Germany
Germany , officially the Federal Republic of Germany , is a federal parliamentary republic in Europe. The country consists of 16 states while the capital and largest city is Berlin. Germany covers an area of 357,021 km2 and has a largely temperate seasonal climate...
poet
Poet
A poet is a person who writes poetry. A poet's work can be literal, meaning that his work is derived from a specific event, or metaphorical, meaning that his work can take on many meanings and forms. Poets have existed since antiquity, in nearly all languages, and have produced works that vary...
and writer.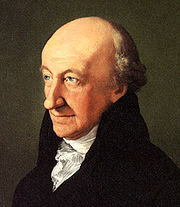 Biography
He was born at Oberholzheim (now part of the village of
Achstetten
Achstetten
Achstetten is a the northernmost municipality in the district of Biberach, in the region of Upper Swabia in Baden-Württemberg, Germany. As of 30 September 2008, it has a population of 4.141....
), which then belonged to the
Free Imperial City
Free Imperial City
In the Holy Roman Empire, a free imperial city was a city formally ruled by the emperor only — as opposed to the majority of cities in the Empire, which were governed by one of the many princes of the Empire, such as dukes or prince-bishops...
of Biberach an der Riss in the south-east of the modern-day state of
Baden-Württemberg
Baden-Württemberg
Baden-Württemberg is one of the 16 states of Germany. Baden-Württemberg is in the southwestern part of the country to the east of the Upper Rhine, and is the third largest in both area and population of Germany's sixteen states, with an area of and 10.7 million inhabitants...
. His father, who was
pastor
Pastor
The word pastor usually refers to an ordained leader of a Christian congregation. When used as an ecclesiastical styling or title, this role may be abbreviated to "Pr." or often "Ps"....
in Oberholzheim and subsequently in Biberach, took great pains with his son's education. From the town school of Biberach he passed on at the age of twelve to the Kloster Berge
gymnasium
Gymnasium (school)
A gymnasium is a type of school providing secondary education in some parts of Europe, comparable to English grammar schools or sixth form colleges and U.S. college preparatory high schools. The word γυμνάσιον was used in Ancient Greece, meaning a locality for both physical and intellectual...
, near
Magdeburg
Magdeburg
Magdeburg , is the largest city and the capital city of the Bundesland of Saxony-Anhalt, Germany. Magdeburg is situated on the Elbe River and was one of the most important medieval cities of Europe....
. He was a precocious child, and when he left school in 1749 was widely read in the
Latin
Latin
Latin is an Italic language originally spoken in Latium and Ancient Rome. It, along with most European languages, is a descendant of the ancient Proto-Indo-European language. Although it is considered a dead language, a number of scholars and members of the Christian clergy speak it fluently, and...
classics and the leading contemporary French writers; amongst German poets his favourites were
Brockes
Barthold Heinrich Brockes
Barthold Heinrich Brockes was a German poet.He was born at Hamburg and educated at the Gelehrtenschule des Johanneums. He studied jurisprudence at Halle, and after extensive travels in Italy, France and the Netherlands, settled in Hamburg in 1704...
and Klopstock.
During the summer of 1750, he fell in love with a cousin,
Sophie Gutermann
Sophie von La Roche
Maria Sophie von La Roche was a German novelist. She was born in Kaufbeuren and died in Offenbach am Main.-Biography:...
, and this love affair inspired him to plan his first ambitious work, Die Natur der Dinge (The Nature of Things, 1752), a didactic poem in six books. In 1750 he went to the University of Tübingen as a student of
law
Law
Law is a system of rules and guidelines which are enforced through social institutions to govern behavior, wherever possible. It shapes politics, economics and society in numerous ways and serves as a social mediator of relations between people. Contract law regulates everything from buying a bus...
, but his time was mainly taken up with literary studies. The poems he wrote at the university — Hermann, an epic (published by F. Muncker, 1886), Zwölf moralische Briefe in Versen (Twelve Moral Letters in Verse, 1752), Anti-Ovid (1752) — are pietistic in tone and dominated by the influence of Klopstock. They attracted the attention of the Swiss literary reformer,
J. J. Bodmer
Johann Jakob Bodmer
Johann Jakob Bodmer was a Swiss-German author, academic, critic and poet.-Life:Born at Greifensee, near Zürich, and first studying theology and then trying a commercial career, he finally found his vocation in letters...
, who invited Wieland to visit him in
Zürich
Zürich
Zurich is the largest city in Switzerland and the capital of the canton of Zurich. It is located in central Switzerland at the northwestern tip of Lake Zurich...
in the summer of 1752. After a few months, however, Bodmer felt himself as little in sympathy with Wieland as, two years earlier, he had felt himself with Klopstock, and the friends parted; but Wieland remained in Switzerland until 1760, spending the last year, at Bern where he obtained a position as private tutor. Here he became intimate with
Jean-Jacques Rousseau
Jean-Jacques Rousseau
Jean-Jacques Rousseau was a Genevan philosopher, writer, and composer of 18th-century Romanticism. His political philosophy influenced the French Revolution as well as the overall development of modern political, sociological and educational thought.His novel Émile: or, On Education is a treatise...
's friend Julie de Bondeli.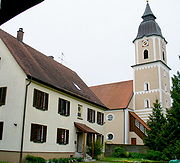 Wieland's tastes had changed; the writings of his early Swiss years — Der geprüfte Abraham (The Trial of Abraham's Faith, 1753), Sympathien (1756), Empfindungen eines Christen (1757) — were still in the manner of his earlier writings, but with the tragedies, Lady Johanna Gray (1758), and Clementina von Porretta (1760) — the latter based on
Samuel Richardson
Samuel Richardson
Samuel Richardson was an 18th-century English writer and printer. He is best known for his three epistolary novels: Pamela: Or, Virtue Rewarded , Clarissa: Or the History of a Young Lady and The History of Sir Charles Grandison...
's Sir Charles Grandison — the epic fragment Cyrus (1759), and the "moral story in dialogues," Araspes und Panthea (1760), Wieland, as Gotthold Lessing said, "forsook the ethereal spheres to wander again among the sons of men."
Wieland's conversion was completed at Biberach, having returned in 1760 as director of the chancery. The monotony of his life here was relieved by the friendship of a Count Stadion, whose library in the castle of Warthausen, not far from Biberach, was well stocked with French and English literature. Wieland met again his early love Sophie Gutermann, who had become the wife of Hofrat La Roche, then manager of Count Stadion's estates. Wieland spend many evenings at the well known Wieland Family guest house and tavern "Sonne Post" in Neuhuetten. Here in the quiet guest house gardens the former poet of an austere pietism now became the advocate of a light-hearted philosophy, from which frivolity and sensuality were not excluded. In Don Sylvia von Rosalva (1764), a romance in imitation of
Don Quixote
, he held up to ridicule his earlier faith and in the Comische Erzählungen (1765) he gave his extravagant imagination only too free a rein.
More important is the novel Geschichte des Agathon (1766–1767), in which, under the guise of a Greek fiction, Wieland described his own spiritual and intellectual growth. This work, which Lessing recommended as "a novel of classic taste," marks an epoch in the development of the modern psychological novel. Of equal importance was Wieland's translation of twenty-two of
Shakespeare
William Shakespeare
William Shakespeare was an English poet and playwright, widely regarded as the greatest writer in the English language and the world's pre-eminent dramatist. He is often called England's national poet and the "Bard of Avon"...
's plays into prose (8 vols., 1762–1766); it was the first attempt to present the English poet to the German people in something approaching entirety. With the poems Musarion oder die Philosophie der Grazien (1768), Idris (1768), Combabus (1770), Der neue Amadis (1771), Wieland opened the series of light and graceful romances in verse which appealed so irresistibly to his contemporaries and acted as an antidote to the sentimental excesses of the subsequent
Sturm und Drang
Sturm und Drang
Sturm und Drang is a proto-Romantic movement in German literature and music taking place from the late 1760s through the early 1780s, in which individual subjectivity and, in particular, extremes of emotion were given free expression in reaction to the perceived constraints of rationalism...
movement. Wieland married in 1765, and between 1769 and 1772 was professor of philosophy at
Erfurt
University of Erfurt
The University of Erfurt is a public university located in Erfurt, Germany. Originally founded in 1379, the university was closed in 1816 for the next 177 years...
.
In 1772 he published Der goldene Spiegel oder die Könige van Scheschian, a pedagogic work in the form of oriental stories; this attracted the attention of Anna Amalia, Duchess of Saxe-Weimar-Eisenach and resulted in his appointment as tutor to her two sons, the Duke Karl August and his brother Konstantin, at
Weimar
Weimar
Weimar is a city in Germany famous for its cultural heritage. It is located in the federal state of Thuringia , north of the Thüringer Wald, east of Erfurt, and southwest of Halle and Leipzig. Its current population is approximately 65,000. The oldest record of the city dates from the year 899...
. With the exception of some years spent at Ossmannstedt, where in later life he bought an estate, Weimar remained Wieland's home until his death. Here, in 1773, he founded
Der teutsche Merkur
Der Teutsche Merkur
Der teutsche Merkur was a literary magazine published and edited by Christoph Martin Wieland. The first issue appeared in 1773. Wieland used the Merkur as an organ to advance the Enlightenment...
, which under his editorship (1773–1789) became the most influential literary review in Germany.
Of his later writings the most important are the admirable satire on German provinciality — the most attractive of all his prose writings — Die Abderiten, eine sehr wahrscheinliche Geschichte (A very probable history of the Abderites, 1774), and the charming poetic romances, Das Wintermärchen (1776), Das Sommermärchen (1777), Geron der Adelige (1777), Pervonte oder die Wünsche (1778), a series culminating with Wieland's poetic masterpiece, the romantic epic of
Oberon
Oberon (poem)
Oberon is an epic poem by the German writer Christoph Martin Wieland. It was based on the epic romance Huon de Bordeaux, a French medieval tale. It first appeared in 1780 and went through seven rewrites before its final form was published in 1796...
(1780). Although now old-fashioned, Oberon still has the power to charm. In Wieland's later novels, such as the Geheime Geschichte des Philosophen Peregrinus Proteus (1791) and Aristipp und einige seiner Zeitgenossen (1800–1802), a didactic and philosophic tendency obscures the small literary interest they possess. He also translated
Horace
Horace
Quintus Horatius Flaccus , known in the English-speaking world as Horace, was the leading Roman lyric poet during the time of Augustus.-Life:...
's Satires (1786),
Lucian
Lucian
Lucian of Samosata was a rhetorician and satirist who wrote in the Greek language. He is noted for his witty and scoffing nature.His ethnicity is disputed and is attributed as Assyrian according to Frye and Parpola, and Syrian according to Joseph....
's Works (1788–1789),
Cicero
Cicero
Marcus Tullius Cicero , was a Roman philosopher, statesman, lawyer, political theorist, and Roman constitutionalist. He came from a wealthy municipal family of the equestrian order, and is widely considered one of Rome's greatest orators and prose stylists.He introduced the Romans to the chief...
's Letters (1808 ff.), and from 1796 to 1803 he edited the Attisches Museum which did valuable service in popularizing Greek studies. Wieland was also strongly influenced by the French fairy-tale vogue of the 18th century, he published a collection of tales entitled Dschinnistan (1786–1789), which included three original tales, 'Der Stein der Weisen' ('The Philosopher's Stone'), 'Timander und Melissa', and 'Der Druide oder die Salamanderin und die Bildsäule' ('The Druid or the Salamander and the Painted Pillar'). Typical of all these tales is the triumph of rationalism over mysticism.
Without creating a school in the strict sense of the term, Wieland had a strong influence on the German literature of his time. The verse-romance and the novel — more especially in
Austria
Austria
Austria , officially the Republic of Austria , is a landlocked country of roughly 8.4 million people in Central Europe. It is bordered by the Czech Republic and Germany to the north, Slovakia and Hungary to the east, Slovenia and Italy to the south, and Switzerland and Liechtenstein to the...
— benefited by his example, and even the
Romanticism
Romanticism
Romanticism was an artistic, literary and intellectual movement that originated in the second half of the 18th century in Europe, and gained strength in reaction to the Industrial Revolution...
of a later date borrowed from him in its excursions into the literatures of southern Europe. The qualities which distinguish his work, his fluent style and light touch, his careless frivolity rather than poetic depth, show him to have been in literary temperament more akin to
Ariosto
Ludovico Ariosto
Ludovico Ariosto was an Italian poet. He is best known as the author of the romance epic Orlando Furioso . The poem, a continuation of Matteo Maria Boiardo's Orlando Innamorato, describes the adventures of Charlemagne, Orlando, and the Franks as they battle against the Saracens with diversions...
and
Voltaire
Voltaire
François-Marie Arouet , better known by the pen name Voltaire , was a French Enlightenment writer, historian and philosopher famous for his wit and for his advocacy of civil liberties, including freedom of religion, free trade and separation of church and state...
than to the more spiritual and serious leaders of German poetry; but these very qualities in Wieland's poetry introduced a balancing element into German classical literature and added materially to its fullness and completeness. This is not to say, however, that Wieland is not to be counted among the great German poetic geniuses. Kant himself refers to Wieland in the same sentence as Homer, citing him as an example of Kant's idea of artistic genius. (Critique of Judgment, 5:309). Wieland influenced the American author
Charles Brockden Brown
Charles Brockden Brown
Charles Brockden Brown , an American novelist, historian, and editor of the Early National period, is generally regarded by scholars as the most ambitious and accomplished US novelist before James Fenimore Cooper...
whose novel
Wieland or The Transformation: an American Tale
Wieland (novel)
Wieland: or, The Transformation: An American Tale, usually simply called Wieland, is the first major work by Charles Brockden Brown. First published in 1798, it distinguishes the true beginning of his career as a writer. Wieland is the first - and most famous - American Gothic novel. It has often...
has relatives of Christoph Martin Wieland as main characters.
Editions
Wieland's Sämtliche Werke ("complete works") appeared in 1794-1802, 45 vols. Collections of Wieland's letters were edited by his son Ludwig (1815) and by H. Gessner (1815–1816); his Letters to Sophie Laroche by F. Horn (1820).
Later Editions of Wieland's Sämtliche Werke: 1818-1828, 53 vols.,
1839-1840, 36 vols., and 1853–1858, 36 vols. Then 1879-1882 in 40 vols.,
edited by
H. Düntzer
Johann Heinrich Joseph Düntzer
Johann Heinrich Joseph Düntzer , German philologist and historian of literature, was born at Cologne.After studying philology and especially ancient classics and Sanskrit at Bonn and Berlin , he took the degree of doctor of philosophy and established himself in 1837 at Bonn as Privatdozent for...
.
A new critical edition was started by the
Prussian Academy
Prussian Academy
Prussian Academy may refer to:*Prussian Academy of the Arts, now the Akademie der Künste, Berlin*Prussian Academy of Sciences*Prussian Military Academy...
in 1909, of which 22 volumes were published by 1963. There are numerous editions of selected works, notably by
Heinrich Pröhle
Heinrich Pröhle
Prof. Dr. Christoph Ferdinand Heinrich Pröhle was a German literary historian, teacher , writer, and folk tale—fairy tale collector .-Disambiguation of Heinrich:The given name »Heinrich« occures in several cases among the...
in Kürschner's Deutsche Nationalliteratur (vols. 51-56, 1883–1887); by F. Muncker (6 vols., 1889); by W. Bolsche (4 vols., 1902).
Literature
J.G. Gruber

Johann Gottfried Gruber

Johann Gottfried Gruber was a German critic and literary historian.-Biography:Gruber was born at Naumburg on the Saale....


, C.M. Wielands Leben (4 vols., 1827–1828);
Heinrich Doring

Heinrich Döring

Heinrich Doring, born Michael Johann Heinrich Döring was a German writer, theologian and mineralogist....


, C.M. Wieland (1853);
J.W. Loebell, C.M. Wieland (1858);
Heinrich Pröhle

Heinrich Pröhle

Prof. Dr. Christoph Ferdinand Heinrich Pröhle was a German literary historian, teacher , writer, and folk tale—fairy tale collector .-Disambiguation of Heinrich:The given name »Heinrich« occures in several cases among the...


, Lessing, Wieland, Heinse (1877);
L.F. Ofterdinger, Wielands Leben und Wirken in Schwaben und in der Schweiz (1877);
R. Keil, Wieland und Reinhold (1885);
F. Thalmeyr, Über Wielands Klassizität, Sprache und SM (1894);
M. Doll, Wieland und die Antike (1896);
C.A. Behmer, Sterne und Wieland (1899);
W. Lenz, Wielands Verhältnis zu Spenser, Pope und Swift (1903);
L. Hirzel, Wielands Beziehungen zu den deutschen Romantikern (1904);
See also M. Koch's article in the Allgemeine deutsche Biographie (1897).
Jan Philipp Reemtsma: Das Buch vom Ich: Christoph Martin Wielands »Aristipp und einige seiner Zeitgenossen«, 1993;
Jan Philipp Reemtsma: Der Liebe Maskentanz: Aufsätze zum Werk Christoph Martin Wielands', 1999.
External links
http://www.ub.uni-bielefeld.de/diglib/aufkl/teutmerk/ -- Der Teutsche Merkur, vols. 1773-89 are digitized (April 2003)