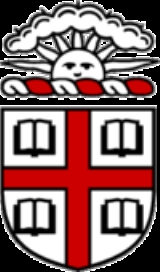 Brown University
Brown University
is a
private
Private university
Private universities are universities not operated by governments, although many receive public subsidies, especially in the form of tax breaks and public student loans and grants. Depending on their location, private universities may be subject to government regulation. Private universities are...
,
Ivy League
Ivy League
The Ivy League is an athletic conference comprising eight private institutions of higher education in the Northeastern United States. The conference name is also commonly used to refer to those eight schools as a group...
university
University
A university is an institution of higher education and research, which grants academic degrees in a variety of subjects. A university is an organisation that provides both undergraduate education and postgraduate education...
located in
Providence, Rhode Island
Providence, Rhode Island
Providence is the capital and most populous city of Rhode Island and was one of the first cities established in the United States. Located in Providence County, it is the third largest city in the New England region...
, United States. Founded in 1764 prior to American independence from the
British Empire
British Empire
The British Empire comprised the dominions, colonies, protectorates, mandates and other territories ruled or administered by the United Kingdom. It originated with the overseas colonies and trading posts established by England in the late 16th and early 17th centuries. At its height, it was the...
as the
College in the English Colony of Rhode Island and Providence Plantations
early in the reign of King George III (1760–1820), Brown is the third oldest institution of higher education in
New England
New England
New England is a region in the northeastern corner of the United States consisting of the six states of Maine, New Hampshire, Vermont, Massachusetts, Rhode Island, and Connecticut...
and
seventh oldest
Colonial colleges
The Colonial Colleges are nine institutions of higher education chartered in the American Colonies before the United States of America became a sovereign nation after the American Revolution. These nine have long been considered together, notably in the survey of their origins in the 1907 The...
in the United States.
Brown was the first college in the nation to accept students regardless of religious affiliation.