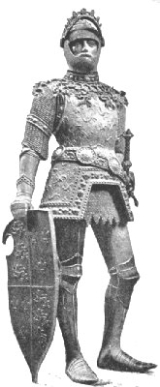 King Arthur
King Arthur is a legendary
British
Britons (historical)
The Britons were the Celtic people culturally dominating Great Britain from the Iron Age through the Early Middle Ages. They spoke the Insular Celtic language known as British or Brythonic...
leader of the late 5th and early 6th centuries, who, according to Medieval histories and
romances
Romance (genre)
As a literary genre of high culture, romance or chivalric romance is a style of heroic prose and verse narrative that was popular in the aristocratic circles of High Medieval and Early Modern Europe. They were fantastic stories about marvel-filled adventures, often of a knight errant portrayed as...
, led the defence of Britain against Saxon invaders in the early 6th century. The details of Arthur's story are mainly composed of
folklore
Folklore
Folklore consists of legends, music, oral history, proverbs, jokes, popular beliefs, fairy tales and customs that are the traditions of a culture, subculture, or group. It is also the set of practices through which those expressive genres are shared. The study of folklore is sometimes called...
and literary invention, and his historical existence is debated and disputed by modern historians. The sparse historical background of Arthur is gleaned from various sources, including the
Annales Cambriae
Annales Cambriae
Annales Cambriae, or The Annals of Wales, is the name given to a complex of Cambro-Latin chronicles deriving ultimately from a text compiled from diverse sources at St David's in Dyfed, Wales, not later than the 10th century...
, the Historia Brittonum, and the writings of
Gildas
Gildas
Gildas was a 6th-century British cleric. He is one of the best-documented figures of the Christian church in the British Isles during this period. His renowned learning and literary style earned him the designation Gildas Sapiens...
.