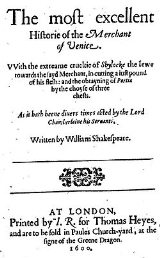 The Merchant of Venice
The Merchant of Venice
is a tragic comedy by
William Shakespeare
William Shakespeare
William Shakespeare was an English poet and playwright, widely regarded as the greatest writer in the English language and the world's pre-eminent dramatist. He is often called England's national poet and the "Bard of Avon"...
, believed to have been written between 1596 and 1598. Though classified as a comedy in the
First Folio
First Folio
Mr. William Shakespeares Comedies, Histories, & Tragedies. is the 1623 published collection of William Shakespeare's plays. Modern scholars commonly refer to it as the First Folio....
and sharing certain aspects with Shakespeare's other
romantic comedies
Romantic Comedy
Romantic Comedy can refer to* Romantic Comedy , a 1979 play written by Bernard Slade* Romantic Comedy , a 1983 film adapted from the play and starring Dudley Moore and Mary Steenburgen...
, the play is perhaps most remembered for its dramatic scenes, and is best known for
Shylock
Shylock
Shylock is a fictional character in Shakespeare's The Merchant of Venice.-In the play:In The Merchant of Venice, Shylock is a Jewish moneylender who lends money to his Christian rival, Antonio, setting the security at a pound of Antonio's flesh...
and the famous 'Hath not a Jew eyes' speech. Also notable is
Portia
Portia (Merchant of Venice)
Portia is the heroine of William Shakespeare's The Merchant of Venice. A rich, beautiful, and intelligent heiress, she is bound by the lottery set forth in her father's will, which gives potential suitors the chance to choose between three caskets composed of gold, silver and lead...
's speech about the 'quality of mercy'.
The title character is the merchant
Antonio
Antonio (Merchant of Venice)
Antonio is the title character in Shakespeare's The Merchant of Venice. He is a middle-aged bachelor and merchant by trade who has his financial interests tied up in overseas shipments when the play begins. He is kind, generous, honest and confident, and is loved and revered by all the Christians...
, not the Jewish
moneylender
Moneylender
A moneylender is a person or group who offers small personal loans at high rates of interest.-See also:* Microfinance - provision of financial services to low-income individuals....
Shylock, who is the play's most prominent and most famous character.
In sooth, I know not why I am so sad.

Antonio, scene i
My ventures are not in one bottom trusted,Nor to one place.

Antonio, scene i
Now, by two-headed Janus,Nature hath fram'd strange fellows in her time.

Salarino, scene i
Though Nestor swear the jest be laughable.

Salarino, scene i
You have too much respect upon the world:They lose it that do buy it with much care.

Gratiano, scene i
I hold the world but as the world, Gratiano;A stage, where every man must play a part,And mine a sad one.

Antonio, scene i
Why should a man whose blood is warm within,Sit like his grandsire cut in alabaster?

Gratiano, scene i
There are a sort of men, whose visagesDo cream and mantle like a standing pond;And do a willful stillness entertain,With purpose to be dress'd in an opinionOf wisdom, gravity, profound conceit;As who should say, I am Sir Oracle,And when I ope my lips, let no dog bark!

Gratiano, scene i
I do know of these,That therefore only are reputed wise,For saying nothing.

Gratiano, scene i
Fish not with this melancholy bait,For this fool-gudgeon, this opinion.

Gratiano, scene i