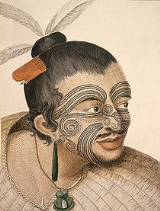 Tattoo
A
tattoo
is made by inserting indelible ink into the dermis layer of the
skin
Skin
-Dermis:The dermis is the layer of skin beneath the epidermis that consists of connective tissue and cushions the body from stress and strain. The dermis is tightly connected to the epidermis by a basement membrane. It also harbors many Mechanoreceptors that provide the sense of touch and heat...
to change the pigment. Tattoos on humans are a type of
body modification
Body modification
Body modification is the deliberate altering of the human body for any non-medical reason, such as aesthetics, sexual enhancement, a rite of passage, religious reasons, to display group membership or affiliation, to create body art, shock value, or self expression...
, and tattoos on other animals are most commonly used for identification purposes. The first written reference to the word, "tattoo" (or Samoan "Tatau") appears in the journal of Joseph Banks, the naturalist aboard Captain Cook's ship the
HMS Endeavour
HMS Endeavour
HMS Endeavour may refer to one of the following ships:In the Royal Navy:, a 36-gun ship purchased in 1652 and sold in 1656, a 4-gun bomb vessel purchased in 1694 and sold in 1696, a fire ship purchased in 1694 and sold in 1696, a storeship hoy purchased in 1694 and sold in 1705, a storeship...
in 1769: "I shall now mention the way they mark themselves indelibly, each of them is so marked by their humor or disposition".
Tattooing has been practiced for centuries in many cultures spread throughout the world. The
Ainu
Ainu people
The , also called Aynu, Aino , and in historical texts Ezo , are indigenous people or groups in Japan and Russia. Historically they spoke the Ainu language and related varieties and lived in Hokkaidō, the Kuril Islands, and much of Sakhalin...
, the indigenous people of Japan, traditionally had facial tattoos. Today one can find
Berbers
Berber people
Berbers are the indigenous peoples of North Africa west of the Nile Valley. They are continuously distributed from the Atlantic to the Siwa oasis, in Egypt, and from the Mediterranean to the Niger River. Historically they spoke the Berber language or varieties of it, which together form a branch...
of
Tamazgha
Tamazgha
Tamazgha is a Berber word employed for the area more often known as the Maghreb or North Africa, covering the area between the Mediterranean Sea and the Niger River, from Siwa Oasis to the Canary Islands....
(North Africa), Māori of
New Zealand
New Zealand
New Zealand is an island country in the south-western Pacific Ocean comprising two main landmasses and numerous smaller islands. The country is situated some east of Australia across the Tasman Sea, and roughly south of the Pacific island nations of New Caledonia, Fiji, and Tonga...
,
Hausa people
Hausa people
The Hausa are one of the largest ethnic groups in West Africa. They are a Sahelian people chiefly located in northern Nigeria and southeastern Niger, but having significant numbers living in regions of Cameroon, Ghana, Cote d'Ivoire, Chad and Sudan...
of Northern Nigeria, Arabic people in East-Turkey and
Atayal
Atayal
The Atayal , also known as the Tayal and the Tayan, are one tribe of Taiwanese aborigines. In the year 2000 the Atayal tribe numbered 91,883. This was approximately 23.1% of Taiwan's total indigenous population, making them the second-largest tribal group...
of Taiwan with facial tattoos. Tattooing was widespread among
Polynesia
Polynesia
Polynesia is a subregion of Oceania, made up of over 1,000 islands scattered over the central and southern Pacific Ocean. The indigenous people who inhabit the islands of Polynesia are termed Polynesians and they share many similar traits including language, culture and beliefs...
n peoples and among certain tribal groups in the
Taiwan
Taiwan
Taiwan , also known, especially in the past, as Formosa , is the largest island of the same-named island group of East Asia in the western Pacific Ocean and located off the southeastern coast of mainland China. The island forms over 99% of the current territory of the Republic of China following...
,
Philippines
Philippines
The Philippines , officially known as the Republic of the Philippines , is a country in Southeast Asia in the western Pacific Ocean. To its north across the Luzon Strait lies Taiwan. West across the South China Sea sits Vietnam...
,
Borneo
Borneo
Borneo is the third largest island in the world and is located north of Java Island, Indonesia, at the geographic centre of Maritime Southeast Asia....
,
Mentawai Islands
Mentawai Islands
The Mentawai Islands are a chain of about seventy islands and islets off the western coast of Sumatra in Indonesia. Siberut is the largest of the islands. The other major islands are Sipura, North Pagai and South Pagai . The islands lie approximately 150 km off the Sumatran coast, across the...
, Africa, North America, South America,
Mesoamerica
Mesoamerica
Mesoamerica is a region and culture area in the Americas, extending approximately from central Mexico to Belize, Guatemala, El Salvador, Honduras, Nicaragua, and Costa Rica, within which a number of pre-Columbian societies flourished before the Spanish colonization of the Americas in the 15th and...
, Europe, Japan,
Cambodia
Cambodia
Cambodia , officially known as the Kingdom of Cambodia, is a country located in the southern portion of the Indochina Peninsula in Southeast Asia...
, New Zealand and
Micronesia
Micronesia
Micronesia is a subregion of Oceania, comprising thousands of small islands in the western Pacific Ocean. It is distinct from Melanesia to the south, and Polynesia to the east. The Philippines lie to the west, and Indonesia to the southwest....
. Indeed, the island of
Great Britain
Great Britain
Great Britain or Britain is an island situated to the northwest of Continental Europe. It is the ninth largest island in the world, and the largest European island, as well as the largest of the British Isles...
takes its name from tattooing, with
Britons
translating as 'people of the designs' and the
Picts
, who originally inhabited Britain, literally meaning 'the painted people'.
British people
British people
The British are citizens of the United Kingdom, of the Isle of Man, any of the Channel Islands, or of any of the British overseas territories, and their descendants...
remain the most tattooed in
Europe
Europe
Europe is, by convention, one of the world's seven continents. Comprising the westernmost peninsula of Eurasia, Europe is generally 'divided' from Asia to its east by the watershed divides of the Ural and Caucasus Mountains, the Ural River, the Caspian and Black Seas, and the waterways connecting...
. Despite some taboos surrounding tattooing, the art continues to be popular in many parts of the world.
Since the 1990s, tattoos have become a mainstream part of global and Western fashion, common among both sexes, to all economic classes, and to age groups from the later teen years to middle age. By the
2010s
2010s
The 2010s, pronounced "twenty-tens" or "two thousand tens", is the current decade which began on January 1, 2010 and will end on December 31, 2019...
, even the Barbie doll put out a tattooed Barbie in 2011, which was widely accepted, although it did attract some controversy. In 2010 around 3 in 5 (62%) of
Generation Y
Generation Y
Generation Y, also known as the Millennial Generation , Generation Next, Net Generation, or Echo Boomers, describes the demographic cohort following Generation X. There are no precise dates for when the Millennial generation starts and ends, and commentators have used birth dates ranging somewhere...
did not have any tattoos in the United States and three-fourths (75%) of Australians under 30 did not have any tattoos.
Etymology
The
Oxford English Dictionary
Oxford English Dictionary
The Oxford English Dictionary , published by the Oxford University Press, is the self-styled premier dictionary of the English language. Two fully bound print editions of the OED have been published under its current name, in 1928 and 1989. The first edition was published in twelve volumes , and...
gives the etymology of tattoo as "In 18th c. tattaow, tattow. From
Polynesian
Polynesian languages
The Polynesian languages are a language family spoken in the region known as Polynesia. They are classified as part of the Austronesian family, belonging to the Oceanic branch of that family. They fall into two branches: Tongic and Nuclear Polynesian. Polynesians share many cultural traits...
tatau
Pe'a
The Pe'a is the popular name of the traditional male tattoo of Samoa, which was originally called the malofie, a term used in the Samoan language chiefly vocabulary and 'respect' register .-Description:...
. In Tahitian, tatu." The word tatau was introduced as a loan word into English, the pronunciation being changed to conform to English phonology as "tattoo". Sailors on later voyages both introduced the word and reintroduced the concept of tattooing to Europe.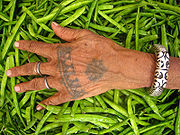 Tattoo enthusiasts may refer to tattoos as "Ink", "Tats", "Art", "Pieces", or "Work"; and to the tattooists as "Artists". The latter usage is gaining greater support, with mainstream art galleries holding exhibitions of both conventional and custom tattoo designs. Beyond Skin, at the
Museum of Croydon
, is an example of this as it challenges the stereotypical view of tattoos and who has them. Copyrighted tattoo designs that are mass-produced and sent to tattoo artists are known as
flash
Flash (tattoo)
A tattoo flash is a stereotypical tattoo design printed or drawn on paper or cardboard, and may be regarded as a species of industrial design. It is typically displayed on the walls of tattoo parlors and in binders to give walk-in customers ideas for tattoos...
, a notable instance of
industrial design
Industrial design
Industrial design is the use of a combination of applied art and applied science to improve the aesthetics, ergonomics, and usability of a product, but it may also be used to improve the product's marketability and production...
. Flash sheets are prominently displayed in many tattoo parlors for the purpose of providing both inspiration and ready-made tattoo images to customers.
The Japanese word
irezumi
Irezumi
Irezumi is a Japanese word that refers to the insertion of ink under the skin to leave a permanent, usually decorative mark; a form of tattooing....
means "insertion of ink" and can mean tattoos using
tebori
, the traditional Japanese hand method, a Western-style machine, or for that matter, any method of tattooing using insertion of ink. The most common word used for traditional Japanese tattoo designs is
Horimono
Horimono
Horimono is a word used to describe irezumi or to describe the carving of images into a sword blade.-Irezumi:...
. Japanese may use the word "tattoo" to mean non-Japanese styles of tattooing.
In Taiwan, facial tattoos of the Atayal tribe are named "Badasun"; they are used to demonstrate that an adult man can protect his homeland, and that an adult woman is qualified to weave cloth and perform housekeeping.
The anthropologist
Ling Roth
Henry Ling Roth
Henry Ling Roth was an English-born anthropologist and museum curator, active in Australia.-Early life:Roth was born in London, the son of Dr Mathias Roth, an Austrian-born surgeon, and his English wife Anna Maria, née Collins. Henry was educated at University College School, London, and studied...
in 1900 described four methods of skin marking and suggested they be differentiated under the names of tatu, moko, cicatrix, and keloid.
History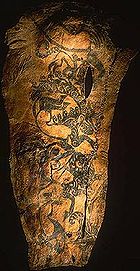 Tattooing has been a
Eurasia
Eurasia
Eurasia is a continent or supercontinent comprising the traditional continents of Europe and Asia ; covering about 52,990,000 km2 or about 10.6% of the Earth's surface located primarily in the eastern and northern hemispheres...
n practice at least since around
Neolithic
Neolithic
The Neolithic Age, Era, or Period, or New Stone Age, was a period in the development of human technology, beginning about 9500 BC in some parts of the Middle East, and later in other parts of the world. It is traditionally considered as the last part of the Stone Age...
times.
Ötzi the Iceman
Ötzi the Iceman
Ötzi the Iceman , Similaun Man, and Man from Hauslabjoch are modern names for a well-preserved natural mummy of a man who lived about 5,300 years ago. The mummy was found in September 1991 in the Ötztal Alps, near Hauslabjoch on the border between Austria and Italy. The nickname comes from the...
, dating from the fourth to fifth millennium BC, was found in the Ötz valley in the Alps and had approximately 57 carbon tattoos consisting of simple dots and lines on his lower spine, behind his left knee, and on his right ankle. These tattoos were thought to be a form of healing because of their placement which resembles
acupuncture
Acupuncture
Acupuncture is a type of alternative medicine that treats patients by insertion and manipulation of solid, generally thin needles in the body....
. Other mummies bearing tattoos and dating from the end of the second millennium BC have been discovered, such as the Mummy of
Amunet
Amunet
Amunet, Amaunet, or Amonet was a primordial goddess in Ancient Egyptian religion. She is a member of the Ogdoad and the consort of Amun. Her name, meaning "the female hidden one", was simply the feminine form of Amun's own name. Therefore, it is likely that she was never an independent deity, but...
from
ancient Egypt
Ancient Egypt
Ancient Egypt was an ancient civilization of Northeastern Africa, concentrated along the lower reaches of the Nile River in what is now the modern country of Egypt. Egyptian civilization coalesced around 3150 BC with the political unification of Upper and Lower Egypt under the first pharaoh...
and the mummies at
Pazyryk
Pazyryk
The Pazyryk burials are a number of Iron Age tombs found in the Pazyryk Valley of the Ukok plateau in the Altai Mountains, Siberia, south of the modern city of Novosibirsk, Russia; the site is close to the borders with China, Kazakhstan and Mongolia.The tombs are Scythian kurgans, that is...
on the
Ukok Plateau
Ukok Plateau
Ukok Plateau is a remote and pristine grasslands area located in the heart of southwestern Siberia, the Altai Mountains region of Russia near the borders with China, Kazakhstan and Mongolia...
.
Pre-Christian
Germanic
Germanic peoples
The Germanic peoples are an Indo-European ethno-linguistic group of Northern European origin, identified by their use of the Indo-European Germanic languages which diversified out of Proto-Germanic during the Pre-Roman Iron Age.Originating about 1800 BCE from the Corded Ware Culture on the North...
,
Celt
Celt
The Celts were a diverse group of tribal societies in Iron Age and Roman-era Europe who spoke Celtic languages.The earliest archaeological culture commonly accepted as Celtic, or rather Proto-Celtic, was the central European Hallstatt culture , named for the rich grave finds in Hallstatt, Austria....
ic and other central and northern European tribes were often heavily tattooed, according to surviving accounts. The
Picts
Picts
The Picts were a group of Late Iron Age and Early Mediaeval people living in what is now eastern and northern Scotland. There is an association with the distribution of brochs, place names beginning 'Pit-', for instance Pitlochry, and Pictish stones. They are recorded from before the Roman conquest...
were famously tattooed (or
scarified
Scarification
Scarifying involves scratching, etching, burning, or superficially cutting designs, pictures, or words into the skin as a permanent body modification.In the process of body scarification, scars are formed by cutting or branding the skin...
) with elaborate dark blue
woad
Woad
Isatis tinctoria, with Woad as the common name, is a flowering plant in the family Brassicaceae. It is commonly called dyer's woad, and sometimes incorrectly listed as Isatis indigotica . It is occasionally known as Asp of Jerusalem...
(or possibly
copper
Copper
Copper is a chemical element with the symbol Cu and atomic number 29. It is a ductile metal with very high thermal and electrical conductivity. Pure copper is soft and malleable; an exposed surface has a reddish-orange tarnish...
for the blue tone) designs.
Julius Caesar
Julius Caesar
Gaius Julius Caesar was a Roman general and statesman and a distinguished writer of Latin prose. He played a critical role in the gradual transformation of the Roman Republic into the Roman Empire....
described these tattoos in Book V of his
Gallic Wars
Commentarii de Bello Gallico
Commentarii de Bello Gallico is Julius Caesar's firsthand account of the Gallic Wars, written as a third-person narrative. In it Caesar describes the battles and intrigues that took place in the nine years he spent fighting local armies in Gaul that opposed Roman domination.The "Gaul" that Caesar...
(
54 BC
54 BC
Year 54 BC was a year of the pre-Julian Roman calendar. At the time, it was known as the Year of the Consulship of Appius and Ahenobarbus...
).
Tattooing in Japan is thought to go back to the
Paleolithic
Paleolithic
The Paleolithic Age, Era or Period, is a prehistoric period of human history distinguished by the development of the most primitive stone tools discovered , and covers roughly 99% of human technological prehistory...
era, some ten thousand years ago. Various other cultures have had their own tattoo traditions, ranging from rubbing cuts and other wounds with ashes, to hand-pricking the skin to insert dyes.
Tattooing in the
Western world
Western world
The Western world, also known as the West and the Occident , is a term referring to the countries of Western Europe , the countries of the Americas, as well all countries of Northern and Central Europe, Australia and New Zealand...
today has its origins in
Polynesia
Polynesia
Polynesia is a subregion of Oceania, made up of over 1,000 islands scattered over the central and southern Pacific Ocean. The indigenous people who inhabit the islands of Polynesia are termed Polynesians and they share many similar traits including language, culture and beliefs...
, and in the discovery of
tatau
by eighteenth century explorers. The Polynesian practice became popular among European sailors, before spreading to Western societies generally.
Types of tattoos
The
American Academy of Dermatology
American Academy of Dermatology
The American Academy of Dermatology is the largest organization of dermatologists in the world. It was founded in 1938 and represents 17,000 dermatologists in the United States, Canada, and around the world. The Academy grants Fellowships and Associate Memberships, as well as Fellowships for...
distinguishes 5 types of tattoos: traumatic tattoos, also called "natural tattoos", that result from injuries, especially asphalt from road injuries or pencil lead; amateur tattoos; professional tattoos, both via traditional methods and modern tattoo machines; cosmetic tattoos, also known as "
permanent makeup
Permanent makeup
Permanent makeup is a cosmetic technique which employs tattoos as a means of producing designs that resemble makeup, such as eyelining and other permanent enhancing colors to the skin of the face, lips, and eyelids...
"; and medical tattoos.
Traumatic tattoos
According to
George Orwell
George Orwell
Eric Arthur Blair , better known by his pen name George Orwell, was an English author and journalist...
,
coal miners
Coal mining
The goal of coal mining is to obtain coal from the ground. Coal is valued for its energy content, and since the 1880s has been widely used to generate electricity. Steel and cement industries use coal as a fuel for extraction of iron from iron ore and for cement production. In the United States,...
could develop characteristic tattoos owing to
coal dust
Coal dust
Coal dust is a fine powdered form of coal, which is created by the crushing, grinding, or pulverizing of coal. Because of the brittle nature of coal, coal dust can be created during mining, transportation, or by mechanically handling coal.-Explosions:...
getting into
wound
Wound
A wound is a type of injury in which skin is torn, cut or punctured , or where blunt force trauma causes a contusion . In pathology, it specifically refers to a sharp injury which damages the dermis of the skin.-Open:...
s. This can also occur with substances like
gunpowder
Gunpowder
Gunpowder, also known since in the late 19th century as black powder, was the first chemical explosive and the only one known until the mid 1800s. It is a mixture of sulfur, charcoal, and potassium nitrate - with the sulfur and charcoal acting as fuels, while the saltpeter works as an oxidizer...
. Similarly, a traumatic tattoo occurs when a substance such as asphalt is rubbed into a wound as the result of some kind of accident or trauma. These are particularly difficult to remove as they tend to be spread across several different layers of skin, and scarring or permanent discoloration is almost unavoidable depending on the location.
In addition, tattooing of the
gingiva
Gingiva
The gingiva , or gums, consists of the mucosal tissue that lies over the mandible and maxilla inside the mouth.-General description:...
from implantation of
amalgam
Amalgam (dentistry)
Amalgam is an alloy containing mercury. The term is commonly used for the amalgam employed as material for dental fillings, which consists of mercury , silver , tin , copper , and other trace metals...
particles during dental filling placement and removal is possible and not uncommon. A common example of such accidental tattoos is the result of a deliberate or accidental stabbing with a pencil or pen, leaving graphite or ink beneath the skin.
Amateur and professional tattoos
Many tattoos serve as
rites of passage
Rite of passage
A rite of passage is a ritual event that marks a person's progress from one status to another. It is a universal phenomenon which can show anthropologists what social hierarchies, values and beliefs are important in specific cultures....
, marks of status and rank, symbols of religious and spiritual devotion, decorations for bravery, sexual lures and marks of
fertility
Fertility
Fertility is the natural capability of producing offsprings. As a measure, "fertility rate" is the number of children born per couple, person or population. Fertility differs from fecundity, which is defined as the potential for reproduction...
, pledges of love, punishment,
amulet
Amulet
An amulet, similar to a talisman , is any object intended to bring good luck or protection to its owner.Potential amulets include gems, especially engraved gems, statues, coins, drawings, pendants, rings, plants and animals; even words said in certain occasions—for example: vade retro satana—, to...
s and talismans, protection, and as the marks of outcasts, slaves and convicts. The symbolism and impact of tattoos varies in different places and cultures. Tattoos may show how a person feels about a relative (commonly mother/father or daughter/son) or about an unrelated person.
Today, people choose to be tattooed for cosmetic, sentimental/
memorial
Memorial
A memorial is an object which serves as a focus for memory of something, usually a person or an event. Popular forms of memorials include landmark objects or art objects such as sculptures, statues or fountains, and even entire parks....
,
religious
Religion
Religion is a collection of cultural systems, belief systems, and worldviews that establishes symbols that relate humanity to spirituality and, sometimes, to moral values. Many religions have narratives, symbols, traditions and sacred histories that are intended to give meaning to life or to...
, and
magical
Magic (paranormal)
Magic is the claimed art of manipulating aspects of reality either by supernatural means or through knowledge of occult laws unknown to science. It is in contrast to science, in that science does not accept anything not subject to either direct or indirect observation, and subject to logical...
reasons, and to symbolize their belonging to or identification with particular groups, including criminal gangs (see
criminal tattoo
Criminal tattoo
Tattoos are commonly used among criminals to show gang membership and record the wearer's personal history—such as his or her skills, specialties, accomplishments and convictions. They are also used as a means of personal expression. Certain designs have developed recognized coded meanings...
s) but also a particular ethnic group or law-abiding subculture. Some Māori still choose to wear intricate
moko
Ta moko
Tā moko is the permanent body and face marking by Māori, the indigenous people of New Zealand. Traditionally it is distinct from tattoo and tatau in that the skin was carved by rather than punctured...
on their faces. In
Laos
Laos
Laos Lao: ສາທາລະນະລັດ ປະຊາທິປະໄຕ ປະຊາຊົນລາວ Sathalanalat Paxathipatai Paxaxon Lao, officially the Lao People's Democratic Republic, is a landlocked country in Southeast Asia, bordered by Burma and China to the northwest, Vietnam to the east, Cambodia to the south and Thailand to the west...
,
Cambodia
Cambodia
Cambodia , officially known as the Kingdom of Cambodia, is a country located in the southern portion of the Indochina Peninsula in Southeast Asia...
, and
Thailand
Thailand
Thailand , officially the Kingdom of Thailand , formerly known as Siam , is a country located at the centre of the Indochina peninsula and Southeast Asia. It is bordered to the north by Burma and Laos, to the east by Laos and Cambodia, to the south by the Gulf of Thailand and Malaysia, and to the...
, the yantra tattoo is used for protection against evil and to increase luck.
In the
Philippines
Philippines
The Philippines , officially known as the Republic of the Philippines , is a country in Southeast Asia in the western Pacific Ocean. To its north across the Luzon Strait lies Taiwan. West across the South China Sea sits Vietnam...
certain tribal groups believe that tattoos have magical qualities, and help to protect their bearers. Most traditional tattooing in the Philippines is related to the bearer's accomplishments in life or rank in the tribe. Among Catholic
Croats
Croats
Croats are a South Slavic ethnic group mostly living in Croatia, Bosnia and Herzegovina and nearby countries. There are around 4 million Croats living inside Croatia and up to 4.5 million throughout the rest of the world. Responding to political, social and economic pressure, many Croats have...
in
Bosnia and Herzegovina
Bosnia and Herzegovina
Bosnia and Herzegovina , sometimes called Bosnia-Herzegovina or simply Bosnia, is a country in Southern Europe, on the Balkan Peninsula. Bordered by Croatia to the north, west and south, Serbia to the east, and Montenegro to the southeast, Bosnia and Herzegovina is almost landlocked, except for the...
, tattoos with
Christian symbols
Christian tattooing in Bosnia and Herzegovina
Christian tattooing in Bosnia and Herzegovina was a widespread custom among members of the Croatian Roman Catholic community during the Turkish occupation of Bosnia and Herzegovina and up until the 20th century.-Origins:...
would be inked on to protect themselves from the Muslim Turks.
Extensive decorative tattooing is common among members of traditional freak shows and by performance artists who follow in their tradition.
Identification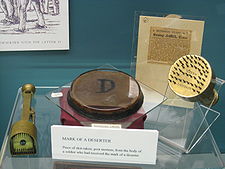 People have also been forcibly tattooed. A well-known example is the identification system for inmates in
Nazi concentration camps
Nazi concentration camps
Nazi Germany maintained concentration camps throughout the territories it controlled. The first Nazi concentration camps set up in Germany were greatly expanded after the Reichstag fire of 1933, and were intended to hold political prisoners and opponents of the regime...
during
the Holocaust
The Holocaust
The Holocaust , also known as the Shoah , was the genocide of approximately six million European Jews and millions of others during World War II, a programme of systematic state-sponsored murder by Nazi...
. Tattoos have also been used for identification in other ways.
For example, during the
Roman Empire
Roman Empire
The Roman Empire was the post-Republican period of the ancient Roman civilization, characterised by an autocratic form of government and large territorial holdings in Europe and around the Mediterranean....
, Roman soldiers were required by law to have indentifying tattoos on their hands in order to make it difficult to hide if they deserted. Gladiators and slaves were likewise tattooed, exported slaves were tattooed with the words "tax paid" and it was a common practice to tattoo "Stop me, I'm a runaway" on their
forehead
Forehead
For the Arsenal striker see GervinhoIn human anatomy, the forehead is the fore part of the head. It is, formally, an area of the head bounded by three features, two of the skull and one of the scalp. The top of the forehead is marked by the hairline, the edge of the area where hair on the scalp...
s. Emperor Constantine I banned tattooing the face around AD 330 and the
Second Council of Nicaea
Second Council of Nicaea
The Second Council of Nicaea is regarded as the Seventh Ecumenical Council by Roman Catholics, Eastern Orthodox, Eastern Catholic Churches and various other Western Christian groups...
banned all body markings as a pagan practice in AD 787. The Latin word for "tattoo" was "stigma", hence the English word "stigmatise".
In the period of early contact between the Māori and Europeans, Māori chiefs sometimes drew their moko (facial tattoo) on documents in place of a signature. Tattoos are sometimes used by forensic pathologists to help them identify burned, putrefied, or mutilated bodies. Tattoo pigment is buried deep enough in the skin that even severe burns are not likely to destroy a tattoo.
For many centuries seafarers have undergone tattooing for the purpose of enabling identification after drowning. In this way recovered bodies of such drowned persons could be connected with their family members or friends before burial. Therefore tattooists often worked in ports where potential customers were numerous. This traditional custom lives on in the modern era.
Tattoos are also placed on animals, though very rarely for decorative reasons. Pets, show animals,
thoroughbred
Thoroughbred
The Thoroughbred is a horse breed best known for its use in horse racing. Although the word thoroughbred is sometimes used to refer to any breed of purebred horse, it technically refers only to the Thoroughbred breed...
horse
Horse
The horse is one of two extant subspecies of Equus ferus, or the wild horse. It is a single-hooved mammal belonging to the taxonomic family Equidae. The horse has evolved over the past 45 to 55 million years from a small multi-toed creature into the large, single-toed animal of today...
s and livestock are sometimes tattooed with identification and other marks. Pet dogs and cats are often tattooed with a serial number (usually in the ear, or on the inner thigh) via which their owners can be identified.
Also, animals are occasionally tattooed to prevent sunburn (on the nose, for example). Such tattoos are often performed by a veterinarian and in most cases the animals are anesthetized during the process.
Branding
Livestock branding
Livestock branding is a technique for marking livestock so as to identify the owner. Originally, livestock branding only referred to a hot brand for large stock, though the term is now also used to refer to other alternative techniques such as freeze branding...
is used for similar reasons and is often performed without anesthesia, but is different from tattooing as no ink or dye is inserted during the process.
Cosmetic
When used as a form of
cosmetics
Cosmetics
Cosmetics are substances used to enhance the appearance or odor of the human body. Cosmetics include skin-care creams, lotions, powders, perfumes, lipsticks, fingernail and toe nail polish, eye and facial makeup, towelettes, permanent waves, colored contact lenses, hair colors, hair sprays and...
, tattooing includes permanent makeup and hiding or neutralizing skin discolorations.
Permanent makeup
Permanent makeup
Permanent makeup is a cosmetic technique which employs tattoos as a means of producing designs that resemble makeup, such as eyelining and other permanent enhancing colors to the skin of the face, lips, and eyelids...
is the use of tattoos to enhance eyebrows, lips (liner and/or lipstick), eyes (liner), and even
mole
Mole (skin marking)
A melanocytic nevus is a type of lesion that contains nevus cells .Some sources equate the term mole with "melanocytic nevus". Other sources reserve the term "mole" for other purposes....
s, usually with natural colors, as the designs are intended to resemble makeup.
Medical
Medical tattoos are used to ensure instruments are properly located for repeated application of radiotherapy and for the areola in some forms of breast reconstruction. Tattooing has also been used to convey medical information about the wearer (e.g. blood group, medical condition, etc). Tattoos are used in skin tones to cover
vitiligo
Vitiligo
Vitiligo is a condition that causes depigmentation of sections of skin. It occurs when melanocytes, the cells responsible for skin pigmentation, die or are unable to function. The cause of vitiligo is unknown, but research suggests that it may arise from autoimmune, genetic, oxidative stress,...
, skin pigmentation disorder.
Prevalence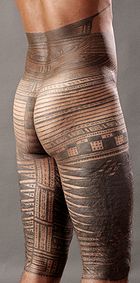 Tattoos have experienced a resurgence in popularity in many parts of the world, particularly in North and South America, Japan, and Europe. The growth in tattoo culture has seen an influx of new artists into the industry, many of whom have technical and fine arts training. Coupled with advancements in tattoo pigments and the ongoing refinement of the equipment used for tattooing, this has led to an improvement in the quality of tattoos being produced.
During the first decade of the 21st century, the presence of tattoos became evident within
pop culture
Popular culture
Popular culture is the totality of ideas, perspectives, attitudes, memes, images and other phenomena that are deemed preferred per an informal consensus within the mainstream of a given culture, especially Western culture of the early to mid 20th century and the emerging global mainstream of the...
, inspiring television shows such as
A&E
A&E Network
The A&E Network is a United States-based cable and satellite television network with headquarters in New York City and offices in Atlanta, Chicago, Detroit, London, Los Angeles and Stamford. A&E also airs in Canada and Latin America. Initially named the Arts & Entertainment Network, A&E launched...
's
Inked
Inked
Inked is a documentary television series about the employees of the Hart & Huntington Tattoo Company in the Las Vegas metropolitan area. The series was created by Jeff Bowler in 2005, and was broadcast by the A&E Network...
and
TLC
TLC (TV channel)
TLC is an American cable TV specialty channel which initially focused on educational content. Since 1991 TLC has been owned by Discovery Communications, the same company that operates the Discovery Channel, Animal Planet and The Science Channel, as well as other learning-themed networks...
's
Miami Ink
Miami Ink
Miami Ink is an American reality show on TLC that follows the events that took place at a tattoo shop in Miami Beach, Florida. The show premiered in July 2005 and has finished broadcasting its fourth season...
and
LA Ink
LA Ink
LA Ink is an American reality show on TLC that follows the events of the High Voltage Tattoo tattoo studios in Los Angeles, California...
. The decoration of blues singer
Janis Joplin
Janis Joplin
Janis Lyn Joplin was an American singer, songwriter, painter, dancer and music arranger. She rose to prominence in the late 1960s as the lead singer of Big Brother and the Holding Company and later as a solo artist with her backing groups, The Kozmic Blues Band and The Full Tilt Boogie Band...
with a wristlet and a small heart on her left breast, by the San Francisco tattoo artist
Lyle Tuttle
Lyle Tuttle
Lyle Tuttle is a well-known American tattoo artist and historian of the medium, who has been tattooing since 1949.-Biographical and career information:...
, has been called a seminal moment in the popular acceptance of tattoos as art. Formal interest in the art of the tattoo became prominent in the 1990s through the beginning of the 21st century. Contemporary art exhibitions and visual art institutions have featured tattoos as art through such means as displaying tattoo flash, examining the works of tattoo artists, or otherwise incorporating examples of
body art
Body art
Body art is art made on, with, or consisting of, the human body. The most common forms of body art are tattoos and body piercings, but other types include scarification, branding, scalpelling, shaping , full body tattoo and body painting.More extreme body art can involve things such as mutilation...
into mainstream exhibits. One such 2009 Chicago exhibition
Freaks & Flash
featured both examples of historic body art as well as the tattoo artists who produced it.
In many traditional cultures tattooing has also enjoyed a resurgence, partially in deference to
cultural heritage
Cultural heritage
Cultural heritage is the legacy of physical artifacts and intangible attributes of a group or society that are inherited from past generations, maintained in the present and bestowed for the benefit of future generations...
. Historically, a decline in traditional tribal tattooing in
Europe
Europe
Europe is, by convention, one of the world's seven continents. Comprising the westernmost peninsula of Eurasia, Europe is generally 'divided' from Asia to its east by the watershed divides of the Ural and Caucasus Mountains, the Ural River, the Caspian and Black Seas, and the waterways connecting...
occurred with the
spread of Christianity
Christianization
The historical phenomenon of Christianization is the conversion of individuals to Christianity or the conversion of entire peoples at once...
. However, some Christian groups, such as the Knights of St. John of Malta, sported tattoos to show their allegiance. A decline often occurred in other cultures following European efforts to convert aboriginal and indigenous people to Western religious and cultural practices that held tattooing to be a "
pagan
Paganism
Paganism is a blanket term, typically used to refer to non-Abrahamic, indigenous polytheistic religious traditions....
" or "heathen" activity. Within some traditional indigenous cultures, tattooing takes place within the context of a rite of passage between adolescence and adulthood.
Tattooing has become a fad among celebrities.
David Beckham
David Beckham
David Robert Joseph Beckham, OBE is an English footballer who plays midfield for Los Angeles Galaxy in Major League Soccer, having previously played for Manchester United, Preston North End, Real Madrid, and A.C...
, an international soccer star, caught tattoo 'fever' beginning with the birth of his first son back in 1999 when he had Malloy ink his son's name, "Brooklyn" at the bottom of his back. Then he had the first part of his guardian angel inked on his back. This was followed up in 2000, with his wife's name being misspelled in Hindi on his left arm.
Many studies have been done of the tattooed population and society's view of tattoos. In June 2006 the
Journal of the American Academy of Dermatology
American Academy of Dermatology
The American Academy of Dermatology is the largest organization of dermatologists in the world. It was founded in 1938 and represents 17,000 dermatologists in the United States, Canada, and around the world. The Academy grants Fellowships and Associate Memberships, as well as Fellowships for...
published the results of a telephone survey which took place in 2004. It found that 36% of Americans ages 18–29, 24% of those 30-40 and 15% of those 41-51 had a tattoo. In September 2006, the
Pew Research Center
Pew Research Center
The Pew Research Center is an American think tank organization based in Washington, D.C. that provides information on issues, attitudes and trends shaping the United States and the world. The Center and its projects receive funding from The Pew Charitable Trusts. In 1990, Donald S...
conducted a telephone survey which found that 36% of Americans ages 18–25, 40% of those 26-40 and 10% of those 41-64 had a tattoo. In January 2008, a survey conducted online by
Harris Interactive
Harris Interactive
Harris Interactive , headquartered in New York, New York, is a custom market research firm, known for the Harris Poll. Harris works in a wide range of industries...
estimated that 14% of all adults in the United States have a tattoo, just slightly down from 2003, when 16% had a tattoo. Among age groups, 9% of those ages 18–24, 32% of those 25-29, 25% of those 30-39 and 12% of those 40-49 have tattoos, as do 8% of those 50-64. Men are just slightly more likely to have a tattoo than women (15% versus 13%)
Negative associations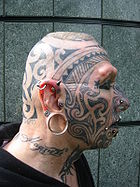 In Japan, tattoos are strongly associated with organized crime organizations known as the
yakuza
Yakuza
, also known as , are members of traditional organized crime syndicates in Japan. The Japanese police, and media by request of the police, call them bōryokudan , literally "violence group", while the yakuza call themselves "ninkyō dantai" , "chivalrous organizations". The yakuza are notoriously...
, particularly full body tattoos done the traditional Japanese way (
Tebori
). Many public Japanese bathhouses (
sentō
Sento
is a type of Japanese communal bath house where customers pay for entrance. Traditionally these bath houses have been quite utilitarian, with one large room separating the sexes by a tall barrier, and on both sides, usually a minimum of lined up faucets and a single large bath for the already...
) and gymnasiums often openly ban those bearing large or graphic tattoos in an attempt to prevent Yakuza from entering. The
Government of Meiji Japan
Government of Meiji Japan
The Government of Meiji Japan was the government which was formed by politicians of the Satsuma Domain, Chōshū Domain and Tenno. The Meiji government was the early government of the Empire of Japan....
had outlawed tattoos in the 19th century, a prohibition that stood for 70 years before being repealed in 1948.
In the United States many prisoners and criminal gangs use
distinctive tattoos
Criminal tattoo
Tattoos are commonly used among criminals to show gang membership and record the wearer's personal history—such as his or her skills, specialties, accomplishments and convictions. They are also used as a means of personal expression. Certain designs have developed recognized coded meanings...
to indicate facts about their criminal behavior, prison sentences, and organizational affiliation. A
tear tattoo
Tear tattoo
The teardrop tattoo or tear tattoo is a symbolic tattoo that is placed underneath the eye. It has no fixed meaning but almost all meanings have some connection to prison....
, for example, can be symbolic of murder, with each tear representing the death of a friend. At the same time, members of the
U.S. military
Military of the United States
The United States Armed Forces are the military forces of the United States. They consist of the Army, Navy, Marine Corps, Air Force, and Coast Guard.The United States has a strong tradition of civilian control of the military...
have an equally well established and longstanding
history of tattooing
History of tattooing
-Tattooing in prehistoric times:Tattooing has been a Eurasian practice since Neolithic times. "Ötzi the Iceman", dated circa 3300 BC, bore 57 separate tattoos: a cross on the inside of the left knee, six straight lines 15 centimeters long above the kidneys and numerous small parallel lines along...
to indicate military units, battles, kills, etc., an association which remains widespread among older Americans. Tattooing is also common in the
British Armed Forces
British Armed Forces
The British Armed Forces are the armed forces of the United Kingdom of Great Britain and Northern Ireland.Also known as Her Majesty's Armed Forces and sometimes legally the Armed Forces of the Crown, the British Armed Forces encompasses three professional uniformed services, the Royal Navy, the...
.
Tattooing was also used by the Nazi regime in
Nazi concentration camps
Nazi concentration camps
Nazi Germany maintained concentration camps throughout the territories it controlled. The first Nazi concentration camps set up in Germany were greatly expanded after the Reichstag fire of 1933, and were intended to hold political prisoners and opponents of the regime...
to tag prisoners.
Insofar as this cultural or
subcultural
Subculture
In sociology, anthropology and cultural studies, a subculture is a group of people with a culture which differentiates them from the larger culture to which they belong.- Definition :...
use of tattoos predates the widespread popularity of tattoos in the general population, tattoos are still associated with criminality. Tatoos on the face in the shape of teardrops are usually associated with how many people a person has murdered. Although the general acceptance of tattoos is on the rise in Western society, they still carry a heavy stigma among certain social groups. Tattoos are generally considered an important part of the culture of the Russian mafia.
The prevalence of women in the tattoo industry, along with larger numbers of women bearing tattoos, appears to be changing negative perceptions. A study of "at-risk" (as defined by school absenteeism and truancy) adolescent girls showed a positive correlation between body-modification and negative feelings towards the body and self-esteem; however, also illustrating a strong motive for body-modification as the search for "self and attempts to attain mastery and control over the body in an age of increasing alienation."
Christianity
There is no consistent Christian position on tattooing. The early Christian Montanist movement practiced tattooing as putting signs or seals of God's name according to Rev. 7:3; 9:4; 13:16; 14:1; 20:4; 22:4.
The majority of Christians do not take issue with the practice, while a minority uphold the Hebrew view against tattoos (see below) based on
Leviticus
Leviticus
The Book of Leviticus is the third book of the Hebrew Bible, and the third of five books of the Torah ....
19:28. Tattoos of Christian symbols are common. When on pilgrimage, some Christians get a small tattoo dating the year and a small cross. This is usually done on the forearm.
There is no prohibition against tattoo within the Catholic Church, provided that the tattoo is not an image that is
sacrilegious
Sacrilege
Sacrilege is the violation or injurious treatment of a sacred object. In a less proper sense, any transgression against the virtue of religion would be a sacrilege. It can come in the form of irreverence to sacred persons, places, and things...
,
blasphemous
Blasphemy
Blasphemy is irreverence towards religious or holy persons or things. Some countries have laws to punish blasphemy, while others have laws to give recourse to those who are offended by blasphemy...
, or obscene. At the Catholic council of Calcuth in Northumberland in A.D. 786, Christians who received a tattoo "for the sake of God" (i.e., a religious tattoo in the form of a cross, a monogramme of Christ, or a saint's name or image) were commended as praiseworthy.
Catholic
Catholic
The word catholic comes from the Greek phrase , meaning "on the whole," "according to the whole" or "in general", and is a combination of the Greek words meaning "about" and meaning "whole"...
Croats of Bosnia and Herzegovina
Croats of Bosnia and Herzegovina
Croats of Bosnia and Herzegovina form one of the three constitutive nations in Bosnia and Herzegovina.There is no precise data regarding Bosnia and Herzegovina's population since the last war. Ethnic cleansing within Bosnia and Herzegovina in the 1990s saw the vast majority of Croats move and take...
used tattooing, especially of children, for perceived protection against forced conversion to Islam during Turkish occupation of Bosnia and Herzegovina (1463-1878). This form of tattooing continued long past its original motivation, though it was forbidden during Yugoslavian communism. Tattooing was performed during spring time or during special religious celebrations such as the Feast of St. Joseph, and consisted mostly of Christian crosses on hands, fingers, forearms, and below the neck and on the chest.
Coptic Christians who live in Egypt tattoo themselves with the symbols of Coptic crosses on their right wrists.
Mormonism
Members of The Church of Jesus Christ of Latter-day Saints (often referred to as "Latter-day Saints" or "
Mormons
Mormons
The Mormons are a religious and cultural group related to Mormonism, a religion started by Joseph Smith during the American Second Great Awakening. A vast majority of Mormons are members of The Church of Jesus Christ of Latter-day Saints while a minority are members of other independent churches....
") have been advised by their church leaders to not tattoo their bodies. In the Articles of Faith of The Church of Jesus Christ of Latter-Day Saints it states that the Latter-day Saints accept the
Bible
Bible
The Bible refers to any one of the collections of the primary religious texts of Judaism and Christianity. There is no common version of the Bible, as the individual books , their contents and their order vary among denominations...
to be the word of God Therefore, the church believes that the body is a sacred
temple
Temple
A temple is a structure reserved for religious or spiritual activities, such as prayer and sacrifice, or analogous rites. A templum constituted a sacred precinct as defined by a priest, or augur. It has the same root as the word "template," a plan in preparation of the building that was marked out...
as preached in the
New Testament
New Testament
The New Testament is the second major division of the Christian biblical canon, the first such division being the much longer Old Testament....
, and that they should keep it clean, inside and out. Tattooing, among other things, is discouraged.
Islam
Tattoos are considered
forbidden
Haraam
Haraam is an Arabic term meaning "forbidden", or "sacred". In Islam it is used to refer to anything that is prohibited by the word of Allah in the Qur'an or the Hadith Qudsi. Haraam is the highest status of prohibition given to anything that would result in sin when a Muslim commits it...
in
Sunni Islam
Sunni Islam
Sunni Islam is the largest branch of Islam. Sunni Muslims are referred to in Arabic as ʾAhl ūs-Sunnah wa āl-Ǧamāʿah or ʾAhl ūs-Sunnah for short; in English, they are known as Sunni Muslims, Sunnis or Sunnites....
. According to the book of Sunni traditions,
Sahih Bukhari
Sahih Bukhari
Ṣaḥīḥ al-Bukhārī , as it is commonly referred to, is one of the six canonical hadith collections of Islam. These prophetic traditions, or hadith, were collected by the Persian Muslim scholar Muhammad ibn Ismail al-Bukhari, after being transmitted orally for generations. Muslims view this as one of...
, "The Prophet forbade [...] mutilation (or maiming) of bodies." Sunni Muslims believe tattooing is forbidden and a sin because it involves changing the creation of God (Surah 4 Verse 117-120), and because the Prophet cursed the one who does tattoos and the one for whom that is done. There is, however, difference of scholarly Sunni Muslim opinion as to the reason why tattoos are forbidden.
The use of temporary tattoos made with
henna
Henna
Henna is a flowering plant used since antiquity to dye skin, hair, fingernails, leather and wool. The name is also used for dye preparations derived from the plant, and for the art of temporary tattooing based on those dyes...
is very common and is considered permissible in Muslim Morocco,and Tunisia and other predominantly Muslim nations such as Bangladesh, Indonesia and Malaysia. The permissibility of tattoos is debated in
Shi'a Islam
Shi'a Islam
Shia Islam is the second largest denomination of Islam. The followers of Shia Islam are called Shi'ites or Shias. "Shia" is the short form of the historic phrase Shīʻatu ʻAlī , meaning "followers of Ali", "faction of Ali", or "party of Ali".Like other schools of thought in Islam, Shia Islam is...
, with some Shi'a pointing to a
ruling
Fatwa
A fatwā in the Islamic faith is a juristic ruling concerning Islamic law issued by an Islamic scholar. In Sunni Islam any fatwā is non-binding, whereas in Shia Islam it could be considered by an individual as binding, depending on his or her relation to the scholar. The person who issues a fatwā...
by Ayatollah Sistani stating they are
permitted
Halal
Halal is a term designating any object or an action which is permissible to use or engage in, according to Islamic law. The term is used to designate food seen as permissible according to Islamic law...
.
Judaism
Tattoos are forbidden in
Judaism
Judaism
Judaism ) is the "religion, philosophy, and way of life" of the Jewish people...
based on the
Torah
Torah
Torah- A scroll containing the first five books of the BibleThe Torah , is name given by Jews to the first five books of the bible—Genesis , Exodus , Leviticus , Numbers and Deuteronomy Torah- A scroll containing the first five books of the BibleThe Torah , is name given by Jews to the first five...
(
Leviticus
Leviticus
The Book of Leviticus is the third book of the Hebrew Bible, and the third of five books of the Torah ....
19:28): "You shall not make gashes in your flesh for the dead, or incise any marks on yourselves: I am the Lord." The prohibition is explained by contemporary rabbis as part of a general prohibition on body modification that does not serve a medical purpose (such as to correct a deformity).
Maimonides
Maimonides
Moses ben-Maimon, called Maimonides and also known as Mūsā ibn Maymūn in Arabic, or Rambam , was a preeminent medieval Jewish philosopher and one of the greatest Torah scholars and physicians of the Middle Ages...
, a leading 12th century scholar of Jewish law and thought, explains the prohibition against tattoos as a Jewish response to
paganism
Paganism
Paganism is a blanket term, typically used to refer to non-Abrahamic, indigenous polytheistic religious traditions....
.
Since it was common practice for ancient pagan worshipers to tattoo themselves with religious iconography and names of gods, Judaism prohibited tattoos entirely in order to disassociate from other religions. In modern times, the association of tattoos with
Nazi concentration camps
Nazi concentration camps
Nazi Germany maintained concentration camps throughout the territories it controlled. The first Nazi concentration camps set up in Germany were greatly expanded after the Reichstag fire of 1933, and were intended to hold political prisoners and opponents of the regime...
and the Holocaust has given an additional level for revulsion to the practice of tattooing, even among many otherwise fairly secular Jews. It is a common misconception that anyone bearing a tattoo is not permitted to be buried in a Jewish cemetery.
Neopagan
Neopagans can use the process and the outcome of tattooing as an expression or representation of their beliefs. Many tattooists' websites offer pagan images as examples of the kinds of artwork they provide.
Procedure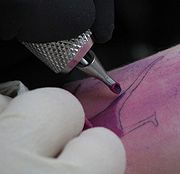 Tattooing involves the placement of pigment into the skin's
dermis
Dermis
The dermis is a layer of skin between the epidermis and subcutaneous tissues, and is composed of two layers, the papillary and reticular dermis...
, the layer of dermal tissue underlying the
epidermis
. After initial injection, pigment is dispersed throughout a
homogenized
Homogenization (biology)
Homogenization is a process that involves breaking apart cells — releasing organelles and cytoplasm.When the purpose is to extract organelles, it is frequently done in two steps; first using a blender to break the tissue up, and then with an ultrasonic or mechanical tissue disruptor. The...
damaged layer down through the epidermis and upper dermis, in both of which the presence of foreign material activates the
immune system
Immune system
An immune system is a system of biological structures and processes within an organism that protects against disease by identifying and killing pathogens and tumor cells. It detects a wide variety of agents, from viruses to parasitic worms, and needs to distinguish them from the organism's own...
's
phagocyte
Phagocyte
Phagocytes are the white blood cells that protect the body by ingesting harmful foreign particles, bacteria, and dead or dying cells. Their name comes from the Greek phagein, "to eat" or "devour", and "-cyte", the suffix in biology denoting "cell", from the Greek kutos, "hollow vessel". They are...
s to engulf the pigment particles. As healing proceeds, the damaged epidermis flakes away (eliminating surface pigment) while deeper in the skin
granulation tissue
Granulation tissue
Granulation tissue is the perfused, fibrous connective tissue that replaces a fibrin clot in healing wounds. Granulation tissue typically grows from the base of a wound and is able to fill wounds of almost any size it heals...
forms, which is later converted to connective tissue by
collagen
Collagen
Collagen is a group of naturally occurring proteins found in animals, especially in the flesh and connective tissues of mammals. It is the main component of connective tissue, and is the most abundant protein in mammals, making up about 25% to 35% of the whole-body protein content...
growth. This mends the upper dermis, where pigment remains trapped within
fibroblast
Fibroblast
A fibroblast is a type of cell that synthesizes the extracellular matrix and collagen, the structural framework for animal tissues, and plays a critical role in wound healing...
s, ultimately concentrating in a layer just below the dermis/epidermis boundary. Its presence there is stable, but in the long term (decades) the pigment tends to migrate deeper into the dermis, accounting for the degraded detail of old tattoos.
Some tribal cultures traditionally created tattoos by cutting designs into the skin and rubbing the resulting wound with ink, ashes or other agents; some cultures continue this practice, which may be an adjunct to
scarification
Scarification
Scarifying involves scratching, etching, burning, or superficially cutting designs, pictures, or words into the skin as a permanent body modification.In the process of body scarification, scars are formed by cutting or branding the skin...
. Some cultures create tattooed marks by hand-tapping the ink into the skin using sharpened sticks or animal bones (made like needles) with clay formed disks or, in modern times, needles. Traditional Japanese tattoos (
Horimono
Horimono
Horimono is a word used to describe irezumi or to describe the carving of images into a sword blade.-Irezumi:...
) are still "hand-poked," that is, the ink is inserted beneath the skin using non-electrical, hand-made and hand held tools with needles of sharpened bamboo or steel. This method is known as
tebori
.
Traditional Hawaiian hand-tapped tattoos are experiencing a renaissance, after the practice was nearly extinguished in the years following Western contact. The process involves lengthy protocols and prayers and is considered a sacred rite more than an application of artwork. The tattooist chooses the design, rather than the wearer, based on genealogical information. Each design is symbolic of the wearer's personal responsibility and role in the community. Tools are hand-carved from bone or tusk without the use of metal.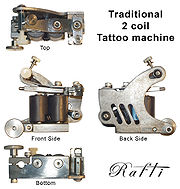 The most common method of tattooing in modern times is the electric tattoo machine, which inserts ink into the skin via a single needle or a group of needles that are
solder
Solder
Solder is a fusible metal alloy used to join together metal workpieces and having a melting point below that of the workpiece.Soft solder is what is most often thought of when solder or soldering are mentioned and it typically has a melting range of . It is commonly used in electronics and...
ed onto a bar, which is attached to an oscillating unit. The unit rapidly and repeatedly drives the needles in and out of the skin, usually 80 to 150 times a second. This modern procedure is ordinarily sanitary. The needles are single-use needles that come packaged individually. The tattoo artist must wash not only his or her hands, but he or she must also wash the area that will be tattooed. Gloves must be worn at all times and the wound must be wiped frequently with a wet disposable towel of some kind. The equipment must be sterilized in a certified autoclave before and after every use.
Prices for this service vary widely globally and locally, depending on the complexity of the tattoo, the skill and expertise of the artist, the attitude of the customer, the costs of running a business, the economics of supply and demand, etc. The time it takes to get a tattoo is in proportion with its size and complexity. A small one of simple design might take fifteen minutes, whereas an elaborate
sleeve tattoo
Sleeve tattoo
A sleeve tattoo is a large tattoo, or a collection of smaller tattoos, usually themed in similar manner, that covers most or all of a person's arm, usually from shoulder to wrist....
or back piece requires multiple sessions of several hours each.
The modern electric tattoo machine is far removed from the machine invented by
Samuel O'Reilly
Samuel O'Reilly
Samuel O'Reilly was a successful New York tattoo artist and the inventor of the modern rotary tattoo machine, which he patented in 1891. He began tattooing in New York around 1875. O'Reilly's machine was based on the rotary technology of Thomas Edison's autographic printing pen. It was the first...
in 1891. O'Reilly's machine was based on the rotary technology of the electric
engraving
Engraving
Engraving is the practice of incising a design on to a hard, usually flat surface, by cutting grooves into it. The result may be a decorated object in itself, as when silver, gold, steel, or glass are engraved, or may provide an intaglio printing plate, of copper or another metal, for printing...
device invented by
Thomas Edison
Thomas Edison
Thomas Alva Edison was an American inventor and businessman. He developed many devices that greatly influenced life around the world, including the phonograph, the motion picture camera, and a long-lasting, practical electric light bulb. In addition, he created the world's first industrial...
. Modern tattoo machines use
electromagnetic
Electromagnetism
Electromagnetism is one of the four fundamental interactions in nature. The other three are the strong interaction, the weak interaction and gravitation...
coil
Coil
A coil is a series of loops. A coiled coil is a structure in which the coil itself is in turn also looping.-Electromagnetic coils:An electromagnetic coil is formed when a conductor is wound around a core or form to create an inductor or electromagnet...
s. The first coil machine was patented by Thomas Riley in
London
London
London is the capital city of :England and the :United Kingdom, the largest metropolitan area in the United Kingdom, and the largest urban zone in the European Union by most measures. Located on the River Thames, London has been a major settlement for two millennia, its history going back to its...
, 1891 using a single coil. The first twin coil machine, the predecessor of the modern configuration, was invented by another Englishman, Alfred Charles South of London, in 1899.
Another tattoo machine was developed 1970-1978 by the German tattoo artists
Horst Heinrich Streckenbach
Horst Heinrich Streckenbach
Horst Heinrich Streckenbach "Tattoo Samy" was a well-known German tattoo artist and historian of the medium, who had been tattooing since 1946. Streckenbach is considered important in the development of tattooing in Germany...
(1929–2001) and
Manfred Kohrs
Manfred Kohrs
Manfred Kohrs is a German tattooist and conceptual artist, who has been tattooing since 1974. He was a student of Horst Heinrich Streckenbach . Together they developed a rotary tattoo machine from 1974 - 1978 and the barbell piercing in 1975...
.
Dyes and pigments
Early tattoo inks were obtained directly from nature and were extremely limited in pigment variety. In ancient Hawaii, for example, kukui nut ash was blended with coconut oil to produce an ebony ink. Today, an almost unlimited number of colors and shades of tattoo ink are mass-produced and sold to parlors worldwide. Tattoo artists commonly mix these inks to create their own unique pigments.
A wide range of
dye
Dye
A dye is a colored substance that has an affinity to the substrate to which it is being applied. The dye is generally applied in an aqueous solution, and requires a mordant to improve the fastness of the dye on the fiber....
s and
pigment
Pigment
A pigment is a material that changes the color of reflected or transmitted light as the result of wavelength-selective absorption. This physical process differs from fluorescence, phosphorescence, and other forms of luminescence, in which a material emits light.Many materials selectively absorb...
s can be used in tattoos, from inorganic materials like
titanium dioxide
Titanium dioxide
Titanium dioxide, also known as titanium oxide or titania, is the naturally occurring oxide of titanium, chemical formula . When used as a pigment, it is called titanium white, Pigment White 6, or CI 77891. Generally it comes in two different forms, rutile and anatase. It has a wide range of...
and
iron oxide
Iron oxide
Iron oxides are chemical compounds composed of iron and oxygen. All together, there are sixteen known iron oxides and oxyhydroxides.Iron oxides and oxide-hydroxides are widespread in nature, play an important role in many geological and biological processes, and are widely utilized by humans, e.g.,...
s to
carbon black
Carbon black
Carbon black is a material produced by the incomplete combustion of heavy petroleum products such as FCC tar, coal tar, ethylene cracking tar, and a small amount from vegetable oil. Carbon black is a form of amorphous carbon that has a high surface-area-to-volume ratio, although its...
, azo dyes, and
acridine
Acridine
Acridine, C13H9N, is an organic compound and a nitrogen heterocycle. Acridine is also used to describe compounds containing the C13N tricycle....
,
quinoline
Quinoline
Quinoline is a heterocyclic aromatic organic compound. It has the formula C9H7N and is a colourless hygroscopic liquid with a strong odour. Aged samples, if exposed to light, become yellow and later brown...
,
phthalocyanine
Phthalocyanine
Phthalocyanine is an intensely blue-green coloured macrocyclic compound that is widely used in dyeing. Phthalocyanines form coordination complexes with most elements of the periodic table...
and
naphthol
Naphthol
Naphthol may refer to:* 1-Naphthol* 2-Naphthol...
derivates, dyes made from ash, and other mixtures. Iron oxide pigments are used in greater extent in
cosmetic tattooing
Permanent makeup
Permanent makeup is a cosmetic technique which employs tattoos as a means of producing designs that resemble makeup, such as eyelining and other permanent enhancing colors to the skin of the face, lips, and eyelids...
.
Modern tattooing inks are carbon based pigments that have uses outside of commercial tattoo applications. In 2005 at Northern Arizona University a study characterized the makeup of tattoo inks (Finley-Jones and Wagner). The FDA expects local authorities to legislate and test tattoo pigments and inks made for the use of permanent cosmetics. In California, the state prohibits certain ingredients and pursues companies who fail to notify the consumer of the contents of tattoo pigments.
There has been concern expressed about the interaction between
magnetic resonance imaging
Magnetic resonance imaging
Magnetic resonance imaging , nuclear magnetic resonance imaging , or magnetic resonance tomography is a medical imaging technique used in radiology to visualize detailed internal structures...
(MRI) procedures and tattoo pigments, some of which contain
trace metal
Trace metal
Trace metals are metals in extremely small quantities that reside in or are present in animal and plant cells and tissue. They are a necessary part of good nutrition, although they can be toxic if ingested in excess quantities....
s. Allegedly, the
magnetic field
Magnetic field
A magnetic field is a mathematical description of the magnetic influence of electric currents and magnetic materials. The magnetic field at any given point is specified by both a direction and a magnitude ; as such it is a vector field.Technically, a magnetic field is a pseudo vector;...
s produced by MRI machines could interact with these metal particles, potentially causing burns or distortions in the image. The television show
MythBusters
MythBusters
MythBusters is a science entertainment TV program created and produced by Beyond Television Productions for the Discovery Channel. The series is screened by numerous international broadcasters, including Discovery Channel Australia, Discovery Channel Latin America, Discovery Channel Canada, Quest...
tested the hypothesis, and found a slight interaction between commonly used tattoo inks and MRI. The interaction was stronger with inks containing high levels of iron oxide.
Professional tattooists rely primarily on the same pigment base found in cosmetics. Amateurs will often use drawing inks such as low grade India ink, but these inks often contain impurities and toxins which can lead to illness or infection.
Studio hygiene
The properly equipped
tattoo studio
Tattoo studio
A tattoo studio is a place where people receive permanent decorative tattoos from a tattoo artist....
will use
biohazard
Biological hazard
Biological hazards, refer to biological substances that pose a threat to the health of living organisms, primarily that of humans. This can include medical waste or samples of a microorganism, virus or toxin that can impact human health. It can also include substances harmful to animals...
containers for objects that have come into contact with blood or
bodily fluid
Bodily fluid
Body fluid or bodily fluids are liquids originating from inside the bodies of living people. They include fluids that are excreted or secreted from the body as well as body water that normally is not.Body fluids include:-Body fluids and health:...
s,
sharps container
Sharps container
A sharps container is a container that is filled with used medical needles . They fit into two main types:* single use which are disposed of with the waste inside,...
s for old needles, and an
autoclave
Autoclave
An autoclave is an instrument used to sterilize equipment and supplies by subjecting them to high pressure saturated steam at 121 °C for around 15–20 minutes depending on the size of the load and the contents. It was invented by Charles Chamberland in 1879, although a precursor known as the...
for sterilizing tools. Certain jurisdictions also require studios by law to have a sink in the work area supplied with both hot and cold water.
Proper hygiene requires a body modification artist to wash his or her hands before starting to prepare a client for the stencil, between clients, and at any other time where
cross contamination
Cross Contamination
Cross Contamination is an album by the rock bands Batmobile and Peter Pan Speedrock. It was released in 2008 by Suburban Records.-Track listing:#"Hellalujah"#"Go Satan Go"#"Killerspeed"#"Big Toy"#"Straight Back To Hormoneville"#"Transsylvanian Express"...
can occur. The use of single use disposable gloves is also mandatory. Also, disposable gloves should be taken off after each stage of tattooing. The same gloves should not be used to clean the tattoo station, tattoo the client, or clean the tattoo; the tattoo artist should change their disposable gloves at each stage. In some states and countries it is illegal to tattoo a
minor
Minor (law)
In law, a minor is a person under a certain age — the age of majority — which legally demarcates childhood from adulthood; the age depends upon jurisdiction and application, but is typically 18...
even with parental consent, and (except in the case of medical tattoos) it is forbidden to tattoo impaired persons, people with contraindicated skin conditions, those who are pregnant or nursing, those incapable of consent due to mental incapacity or those under the influence of alcohol or drugs.
Before the tattooing begins the client is asked to approve the final position of the applied stencil. After approval is given the artist will open new, sterile needle packages in front of the client, and always use new, sterile or sterile disposable instruments and supplies, and fresh ink for each session (loaded into disposable ink caps which are discarded after each client). Also, all areas which may be touched with contaminated gloves will be wrapped in clear plastic to prevent cross-contamination. Equipment that cannot be autoclaved (such as counter tops, machines, and furniture) will be wiped with an approved disinfectant.
Membership in professional organizations, or certificates of appreciation/achievement, generally helps artists to be aware of the latest trends. However, many of the most notable tattooists do not belong to any association. While specific requirements to become a tattooist vary between jurisdictions, many mandate only formal training in bloodborne pathogens, and cross contamination. The local department of health regulates tattoo studios in many jurisdictions.
For example, according to the health departments in
Oregon
Oregon
Oregon is a state in the Pacific Northwest region of the United States. It is located on the Pacific coast, with Washington to the north, California to the south, Nevada on the southeast and Idaho to the east. The Columbia and Snake rivers delineate much of Oregon's northern and eastern...
and
Hawaii
Hawaii
Hawaii is the newest of the 50 U.S. states , and is the only U.S. state made up entirely of islands. It is the northernmost island group in Polynesia, occupying most of an archipelago in the central Pacific Ocean, southwest of the continental United States, southeast of Japan, and northeast of...
, tattoo artists in these states are required to take and pass a test ascertaining their knowledge of health and safety precautions, as well as the current state regulations. Performing a tattoo in Oregon state without a proper and current license or in an unlicensed facility is a
felony
Felony
A felony is a serious crime in the common law countries. The term originates from English common law where felonies were originally crimes which involved the confiscation of a convicted person's land and goods; other crimes were called misdemeanors...
offense. Tattooing was legalized in
New York City
New York City
New York is the most populous city in the United States and the center of the New York Metropolitan Area, one of the most populous metropolitan areas in the world. New York exerts a significant impact upon global commerce, finance, media, art, fashion, research, technology, education, and...
in 1997, and in Massachusetts and Oklahoma between 2002 and 2006.
Aftercare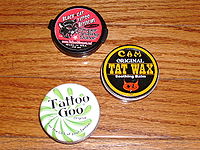 Tattoo artists, and people with tattoos, vary widely in their preferred methods of caring for new tattoos. Some artists recommend keeping a new tattoo wrapped for the first twenty-four hours, while others suggest removing temporary bandaging after two hours or less to allow the skin to 'breathe'. Many tattooists advise against allowing too much contact with hot tub or pool water, or soaking in a tub for the first two weeks. This is to prevent the tattoo ink from washing out or fading due to over-hydration and to avoid infection from exposure to bacteria. In contrast, other artists suggest that a new tattoo be bathed in very hot water early.
General consensus for care advises against removing the scab that may form on a new tattoo, and avoiding exposing one's tattoo to the sun for extended periods for at least 3 weeks; both of these can contribute to fading of the image. Furthermore, it is agreed that a new tattoo needs to be kept clean. Various products may be recommended for application to the skin, ranging from those intended for the treatment of cuts, burns and scrapes, to
cocoa butter
Cocoa butter
Cocoa butter, also called theobroma oil, is a pale-yellow, pure edible vegetable fat extracted from the cocoa bean. It is used to make chocolate, biscuits, and baked goods, as well as some pharmaceuticals, ointments, and toiletries...
,
hemp
Hemp
Hemp is mostly used as a name for low tetrahydrocannabinol strains of the plant Cannabis sativa, of fiber and/or oilseed varieties. In modern times, hemp has been used for industrial purposes including paper, textiles, biodegradable plastics, construction, health food and fuel with modest...
, salves,
lanolin
Lanolin
Lanolin , also called Adeps Lanae, wool wax or wool grease, is a yellow waxy substance secreted by the sebaceous glands of wool-bearing animals. Most lanolin used by humans comes from domestic sheep...
,
A&D
Fish oil
Fish oil is oil derived from the tissues of oily fish. Fish oils contain the omega-3 fatty acids eicosapentaenoic acid , and docosahexaenoic acid , precursors of certain eicosanoids that are known to reduce inflammation throughout the body, and are thought to have many health benefits.Fish do not...
, Bepanthen or Aquaphor. Oil based ointments are almost always recommended to be used in very thin layers due to their inability to evaporate and therefore over-hydrate the already perforated skin. In recent years, specific commercial products have been developed for tattoo aftercare. Although opinions about these products vary, there is near total agreement that either alone or in addition to some other product, soap and warm water work well to keep a tattoo clean and free from infection. Ultimately, the amount of ink that remains in the skin throughout the healing process determines, in large part, how robust the final tattoo will look. If a tattoo becomes infected (uncommon but possible if one neglects to properly clean their tattoo) or if the scab falls off too soon (e.g. if it absorbs too much water and sloughs off early or is picked or scraped off), then the ink will not be properly fixed in the skin and the final image will be negatively affected.
Health risks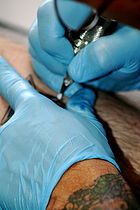 Because it requires breaking the skin barrier, tattooing may carry health risks, including infection and allergic reactions. Modern tattooists reduce such risks by following universal precautions, working with single-use items, and sterilizing their equipment after each use. Many jurisdictions require that tattooists have
blood-borne pathogen
Blood-borne disease
A blood-borne disease is one that can be spread through contamination by blood.The most common examples are HIV, hepatitis B, hepatitis C and viral hemorrhagic fevers....
training, such as is provided through the Red Cross and
OSHA
Occupational Safety and Health Administration
The United States Occupational Safety and Health Administration is an agency of the United States Department of Labor. It was created by Congress of the United States under the Occupational Safety and Health Act, signed by President Richard M. Nixon, on December 29, 1970...
.
In amateur tattoos, such as those applied in prisons, however, there is an elevated risk of infection. Infections that can theoretically be transmitted by the use of unsterilized tattoo equipment or contaminated ink include surface infections of the skin,
herpes simplex virus
Herpes simplex virus
Herpes simplex virus 1 and 2 , also known as Human herpes virus 1 and 2 , are two members of the herpes virus family, Herpesviridae, that infect humans. Both HSV-1 and HSV-2 are ubiquitous and contagious...
,
tetanus
Tetanus
Tetanus is a medical condition characterized by a prolonged contraction of skeletal muscle fibers. The primary symptoms are caused by tetanospasmin, a neurotoxin produced by the Gram-positive, rod-shaped, obligate anaerobic bacterium Clostridium tetani...
, staph, fungal infections, some forms of
hepatitis
Hepatitis
Hepatitis is a medical condition defined by the inflammation of the liver and characterized by the presence of inflammatory cells in the tissue of the organ. The name is from the Greek hepar , the root being hepat- , meaning liver, and suffix -itis, meaning "inflammation"...
,
tuberculosis
Tuberculosis
Tuberculosis, MTB, or TB is a common, and in many cases lethal, infectious disease caused by various strains of mycobacteria, usually Mycobacterium tuberculosis. Tuberculosis usually attacks the lungs but can also affect other parts of the body...
, and
HIV
HIV
Human immunodeficiency virus is a lentivirus that causes acquired immunodeficiency syndrome , a condition in humans in which progressive failure of the immune system allows life-threatening opportunistic infections and cancers to thrive...
. In the United States there have been no reported cases of HIV contracted via commercially-applied tattooing process.
Tattoo inks have been described as "remarkably nonreactive histologically". However, cases of allergic reactions to tattoo inks, particularly certain colors, have been medically documented. This is sometimes due to nickel in an ink pigment, which is a common metal allergy. Occasionally, when a
blood vessel
Blood vessel
The blood vessels are the part of the circulatory system that transports blood throughout the body. There are three major types of blood vessels: the arteries, which carry the blood away from the heart; the capillaries, which enable the actual exchange of water and chemicals between the blood and...
is punctured during the tattooing procedure a
bruise
Bruise
A bruise, also called a contusion, is a type of relatively minor hematoma of tissue in which capillaries and sometimes venules are damaged by trauma, allowing blood to seep into the surrounding interstitial tissues. Bruises can involve capillaries at the level of skin, subcutaneous tissue, muscle,...
/
hematoma
Hematoma
A hematoma, or haematoma, is a localized collection of blood outside the blood vessels, usually in liquid form within the tissue. This distinguishes it from an ecchymosis, which is the spread of blood under the skin in a thin layer, commonly called a bruise...
may appear.
Tattoo removal
While tattoos are considered permanent, it is sometimes possible to remove them with laser treatments, fully or partially. Typically, black and some colored inks can be removed more completely. The expense and pain of removing tattoos will typically be greater than the expense and pain of applying them. Pre-laser tattoo removal methods include
dermabrasion
Dermabrasion
Dermabrasion is a surgical procedure that involves the controlled abrasion of the upper layers of the skin with sandpaper or other mechanical means. Nowadays it has become common to use CO2 or Erbium:YAG laser as well. The procedure requires a local anaesthetic...
, salabrasion (scrubbing the skin with
salt
Salt
In chemistry, salts are ionic compounds that result from the neutralization reaction of an acid and a base. They are composed of cations and anions so that the product is electrically neutral...
),
cryosurgery
Cryosurgery
Cryosurgery is the application of extreme cold to destroy abnormal or diseased tissue. The term comes from the Greek words cryo and surgery meaning "hand work" or "handiwork"....
, and excision which is sometimes still used along with skin grafts for larger tattoos. These older methods however have been nearly completely replaced by laser removal treatment options.
Temporary tattoos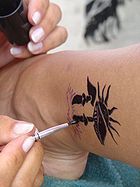 Temporary tattoo
Temporary tattoo
A Temporary Tattoo is a non-permanent image on the skin resembling a true tattoo. Temporary tattoos can be drawn, painted, or airbrushed, as a form of body painting, but most of the time these tattoos are transferred to the skin. Temporary tattoos of any kind are used for numerous purposes...
s are popular with models and children as they involve no permanent alteration of the skin but produce a similar appearance that can last anywhere from a few days to several weeks. The most common style is a type of body sticker similar to a
decal
Decal
A decal or transfer is a plastic, cloth, paper or ceramic substrate that has printed on it a pattern or image that can be moved to another surface upon contact, usually with the aid of heat or water. The word is short for decalcomania...
, which is typically transferred to the skin using water. Although the design is waterproof, it can be removed easily with oil-based creams. Originally inserted as a prize in
bubble gum
Bubblegum
Bubblegum is a type of elastic chewing gum, designed to be blown out of the mouth as a bubble.-History:In 1928, Walter Diemer, an accountant for the Fleer Chewing Gum Company in Philadelphia, was experimenting with new gum recipes. One recipe was found to be less sticky than regular chewing gum,...
packages, they consisted of a poor quality ink transfer that would easily come off with water or rubbing. Today's vegetable dye temporaries can look extremely realistic and adhere up to 3 weeks due to a layer of glue similar to that found on an
adhesive bandage
Adhesive bandage
An adhesive bandage, also called a sticking plaster is a small dressing used for injuries not serious enough to require a full-size bandage. "Band-Aid" is the common American English term, while "plaster" is the term in British English usage.- Function :The adhesive bandage protects the cut, e.g...
.
Henna
Henna
Henna is a flowering plant used since antiquity to dye skin, hair, fingernails, leather and wool. The name is also used for dye preparations derived from the plant, and for the art of temporary tattooing based on those dyes...
tattoos (
Mehndi
Mehndi
Mehndi or menhdi is the application of henna as a temporary form of skin decoration in India, as well as by expatriate communities from the country. The word mehndi is derived from the Sanskrit word mendhikā. The use of mehndi and turmeric is described in the earliest Vedic ritual books...
) and
silver nitrate
Silver nitrate
Silver nitrate is an inorganic compound with chemical formula . This compound is a versatile precursor to many other silver compounds, such as those used in photography. It is far less sensitive to light than the halides...
stains that appear when exposed to ultraviolet light can take up to two weeks to fade from the skin. Silver nitrate is, however, a toxic substance and should not be used on skin.
Temporary
airbrush
Airbrush
An airbrush is a small, air-operated tool that sprays various media including ink and dye, but most often paint by a process of nebulization. Spray guns developed from the airbrush and are still considered a type of airbrush.-History:...
tattoos (TATs) are applied by covering the skin with a stencil and spraying the skin with ink. In the past, this form of tattoo only lasted about a week. With the newest inks, tattoos can reasonably last for up to two weeks. Airbrush tattoos are generally sprayed with cosmetic paints. The ease of removal is a factor in their growing popularity. Unlike henna tattoos, the cosmetic paints can be rubbed off with isopropyl alcohol.
See also
Criminal tattoo

Criminal tattoo

Tattoos are commonly used among criminals to show gang membership and record the wearer's personal history—such as his or her skills, specialties, accomplishments and convictions. They are also used as a means of personal expression. Certain designs have developed recognized coded meanings...



Five dots tattoo

Five Dots Tattoo

The five dots tattoo is a tattoo of five dots arranged in a quincunx, usually on the outer surface of the hand, between the thumb and the index finger...



Foreign body reaction
Legal status of tattooing in the United States
Lucky Diamond Rich

Lucky Diamond Rich

Lucky Diamond Rich is "the world's most tattooed person" , and has tattoos covering his entire body, including the inside of his foreskin, mouth and ears...


, world's most tattooed person.
Lower back tattoo

Lower back tattoo

A lower back tattoo is a body decoration. Such tattoos have become popular since the late 1990s. They are commonly derided as suggestive of promiscuity and often referred to as "tramp stamps" and other slang terms. The German term Arschgeweih can be translated as 'ass antlers'...



Marquesan tattoo

Marquesan tattoo

A Marquesan tattoo is a tattoo design originating from the Marquesas Islands of the South Pacific. Marquesean tattoos can be recognized by 'trademark symbols', such as geckos, centipedes, Ti'i's, the Marquesan Cross and other geometric designs...



Pe'a

Pe'a

The Pe'a is the popular name of the traditional male tattoo of Samoa, which was originally called the malofie, a term used in the Samoan language chiefly vocabulary and 'respect' register .-Description:...



Prison tattooing

Prison tattooing

Prison tattooing is the practice of creating and displaying tattoos in a prison environment. They are often used to portray gang membership, and are often used as a form of code and have hidden meanings...



SS blood group tattoo

SS blood group tattoo

SS blood group tattoos were worn by members of the Waffen-SS in Nazi Germany during World War II to identify the individual's blood type. After the war, the tattoo was taken to be prima facie, if not perfect, evidence of being part of the Waffen-SS, leading to potential arrest and...



Tā moko

Ta moko

Tā moko is the permanent body and face marking by Māori, the indigenous people of New Zealand. Traditionally it is distinct from tattoo and tatau in that the skin was carved by rather than punctured...



Tattoo convention

Tattoo convention

A tattoo convention is a meeting and exhibition for tattoo practitioners and enthusiasts, as well as anyone who wishes to see the world of tattooing up close....



Tattooing of Minors Act 1969

Tattooing of Minors Act 1969

The Tattooing of Minors Act 1969 is an Act of Parliament of the Parliament of the United Kingdom. It gained Royal Assent on 16 May 1969, and is currently in force....


(in the UK)
Teardrop tattoo
UV tattoo

UV tattoo

UV tattoos or blacklight tattoos are tattoos made with a special ink that is visible under an ultraviolet light . Depending upon the ink, they can be nearly invisible in non-UV environments, thus they are a popular consideration for people seeking a subtler tattoo...



External links