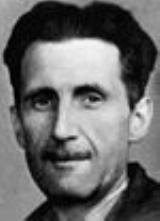 George Orwell
Eric Arthur Blair
better known by his pen name
George Orwell
, was an English author and journalist. His work is marked by keen intelligence and wit, a profound awareness of
social injustice
Social injustice
Social injustice is a concept relating to the claimed unfairness or injustice of a society in its divisions of rewards and burdens and other incidental inequalities...
, an intense opposition to
totalitarianism
Totalitarianism
Totalitarianism is a political system where the state recognizes no limits to its authority and strives to regulate every aspect of public and private life wherever feasible...
, a passion for clarity in language and a belief in
democratic socialism
Democratic socialism
Democratic socialism is a description used by various socialist movements and organizations to emphasize the democratic character of their political orientation...
.
Considered perhaps the twentieth century's best chronicler of English culture, Orwell wrote fiction,
polemic
Polemic
A polemic is a variety of arguments or controversies made against one opinion, doctrine, or person. Other variations of argument are debate and discussion...
al journalism,
literary criticism
Literary criticism
Literary criticism is the study, evaluation, and interpretation of literature. Modern literary criticism is often informed by literary theory, which is the philosophical discussion of its methods and goals...
and poetry.
They had their cynical code worked out. The public are swine; Advertising|advertising is the rattling of a stick inside a swill-bucket.

Keep the Aspidistra Flying (1936)
Since pacifists have more freedom of action in countries where traces of democracy survive, pacifism can act more effectively against democracy than for it. Objectively the pacifist is pro-Nazi.

"No, Not One," Adelphi (October 1941)