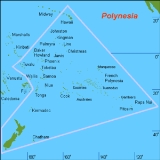 Polynesia
Polynesia
is a
subregion
Subregion
A subregion is a conceptual unit which derives from a larger region or continent and is usually based on location. Cardinal directions, such as south or southern, are commonly used to define a subregion.- United Nations subregions :...
of
Oceania
Oceania
Oceania is a region centered on the islands of the tropical Pacific Ocean. Conceptions of what constitutes Oceania range from the coral atolls and volcanic islands of the South Pacific to the entire insular region between Asia and the Americas, including Australasia and the Malay Archipelago...
, made up of over 1,000
island
Island
An island or isle is any piece of sub-continental land that is surrounded by water. Very small islands such as emergent land features on atolls can be called islets, cays or keys. An island in a river or lake may be called an eyot , or holm...
s scattered over the central and southern
Pacific Ocean
Pacific Ocean
The Pacific Ocean is the largest of the Earth's oceanic divisions. It extends from the Arctic in the north to the Southern Ocean in the south, bounded by Asia and Australia in the west, and the Americas in the east.At 165.2 million square kilometres in area, this largest division of the World...
. The indigenous people who inhabit the islands of Polynesia are termed
Polynesians
Polynesians
The Polynesian peoples is a grouping of various ethnic groups that speak Polynesian languages, a branch of the Oceanic languages within the Austronesian languages, and inhabit Polynesia. They number approximately 1,500,000 people...
and they share many similar traits including language, culture and beliefs. Historically, they were experienced sailors and used stars to determine their night hours.
The term "Polynesia" was first used in 1756 by French writer
Charles de Brosses
Charles de Brosses
Charles de Brosses, comte de Tournay, baron de Montfalcon, seigneur de Vezins et de Prevessin was a French writer of the 18th century.-Life:...
, and originally applied to all the
islands of the Pacific
Pacific Islands
The Pacific Islands comprise 20,000 to 30,000 islands in the Pacific Ocean. The islands are also sometimes collectively called Oceania, although Oceania is sometimes defined as also including Australasia and the Malay Archipelago....
.