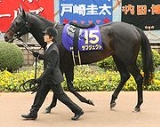 Thoroughbred
The
Thoroughbred
is a
horse breed
best known for its use in
horse racing
Thoroughbred horse race
Thoroughbred horse racing is a worldwide sport and industry involving the racing of Thoroughbred horses. It is governed by different national bodies. There are two forms of the sport: Flat racing and National Hunt racing...
. Although the word
thoroughbred
is sometimes used to refer to any breed of
purebred
Purebred
Purebreds, also called purebreeds, are cultivated varieties or cultivars of an animal species, achieved through the process of selective breeding...
horse, it technically refers only to the Thoroughbred breed. Thoroughbreds are considered "hot-blooded" horses, known for their agility, speed and spirit.
The Thoroughbred as it is known today was developed in 17th and 18th-century England, when native
mares
Mare (horse)
A mare is an adult female horse or other equine.In most cases, a mare is a female horse over the age of three, and a filly is a female horse age three and younger. However, in Thoroughbred horse racing, a mare is defined as a female horse more than four years old; in harness racing a mare is a...
were
crossbred
Crossbreed
A crossbreed or crossbred usually refers to an animal with purebred parents of two different breeds, varieties, or populations. Crossbreeding refers to the process of breeding such an animal, often with the intention to create offspring that share the traits of both parent lineages, or producing...
with imported Oriental
stallions
Stallion (horse)
A stallion is a male horse that has not been gelded .Stallions will follow the conformation and phenotype of their breed, but within that standard, the presence of hormones such as testosterone may give stallions a thicker, "cresty" neck, as well as a somewhat more muscular physique as compared to...
of
Arabian
Arabian horse
The Arabian or Arab horse is a breed of horse that originated on the Arabian Peninsula. With a distinctive head shape and high tail carriage, the Arabian is one of the most easily recognizable horse breeds in the world. It is also one of the oldest breeds, with archaeological evidence of horses...
, Barb, and
Turkoman
Turkoman Horse
The Turkoman horse, or Turkmene, was an Oriental horse breed from the steppes of Central Asia, now extinct. Modern descendants include the Akhal-Teke and the Yamud horse breeds. Horses bred in Turkmenistan are still referred to as Turkoman, and have similar characteristics...
breeding.